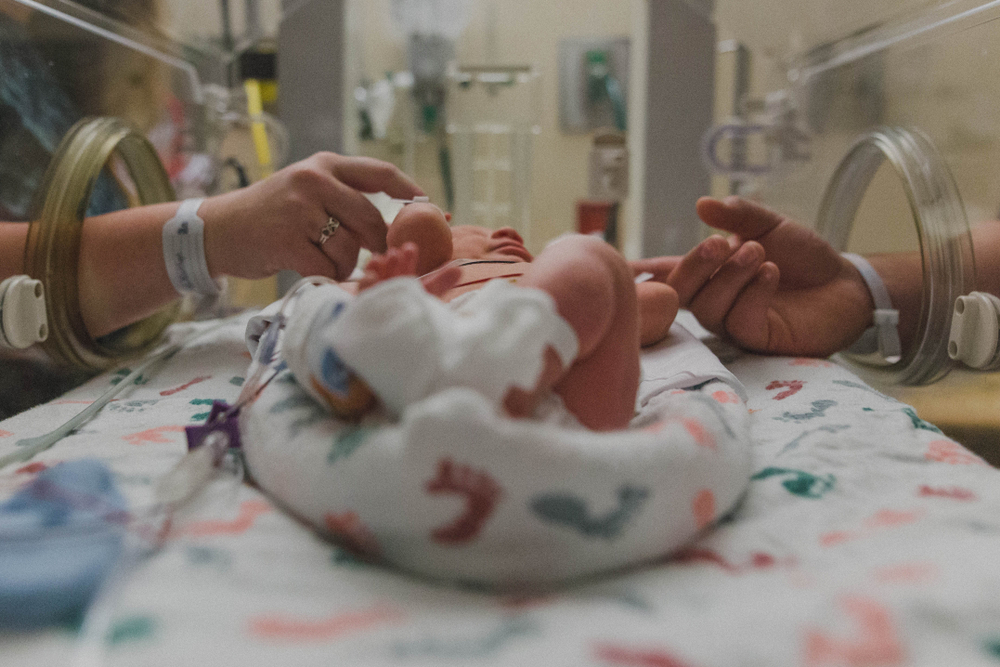 Getting ready for the arrival of a baby can be rife with stress. The nursery is painted and furnished, your hospital bag is good to go, loved ones are just a call away, and your home is as safe and babyproofed as humanly possible. Just when it seems you've got all your ducks in a row and your little one's perfect arrival plan is in place — the least expected happens: Your baby suddenly decides to make his or her grand entrance earlier than anticipated.
Although you may not want to even entertain the possibility that your child could be born ahead of schedule, doctors are delivering more and more premature babies these days, resulting in an increasing need for neonatal intensive care units (NICUs).
When the NICU is Needed
While NICUs often do cater to preemies, there are many reasons that a newborn may require critical care.
"Reasons for admission include preterm birth, birth defects, breathing and feeding problems, infections or other medical conditions," says Cicely "CC" Brooks, MSN, RN-C, C-EFM, NE-BC, FABC, vice president of Patient Care Services and Nurse Executive at Wolfson Children's Hospital.
There are several conditions that may require a newborn to be be placed in the NICU:
Respiratory distress syndrome (RDS)
Pneumonia
Anemia
Apnea
Hypoglycemia
Jaundice
Sepsis
And, the chance of infection increases the earlier a little one is born because his or her immune system isn't quite mature enough to fight it.
Although there are several conditions that may require intensive care 24/7, prematurity is the most common, seeing as these newborns aren't fully developed enough to safely transition into the world outside. So, while in the NICU, they are able to continue growing for a period of time in a controlled, enclosed setting — one that mimics the environment of their mother's womb.
"A birth is considered 'preterm' when a baby is born before 37 weeks of pregnancy have been completed," shares Jennifer Southall, RN, director of perinatal services at Wolfson Children's Hospital and Baptist Medical Center Jacksonville.
Thankfully, medical research and advances are allowing more premature babies than ever to have higher survival rates and lead healthier lives. If a parent knows that their unborn baby has an underlying medical condition and will be born needing intensive care, they can connect with specialists before labor and delivery to develop a proper plan of treatment.
Wolfson Children's Hospital's main NICUs provide much-needed comprehensive care to a wide variety of patients, ranging from newborns who just need a little more time to mature to those children with complex, life-threatening conditions who may require lifelong care. The three-floor Neonatal Intensive Care Center in the Borowy Family Children's Critical Care Tower provides the highest level (IV) of neonatal care, while also catering to children with simpler needs.
The Wolfson Children's NICU at Baptist Medical Center South is level II, which means it is well equipped to care for or stabilize infants born before 32 weeks gestation and weighing less than 1500 grams, who have physiologic immaturity, are moderately sick, or who are recovering after intensive care and need mechanical ventilation for a brief duration.
On February 22, 2022, Wolfson Children's Hospital transferred 64 babies from the former NICU to the new state-of-the-art Neonatal Intensive Care Center in the Borowy Family Children's Critical Care Tower. The Lamas triplets were three of the babies to make the journey. Watch below as the family shares their experience:
Leaving the NICU
An infant may be discharged from the NICU (always an exciting day!) if he or she meets the following criteria:
Maintains body temperature in an open crib for at least 24–48 hours without any supplemental heat.
Accepts all feedings by bottle or breast without supplemental tube feedings (exception for those who require gastronomy tube feedings).
Is able to gain weight steadily.
"The average length of stay in our Wolfson Children's Hospital NICU is 23 days," said Brooks.
If your infant is born preterm or with a serious illness, he or she may be admitted to Wolfson Children's NICU for specialized medical care. There, the healthcare team can deliver high-level, coordinated care for your baby, along with support for your family. To learn more about the lifesaving care provided to newborns in the new Neonatal Intensive Care Center in the Borowy Family Children's Critical Care Tower, visit wolfsonchildrens.com/tower.