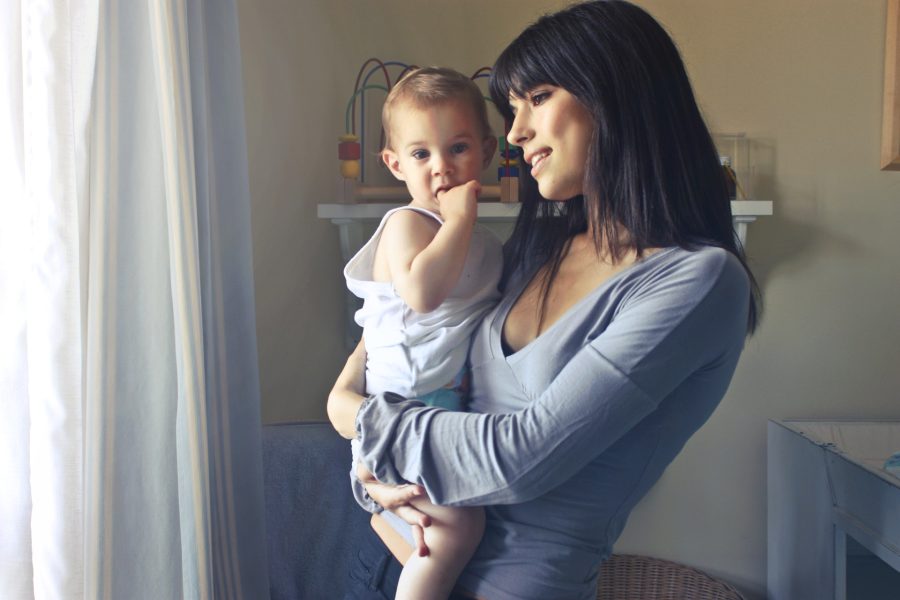 I was working full-time in marketing when I became pregnant with twins. It was our first experience as a family having to navigate the world of paid childcare. After a lot of research, interviews and extensive mom guilt, we found a wonderful, affordable nanny through a childcare-finding website. Even though it was stressful and emotional, the process was fairly straightforward and there were a lot of options. But I was very lucky to work for an amazing, supportive company with hours that were your typical 9-to-5.
Fast-forward to about two years after having my third child and taking a three-year working hiatus, I decided to re-enter the workforce. I also made a career change and was pursuing jobs in the fitness industry. For awhile I was able to squeeze in work EARLY in the morning (so much respect for you mamas getting your 5 a.m. workouts on!), evenings and weekends — all convenient times when my husband was able to watch our kids.
As I was looking to expand my opportunities in this industry, it became apparent that childcare would be a necessity. My twins are 6 now and in school all day, but my youngest daughter is 3 so I needed something for her.  I started looking at half-day preschools but realized the schedules available didn't cover the times I would need to work. But putting her in full-time school was overkill and would drain all the money I was making. For awhile we used our trusty neighborhood babysitter, but my hours were so random and spontaneous and she couldn't always cover it. We have no family in Jacksonville and most of my friends work and also have kids, so that wasn't an option.
I was getting so frustrated, wondering if I would be able to make this new job work. Luckily, I got some really great advice from ALL OF YOU! I did a Jacksonville Mom Instagram takeover where I shared my struggles, and I got some amazing feedback and support. I realized there are so many of you who share this struggle. Finding flexible childcare is tough! And keeping it affordable is even more difficult. But these were my favorite bits of advice:
Get yourself a LOOONG list of sitters, and then a few more backups! It takes time and persistence, so start now. Go out on a date night this weekend, ask a friend or neighbor for a babysitter recommendation and try out a new sitter. Then repeat.
Childcare by the hour. You guys, I was so hesitant to try this. But I received so many testimonials vouching for both Kids By the Hour and KidsPark when I asked for suggestions. It has CHANGED. MY. WORLD. You buy a package of very affordable hours and then you take your kid whenever you want. Yes, whenever you want. And then you pick them up whenever you want. You are charged by the hour. It's organized like school, they have a schedule, lessons, snack time, nap time and playground time. I love that I can take my daughter when I go to work, pick her up when I finish, and I only pay for the hours I need. Oh, it is glorious.
Get a sitter service. They help you find a sitter and then provide backups if your usual sitter can't come. Our friend has it set up almost like childcare insurance. You typically need at least one set time that the sitter comes every week to have access to their sitters. So our friends use their obligatory one day a week as a standing date night, and then if their child is ever sick and can't go to school, they have the peace of mind that they could use their sitter service as a backup.
Try an au pair! I spoke with a friend who helps match families with au pairs at Cultural Care Au Pair and it really is an amazing concept. The au pairs are young adults from overseas who live in your home as a family member and provide culturally enriching childcare. While daycare centers typically have established hours of operation and most nannies want a consistent weekly schedule, au pairs can work up to 45 hours a week (no more than 10 hours a day) on a schedule that you decide. So, if you need early morning coverage before school or want to stay out late for a date night, you are quite conveniently covered.
Hopefully, these tips will be as helpful for you as they were for me. One other bit of advice I received that was profound but unfortunately unrealistic for many, was to seek employment from family-friendly companies who get it. I know these companies exist but are hard to find, so if you know of one spread the word. If you are a manager or an employer do your best to be thoughtful of your working moms and dads. Maybe together we can help make the workplace a bit more flexible so the need for flexible childcare isn't as great.