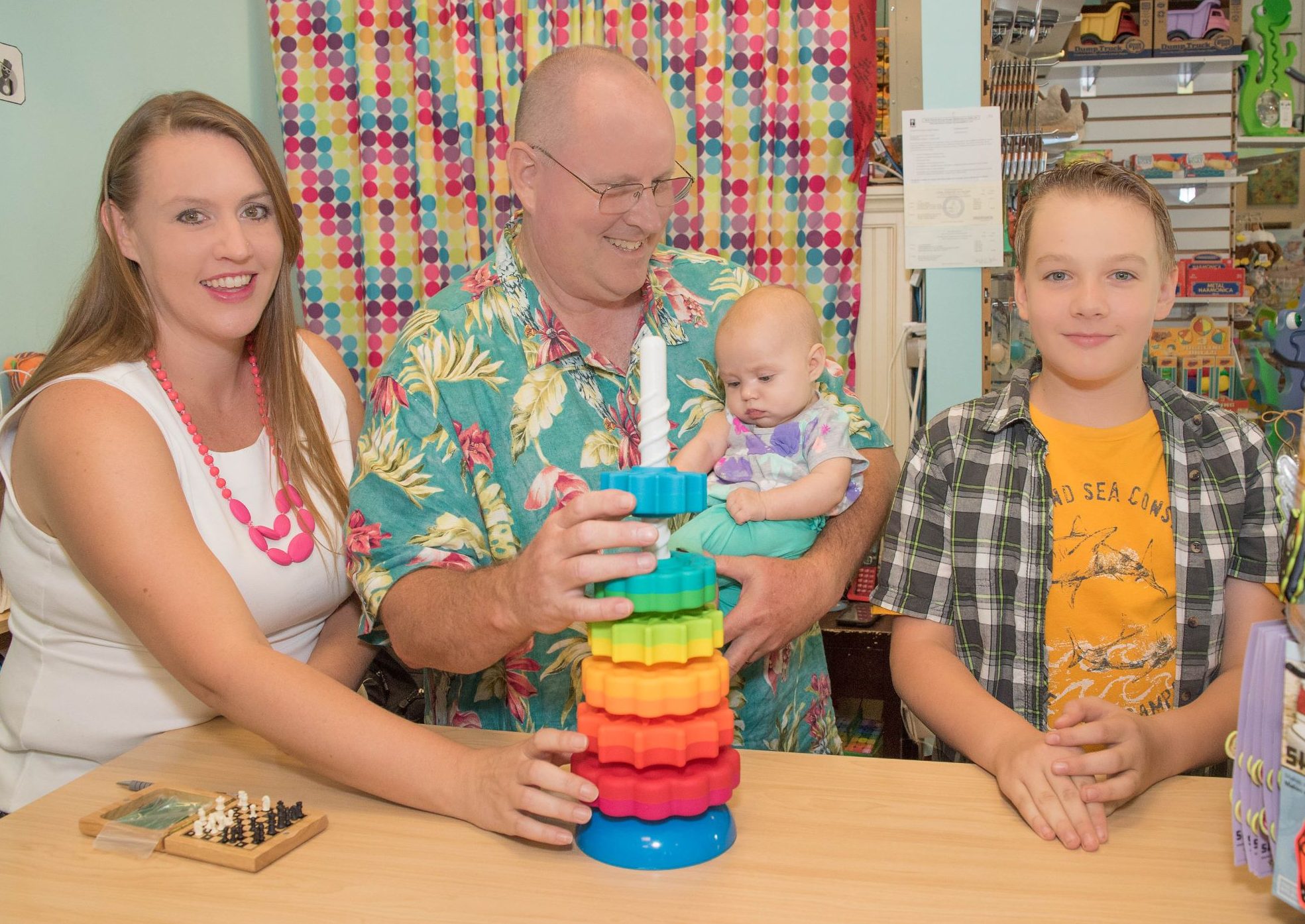 As a kid, when I wasn't letting myself into our house after school, I was either at my mom's or dad's work. At my dad's office (an Army helicopter hangar), I learned dirty jokes and learned about the different types of helicopters. At my mom's work, I learned about non-profit organizations and small businesses. I just grew up hanging out with my parents at work.
Fast forward a few years when I was a young, single college student with my own child, I really didn't have a choice but to bring my child to work a lot of days — as you probably know, childcare is expensive. I was fortunate to work at places where he could tag along. My work was where he learned his love of music and had help with his homework. Then I made the big scary leap from a "real job" to owning Villa Villekulla Toy Store with my dad, and my son came to work with me a LOT more. And two years later, his little sister was born. She spent the first two years of her life in a baby carrier attached to me in the toy store and has spent the other two on the sales floor. Both of my children have excellent customer service skills, and when my son decided he wanted to work away from the family business, I knew I was sending him out into the workforce well-prepared.
Now, with more people working at home, it may feel as if our kids never leave our jobs. But I really think there is so much value to a child witnessing and participating in a caregiver's work at home or in a workplace. As I write this, I'm enjoying the live music that I am always so lucky to have at home and can't imagine how my son might be different without that early access to music education through my job. My daughter can talk to anyone and is a skilled salesperson. My own career track has certainly reflected lessons I learned tagging along with my mom to work, and I also have a whole arsenal of jokes that are no longer funny or appropriate.
Sometimes the last thing we want to do is work from home while trying to wrangle our children or try to wrangle our children at the office. But taking your sons and daughters to work can provide so many unplanned learning experiences that they might not get anywhere else. And THANK YOU to patient employers who don't mind an adorable distraction every once in a while.
Did you ever tag along with your caregivers to work? What are some important lessons you learned?