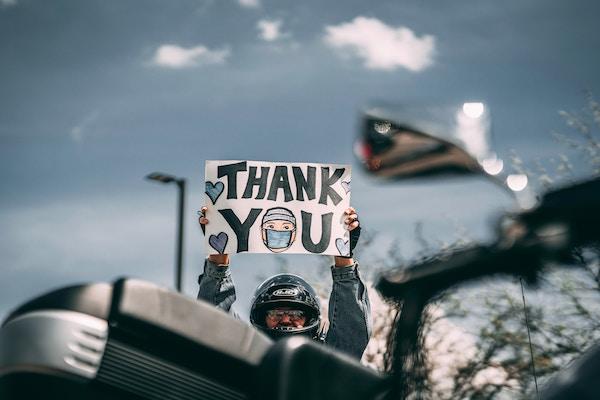 I just pulled up into the driveway after a 12-hour shift, and I can see my little ones sitting at the breakfast table waving at me through the kitchen window. It's their routine on the nights that I work to wake up with my husband, get ready for school, and wait for Mommy to walk through the door before they leave for the day. I work in an intensive care unit (ICU). Most days, I drive home with the windows down and the radio off, just processing my thoughts and allowing myself some time to mentally recuperate before I walk in the door and greet my babies with the biggest smile on my face. We have an air hug rule when I first arrive. Hospital shoes are left outside, we hug from a distance, and I kiss each of them on the head and run straight for the shower to quickly rinse any germs so I can give them real mama bear hugs before they leave for the day.
Nursing is a new career; I've been in an ICU for less than a year. My respect for nurses, especially nurse mothers, has grown exponentially during this short time. There are some weeks when I question if I am even mentally cut out for this, and then I think about all the mothers who have made this a lifelong career while raising families. Motherhood is undeniably one of the most difficult roles in itself. You are constantly pouring from your cup and nurturing your children, even in moments when you may be overwhelmed and emotionally overworked. This feeling compounds exponentially when your job is to care for sick people. It's a feeling I never truly understood until I became an RN.
I hope my fellow nurse moms are celebrated, not only on National Nurses Day (May 6) but every day. We deserve to bask in the recognition of our hard work and dedication. Our jobs are difficult, emotionally and physically, yet undeniably rewarding. Our jobs require another level of emotional strength. We see difficult things at work, occasionally cry on our drives home, and suddenly shake it all off in time to tuck the kids into bed or sit with them for breakfast before we go to sleep. We work 12-hour shifts, and our feet may still hurt even with the most comfortable shoes. We constantly cater to the needs of others, and if we are honest, we don't always make time for the self-care we deserve. We are strong, we are resilient, and we devote our careers to improving the lives of others. It's okay to acknowledge that what we do is nothing short of amazing.