Today, October 15th, is Pregnancy and Infant Loss Remembrance Day, which includes, but is not limited to, honoring losses from miscarriage, stillbirth, SIDS, or the death of a newborn. The day is observed in the evening by a lighting of a candle at 7pm in your local time zone, creating a wave of light around the globe to support all of those who have lost a child during pregnancy or shortly after birth. This official day of remembrance publicly acknowledges families' losses, creating support and honoring their child's memory.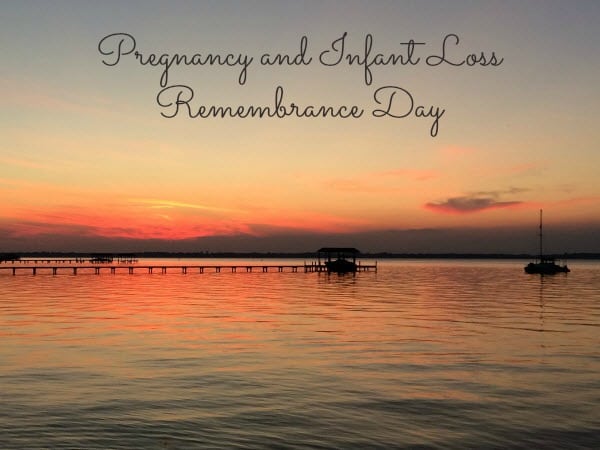 This year, I will be lighting a candle (or, sadly, more accurately, our beautiful votive candle-holder urn) in memory of our daughter who was born alive at 22 weeks of pregnancy due to preterm labor, and passed away peacefully in my arms two hours after birth. This happened six weeks ago — which both feels like forever ago and just like yesterday.
I have been struggling to find the words to write down my entire experience, but they are failing to flow. While I am waiting to find the words before sharing my entire story with you all, I will say this — the outpouring of love and support has been overwhelming. It has truly been an amazing spiritual experience to see how kind, generous, loving, and vulnerable everyone has been while sharing their hope, faith, religion, and personal experiences with me. It has been incredible to listen to those who have gone through a similar loss, as it is such a personal sense of grief to share.
What Happened?
This is the question that had always been first on my mind when hearing of someone's loss, but I had never asked. I had never asked due to respect and concern for not upsetting the parent, and also because I didn't want to seem intrusive if I wasn't a close friend or family member. I can tell that this question has been on the mind for many when hearing of my loss, and this question has also been loudly missing from many conversations. No one talks about pregnancy loss, but I would like to help change that for others. One of the things that has been amazing to see, however, is how many people have opened up and shared their experiences with me after I had shared mine. I want to talk about it. We should all talk about it.
In my experience, I had a subchorionic hemorrhage that didn't heal combined with placenta previa. After passing significant-sized blood clots from the healed area of hemorrhage, my body started to go into labor at 21 weeks and 1 day. For the entire week after passing those clots, each evening my labor progressed with contractions 3-5 minutes apart for hours at a time. Medication stopped them each evening, until it didn't anymore.
On Sunday, August 31, I was laboring in so much pain that we went to the hospital, and my water broke after getting out of the car. I received a shot to try and slow everything down, but it lasted just long enough for my doctor to arrive before labor picked back up. The baby's heartbeat could not be detected on the ultrasound, there was no more fluid, and a placental abruption was seen. While waiting for a specialist to confirm the lack of heartbeat, my doctor checked me and I was ready to push. We were waiting until birth to find out if we were having a boy or a girl, and after one push, our daughter was born at 8:59pm.
She was born alive at 22 weeks and 1 day and passed away peacefully in our arms two hours later. We were told that we would need to fill out information for a birth certificate and death certificate, which included naming our baby. None of the names we had talked about seemed to fit her strong little body, or they all had "lifetime" expectations dreamed with them when we envisioned using the names. Which brought up the question, "What do you name a child when you know they are not going to live?" For some reason, both my husband and I kept thinking of the name Rose. She was a beautiful and tough little girl, who grew so healthy and strong in there until her delicate home couldn't hold on any longer.
There were not any photos of roses in the room with us, we do not know anyone named Rose, nor was Rose ever a name we would have chosen if she had been full-term and healthy. But somehow, overnight in the dark hospital room, her name came to us — Rose Naima. She was a little gift to us for the moment and her name reflects comfort, happiness, tranquility, and peace. Our care was respectful and amazing, my health was never risked, and we had the best case scenario out of a worst case experience.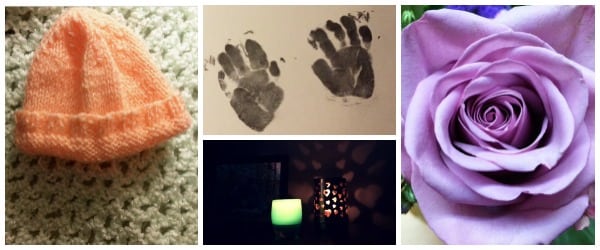 If you or someone you know in Jacksonville has experienced a pregnancy loss, please know that there are a few local resources that I have found while searching for support over the past month and a half.
What is Florida's Law?
From what we had been informed, in the State of Florida, if pregnancy loss occurs after 20 weeks, parents are required to name their child and to choose a funeral home for either a burial or a cremation. This paperwork is carried out in the hospital and the staff provides a list of local resources to choose from, and they initiate everything from there. Between 20 weeks and 23 weeks, the pregnancy is considered non-viable because there is nothing medically they can do at that age for NICU (neonatal intensive-care unit) intervention. From what we were told, at 24 weeks there is a substantially greater chance of survival with NICU care. This obviously may vary depending on the hospital and the type of care they have available. If a pregnancy loss occurs before 20 weeks, the parents and doctors may discuss together what funeral/cremation/medical needs best fit the family.
Where Do You Even Begin?
This was obviously the first question that we had on our minds while still in the hospital. The nurses and doctors took time to walk us through all of the above difficult details. In addition to all of the paperwork we received on the hospital's Bereavement Support Services, we also received a thoughtful memory box organized by the Circle of Grace chapter of The United Methodist Women at Riverside Park. This special box had information for a local in-person support group called Tear Catchers. I attended this group two weeks postpartum and felt an immense sense of relief just sitting in the room with other families who have been through a similar experience. Typically, I have found online support groups easy and comforting, but being in-person was priceless for me.
What Are Some Local Resources?
Tear Catchers: Gatherings held the 1st and 3rd Mondays of each month from 7:00pm to 8:30pm at All Saints Episcopal Church. Click the link for more details.
Grief Share: Click the link to search the site for support closest to you.
Grief Therapists: Search for a therapist who fits your specific needs and concerns.
Many local places of worship offer grief support groups and can be a source of healing to those seeking religious comfort.
What Are Other Resources?
Mothering, BabyCenter, and The Bump all offer loss support groups if an online community is right for you.
Instagram can also be a place for online support. I found a great community of parents who helped me through postpartum depression and have been there for me throughout our pregnancy loss as well. October offers the hashtag #CaptureYourGrief as a period of 31 Days of Self-Care and Mindful Healing. I have been posting my own personal experience on my account @littlebrimbaby if you want to follow or share yours with me as well.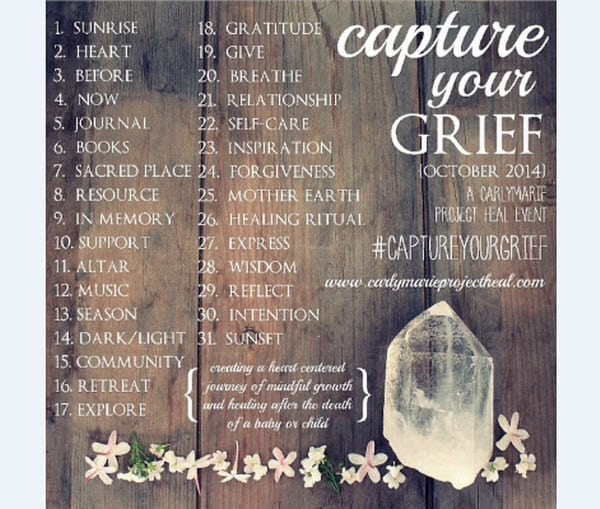 A Silent Sorrow: Pregnancy Loss – Guidance and Support and You and Your Family. I found this factual book to be a good place to start. Since then, I have been working on buying out Barnes & Noble for all books spiritual and healing on a quest through my own grief.
How Can I Help My Friend?
One thing that I have been learning through my recent experience is that grief is so personal and different for all involved. Even men and women grieve differently. The bottom line is that you find a system of support and that you are respectful of others' grieving processes. Being kind to yourself as a healing parent is the most important thing, and I am slowly learning how to do that myself.
If you are wanting to help someone you know through this difficult process, my advice would be to not ask them how you can help — just pick a small way that you can show your love and do it. Whether it is sending texts every few days checking in, mailing a card with notes of sorrow, sending pampering items, or a personal gift inscribed with the loved one's name — however you can show your support for that person, just do it. Find a local restaurant or meal delivery service and order a dinner. Even stopping by just to sit and listen is appreciated.
When someone asks me how they can help, I don't even know where to begin, some days it all feels so overwhelming, and some days I feel "normal." When someone just showed up with coffee and magazines out of the blue, that was great. If you are close to the mother and can bring over cabbage leaves, ice packs, and peppermint tea when her milks comes in and she has no baby to nurse, just let her know you agree at how cruel it all seems.
Anything you can do to make someone's day even just a tiny bit brighter would be greatly appreciated. It has been amazing for us to see how much love surrounds us, and sometimes we can all be blind to that when life gets busy and everyone seems spread so thin. It was comforting for us to know that when it felt like our world stopped, our friends' and families' did, too. Let your loved one know that your world stops for them and support them in their grief.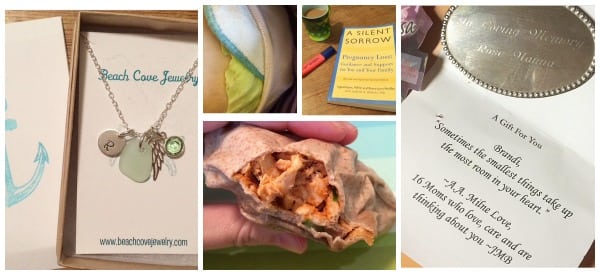 If there are any resources that helped you through a similar experience, or that you would like to share here for support, please do. I know I am not the only one that would love to know. Thank you for letting me share.