Guide to Schools, Preschools, & Childcare in Jacksonville
We are frequently asked about education programs and recommendations for childcare, preschools and schools in the Jacksonville area. We understand that picking a school or childcare center that fits your child's and your family's needs can be an overwhelming task. Whether you choose private, public, religious affiliation or otherwise – we are thrilled to provide this guide resource to help your family, brought to you by our many sponsors! If you have questions about specific schools we also encourage you to ask the moms in our neighborhood groups about their thoughts and experiences, including our specialty groups for homeschool moms and our newest group for moms of middle school and high school-aged kids. Who better to ask about local schools than actual moms who have experienced the schools themselves?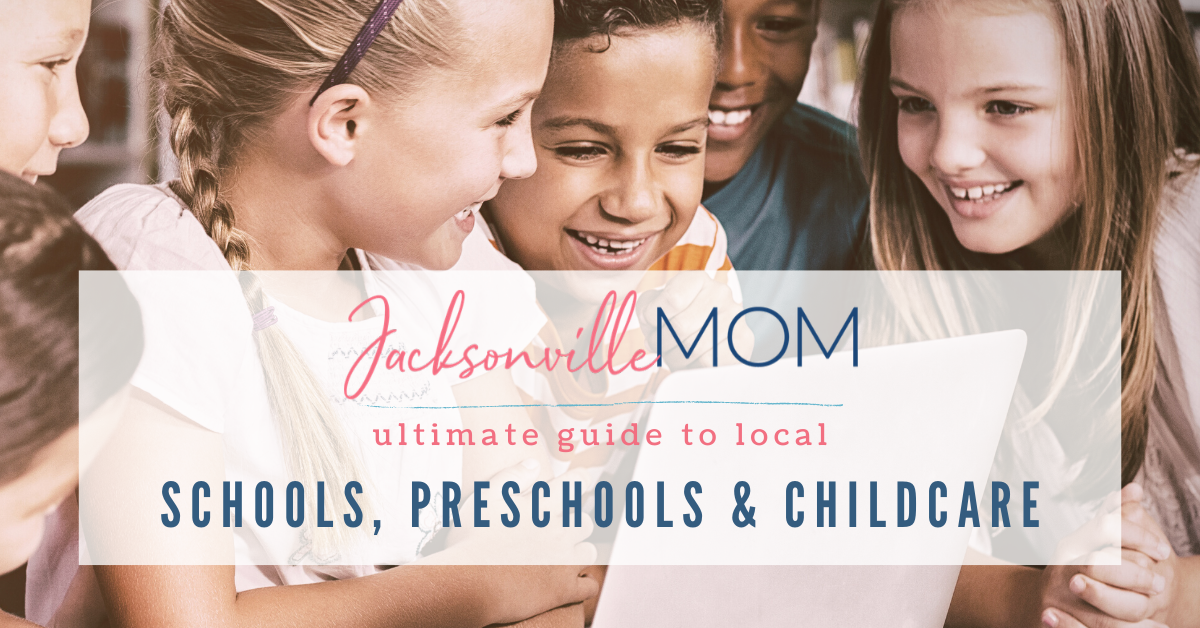 Jacksonville Country Day School
Private School PreK3 – 6th Grade
Through intellectual exploration — which involves project-based and transformative learning experiences, Jacksonville Country Day School prepares students for success at the next academic level and beyond. Strengthened by a supportive and nurturing community of educators, peers, and parents, JCDS students learn to approach challenges with creativity, perseverance, and confidence so that they can succeed.

We invite you to tour the JCDS campus and discover all that our school has to offer. Located at 10063 Baymeadows Road Jacksonville, FL 32256. Phone: (904) 641-6644.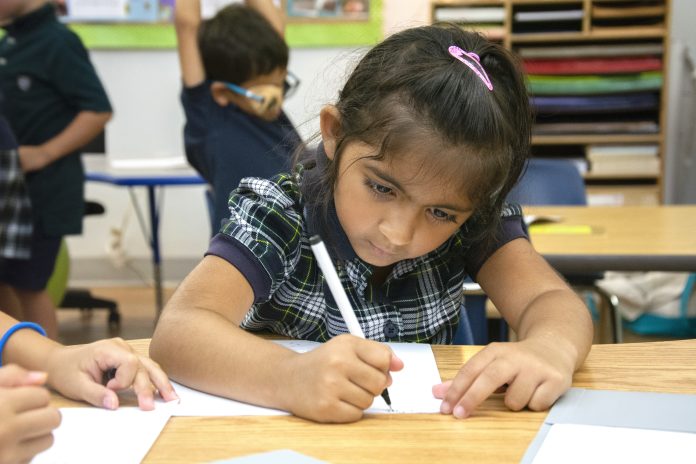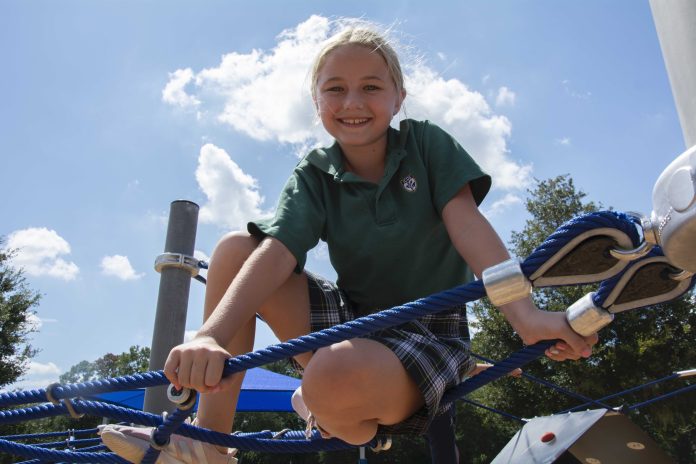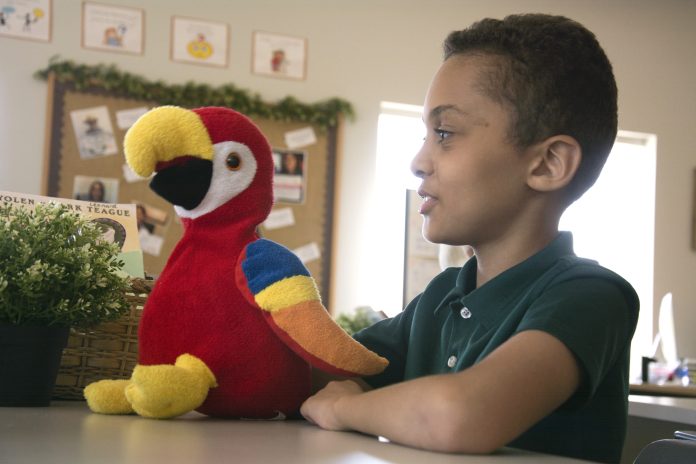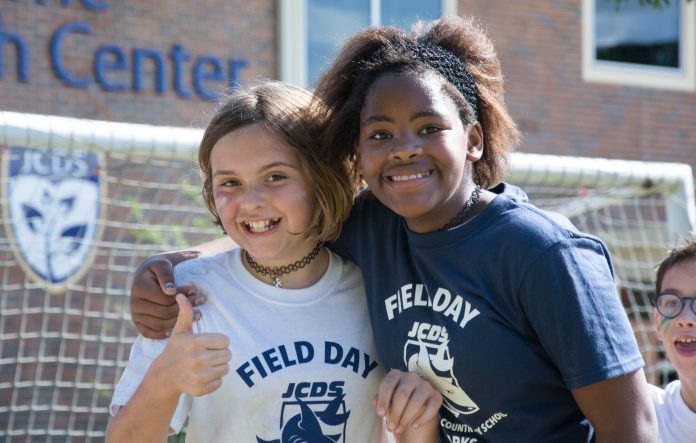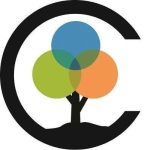 Collage Day School is an academically challenging, independent day school in the Palm Valley area of Ponte Vedra Beach designed to educate students from three months through fifth grade. Collage focuses on all levels of the learning spectrum, including students who qualify for the gifted program, to offer your child the best opportunity for success. Our Early Learning Community for ages 3 months to 2 years old offers rich experiences to help our youngest children grow into joyful learners. We believe a robust early childhood education sets the stage for a future filled with a love of learning. Students should enter Elementary School with a healthy curiosity, readiness skills, an eagerness to learn and abundant energy.
The Collage team fosters those attributes in its Preschool Community, engaging students in an active learning process in which teachers provide direct instruction as well as hands-on activities that promote critical thinking, problem-solving, cooperative learning and facilitation of child-driven inquiry. Collage's Elementary School Community is designed to continue the development of well-rounded students with a well-balanced curriculum that engages them intellectually, emotionally and physically. We also offer the essential components of successful gifted programs: low student-teacher ratios, individualized curricula, and inquiry-based teaching methods – all led by Gifted Endorsed/Certified faculty. Visit our website to learn more about why you should choose Collage Day School.  Located at 171 Canal Blvd, Ponte Vedra Beach, FL 32082. Phone: (904) 900-1439.
Palm Valley Child Development Center
Palm Valley Child Development Center is now open for parents looking for a great educational experience for their child who can benefit from a specialized curriculum to maximize developmental abilities. Our team-teaching cooperative program offers small ratios of mixed-age classes from Pre-K through Elementary with personalized instruction that recognizes and maximizes the individual strengths of each child to support intellectual and emotional development while meeting basic needs.
We are proud to partner with Mandala Family Wellness for your child's optimal health and wellbeing, too. Classes include Art, PE, Music, TimberNook, STEAM Lab, Media, Field Trips, and Before/After School Care. Plan a visit – it may change your child's life. Located 185 Landrum Lane Ponte Vedra Beach 32082 and a sister school to Collage Day School. Phone: (904)373-0743.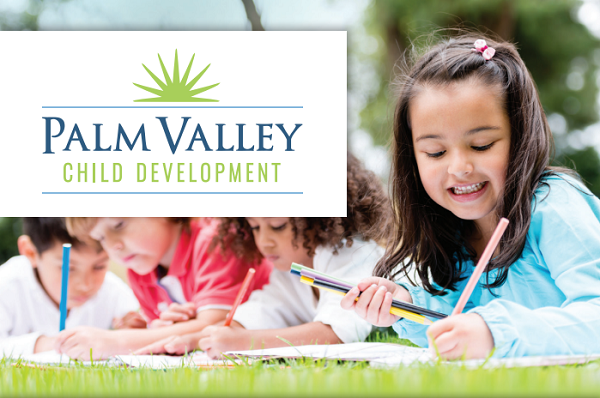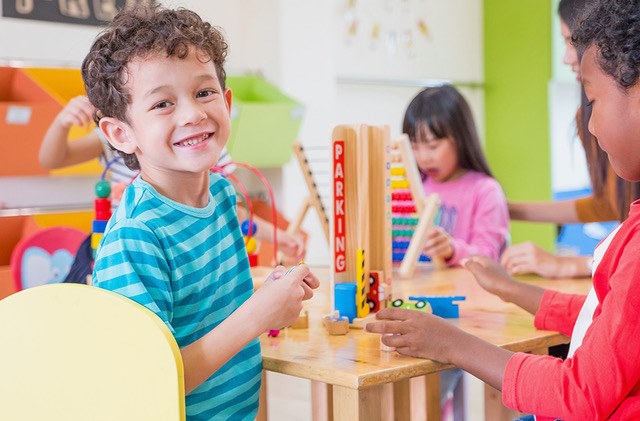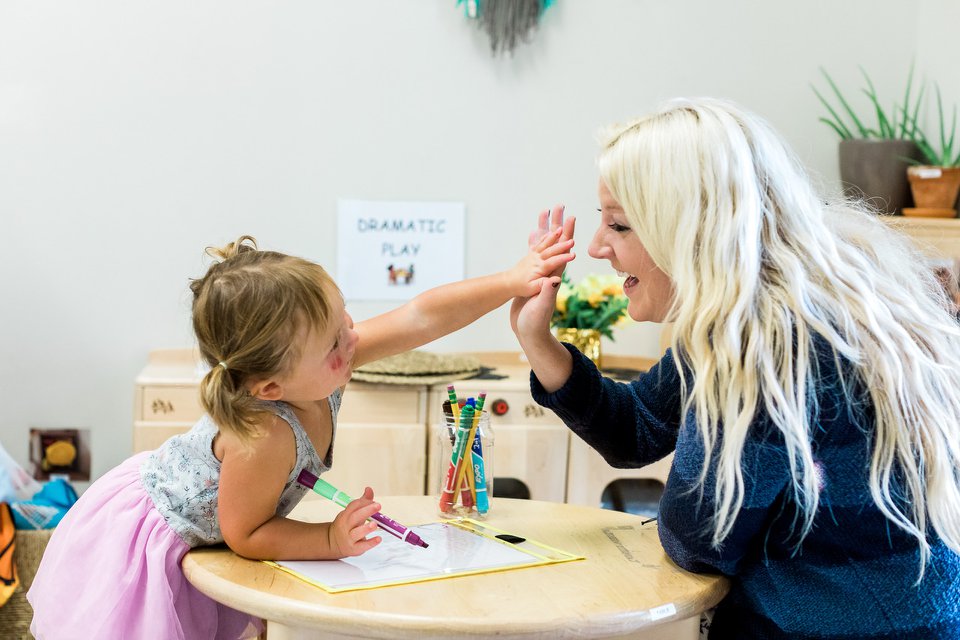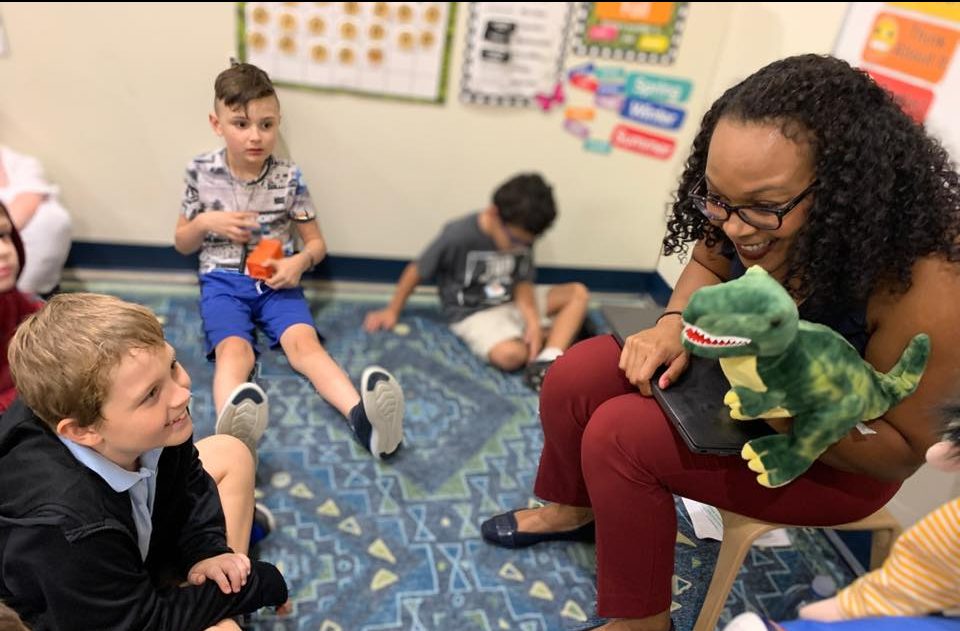 Episcopal School of Jacksonville
Independent Private College Preparatory School 6th – 12th Grade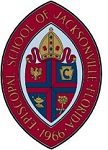 Episcopal School of Jacksonville (ESJ) provides a challenging college-preparatory education within an academically challenging but caring environment focused on four areas of campus life that are essential to a balanced education. The Four Pillars include Academics, Athletics, Fine Arts, and Spiritual Life. The school's focus on the Harkness method and learner-centered teaching, as well as its college counseling program–which begins in ninth grade–helps prepare students for lives after Commencement. Through probing classes in world religion studies, and an active community service program, the school instills in its student's values and passions that will equip them for useful lives of leadership. The school welcomes students, faculty, and staff from all faith traditions.
On July 1, 2020, ESJ will merge with Beaches Episcopal School (BES), an independent PreK-3 – 6th grade school, and St. Mark's Episcopal Day School, an independent age 1 - 6th grade school. BES and SMEDS will become Episcopal School of Jacksonville, an age 1 - 12th grade school operating on three campuses:

Grades 6-12 on the Munnerlyn campus, located at 4455 Atlantic Blvd. Jacksonville, FL 32207. Phone: (904) 396-5751
Grades PreK3-6 on the Beaches campus, located at 1150 N 5th St, Jacksonville Beach, FL 32250. Phone: (904) 246-2466
Grades age 1-6 on the St. Mark's campus at 4114 Oxford Avenue, Jacksonville, FL 32210. Phone: (904) 388-2632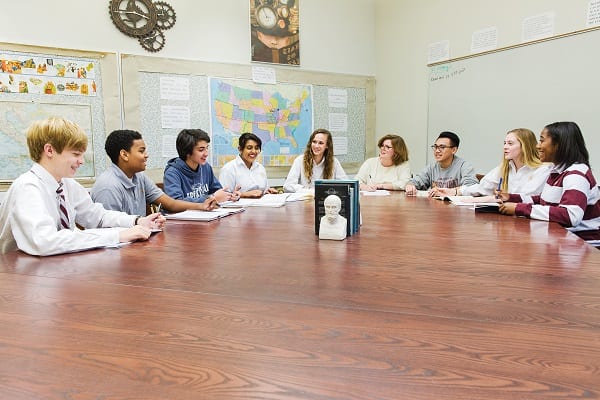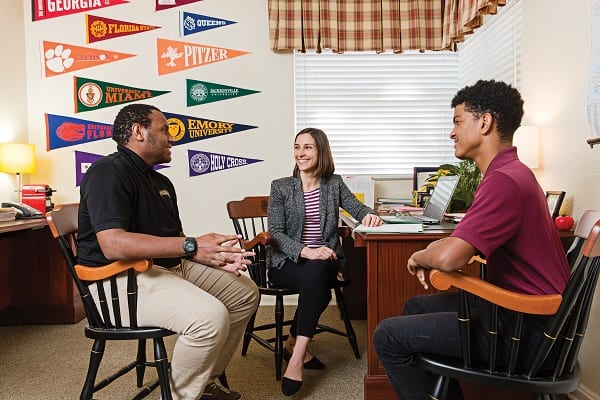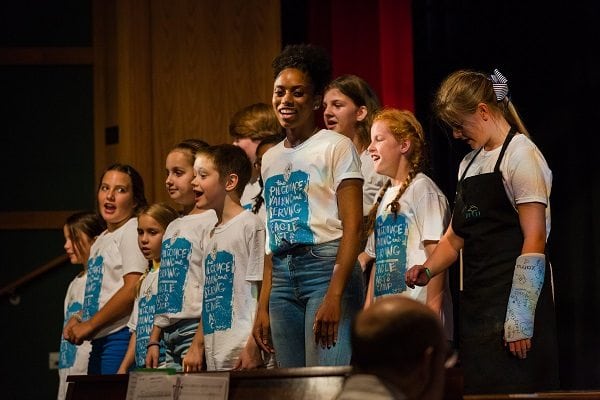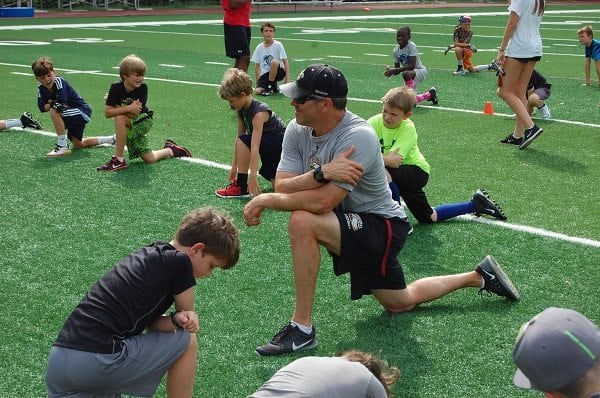 Beaches Episcopal School is an independent school with a 60-year tradition of academic excellence.  Our school provides a strong academic foundation, integrating a challenging curriculum taught by dynamic, experienced, and enthusiastic teachers in smaller class settings that help students reach their full potential.  A full complement of enrichment classes in fine arts, athletics, and Christian Education provides outlets for personal discovery and spiritual growth.  BES has embraced the Maker Movement by establishing IDEA Studios (Imagine Designing Everything and Anything), spaces that cultivate curiosity, inspire wonder, celebrate unique solutions, and encourage creativity in our students.  Our athletic program provides opportunities for students to learn skills and exhibit sportsmanship and teamwork in a fun atmosphere.  With our preeminent academic program, passionate faculty, skill-building IDEA Studios, unrivaled athletic program, and diverse after-school offerings, Beaches Episcopal School is changing the face of education on the First Coast. Located at 1150 N 5th St, Jacksonville Beach, FL 32250. Phone: (904) 246-2466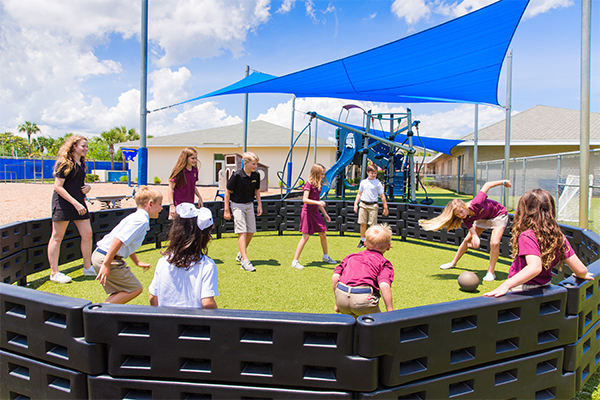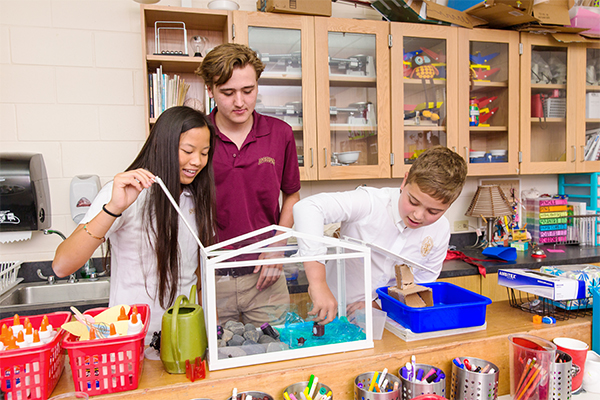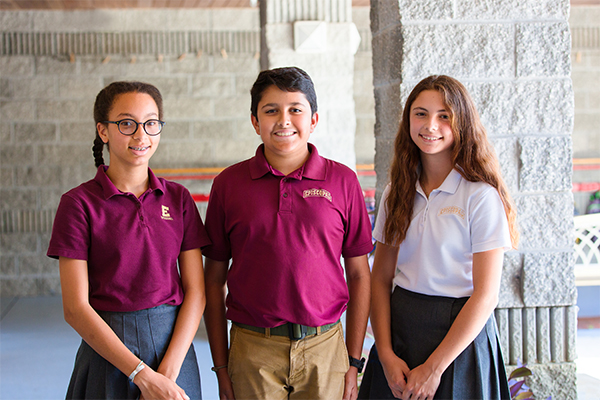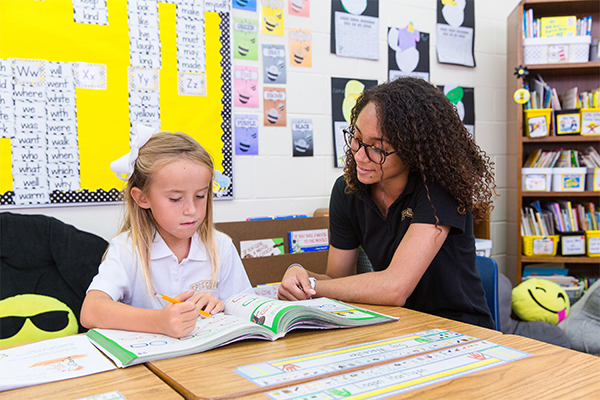 St. Mark's Episcopal Day School
Private Preschool & Elementary School. Inspiring Learners. Creating Leaders.
At St. Mark's Episcopal Day School, we give every student the individual attention they deserve, utilizing a purposeful approach for the way they learn, live, play, and grow. Our approach to learning provides students the opportunity to discover their unique gifts while also acquiring a deep academic foundation and strong sense of purpose. St. Mark's is not just a school, it's a community of students, parents, and faculty – all of whom are committed to one common goal for children: to inspire learners and create leaders. With innovation and a compassionate, faith-based support system, your child will have everything they need to succeed in their academic journey.
Founded in 1970, St. Mark's Episcopal Day School is an independent elementary day school for children age 1 through 6th grade and accredited by the Florida Council of Independent Schools (FCIS) and National Association for the Education of Young Children (NAEYC). Our mission to prepare children to learn and lead in a global community within a nurturing Christian environment is only the beginning. Come visit us to learn more! Located at 4114 Oxford Avenue, Jacksonville, FL 32210. Phone: (904) 388-2632
Admissions Open Houses: Peek at Pre-K: Wednesday, January 15, 8:30 AM; Open House (all grades): Thursday, January 23, 5:30 PM; Early Learning Program Open House: Tuesday, February 4, 8:15 AM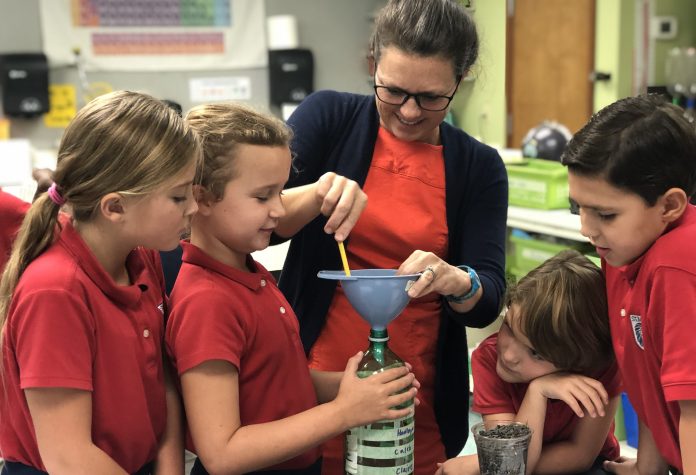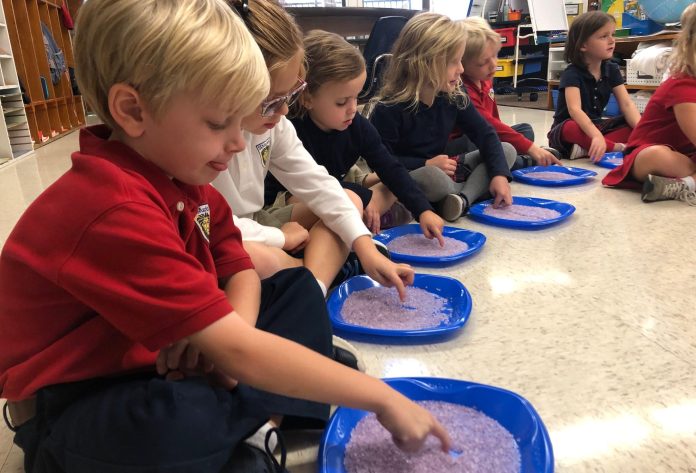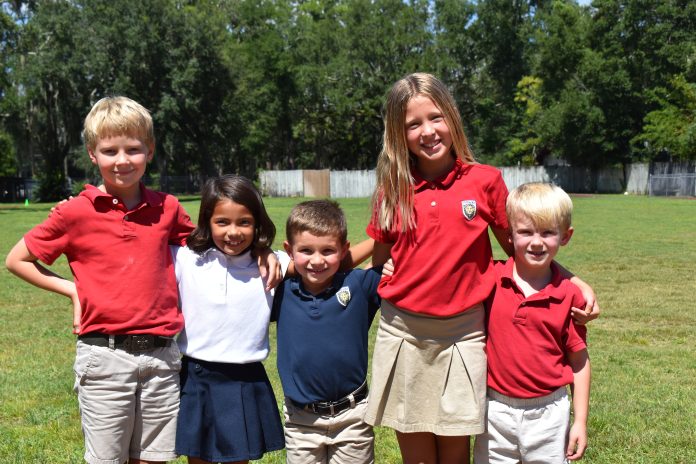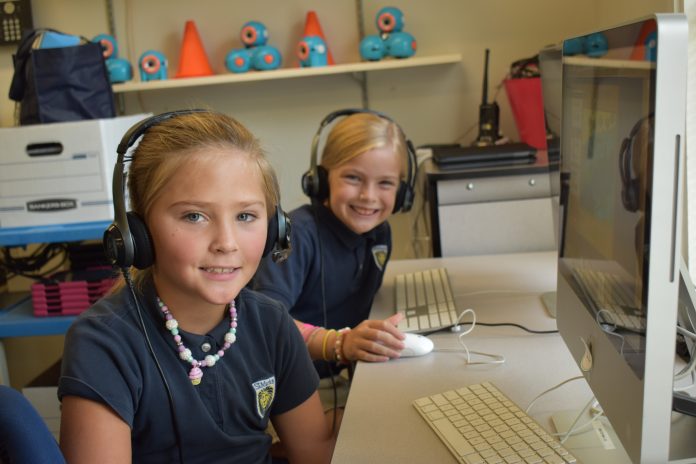 Non-Profit, Independent Montessori and International Baccalaureate School, Toddler – 8th grade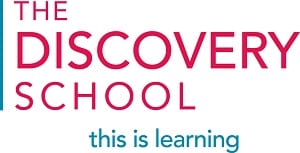 The Discovery School is a diverse and inclusive learning environment for students aged 18 months through 8th grade that promotes inquiry-based learning, independent thinking, global awareness, creative problem solving, and mutual respect in a safe, nurturing environment where every child's voice is valued. Discovery is the only school in Northeast Florida, and one of only a handful of schools in the country, rooted in a renowned educational philosophy, Montessori, that advances to a globally recognized program, the International Baccalaureate Primary Years Programme, which begins at the age of 3.
At Discovery, we have been a leader in personalized, learner-centric education for nearly 30 years. We are accredited by the Florida Council of Independent Schools, the American Montessori Society, and are recognized as an IB World School. Our mission is, "We open our minds and hearts so we can discover the knowledge and ideals to build a better world". Located at 102 15th Street South, Jacksonville Beach, FL 32250. Phone: (904) 247-4577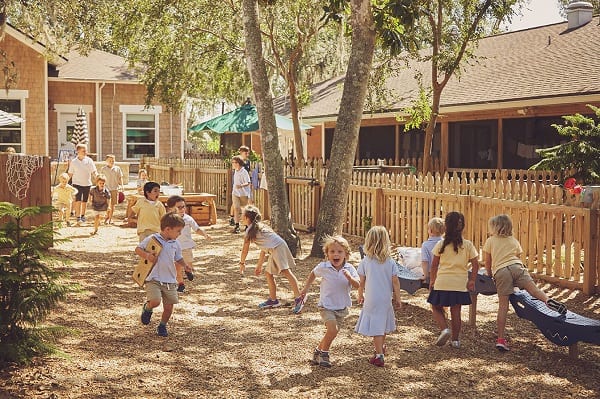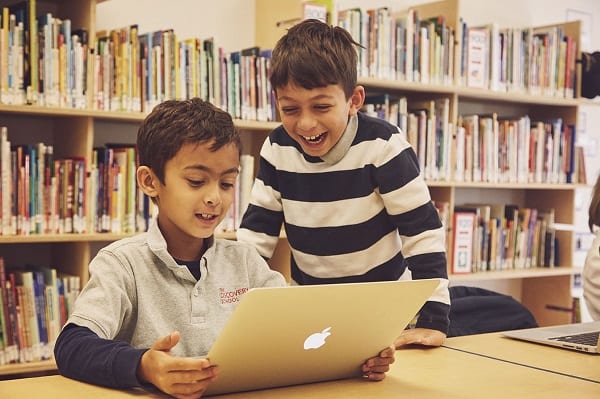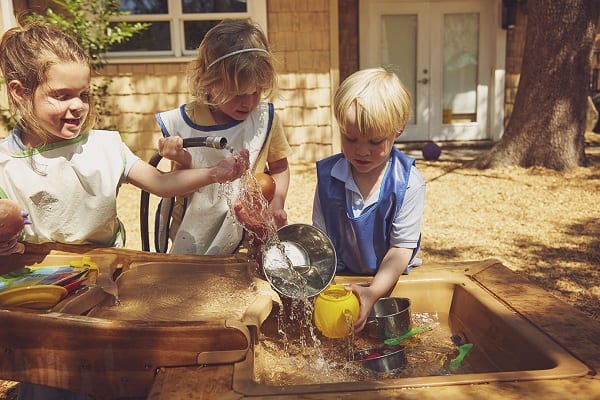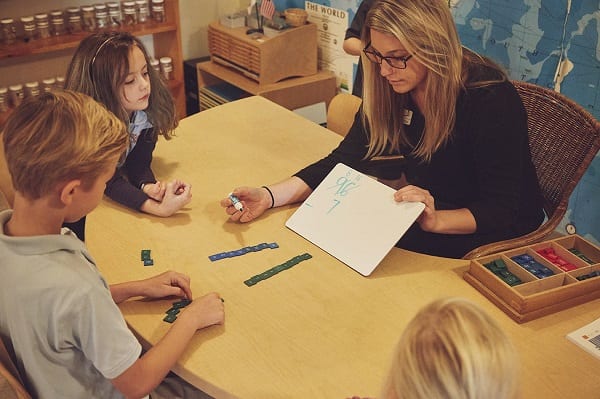 Shepherd of the Woods School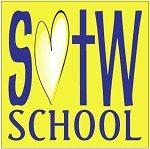 Shepherd of the Woods School provides personalized, values-based learning for students 2-years-old through 8th grade that prepares them for success in our rapidly changing world. Our students thrive in an inclusive environment that focuses on nurturing each child academically, socially, emotionally, and spiritually. Loving teachers guide students in developing inclusive relationships. Our students learn to make a difference both locally and globally. Shepherd of the Woods School is committed to and enjoys learning, loving, and serving! Southside Campus houses preschool and kindergarten classes at 7860 Southside Blvd, 32256. Mandarin Campus houses Kindergarten through 8th grade at 6595 Columbia Park Ct, 32258. Phone (904) 641-3393.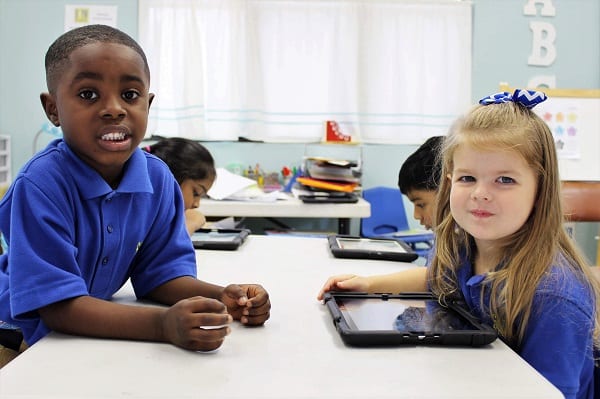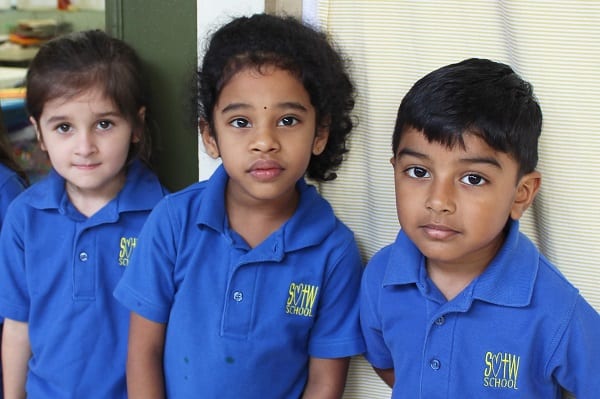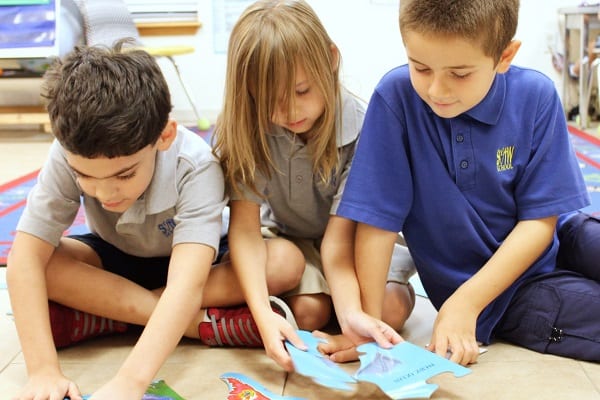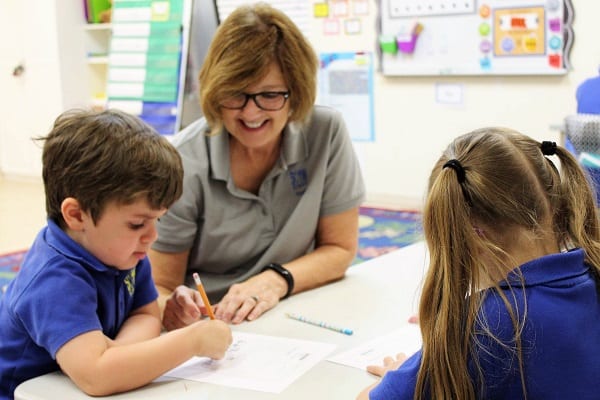 St. Johns Country Day School
Private College Prep School PreK – 12th Grade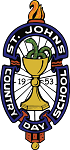 Since 1953, St. Johns Country Day School has been helping First Coast families raise children who are inquisitive, creative, inspired, and inspiring. With its amazing faculty, first-rate academics, robust visual and performing arts, exciting trip opportunities, and championship athletics programs, St. Johns is perfectly positioned to help you prepare your child not just for college, but for life. Learn more and schedule a personal tour at sjcds.net!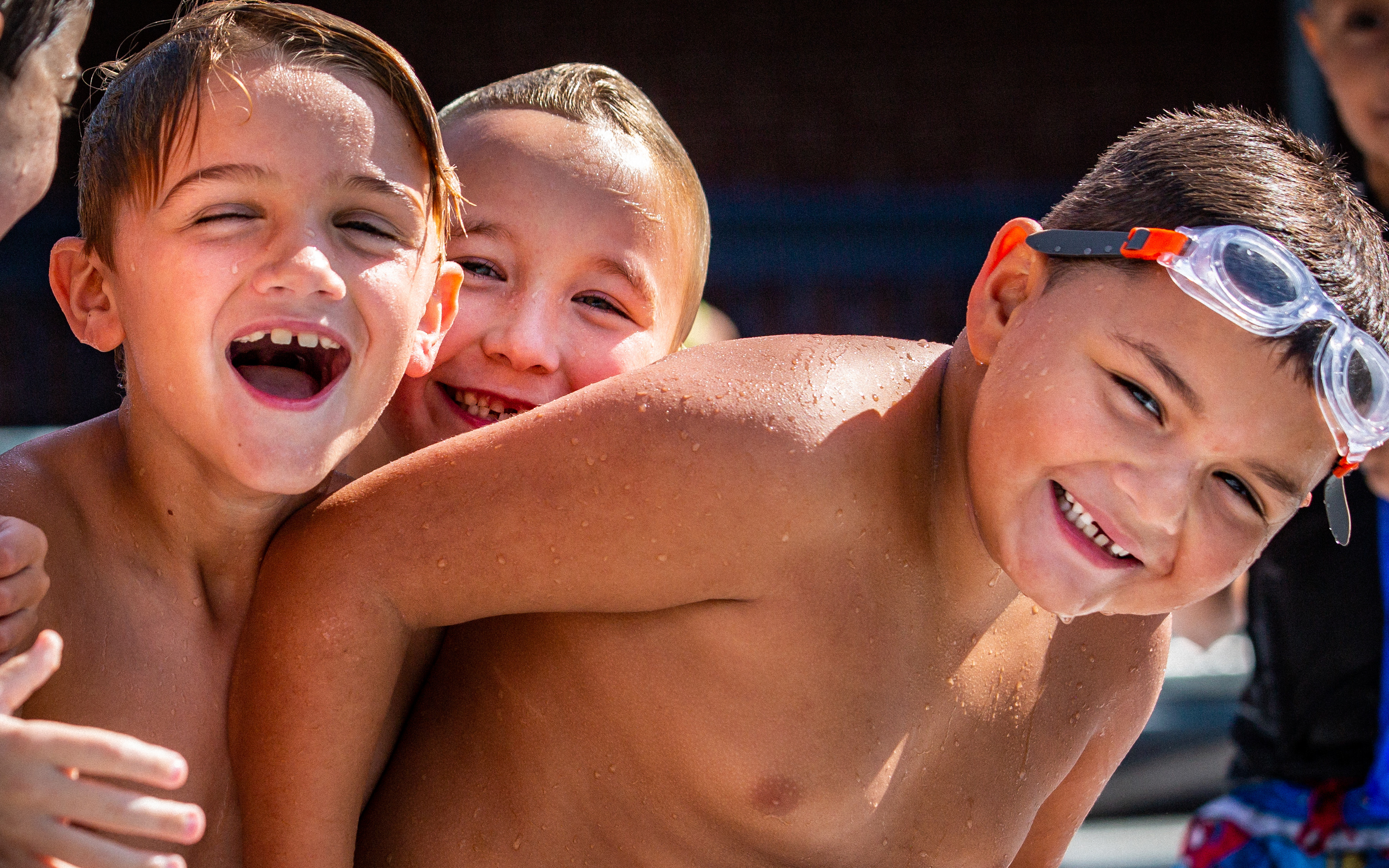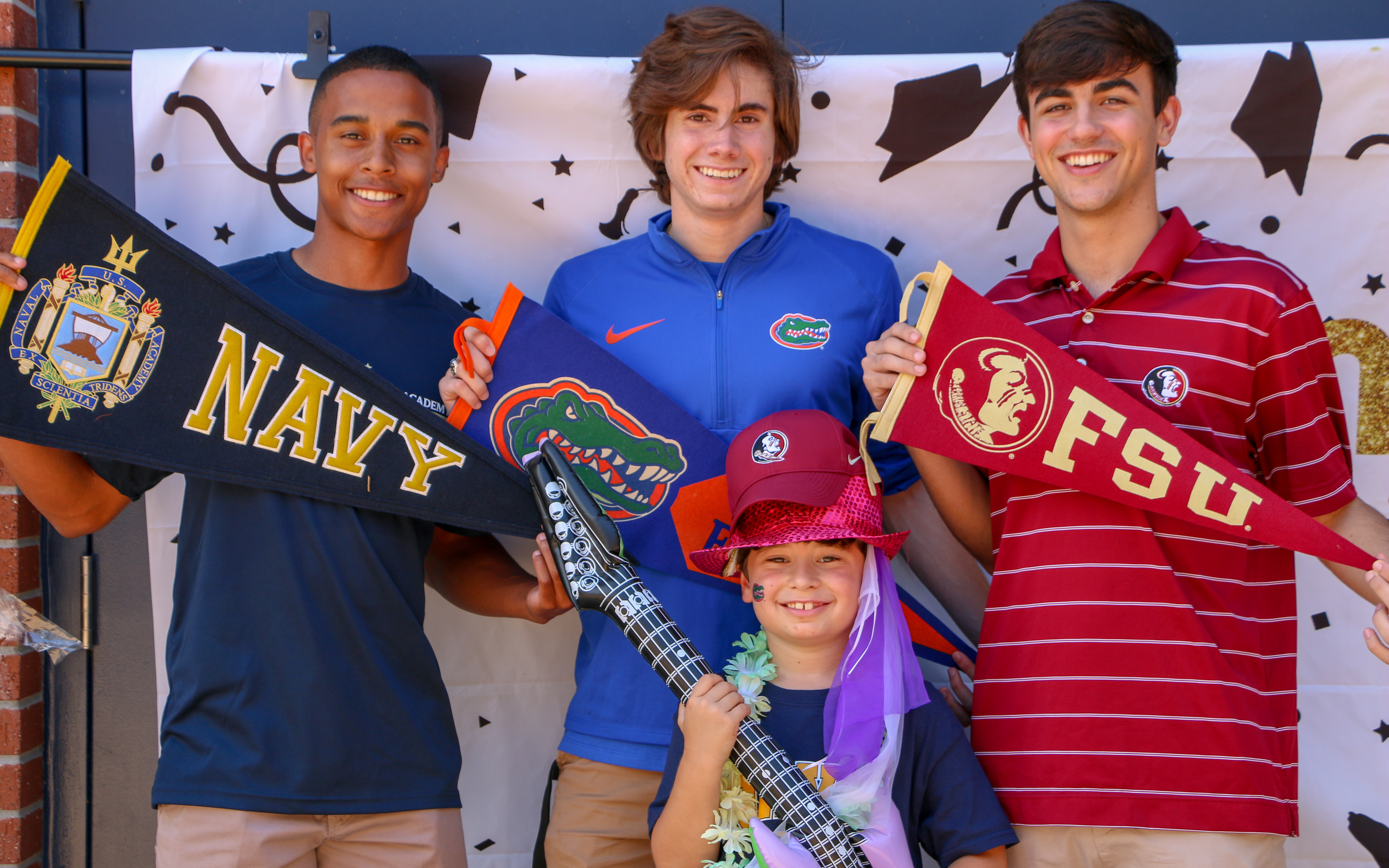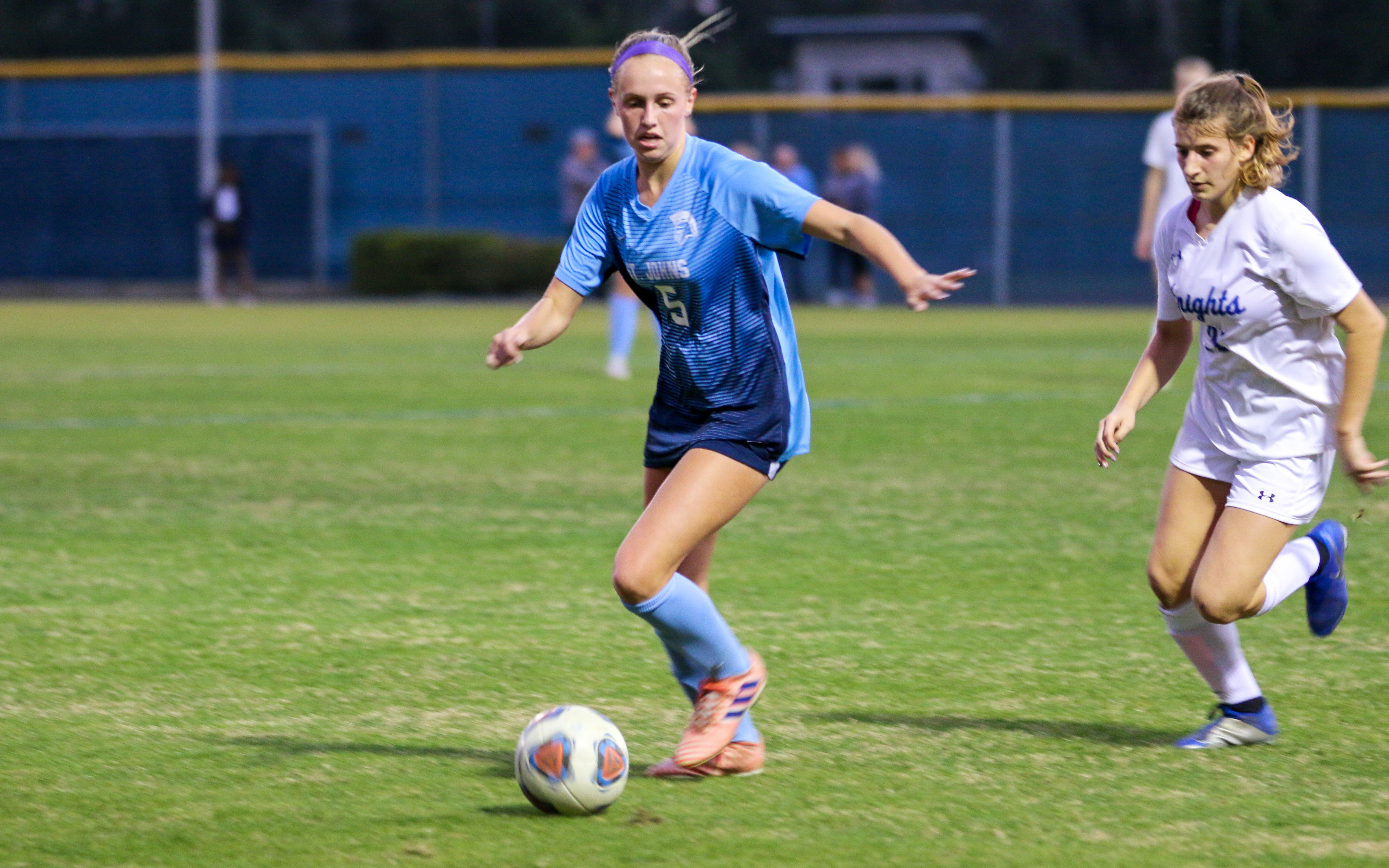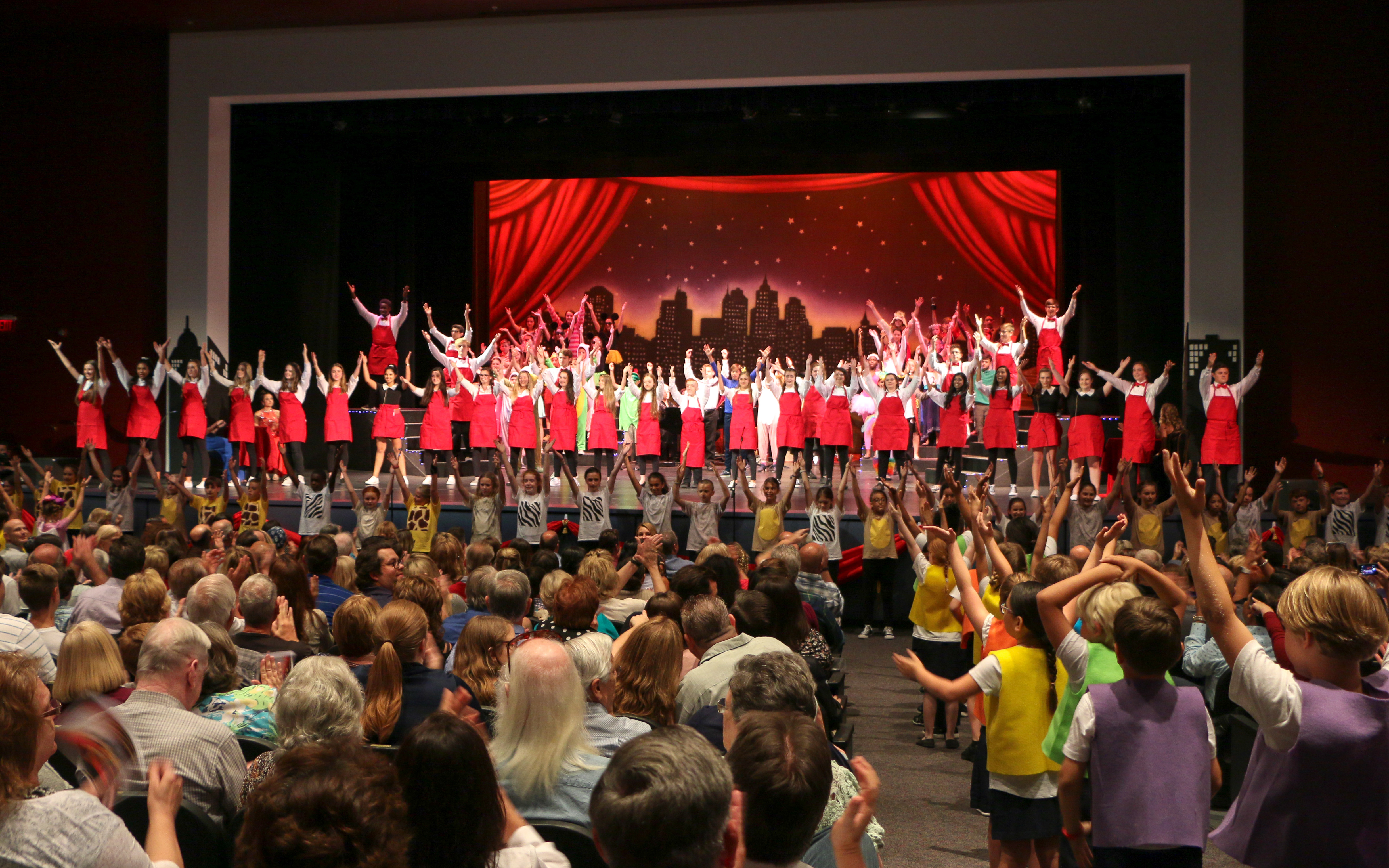 Private College Preparatory School Pre-K – Grade 12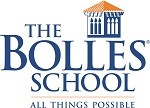 An independent college preparatory and boarding school, The Bolles School holds a longstanding reputation for providing a well-rounded educational experience for students in Pre-K through Grade 12. Its four area campuses – Bolles Lower School Whitehurst, Lower School Ponte Vedra Beach, Middle School Bartram, and Upper School San Jose – now enroll 1,600 boarding and day students from more than 23 countries and nine states. Renowned for its tradition of excellence in academics, arts and athletics and its emphasis on servant leadership, The Bolles School provides students an unequaled breadth of opportunities for achievement – enabling every child to optimize his or her unique interests, abilities and talents. Students develop an awareness of exploration, service and personal values in the lower schools that instill a sense of All Things Possible as they move on to the middle school, upper school and beyond. Bolles inspires boys and girls to pursue excellence through courage, integrity and compassion. This time-honored legacy of learning thrives on every Bolles campus and in the many lives it has shaped over the years. Call (904) 256-5030 or visit www.Bolles.org for more information, to attend one of our open houses or to schedule your personal tour.
Early Childhood Development Infants – VPK: Chappell is so pleased you are considering our program for your most precious accomplishment – your child. You want the safest, most nurturing educational experience for them and Chappell provides that environment. We partner closely with our parents to provide the highest level of development for your children. We encourage you to be involved in your child's school day whenever your schedule permits and we have an open-door policy. If you'd like to have lunch with – or read to – your child's class, you're always welcome to do so! We want your workday to be worry-free and we want your drop-ff and pick-up experience to be a fun way to learn about your child's day. We use FrogStreet, Sunform, HATCH, ELMM Plus and the Kaymbu parent communication tool.
Chappell Makes Learning FUN! Chappell Schools offers After School/Holiday programs, enrichment and summer camp. Eight locations: Deerwood, San Marco, St. Johns, FSCJ South, FSCJ North, FSCJ Downtown and FSCJ Kent campuses.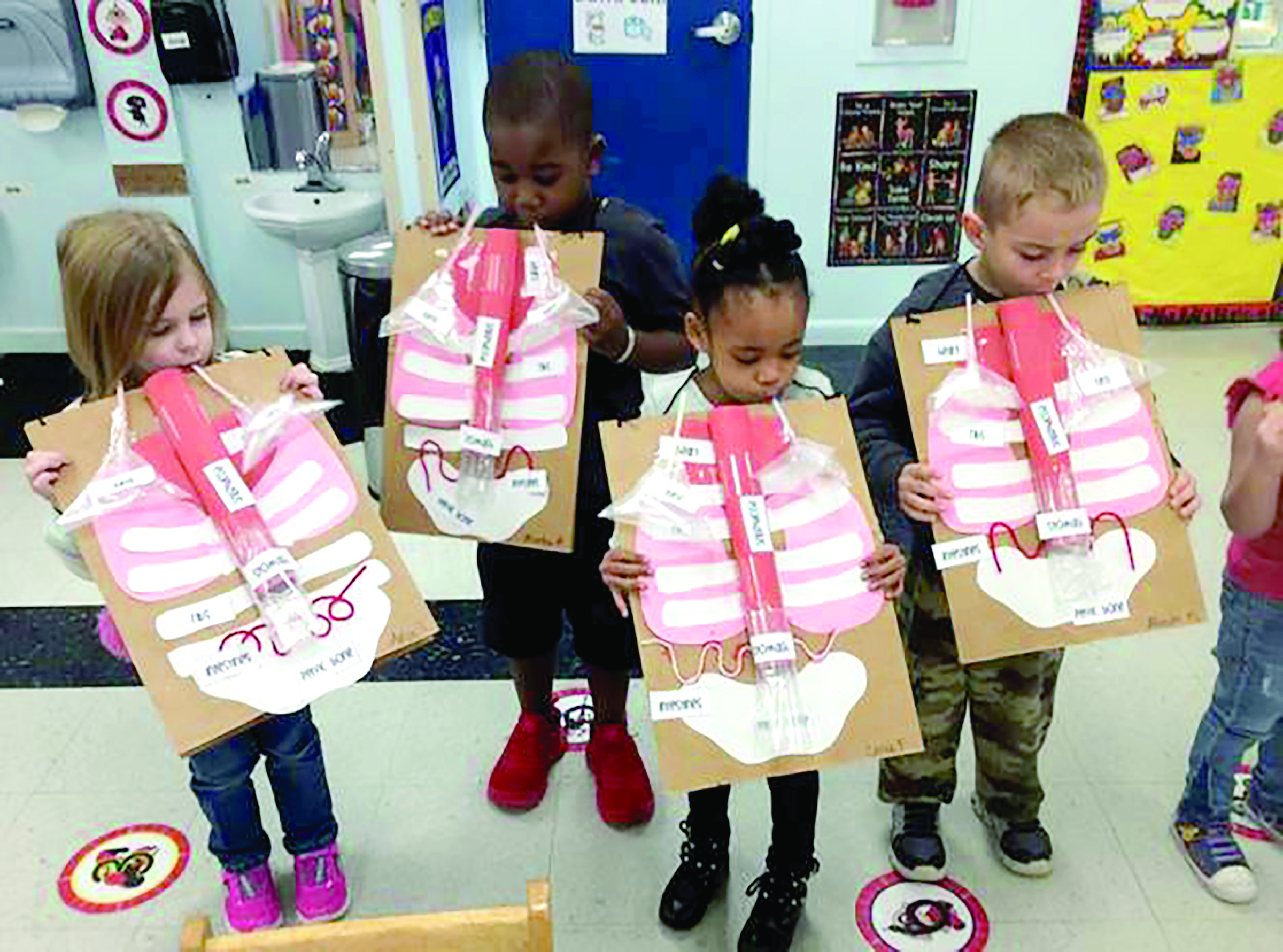 Grace Episcopal Day School
PK3 – 8th Grade: Grace Episcopal Day School is a Christian based, family-oriented educational community dedicated to maximizing each student's potential. For 70 years, Grace has provided a rich educational experience for students in Northeast Florida. Our students are challenged to become self-directed critical thinkers in an environment where STEM, technology, the arts, and sports are an integral part of our curriculum. We believe that partnering with parents to create a personal and ongoing dialogue is critical to our students' success. Come see how a small environment can make a big difference.  We invite you to take a tour of our beautiful outdoor campus located in the heart of historic Orange Park, one block from the St. Johns River. Located at 156 Kingsley Avenue, Orange Park, Florida  32073. Phone: (904) 269-3718.
Michele Block Gan Yeladim
Toddler Age 1, Preschool-Kindergarten: Michele Block Gan Yeladim Preschool and Kindergarten provide unparalleled excellence in early childhood education.  Established in 1974, the school is the longest consistently NAEYC accredited program in Northern Florida. Each child's experiences and learning opportunities are nurtured and facilitated through play, exploration, and creativity. Children achieve success, gain independence and self-confidence while their individual abilities, learning styles, and developmental pace are respected and valued. Enrollment in school is open to all children regardless of race, religious affiliation or ethnic origin; JCA membership is not required to participate. Our award-winning and highly accredited program provides support and respect to both children and families by creating an environment of acceptance that is non-judgmental and includes cultural diversity.
Full and part-time programs are open to children age 1 (and walking) through kindergarten.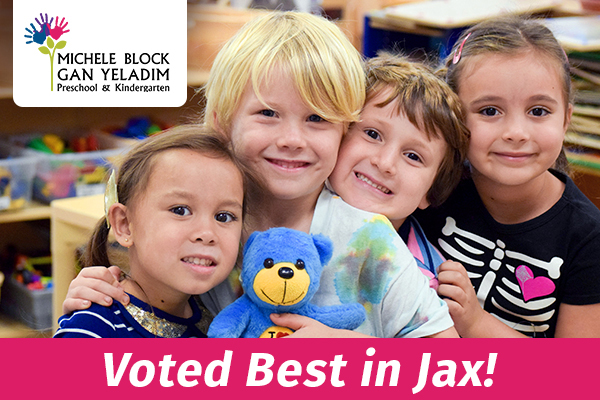 Early Childhood – Kindergarten: The Playgarden is a perfect place for children (2 ½-year-old to kindergarteners) to explore, grow and create. We focus on the whole child: head, heart, and hands. Our literacy-rich curriculum includes play, music, poetry, movement, bread-baking, gardening, painting, and frequent walks to the beach. The Playgarden offers  2, 3 or 5-day mixed-age classes at our beach Cottage-Kinderhaus campus as well as offering the first Forest Kindergarten in the South Eastern United States. We are a LifeWays Representative site following Waldorf inspired programming. Whether on campus or in the forest, our students enjoy circle time, story-time, nature hike, snack, outdoor artistic activities, cooking and baking and of course lots of time for play, observation, exploration, discovery, and wonder. We provide a loving environment with "unstructured free time in nature resulting in an intimate, deep and personal connection to the natural world". Located at 223 8th Ave. S, Jacksonville Beach, FL 32250. Phone: (904) 241-3259.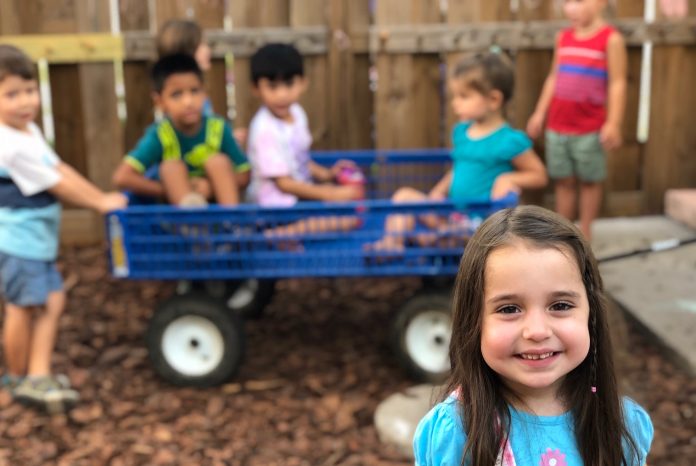 Homeschool Main Lesson, Enrichment and Full 5 Day Programming (1st-5th Grade, Middle School): Spring River offers home school main lesson, enrichment classes and/or full 5-day programming and support to the growing homeschool community in Northeast Florida seeking a holistic education. We welcome all that are interested in using a curriculum inspired by Waldorf methods and view of childhood development, those seeking arts-infused classes to enrich their other homeschool courses and now offering 5-day full-day schooling including a forest day! We provide support and a social network for homeschool hybrid families. All are welcome to our community events, parent education, playdates, and festivals! Join us. Phone: (443) 454-2067.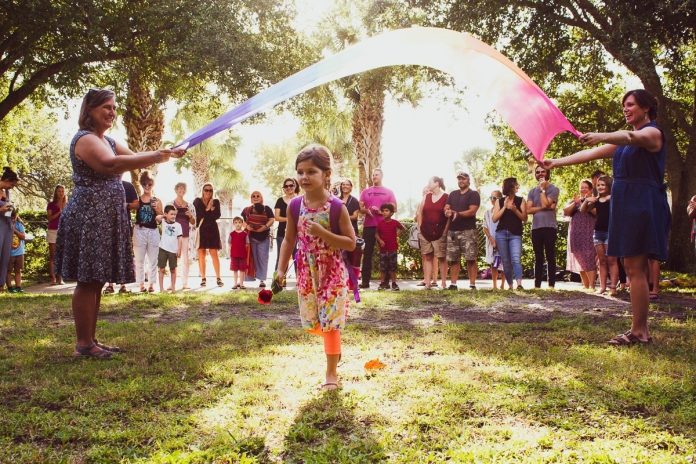 San Jose Episcopal Day School
Private School Pre-K 3 – 6th Grade: At San Jose Episcopal Day School our mission is to inspire a passion for learning, a life of integrity, and a heart for Christian service. We believe that relationships are central to our learning community, and the relationships between students, teachers, and families are vital to the learning process. We value extraordinary teachers who support students in the discovery and development of their gifts and talents. Our students become passionate, self-motivated, lifelong learners. To prepare students for success in an ever-changing world, we embrace learning experiences that allow students to develop creative problem-solving skills and critical thinking. We empower students to take a responsible role in their learning and support independent thought. We provide a safe and supportive environment and encourage children to be adventurous, to take risks, and to view failure as integral to learning. We celebrate student effort and growth, embrace the value of the learning process, and promote perseverance and reflection. Located at 7423 San Jose Blvd. Jacksonville. Phone: 904-733-0352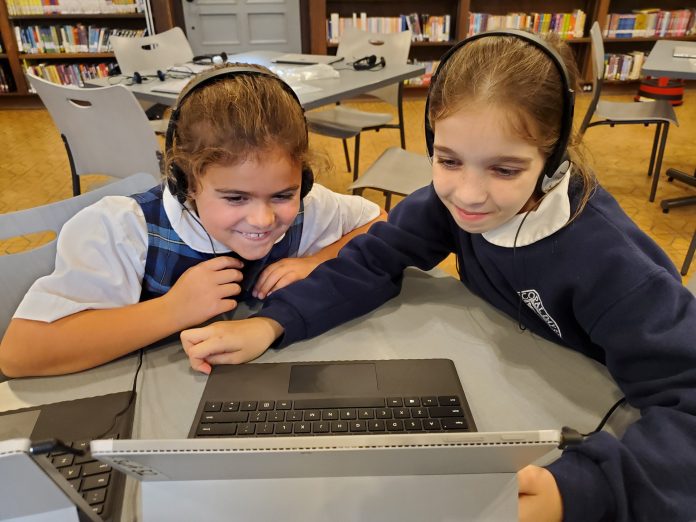 St. Johns County School District
Area Public Schools: The St. Johns County School District will inspire good character and passion for lifelong learning in all students creating educated and caring contributors to the world. The St. Johns County School District includes 45 schools and is fully accredited as a quality school s system by the Southern Association of Colleges and Schools Council on Accreditation and School Improvement (SACS CASI), a division of AdvancED Accreditation. AdvancED Accreditation is the highest level of accreditation that a school system can receive. Phone (904) 547-7500.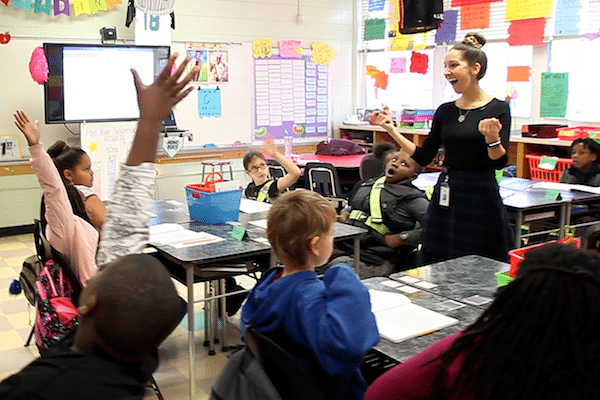 Duval County Public Schools
Area Public Schools: Duval County Public Schools is the 22nd largest school district in the nation and the sixth-largest school district in Florida. The district is committed to ensuring that students are prepared for success in college or a career and life. Also, the district will make sure its mission of providing educational excellence is reflected in every school, in every classroom, for every student, every day. Phone (904) 390-2000.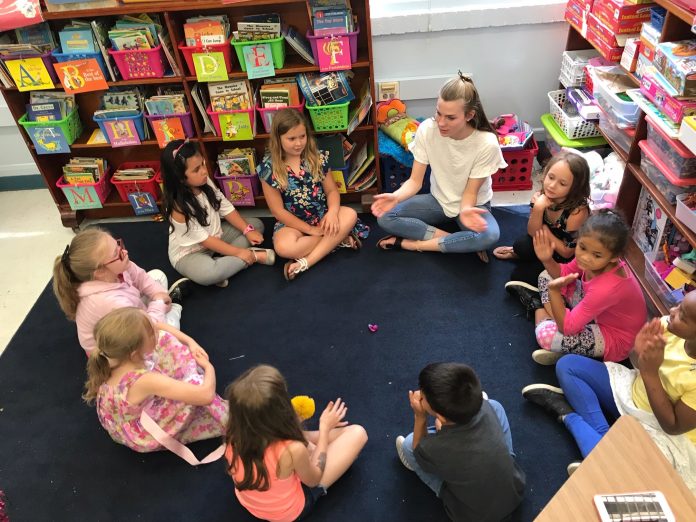 School District of Clay County
Area Public Schools: The School District of Clay County exists to prepare life-long learners for success in a global and competitive workplace and in acquiring applicable life skills. The School District encompasses a 601 square-mile suburban/rural county in Northeast Florida, including the communities of Orange Park, Middleburg, Green Cove Springs, Fleming Island, Penney Farms, Clay Hill, Oakleaf, and Keystone Heights.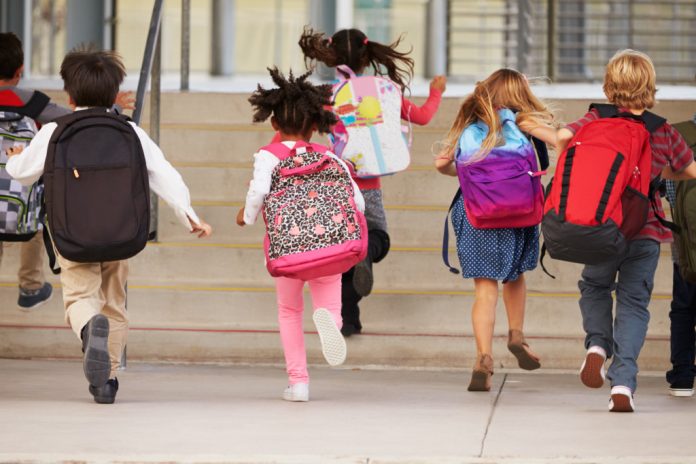 Want to be a part of our 2020 Guide to Jacksonville Schools, Preschools, & Childcare?
We want to show our readers all the great options for childcare, preschools and schools available right here in the Jacksonville area. Partnering with us allows your business greater visibility with a large targeted market of local families. Join us and help enrich the lives of Jacksonville Moms!