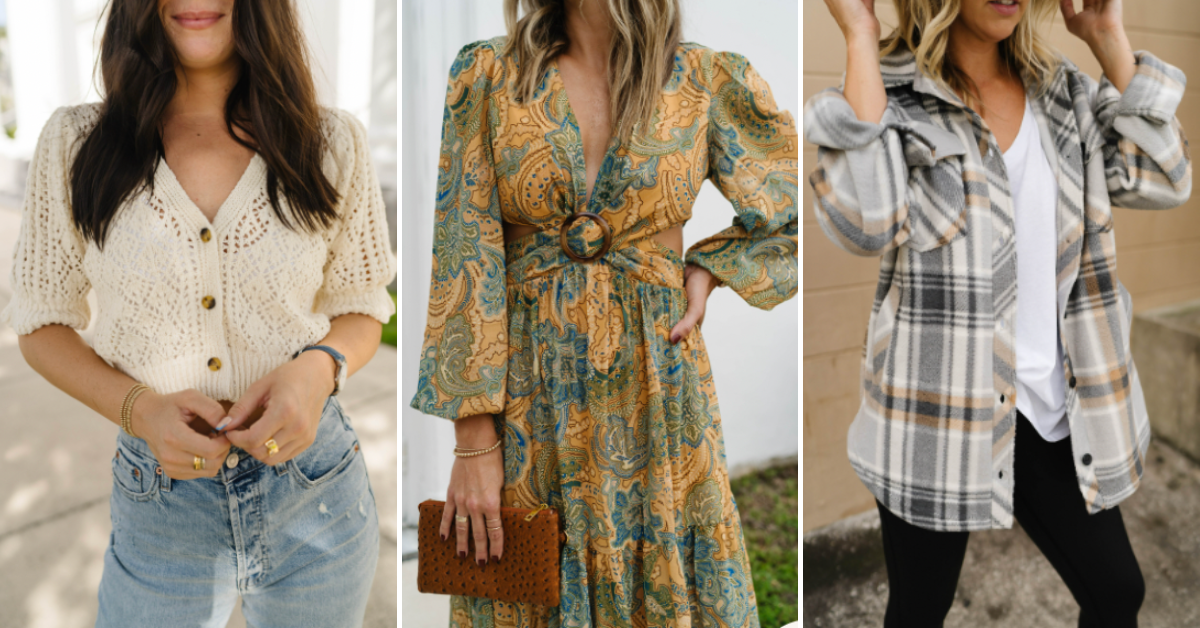 Stuck in a style rut? Welcome to mom life (for most of us), where athleisure reigns supreme and maxi dresses are oft reserved for that once-in-a-blue-moon date night or moms' night out. The good news? It doesn't have to be that way! You can find some on-trend pieces that are both chic and comfortable.
We went straight to the style pros at Fig & Willow in Neptune Beach to find out what's hot for fall and winter this year. Owner Katie Werhner is always keeping an eye out for what's trending — and what will also make sense for her customers. She shares, "I'm always shopping, researching, and finding cute items that I love that I think my customers will love, too!"
Whether you're looking to style a whole head-to-toe outfit or you simply want to jazz up those yoga leggings with a shacket (more on that below) to take your everyday mom look to the next level, Werhner has some good advice: "Less is more! Don't fill your wardrobe with a bunch of 'stuff' — make sure you buy pieces you love and always think about what you're actually going to wear with that item before you purchase it. If you have great staples that all mix and match in your wardrobe, you can basically grab a top and grab a bottom and they're going to work together."
Read on to find out what's on-trend, and how to make it work for you. Bonus: Many pieces can even be layered — perfect for whipping off in a pinch if a frigid fall or winter morning unexpectedly morphs into a humid 80-degree day come mid-afternoon.
Way Out West

From boots to button-downs, chic country style (alongside those Western design details!) is easy to achieve and totally on-trend.
Western Boots: Key tip for styling: Make sure you can see the entire shoe from top to toe, as this elongates the legs for the most flattering style. Ankle booties look great with skirts and dresses or paired with cropped jeans (that just graze the top of the bootie). As for tall boots? Style them with shorts or a minidress to show off the entire boot! Or let's be honest, you can't go wrong when wearing them over a pair of leggings.
Cowboy Graphics: Graphic tees featuring mountainous landscapes, skulls, and fun cowboy quotes are quintessential Old West and look fresh for fall and winter. For a flattering, cropped fit, tie your tee in a side or front knot, or define the waist with a simple front tuck. Dress it down with distressed denim and a shacket, or add some fancy flair with a fedora and maxi skirt. Finish the look with a pair of tall cowboy boots, and thank us later.
Fringe Accents: No longer reserved for the Roaring '20s, fringe is so fun and can be a nice finishing touch on shoes and jackets. When incorporating fringe into your outfit, keep everything else fairly minimalist so the fringe is the star player. You can't go wrong with a fringe jacket or bootie paired with a simple tee and jeans!
Button-Downs: This closet staple gets a Western update with Southwestern prints and rugged textures such as denim and corduroy. Style it with denim shorts and cowboy boots for the perfect look to transition you from warmer to cooler temps. Button-downs also work as a lightweight jacket or tied around your waist for the ultimate "cool girl" aesthetic.
Fedora Hats: No Western look is complete without a hat, and fedoras are where it's at! Instantly elevate a button-down and jeans outfit or wear with a dress for a laid-back boho look. When selecting your fedora, be sure to match the color to your shoes or handbag to tie it all together.
'70s Babe

Give some of our favorite vintage classics a modern update. This trend is Werhner's personal favorite, who shares, "I am loving the '70s trend! I'm all about some high-waisted flare pants and a cute top tucked in."
Flare Pants: In case you never quite jumped on the skinny jeans bandwagon, get ready: Flares are back and better than ever! When wearing a pair of flare pants, make sure the waistband is visible to better define your curves and balance out the volume on the bottom. A front tuck or cropped top can easily achieve this waist definition. Style your favorite pair with a flowy printed blouse or keep it simple with a tucked-in tank or bodysuit. Finish the look with heels or booties!
Blazers: The top jacket trend this season is all business and can take you from work to the weekend with ease. Capture that retro vibe with longline blazers in a neutral plaid print, and style it with a tee and shorts, or layer it over a simple black dress and booties for your next date night. Roll and scrunch the sleeves for a casual, off-duty style.
Rocker Graphics: A vintage-inspired band tee instantly adds a little edge to any outfit. Style with contrasting floral bottoms or embrace the edgy with destroyed denim. Go with the front tuck or tied for a flattering defined waist.
Groovy Prints: Make a bold statement with retro prints such as paisley or floral. Much like the fringe, keep the rest of the outfit simple and fairly basic so the print is the star.
Crafty Sweaters: The current sweater trend embodies a homemade, crafty feel. Think sweet details like ties, ruching, and fringe; texture is also key, such as chunky cable knit or crochet. Again, keep the rest of your look simple when wearing one of these delicate knit darlings.
Femme Fatale

Achieve the ultimate "cool girl" aesthetic with feminine pieces worn with edgier styles.
Fall Florals: These aren't your grandma's floral print — they've gotten a moody update this season! Think bright blooms that pop against a dark background. Style a dramatic floral blouse with distressed denim and heels for date night, or try a floral maxi skirt with a knit tank and booties.
Satin: Not just for evening, silky satin can be dressed up or down for day or night. Pair a satin dress with cowboy boots and a leather jacket for a surprisingly sweet twist, or make it easy with a satin top-and-pants set.
Leather: Get an instant dose of cool by adding leather to your look — whether a leather jacket or leather leggings. Pair a jacket with a romantic dress or leggings with an oversized sweater and boots.
Dressy Sets: No longer reserved for loungewear, matching sets in luxe fabrics make getting dressed a cinch! Bonus: Sets can be styled together or separately for endless possibilities.
Ties & Cutouts: While ties add a flirty touch to a simple tee or minidress (and can be adjusted for the perfect fit!), cutouts add that instant cool factor. These details definitely draw attention, so opt for them in places you may want to emphasize, such as the waist, back, or arms.
New Classics

Your favorite fall and winter staples just got a few modern updates!
Cropped Cardigans: Cardigans offer that laid-back preppy vibe and cropped styles are key this season. Pair with high-rise bottoms or a maxi skirt, as the cropped style balances the volume on the bottom for a flattering hourglass silhouette.
Shackets: Enter the age of the shacket — a button-down top that you can wear as a shirt or a jacket. Tuck it into high-rise bottoms, do a trendy half-tuck, or tie it up to define the waist. Shackets also look great tied around your waist, especially with a matching athleisure set.
Quilted Outerwear: Quilted fabrics are cozy, comfortable, and completely on-trend. The quilted texture also looks luxe but feels oh-so-soft and comfy — toss it on over anything and everything this fall and winter.
Neutral Plaid: Plaid never goes out of style — look for neutral tones that you can pair with just about anything, or keep it fresh with a monochromatic look. Think light-hued plaids with light denim or dark plaid with black leather leggings.
Follow @figandwillowboutique on Instagram for even more style tips! Which trend are you rocking the most this season?