Thanks to Sole Spa for partnering with Jax Moms Blog and for keeping me nice and trim. All opinions are still my own.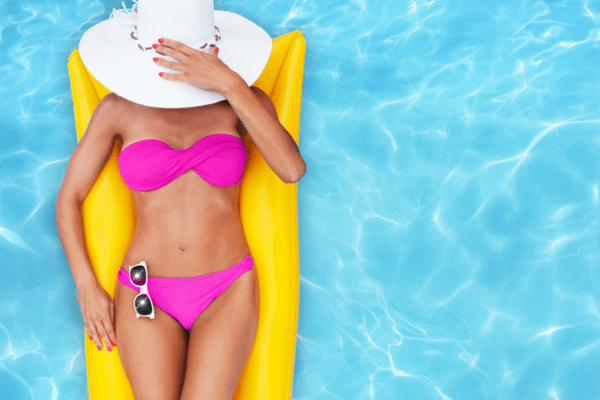 Summer is now in full swing, and I have many days ahead in my bathing suit with the kids. Let's be real–it's Florida, so those days will probably run through December! After getting back into my suit earlier this summer, I knew it was time to visit one of my favorite people and get rid of my '70s porn bush. Yep, I said it. You already know that I am all about the hair removal, but let's be honest: When no one is really seeing it on regular basis I'm not doing the upkeep that involves shaving. Ugh. (Sorry, hubby!).
Pre-kids, I was a regular waxer, and then like everything else that was just for me, I sort of stopped after having my first child. When my daughter was a little over a year old, and spring/bathing suit season came back around, it was time for a wax! I know I am not alone in saying that because I have sensitive skin, I get the worst reaction from shaving my bikini line–and when I'm going to be out in my suit multiple times a week, it's just not doable to shave over and over again. That's where Diana from Sole Spa comes in.
In the past I just had a regular bikini wax, not a Brazilian, but so many friends were pro-Brazilian, and many of my local friends recommended Diana. So 5 years ago, I decided to take the plunge and try it out. I scheduled my appointment, and then I freaked. I mean, at this point I had given birth and had been laid out on a table totally naked in front of multiple people during my C-section, but did I really want to lie spread-eagled on a table with this chick I had never met working on me? Was it going to hurt? Was she going to be examining my lady bits? Would she be horrified by my unkempt bush?
When I finally went in for my appointment, Diana made me feel totally comfortable. She explained exactly what she was going to do, so I felt prepared. We just started chatting while she was doing her thing, and all of a sudden I forgot about the fact that I had my leg bowed out on her table having hair ripped out of my skin. It was like I was at happy hour with a girlfriend, gabbing away. OK, there were some mildly painful parts, but overall it was not that terrible, and Diana would stop talking about whatever topic we were discussing to warn me if some part of the procedure might feel more sensitive. Another thing I learned is that the more you wax and "damage" the hair, the less painful it is, because the regrowth isn't quite as coarse. Honestly, for me, the mild pain during a quick session with Diana–and not worrying about the razor–was worth it!
If you decide to get waxed down under–or anywhere–I highly recommend Sole Spa. You'll find a few tips below to help you feel prepared and thus to make your appointment more comfortable. There are really 3 types of bikini waxes, so if you are unsure of what you want, here's the lowdown:
The Standard Bikini Wax involves just the hair outside your panty line.
The Modern Bikini Wax is a little more extensive than the standard, but not as extensive as the Brazilian (it's basically about one inch in from the panty line).
As for the Brazilian most people assume this is bald eagle, but the traditional Brazilian actually leaves a one- inch vertical strip just above the vaginal area. Hair is completely removed from the labia and–depending on your comfort level– can also be removed from the buttocks and the perineal area. You can even do designs with the remaining hair–think hearts, triangles, letters, etc. Yes, seriously–it just depends on the amount of hair.
Bottom line (pun intended): you can get whatever you want and whatever you are comfortable with. If you're not comfortable with the full Brazilian or full nudity, you can start with the bikini and work your way up. Just talk with Diana about what you would like before you start your session.
A Few Tips Before Waxing:
1) If you are waxing for a particular "event," make sure you wax 24-48 hours prior to the occasion. Your skin needs time to recover before hitting the saltwater or–ahem–friction. Also, avoid extreme heat for 24 hours after–hot baths, jacuzzis, sun, etc.
2) If you have a low tolerance for pain, you can take over-the-counter medication 30 minutes prior to your appointment to help with discomfort.
3) You can also use numbing cream. Diana recommends No Scream Numbing Cream, which they sell at Sole; you should apply it 30 minutes before your appointment.
4) Do not shave or remove hair at least 10 days prior to your appointment to ensure there is enough there for the wax to grip. This will just give you better results and no leftover stubble.
5) You should exfoliate the area the day of your appointment. Diana recommends using St. Ives Apricot scrub.
6) Just RELAX! As I mentioned above, Diana has seen it ALL. She is not examining your lady bits. She's just doing her job like your lovely OBGYN, but there are no stirrups nor a cold speculum 🙂
7) Diana is wonderful at giving you direction and warning–holding skin taut during wax (she will direct you), reminding you to BREATHE, etc.
8) The more often you wax, the easier it is!
Special JMB Offer: Get 20% off Body Waxing with code JMB20! Book here!