I'm 34 years old, officially in my mid-30s. I know, I know–that's not old, but I am officially out of my 20s, and I no longer possess the body and skin I never appreciated when I did have them. I'm two kids in and am still nursing my second (that's a whole other blog post), so at this point, things just don't look the same. I'm at the point where I've started to regret the decisions of my youth that I thought would never affect me–like being a sun goddess and not taking good care of my skin. A few years ago, I started looking around and wondering, How the hell do I have so many friends with fantastic-looking skin? Then I began to realize that I'm not the only one aging; it's just that half of my friends are getting Botox, and that's why their foreheads look absolutely flawless! In a way, they have stopped the aging process–or they've at least altered its appearance.
I'm really not knocking Botox here, especially since I actually got it once–accidentally–but again…that would be a whole other blog post. So if Botox isn't your thing, or you find it too expensive, my beauty secret is inexpensive and can be done in the privacy of your own home. I'll just say it outright: I've started to shave my face. WHAT!? Yep, I shave my face. Let me back up and tell you how I got there.
As a Bravo junkie, I especially love all the Real Housewives series. When I discovered that Caroline Manzo from The Real Housewives of New Jersey shaved her face, I initially thought she was completely crazy–but then again, she did have flawless skin. She swore by it and credited it with her youthful glow. Although I wasn't completely sold, I was definitely intrigued. I remember seeing something else on TV about women shaving their faces, and then it came up in a beauty article I was reading, so of course I wanted to know more!
When I started googling, I learned that face-shaving is apparently the beauty secret of many models and actresses; according to lore, it was the beauty secret of Marilyn Monroe, Elizabeth Taylor, and Cleopatra! It has become such a beauty trend that many aestheticians offer a process called dermaplaning–which basically involves running a fine, sharp blade over the face to remove dead skin cells and the fine vellus hair of the face.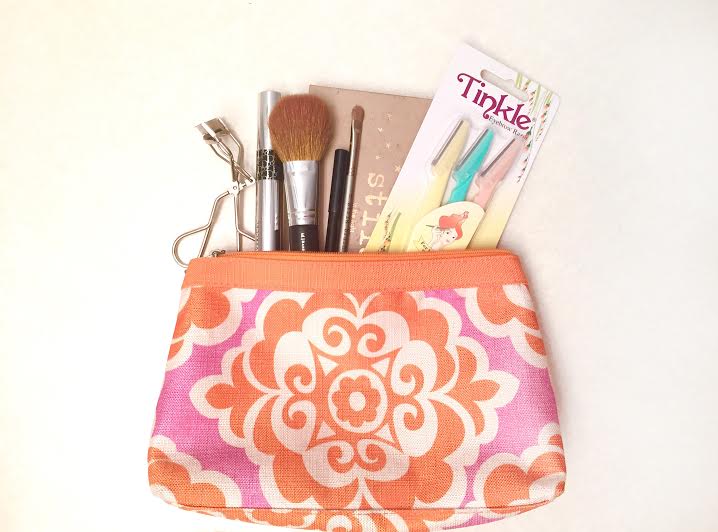 During my quest to learn all things about feminine face-shaving, I found Bachelor castoff Michelle Money's YouTube video about shaving her face. As soon as I watched it, I was hooked–so I ordered my Tinkle Razors
on Amazon Prime and impatiently waited for them to come. I'm one of those weirdos who always wants to see the gross stuff–when you pop a zit, have something removed…whatever, you know you want to look, too, even though you might be reluctant to admit it! In this case, I couldn't wait to see all that fluff come off my face like in Michelle's video, and it turned out to be JUST like that. I don't really even have a ton of hair on my face, but I was amazed at how much is actually there. I've always loved the feeling of my skin after getting an eyebrow or lip wax, so feeling my face post-shave was AH-mazing!
In all of my research, besides learning about the exfoliation benefits of face-shaving and the ways it can help with pigmentation [back to the earlier mention of being a sun goddess in my youth; hello, sun damage!]–it also helps skin care products absorb and penetrate the skin more efficiently. I personally don't wear face makeup, but from my reading, I know that applying makeup to smooth skin makes it look flawless, with no more foundation sticking to those pesky hairs!
Once I embarked on a regular shave routine, I started getting compliments on my skin just as I had post-accidental Botox. I've become somewhat addicted to the baby-smooth feeling of my skin, and I love the exfoliation benefits. So maybe face-shaving is not for you, but I would urge you at least to give it a TRY! All those myths are wrong–your hair will not grow back darker or thicker. You won't have stubble. If you do it and decide not to repeat the process, no one will ever be the wiser. Check out Michelle Money's updated video showing a new shave routine; I, for one, look forward to trying her new tips! Now that I've told you about my one major beauty secret–and have even pioneered the process for you–all you have to do now is try it yourself and tell me what you think!
Since posting I've heard many of the same questions, so here you go:
FAQs
Q: Does your hair really not grow back worse, darker, coarser, etc.? My face won't look or feel like my husband's stubble, will it?
A: NO! First of all, it is a totally different kind of hair than the hair on a man's face.
The hair on our faces is vellus hair, which is found on the face, neck, chest, and back. Men's facial hair is terminal hair, which is more coarse–like hair on the head, underarms, brows, etc. Even if you shave once and decide it's not for you, there are no side effects, changes to the hair, etc
Q: Is your skin more sensitive or prone to breakouts post-shave?
A: I think this totally depends on your skin. I actually have sensitive skin, but have not noticed any heightened sensitivity after shaving. I do think, however, that you should be careful if you're out in the sun. Since the hair on your face is something of a protectant, you'll definitely want to wear sunscreen. If anything, I think my skin absorbs moisturizing products better post-shave, and I see better results.
Q: How often do you do this?
A: I think this is largely determined by personal preference. I probably do it once a week– more for the exfoliation benefits than the hair removal, but I am addicted to the baby smooth feeling of my post-shave skin!
Q: Do you do it on dry skin or use an oil?
A: Since Michelle Money just posted that new video about the oil, I have not tried it. I have mostly done it on clean, dry skin, following up with a heavy moisturizer. I tried it with a light serum, and that was good, too. Again, I think this all goes back to personal preference. I don't think it's necessary to buy an expensive oil. You could even try coconut oil!
Q: How many times do you use the Tinkle razor before discarding?
A: I would say 3-4 times max.
If you have any other questions, feel free to leave a comment and I'll be happy to answer them!