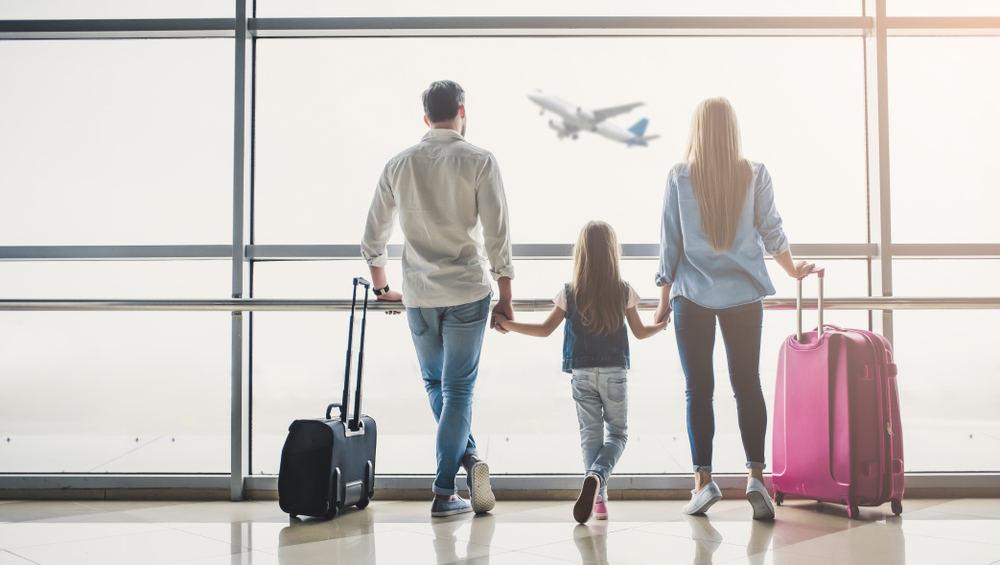 The holiday season is upon us, and we can all see the changes already.  As a parent, I've barely had time to either eat or throw away a few buckets of Halloween candy before seeing Christmas decorations and making Thanksgiving travel plans. That bubbling pool of holiday stress is starting to heat up with every additional item on the to-do list. We all feel it to some degree and traveling doesn't make it any easier. The holidays are always a popular time to travel, but this year is expected to top the charts, and after a year of missed celebrations, spending time with family is a high priority.
The pandemic has changed the way we travel and plan to travel. We check the COVID-19 rates and look for spikes in cases. We agonize over every sneeze or potential illness prior to our flight. We scour the internet to make sure we aren't missing any travel requirements for testing. Holiday travel means navigating these new travel guidelines, understanding the local COVID-19 regulations of your travel destination, and ensuring you're putting safety first for yourself and your family throughout your travels. As you're preparing your holiday travel plans, remember these keys to safe travel.
Get Vaccinated
Echoing the CDC's recommendation, the best advice to safely celebrate the holidays for yourself and generations of family that gather together is for those who are eligible to get vaccinated. The CDC does not recommend traveling until you are fully vaccinated. Not only does being vaccinated protect yourself and those around you as you travel, being vaccinated can simplify many of the regulations travelers may face including mask mandates, quarantines, and testing.
For those who are not fully vaccinated that must travel, the CDC recommends getting tested 1-3 days before your trip, and again 3-5 days after traveling. Additionally, self-quarantining for 7 full days after travel is recommended even after a negative test post-travel.
Get Tested
Even if you are vaccinated, if you feel sick or experience mild symptoms of a common "winter cold," you should not host or attend a gathering. Anyone experiencing symptoms of COVID-19 should get tested, regardless of vaccination status. When you're putting safety first, knowledge is power, and in such cases, COVID-19 tests provide knowledge and peace of mind.
If you come into close contact with someone who has COVID-19, the CDC says fully vaccinated people should be tested 5-7 days after exposure and not fully vaccinated individuals should get tested immediately after exposure.
Telescope Health has partnered with the City of Jacksonville to provide FREE rapid and PCR tests to citizens throughout the holiday season. The drive-thru testing site in Neptune Beach offers peace of mind before traveling as well as ease and accessibility to follow any necessary travel regulations. The testing site is located at 540 Atlantic Blvd, Neptune Beach, FL 32266 (former Kmart parking lot) and is open Monday-Friday from 7am to 3pm. Those who are insured will need to provide their insurance card, while others must provide their social security number for testing.  No appointment is necessary, but individuals must pre-register for the test, which can be done on our website.
Sanitize & Social Distance
Don't forget the new habits learned during the pandemic, especially while traveling. When you can, maintain social distance from others to reduce close contact with those you may not know the vaccination status of. Airports are going to be crowded and flights will likely be full this holiday season. The federal mask mandate for airports and planes remains in effect through January 18, 2022 — still, avoiding crowds when and where you can keep you and your family as safe and healthy as possible while you travel.
Keeping these three things in mind can help ensure a safer and healthier holiday journey this year so that the only thing you have to worry about is walking through airport security without your shoes on.
About the Author
Dr. Matthew Thompson currently serves as Chief Operating Officer for Telescope Health, a privately owned healthcare solutions company launched in 2019 that offers users virtual and immediate access to a board-certified physician for many urgent and primary care needs. Amidst the coronavirus health crisis in 2020, Dr. Thompson was integral to the success and expansion of Telescope Health, which established Northeast Florida's first and subsequent COVID-19 testing locations, launched in partnership with the City of Jacksonville and Baptist Health. Dr. Thompson's natural inclination for pairing technology with medicine led him to the emerging field of telehealth, where he co-founded Telescope Health to provide patients with a platform to virtually navigate and seamlessly connect to a variety of healthcare needs. His commitment to better patient care led to Telescope Health's recognition as a Community Impact Award honoree by the Jacksonville Business Journal in September of 2020, as the company provided crucial public health care services during the pandemic. A proud Jacksonville Beach resident, Dr. Thompson enjoys spending time with his wife and daughter outside of work, staying active, and playing guitar and piano.