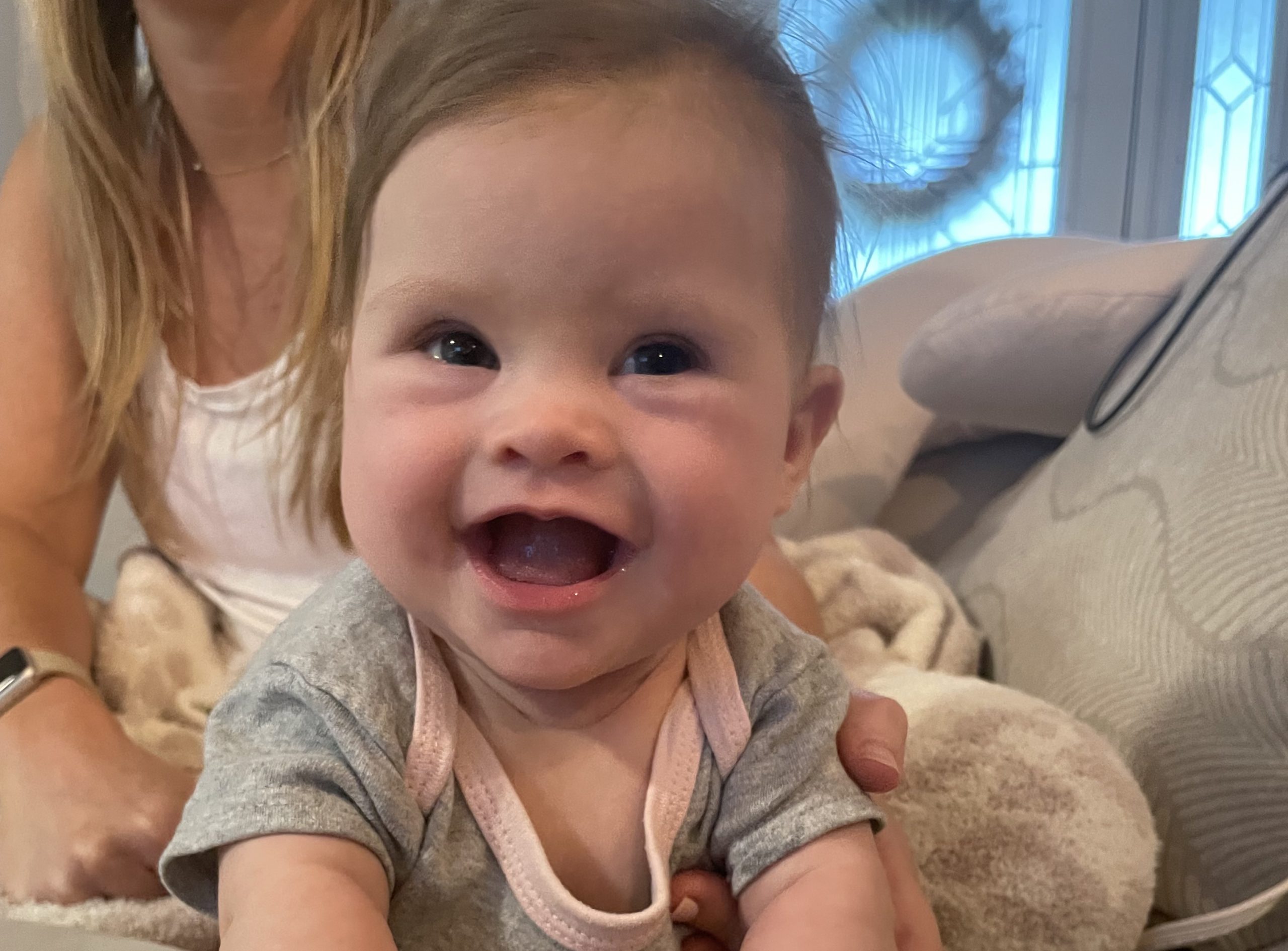 Down Syndrome doesn't mean disability. It means learning to see the ability.
Down Syndrome doesn't mean life as you know it is over. It means your life is just beginning.
When I was pregnant and learned my baby's diagnosis of Trisomy 21, more commonly referred to as Down Syndrome (DS), man did I have it all wrong. Hazel Grace is now 5 months old, and if my pregnant self could have seen my life now, I wouldn't have wasted so much of my time with fear, worries, and tears.
Those two words, Down Syndrome, changed my life. What do YOU think of when you hear those two words? You may think disability. Maybe special needs. It may even make you feel uncomfortable. If any of these cross your mind, that's fair, as I once had similar thoughts, but I want to change that and help you see that my baby Hazel and other kids with DS are in so many ways just like your son or daughter, niece or nephew.
Hazel is only 5 months old, so I can't speak to life with an older child with Down Syndrome, but if our journey is going to be anything like these first five months, my husband, 2-year-old daughter Campbell and I are in for a real treat! Hazel is already silly, chatty, playful, and loving. She rolls, smiles, laughs, and is close to sitting up. She has exclusively breastfed for five months, despite being told before she was born that she may not be able to. I can't wait to continue watching her show that a diagnosis like Down Syndrome will never limit what she can do.
The power of advocating and social media has a much bigger meaning to me these days. The more one person shares their message, even if the same message over and over, the better chance for even more people to see that message. In my situation, it's an opportunity to show how loved Hazel is. I want her to grow up knowing she is capable and valued. With the "r-word" still being used far too often and there being many people who have never been around someone with Down Syndrome, it's clear there is still a lot of work to be done to show that people with DS are just like you and me.
Hazel isn't defined by Down Syndrome. She's not a "Down Syndrome baby." She's not a "Downs baby." She is an adorable baby girl who happens to have Down Syndrome, and it's just a small part of who she is. As she gets older, there may be obstacles along the way, but what kid doesn't have obstacles? A few weeks ago, my 2-year-old daughter had a skateboarding accident. Yes, skateboarding, and you can blame her dad for that one! We were convinced we were heading to the ER, but after a quick check from local firefighters, she proved that what we've heard many times is true — kids are so resilient. My husband and I are likely more scarred by the incident than she is. We're so impressed with the way she handled the situation, and we know Hazel's obstacles will be no different. Being a good parent is challenging no matter what. Everyone's story is different, but we all do our best and do what's necessary to give our children the best possible lives.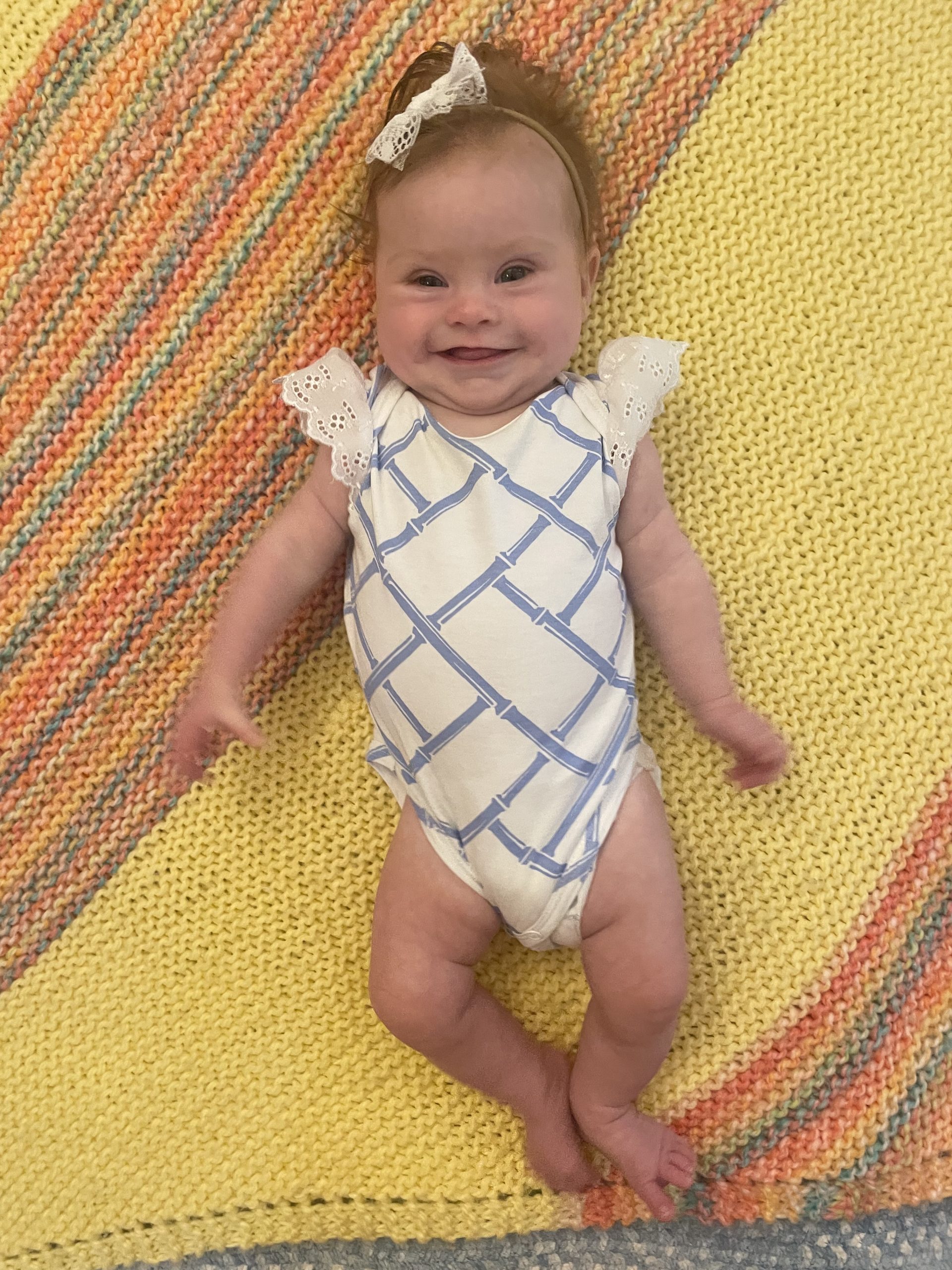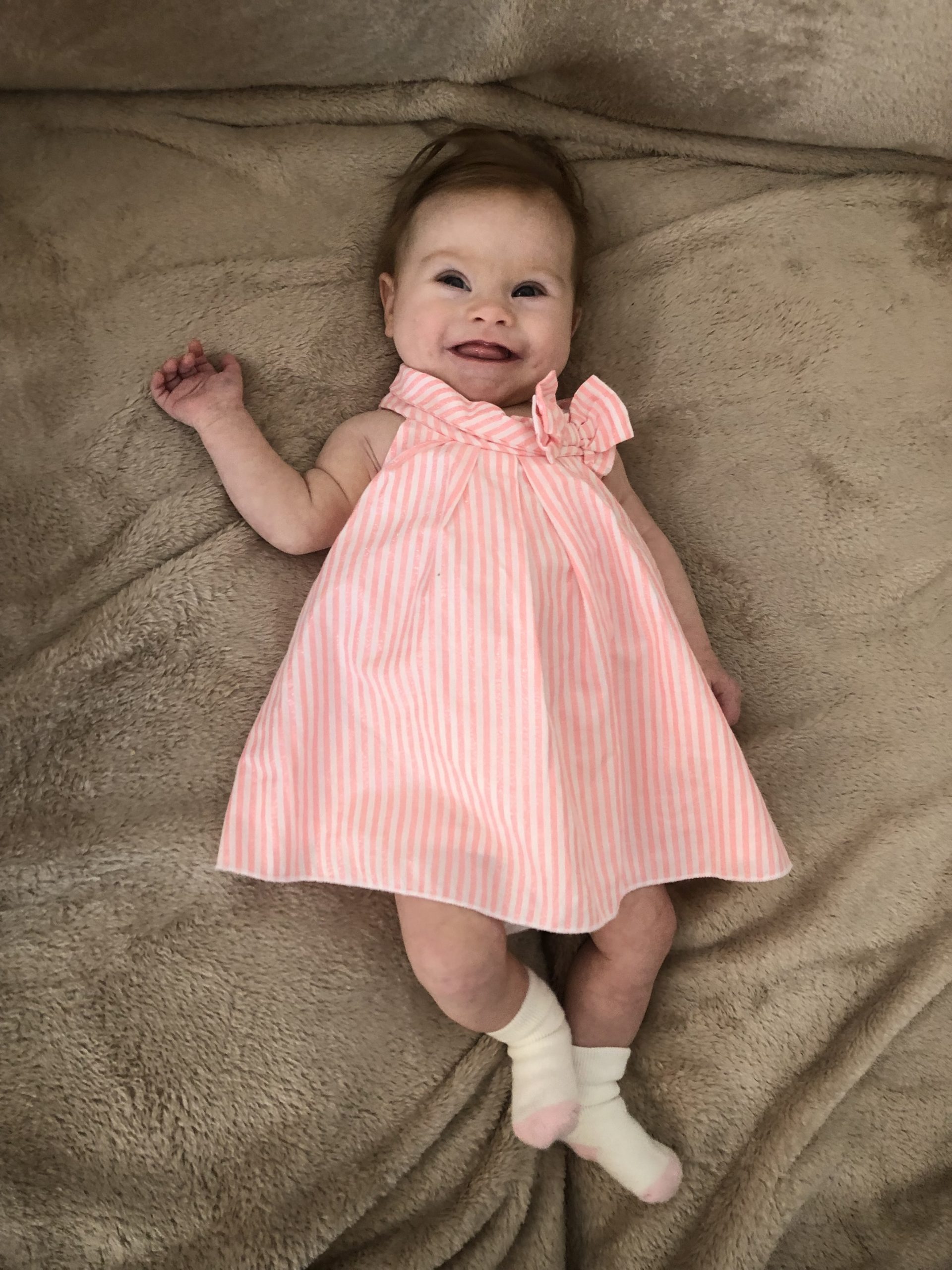 When you're around someone with Down Syndrome, treat them the same as you would anyone else! Ask how they're doing. Ask what they enjoy doing. Talk to their parents about their interests and how they're doing. Learn more about who they are and what makes them unique. If you have kids, include them in these conversations. Teach them the importance of differences. God doesn't make mistakes and made every single one of us unique and different. How boring would the world be if we were all the same?!
If you're pregnant and receiving any kind of diagnosis, God is in control and knows what you're capable of. I promise you will love that baby more than you could ever imagine. If you've never been around someone with Down Syndrome, make an effort to! If you hear someone talk negatively about someone for being different in any way, say something! God created us differently, but equally and we all deserve to be treated with kindness and given the same opportunities.
October is Down Syndrome Awareness Month, and I am loving the opportunity to show off my Hazel girl even more. If you want to learn more about Down Syndrome or meet local kids and adults living with DS, the Down Syndrome Association of Jacksonville (DSAJ) is hosting its 19th annual Buddy Walk on Saturday, October 16 at Seawalk Pavilion in Jacksonville Beach. All of the money raised goes to the DSAJ which supports hundreds of local families with the costs of extra medical care and therapies that many children with DS need. DSAJ also provides emotional support for families, workshops, job training, and more.
So when you hear the two words Down Syndrome, what do you think? I think blessed. Because I'm blessed to have the most perfect baby girl, and she just happens to have Down Syndrome.
About the Author
Elizabeth Campbell is a Jacksonville-based mom, wife, and journalist. She was a reporter and anchor for WJXT for nearly 10 years and most recently was the morning traffic anchor for Action News Jax, where you can still catch her filling in from time to time. She also works for Point Taken PR, focusing on writing, social media, and media analytics. Elizabeth and her husband Chad have a 2-year-old daughter named Campbell, a 5-month-old daughter named Hazel, and two older pups, Lanier and Major. One of her newest interests is advocating for her youngest daughter who has Down Syndrome. She also loves cooking, reading, Tennessee football, going to Jags games, and being outdoors. Elizabeth loves being a girl mom and connecting with other local moms!