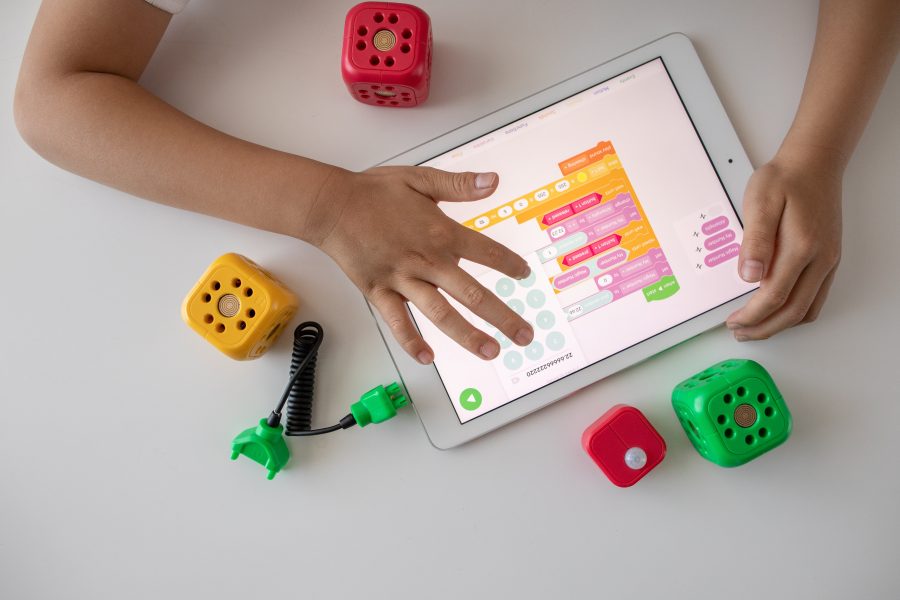 YouTube, Blippi, learning apps, gaming apps, Netflix, Amazon Prime. I love it all! And here's why…
I recently attended my daughter's end-of-year Mass and awards ceremony, holding back tears as I enjoyed the sound of school-aged voices filling a century-old church with the same songs I used to sing at her age. When the awards portion came, I let her entertain the adorable baby sitting next to us. We were both totally engrossed in infant squishiness when I caught the tail end of our unique last name echoing through St. Paul's. 
"Adair! I think they just said your name!" I whispered, as friends in front of us (who were paying better attention) turned around to cheer her on.
She ran to the front of the church and accepted her mystery award, all smiles. When she brought it back, she showed me it was for "Media," and I immediately laughed. My kindergartner had just won the iPad award. A notion later confirmed by her best friend who explained, "Well, she can log on to the computer all by herself." Unsurprising for the kid who negotiated bringing her iPad to VPK to use at nap time. (No internet connection, so she had to play games and draw pictures.)
Now, if they'd been handing out "Mom of the Year" awards that day, given the bad rap screen time often gets, I probably wouldn't have topped the list. But you know what? I don't care. And when I looked at Adair's electronic report card, the criteria for Media, Technology, and Research actually made me feel really proud of her having won that award. She "demonstrates creativity and innovation," "applies critical thinking and problem solving," "understands human, cultural and social issues," and "demonstrates an understanding of technology concepts, systems, and operations." I mean, at this point, she could enter the workforce and start paying some bills. 
Full disclosure: I am paid to love technology. It's the beautiful, very secure, and inspired (disruptive! #iykyk) field in which both I and Adair's father work. So, you could say screens run in the family. 
But I also love technology for a slew of other reasons, and if it can make you feel better about the amount of screen time your child is getting this summer, then my work here is done.
I love technology because sometimes I need to make dinner or fold laundry or not break up fights or not be talked to — and nothing distracts my children like watching other children's lives get creepily (and lucratively) recorded by their parents.
Pros:

 

I've noticed increased solo play and imaginative dialogue, plus an interest in creating their own videos and dramatic performance.

Cons:

Those parents are always buying their kids crappy toys, but (as my kids can confirm) I don't have a problem saying no to toys.
I love technology because I don't have to talk about front loaders with my son constantly, and, honestly, I kind of like the Excavator Song. Hey, dirt! See you later!
Pros: Blippi took my kids on a ton of adventures when we were homebound during the height of the pandemic and, in doing so, introduced them to a variety of careers, activities, and experiences that they may not have seen otherwise — especially at that age.
Cons: The songs get stuck in your head and you end up paying a lot of money to see him LIVE! (My kids did not mind that he was not the "real" Blippi, but be forewarned, he's not.)
I love technology because my daughter could read at 5 and absolutely loves doing math and can navigate through a device that's a part of all of our daily lives with skill and comprehension. Some educational apps and websites I love in appropriate age order: Edukitty Preschool, Sight Words by Little Speller, ABCmouse, and IXL.
Pros: The obvious — they trick my kids into learning.
Cons: Adair being able to read makes lying to her difficult and also allowed her to buy fun games — one of which is called Pole Star where "the girls wear sparkly outfits and dance!" Yes, I routinely monitor their screen use. I promise.
I love technology because I can say: "If you don't go brush your teeth by the time I count to three, you won't be allowed to watch YouTube for a week." And I don't even have to count to 1.
Pros: Incentivizing my kids, i.e. bribing, isn't my go-to parenting technique, but it's effective when I'm pressed for time or patience.
Cons: It could become a crutch? I'm not sure, though. In an ideal world, my children would be entirely internally motivated, but that's not how the world or humans always work. Being moderate with external motivation is okay by me.
Speaking of, love letters to 0s and 1s aside, I am all for moderating everything in life as needed. Though a lot of times children can be trusted to moderate their bodies pretty well, I'll admit that the addictive nature of apps and content can make it almost impossible, and I love the idea of setting family boundaries around television or devices.
To that point, I know that it's incredibly important to be observant, mindful, and aware of the types of content your children are encountering online. I'm hip. I've got the 4-1-1. And I know well enough to know that this is just the tip of the iceberg.
But, if any of this embarrassing admission sounds familiar to you, please know you're not alone. And as summer progresses, temperatures rise, and the stir craziness ensues, you can feel okay about tossing a screen at your kid. Who knows, they may end up winning an award for it someday.