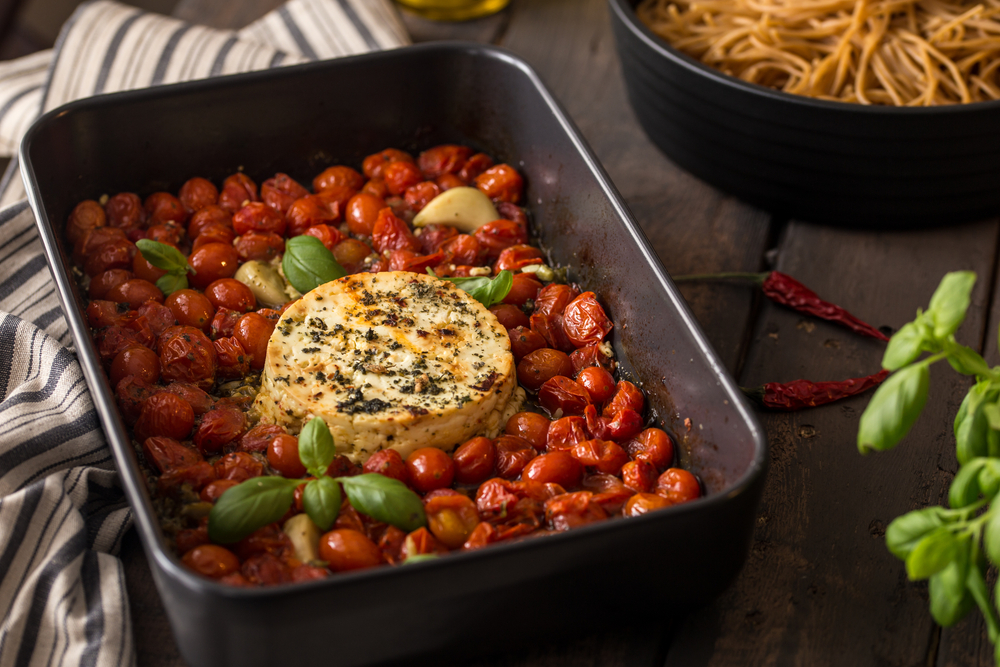 Are you on TikTok? If you are, you've probably seen these recipes taking over your FYP (For You Page, for the uninitiated). If you're not on TikTok, you will probably see these recipes on Instagram Reels in about six months. (If you send it to me, I promise to pretend I'm seeing it for the first time.)
So, what makes a TikTok food trend? For me, it starts when I see it once on TikTok. Then again. Then see someone else making it. Then every other video on my FYP is Emily Mariko's Salmon Rice Bowl, including a mom who made it using her toddler's play food. Suddenly every recipe blog is posting their own spin on it and Kewpie Mayo has its own display at Public. I don't even LIKE salmon, but now I subscribe to Emily's Life Plan for the Week.
Emily Mariko's Salmon Rice Bowl — Rating: SLAY
I'll start with this one. Emily crouches over the counter, no words, just the sound of her shredding leftover salmon, heating rice, and topping it with sriracha, soy sauce, kewpie mayo, avocado and kimchi. Then — *gasp* — she uses seaweed wrappers to scoop it, making her own spicy salmon roll.
I asked my fellow Jacksonville Mom writers for their thoughts on this one, since I'm not a fan of salmon. Allie Gerstner (aka @allieluvsfood) reported that it's a super great way to use up leftovers, has great flavor, and offers that sushi roll taste. She did not test the ice cube trick since she made the rice fresh. However, I tried it with quinoa, and it absolutely steams it in the microwave without drying out.
Pesto Eggs — Rating: Slayed
This one is so simple — throw a dollop of pesto in your frying pan and cook your eggs in it. It's good, doesn't take any long than frying a regular egg, and makes you feel like you're treating yourself. I ate mine on a piece of sourdough toast.
Baked Oats — Rating: Partially slayed
I don't think this one went quite as viral, but it intrigued me. Blended oats, a little maple syrup, egg, banana, baking powder is the base recipe that essentially makes a healthy breakfast cake. You heard me! Cake for breakfast. From there, you can make it your own. I made pumpkin spice-baked oats that my son rated as "his favorite breakfast ever." I also made a chocolate version with a little cocoa powder and chocolate chips.
I linked the most popular video, but you can google "TikTok baked oats," and so many variations come up. My favorite thing about these is you can totally also microwave them for 90 seconds, and it makes something akin to a mug cake.
Why the partial slay? It was good but not GREAT. Break it out when you want melted chocolate chips for breakfast.
Air Fryer Pasta Chips — Rating: Ugh
This trend is cooked pasta, tossed in parmesan cheese, olive oil, and spices then air fried until crispy. I thought they looked like they would be terrible. All of my Italian TikTok accounts stitched them in horror, confirming my gut feeling.
I decided to try them for this article. I boiled farfalle and tossed it in olive oil, parm, oregano, garlic powder, and basil. It tasted delicious just as a pasta. But I knew it wouldn't last. "I'm so sorry," I whispered to the ill-fated noodles as I closed the air fryer door to their doom.
Verdict: Ugh. They were too crunchy, almost as if they had resumed their uncooked state, but now they were stale. HARD PASS.
Feta Pasta — Rating: SLAYED
This trend was so viral earlier this year that grocery stores were actually sold out of blocks of feta cheese. Even if you aren't on TikTok, you probably heard of this one. A block of feta, surrounded by cloves of garlic and tomatoes, drizzled with olive oil and sprinkled with red pepper, then baked. When it's done, you smush it together with a fork and toss it together with penne.
I know this was viral back in the spring, but it's worth mentioning again. It's creamy, tangy, and delicious. And you can probably find feta at the store now.
Hot Chocolate Bombs — Rating: MERRY CHRISTMAS
These "bombs" are like bath bombs, but you drop them into hot milk. They were last year's viral winter trend, but with the holidays approaching again it seemed worth mentioning that we tried it last year, and they're easy and fun!
Did we miss any? Let us know what you've tried! (And don't forget to follow us on TikTok!)