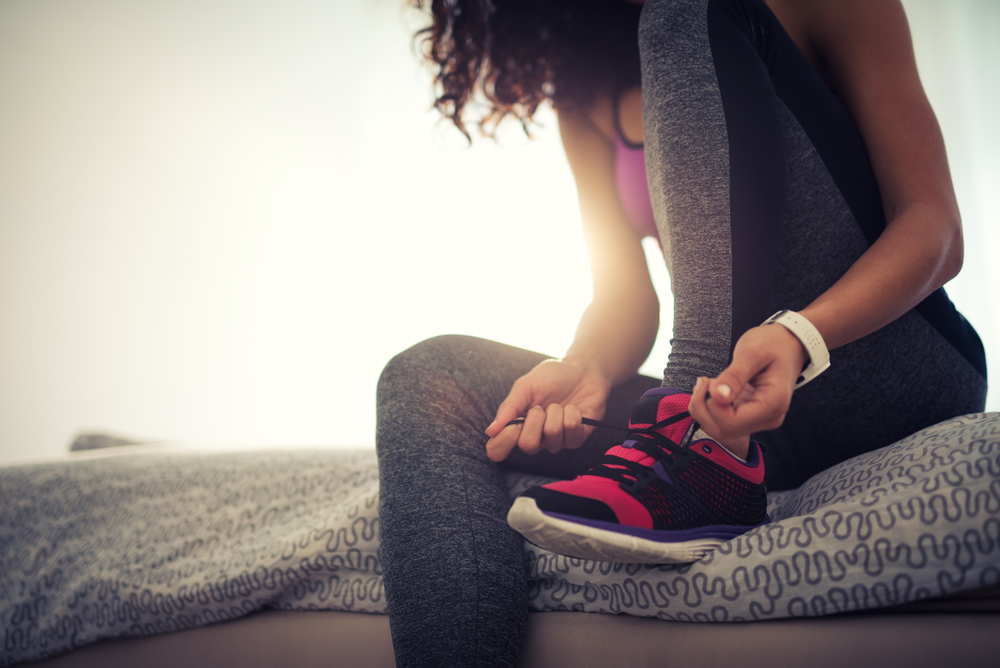 The new year has traditionally been a time to reflect, reset, and reimagine what we want our lives and bodies to look like in the coming year. After the uncertainty of 2020, we all may be a little more trepidatious about setting lofty goals in 2021, but when we think about what is within our locus of control, our personal health falls within the things we can fully own. As a certified personal trainer with a history of executive leadership training, I wanted to share some tips for making and sticking with your health and fitness goals.
Know your strengths and weaknesses
To increase the probability of success, you want to set a goal that is centered on your values so that you will be motivated to accomplish it. The goal should also consider the areas in which you thrive as well as those you struggle with. If in all your years of life you have not been a morning person, although it can be done, determining that you will wake up at 4 a.m. daily to complete your workout may not be the best decision for you. If you love to dance, finding a class that allows you to do that while hitting your cardio goal is smart because it hits both your passion and makes for a good workout.
Set the right health and fitness goals
This goes hand in hand with knowing yourself. The SMART (specific, measurable, attainable, relevant, and time-based) goal criteria is a great framework for setting the right health and fitness goals for yourself.
Specific: Now is the time to get granular. "Losing weight" or "making healthy choices" are great big picture goals, but for the purpose of goal setting you must get in the weeds. If you want to lose weight, choose a specific number. If you want to make healthy choices, determine that you will meal prep weekly, begin to count your macros, or work out a minimum of 30 minutes four times weekly.
Measurable: You must be able to track your goal. There should be a way to measure progress towards the goal.
Attainable: Can you reasonably accomplish this goal? You should take stock of all your resources as well as your barriers and plan accordingly.
Relevant: Simply put, you should ask, "Does this goal speak to me?" Setting a goal that does not align with your values and what is important to you is an easy way to fail.
Time-based: There should be a clear end date for the goal. My suggestion is to place both short- and long-term deadlines in place. For example, if you have a weight loss goal, you can determine how much weight you want to lose in a year and then have monthly goals.
Get an accountability partner
Just trust me on this one. It is way easier to quit on yourself when you do not have anyone holding you accountable. This can be a spouse, friend, or trainer.
Put it in your calendar
You should treat your goals as an integral and necessary part of your day. The same way you schedule your doctors' appointments and the kids' activities, you should be scheduling in your allotted time needed to achieve your health goals.
Ignore the haters (there will be many)
It is one of those things in life that seems inescapable. Just remember, hurt people hurt people. It is not a reflection on you, but a reflection of their hearts and insecurities. When someone peers judgingly at you in the gym for not knowing how to use a piece of gym equipment or my personal favorite *insert eye roll* being "in their spot" in a class, in your most southern accent just think (or say) "bless your heart."  If someone in your family ridicules you for taking the step to better yourself, again, "bless your heart." Remember that you are there for you. They are not a significant part of your life and their opinion of you does not matter.
Take advantage of all the free resources available to you
If you are new to a gym, usually they give you a free or discounted personal training session. At the very least, a staffer should be able to show you how to use all of the equipment on the floor. Take advantage of all the apps and social media pages that are dedicated to sharing free wellness-related content. Start a Pinterest board of healthy meals so that meal planning does not feel so cumbersome. Many people and companies will have new year deals and discounts for you to take advantage of.
Take ownership of your outcomes
At the end of the day, you are responsible for the outcomes you see. You can hire a personal trainer, therapist, nutritionist, and chef, but if you are not putting in the work and prioritizing yourself and your fitness goals, you will still fall short.
Give yourself grace
We all fall short sometimes. We will get off track and feel discouraged. There may be an unexpected injury or life event that makes us evaluate our goals and timeline. Despite any inclination to beat yourself up over a misstep, or give up completely, just hit reset and start again. A delay is not a decline unless you allow it to be.
Cheers to you on your journey. You've got this, Mama! And if you need support, I am here for you!