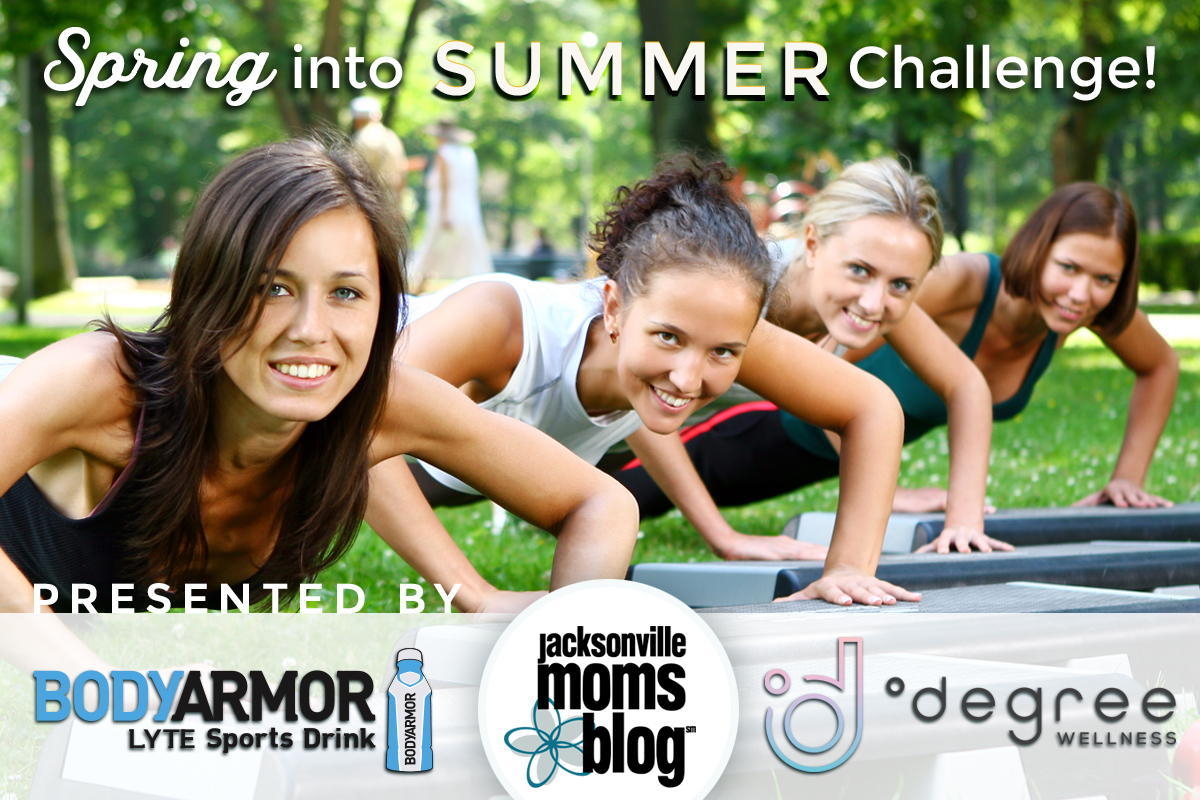 Has your New Year fitness and nutrition game slacked off a little? Jacksonville Moms Blog knows summer is right around the corner and our Spring into Summer Challenge presented by BODYARMOR and Degree Wellness has arrived just in time to hit your goals. Join the second JMB Fitness Challenge to clean up your nutrition, kickstart weight loss, learn healthy habits and fitness tips to become a stronger mom. This six-week challenge is open to all fitness levels, all ages, working moms, stay-at-home moms… any JMB reader who is ready to change their life for the better!
Throughout the six weeks, participants will have exclusive access to certified trainers, nutrition experts from Dieticians of Palm Valley and exclusive trial classes at a variety of the best fitness studios in Jax like F45 Training, DEFINE body & mind, Full Psycle Full-Body Indoor Cycling,Everbalance Yoga, Barre & Pilates, 180 Training and Asana Wellness Center, Orangetheory Fitness , Four Friends Fitness, First Coast YMCA, TitanUp Fitness and more!  (*See calendar of events below) Not to mention the unlimited support and "mamarederie" of your fellow challengers in a private Facebook group.
We will kick off this challenge at Degree Wellness on March 31 from 3-5 PM. All challengers will complete a fitness assessment, learn how to set goals, receive a weekly e-newsletter, nutrition guidelines and an optional at-home workout guide. Weekly Facebook Live chat sessions will allow us to interact and stay on track! New this session, all challengers will be grouped into small teams to maximize accountability and have the opportunity to connect during moms' night outs like a healthy cooking class at Jax Cooking Studio (ticketed event) and unwind at sunrise yoga with True North Health and Wellness. As if you needed one more reason to pull the trigger, all challengers will be entered in the Fit Finale Raffle and invited to a challenge finale where we award prizes for achievement and challenge participation!
The registration fee for the full six weeks is only $40 and includes everything mentioned above plus a path to a healthier you!
What better way to stay motivated, accountable and feeling stronger than ever than by joining the Spring into Fitness Challenge! Registration is open thru March 29th. The challenge begins March 31-May 12. Once registered, participants will receive a confirmation within twenty-four hours. We can't wait to help you achieve your goals, feel ready for swimsuit season and as usual have fun while we do it all together!
Scheduled Events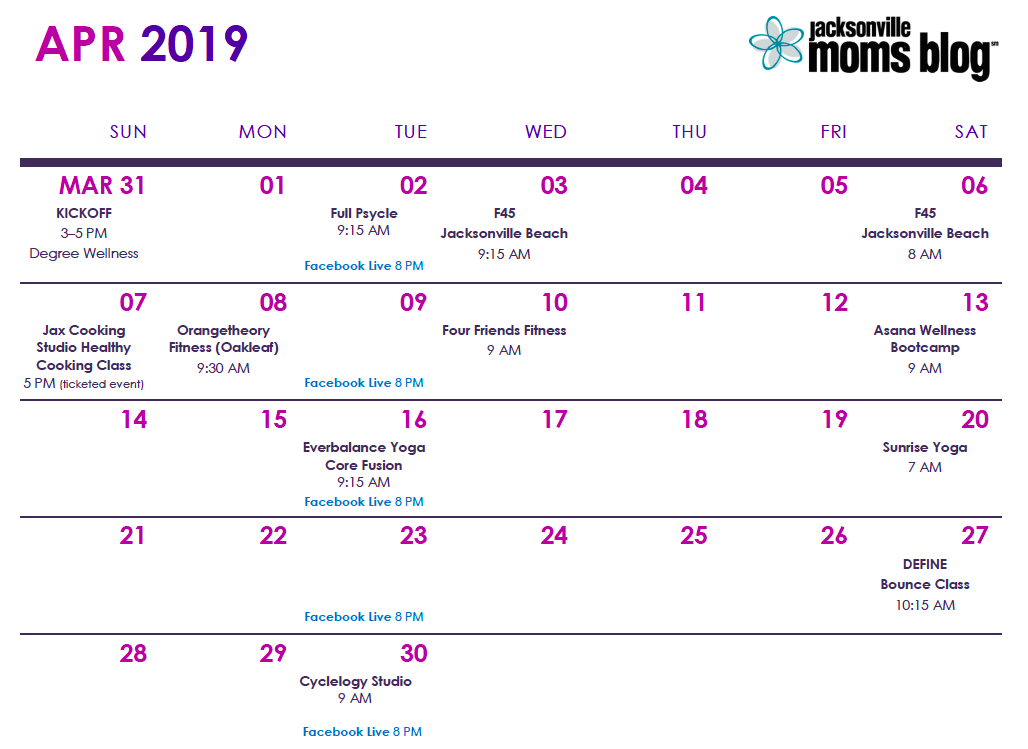 Here's how to start: Complete the registration form below. Once finished, click SUBMIT, then you will be redirected to PayPal to secure your registration spot. Space is limited! Once we receive your registration and payment, you can request to join our Facebook Group or we will add you!
Volunteer to be a team leader and we will waive your fee! Send an email to [email protected] to inquire about being a team leader.
If you've accidentally clicked out of the Paypal page, CLICK HERE to return to the payment page and complete your registration!
Jacksonville Moms love BODYARMOR! Fueling up for a workout, the weekend? Moms need all the help we can get! BODYARMOR is a premium, sports drink that provides superior hydration. It is packed with electrolytes, coconut water, and vitamins and is low in sodium and high in potassium. BODYARMOR contains natural flavors and sweeteners and no colors from artificial sources. Available in BODYARMOR and new BODYARMOR LYTE, and BODYARMOR Water, available at Publix. Learn more at www.drinkbodyarmor.com.