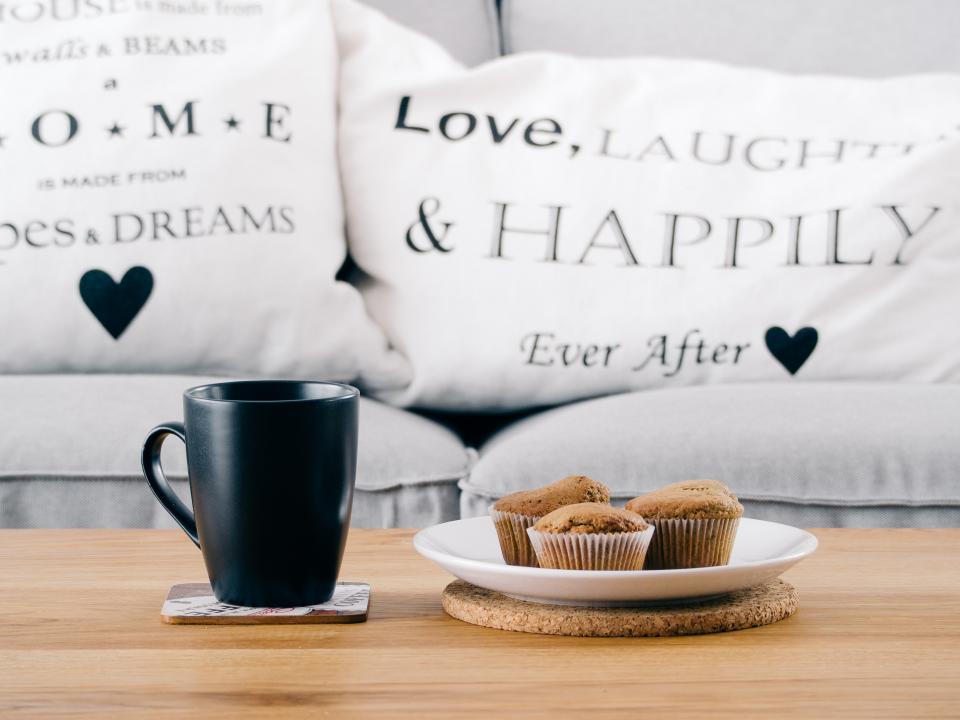 It is so embarrassing to admit this, but feeding myself breakfast is a real struggle.
It's completely absurd. I feed my children two breakfasts, my husband one, the dog and the fish all get served breakfast before our day gets going. But somehow, something always gets in the way of my eating the food I prepared for me. If you read my back-to-school morning hacks post, you know that I had my mornings down to a science. I am not naturally a morning person, so I have to plan for success prior to 9 a.m. And I did. I found a way to hydrate myself, get my morning coffee, and check all the must-do boxes on the morning list. Somehow, though, in all the hustle and bustle, feeding myself always fell off the list. I really didn't notice it until I started working out. I know. I'm as shocked as you are. Yes, I started working out.
Along with teaching me the joys of table-side guacamole, learning to fall off a stand-up paddleboard like a pro, and how to have a ridiculously fun time making Instagram videos, my Jacksonville Moms Blog friends also introduced me to the world of working out with other moms.
After taking a look at all the workouts my fellow moms trusted, I chose to start going to Orange Theory Fitness. I did this fully expecting to fall flat on my face. I knew it would be tough, but I had set a goal to run a 5k. My "why" behind that is another blog post entirely. I was terrified and clumsy, but I survived my first few work outs. I feel like I owe that survival in large part to the encouragement and giggles from my JMB friends, as well as to lucking into a fantastic coach with a knack for keeping me out of my head and focused on my own personal best. I noticed myself getting stronger, and I started really (dare I say it?) enjoying the work out. Having friends working out alongside you is inspiring, and it takes some of the pressure off. Every workout, my coach encouraged us to pay attention to nutrition both pre- and post- workout.
That's when I realized it. I wasn't eating breakfast at all before I worked out.
At first, I tried to solve this "embarrassing" problem on my own. It's clearly just a scheduling problem. My first thought was I'll just make a smoothie. I knew that I could make them easily. I frequently make protein-rich, healthy smoothies for my little ones in the morning, and lots of moms swear by their morning smoothies. Problem solved, right? Wrong. I started making and drinking healthy smoothies in the morning, but it just didn't sit well, literally. While I know smoothies rock for some busy moms on the go, for me, the smoothies where somehow too heavy on my stomach and made working out harder, not simpler. I tried many, many variations. I even caved and tried some "guaranteed" store-bought ones. None worked for me.
Finally, I broke down and confessed that I was not eating breakfast prior to our workout.
It was Megan who gave me my first big helpful push by saying, "Just grab a piece of toast and peanut butter or a boiled egg." While neither those things work for our food allergies, it did get me thinking outside of my old breakfast box. I stopped thinking about breakfast and started thinking about what was easy for me and would give me the boost I needed to do my best during my workout. Here are three tips that worked for me:


I always have some sort of grilled chicken in the fridge. My children love grilled chicken "nuggets." The great thing about grilled chicken is that it is a common staple that is a good source of protein. It is simple and easy for me to grab a few pieces of chicken and add it to one of my pre-prepped fruit bowls before we get on the move. While we are talking about my less traditional choices, another one of my favorites, especially in the summer, is edamame salad. I make this often for pot lucks. It's a simple cold bean salad that keeps well in the fridge. I include edamame, black beans, corn, snow peas, fresh minced garlic, oil, vinegar, salt and pepper. I pre-portion single servings that make them easy to grab and munch on while I'm checking off my morning to-dos. In both of these instances, I am using traditionally lunch or dinner staples that I already have on hand. This one change in thinking has made the most difference in my getting breakfast in my belly before I leave the house. I still love traditional breakfast foods, but I typically save them for brunch or lunch these days.

I had forgotten the awesomeness and ease of popping in a quick piece of toast. Years ago, we transitioned away from most processed foods. With our food allergies, finding good, affordable bread options can be a challenge. I set out to find yummy toast options that worked for us and found a delicious bread company called Sprouted Bread in stock at EarthFare. It notes right on the label that they are egg, peanut, tree nut, and dairy free. The bread is delicious, hearty and satisfying.
I also started pre-baking slices of sweet potato toast.
If you haven't heard of sweet potato toast, you are missing out. It is a technique of preparing a sweet potato that you can top just like toast. The internet has many videos that make the process look simple and quick — FYI, it's not that simple or that quick. If you want to only use your toaster like the magic you see on those quick-food videos, prepare for a nearly 20-minute process that will have you pushing the sweet potato into the toaster 10 or more times. I don't know anyone whose morning schedule can accommodate that. The solution to this problem is to buckle down and pre-bake sweet potato slices in your oven. Simply place ¼-inch slices of a beefy sweet potato on a foil-lined baking sheet in your oven at 350 degrees for 15-20 minutes, just until they are tender. You don't want them to be fully cooked through. Allow the slices to cool completely, then store in your fridge for use during the week. When you are ready for a sweet potato toast slice, simply grab one out of the fridge, pop it in your toaster on the highest setting once, and it is ready to top. You can top traditional toast and sweet potato toast with any of your favorite toppings. I enjoy Barney's almond butter (they are a peanut-free, tree nut brand) and banana slices, avocado slices with tomatoes and herbs, and Barney's almond butter topped with fresh blueberries and sprinkled Penzeys Cinnamon Sugar blend. YUM.


I have adapted my u-turn prevention kit strategy from my earlier post to help me get to my own breakfast. I always have a quick grab-and-go option that I take on the road with me if all else fails. My two favorite standby options are Refrigerator Oatmeal and Freezer Energy Balls. These are both items that require absolutely no prep in the morning and are a perfect safety net to keep me on track and eating my breakfast.
In the end, I had to put a ridiculous amount of time and planning into making sure that I eat my breakfast, but I am so glad that I did. I can confidently say I am no longer letting myself fall off the list of morning to-dos. I find that I have much more energy and am able to get through my morning workout, even when it is super early, without struggling with a hungry or too-full belly.