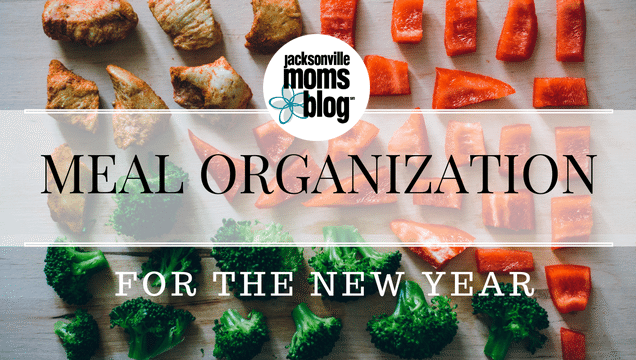 Can you believe 2017 is almost here? (Scary how fast this year went.) A new year to make goals and promises for you and your family is just around the corner. Do you have any in mind yet? One goal I had for 2016 was to up my meal organization game in order to shorten the time spent preparing meals — and it actually worked! This is a goal that you can easily do, too.
First, start with a dry-erase calendar — you buy, make one or hire a designer like me. (I knew that degree was going to be useful!) I designed this dry-erase calendar to try to be a more organized household, and it has been a lifesaver! Not only does it hold my family's schedule for the month, it also includes our nightly Dinner Menu, Grocery List and To-Do List all in one place!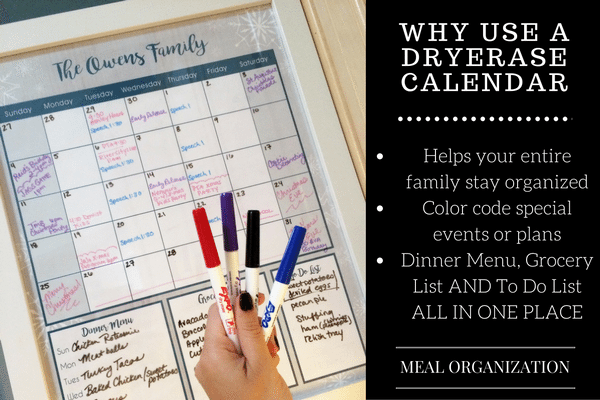 Weekly Dinner Menu
Plan dinners in advance for the entire week that work with your family and your schedule. We moms have so much going on all day from sun up to sun down, and dinner is sometimes the very last thing on our mind. This is key and is one thing that will make life easier for you, I promise!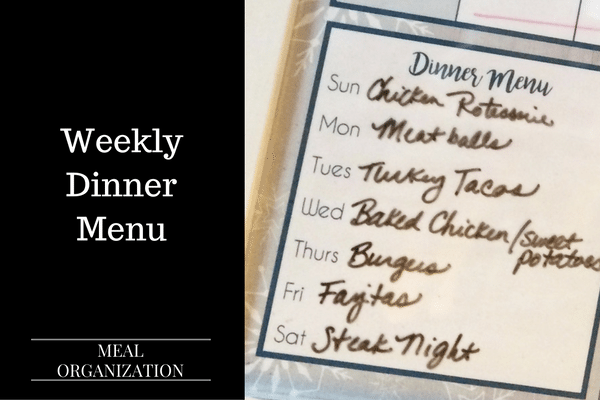 Here's what you do:
Every Sunday, list out the days of the week. You don't have to have a big calendar like this — a piece of paper or notepad works, too!
Make your dinner plans according to the week. For instance, if the kids have karate or dance, plan those nights for your pre-made meals, such as homemade meatballs or fajitas using the grilled chicken from your Sunday grilling. (I'll explain this later.) If you have extra time on Sunday, plan to prep or cook the dinners that require a little more work. We tend to do pot roast, enchiladas or chili on these nights.
If you plan on eating out, write it down! It will save you from eating out more than you planned. We usually eat out once a week; it's a nice break and chance to get the kids accustomed to eating out in public.
My goal is to serve at least one protein per meal. Even with my picky kids, I find a way for us all to eat the same food — even if it's put together in a slightly different way. (Now that's what I call winning!)
Make-Ahead (Semi-Healthy) Meals
Note: These meals are for my family of four. A mommy trying to lose weight and maintain muscle, with two children ages 6 and 4 who are still pretty picky, plus a meat-loving, really hungry daddy.
Try these meals that are easy to make by including pre-made or semi-homemade items. These are healthier than the calorie-packed casseroles or Crock-Pot concoctions that are easy but may not be as healthy. We've found that these meals I'm sharing with you have made both our personal trainers and our kiddos happy. My "make-ahead meal" day is Sunday — from grilling chicken to making meatballs, packing lunches and prepping veggies, this is the best day to get your week ready to rock!
See below for a few tried-and-true examples of our weekly meals. These meals are delicious, good for you food, and they have saved us so much time in the evenings, so that we can better enjoy family time!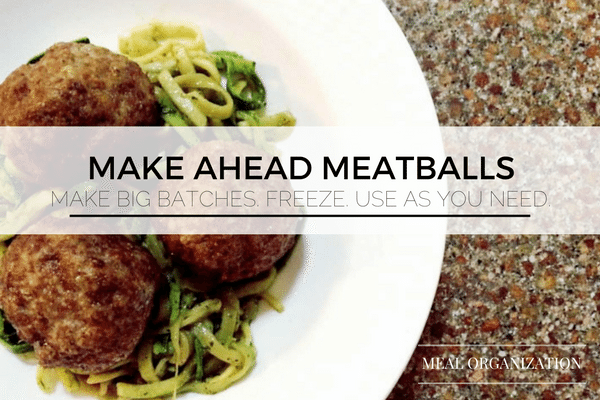 Make-Ahead Italian Meatballs
Ingredients:
One pack of Publix Greenwise ground chuck
One pack of Greenwise ground lean
2 eggs
Italian bread crumbs
Oregano, sea salt, pepper to taste
Meatballs are the top dinner choice at my house — the kids could eat them everyday! If you wish, you can make them using ground turkey or chicken breast instead of red meat. (We eat so much chicken that red meat is a treat for us.) Make two or three batches, so you have future meatball dinners you can freeze. Baking your meatballs will help save time and greasy stovetop cleanup. Bake for around 20-30 minutes, depending on the size, at 365 degrees on a foil-lined baking sheet. Once completely cooked through, allow time to cool before putting into freezer bags. We serve about a dozen meatballs per dinner — yeah, we love them that much!
My husband and I eat our meatballs with zucchini noodles, and the kids have regular spaghetti. (They're not yet on the zoodle kick, but who can blame them?) For frozen, defrost the amount of meatballs you need, microwave or add them to sauce to reheat for an easy-peasy homemade dinner.
*These meatballs are also a great dinner to give to new mommies! Giving a freezer bag of meatballs, a jar of sauce and a box of spaghetti is a perfect "Welcome Home" gift.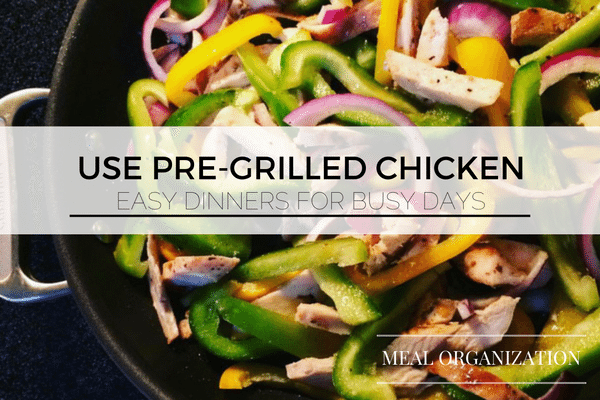 Make-Ahead Grilled Chicken
On Sundays during meal prep, I take about three or four dozen chicken breasts, marinate or dry rub, and grill them. Grilling makes it super easy to cook a several at once, and I love the grilled flavor compared to baked. Once they cool, get ready to pack 'em up for easy dinners and lunches.
Grilled Chicken for Lunches
Healthy, clean lunches that cost you nothing compared to eating out? That's one way to a great new you in 2017! Here's what I do: Take 10 containers, five for me and other five for my hubby for each weekday. Add grilled chicken, a carb and either frozen or fresh veggies. Now you have your lunches made for the week. Perfect grab-and-go! Easy to make and helps you stay on track even during your busiest days.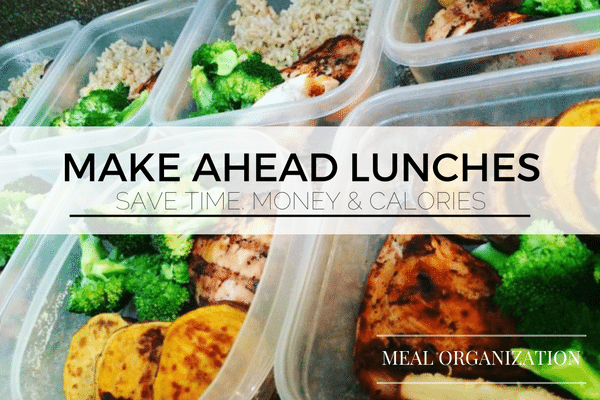 Grilled Chicken Fajita Dinner
Ingredients:
4 grilled chicken breasts from Sunday's prep
Sliced onion and green bell pepper
Coconut oil
Fajita spices
Cheese, soft taco shells, black beans, skinny margarita (optional)
Use four of your grilled chicken breasts from Sunday for an easy, quick fajita night! Slice the grilled chicken thin and add onion and green peppers to a hot pan with coconut oil. Use a fajita spice or go without. My kids use the chicken and add cheese to their soft taco shells, and I do a fajita bowl and usually make black beans to go with it. Super quick and perfect for Fridays, along with a skinny margarita!
Grilled Chicken Salad Dinner
A yummy, big salad is pretty easy when your protein is already done! Use whatever veggies you have around the house, but try to stay away from iceberg lettuce, as romaine, kale or spinach are more nutritional choices. And the kids will love to make their own! We do a salad bar setup, and it makes it more fun for the kids, if you have the time.
Grilled Chicken Fried Rice Dinner
Ingredients:
4 grilled chicken breasts from Sunday's prep
Whole-grain rice
Frozen veggie pack
Chopped onions
Scrambled eggs
Try a whole-grain rice — we use the microwave bags to save even more time. You can make this even quicker by using an organic frozen veggie pack that you microwave, then add fresh chopped onions and a few scrambled eggs. Chop your grilled chicken, and you've got another quick, tasty meal.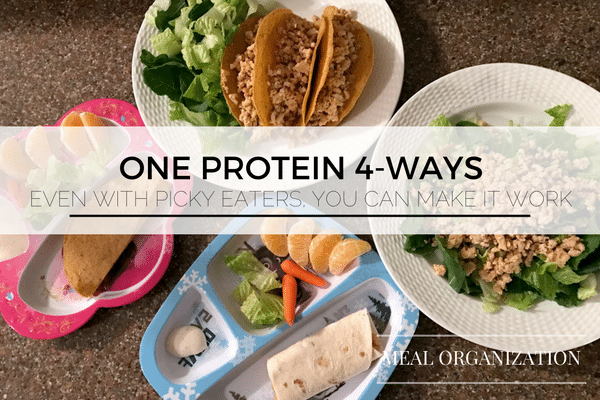 Turkey Taco Tuesdays
This dinner is the best way to show you how one protein can be used with four different ways of serving it. My daughter prefers hard taco shells, my son likes soft shells or a quesadilla, my husband prefers a burrito, and I opt for a salad version. Instead of red meat we use ground turkey breast — the breast is drier and has less fat than regular ground turkey. You can stack with tons of veggies and make a taco bar setup, similar to the chicken salad night, if you have time.
In between the above go-to meals, we often have hamburgers, steak kabobs, baked chicken (I make the kids homemade chicken nuggets using the chicken breasts with Shake'N Bake) and occasionally eat out. Some weeks are more slammed than others, and you just have to do what works best for you and your family. If you choose to start making your dinner menu list and use Sundays as your prep day, I know you will see a difference! YOU, you hard working momma, will have more time to enjoy your kids after work and school and less time worrying about what to make for dinner!
I hope this makes your 2017 meals more organized, healthier and a lot less stressful. If you have any questions, leave a comment below, and I'll be happy to help!