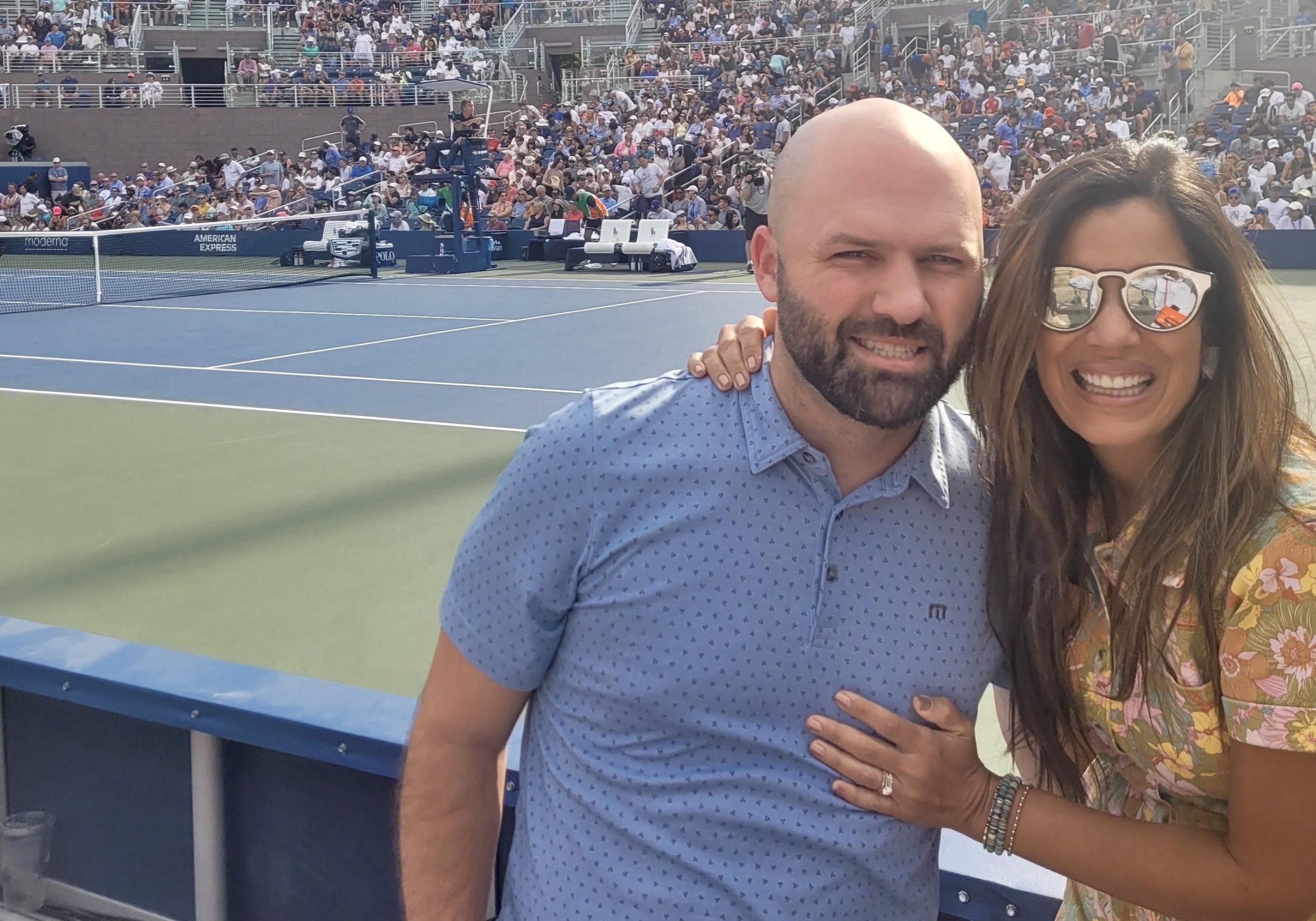 "You are presenting like you are having a heart attack."  Those are the last words I truly remember before my body went into shock and denial.  How could a healthy, fit 41-year-old be having a heart attack?
My 2022 Labor Day weekend started very early as I boarded a 6 a.m. flight to NYC to go to the U.S. Open.  We bought last-minute tickets to see Serena Williams potentially play her final tennis match before retirement, and I was looking forward to my first weekend away since my son's month-long NICU stay at Wolfson Children's Hospital.
The First Few Warning Signs
As we were about to board our flight, I told my husband I was going to get a drink of water as my chest was feeling very tight. I'm not much of a complainer and have a high pain tolerance, so it made me wonder what the feeling might be… but I chalked it up to anxiety in leaving my 11-week-old son behind for the first time. After arriving in NYC, my favorite city (especially for shopping), I found myself disinterested and feeling "off" as fatigue flooded my body — I just wanted to go back to the hotel for a nap before heading to Arthur Ashe Stadium.
After we arrived at the Open, the smells, the people, and the ambiance were just like I had remembered from the last time we made a trip to the Open five years before, but I was still not feeling myself and was having mild discomfort in my chest that came and went. I couldn't wrap my brain around why I would feel so anxious in the city I love, watching the sport I love, with great company. As I walked up the steep flight of stairs to our seats, I chalked up my shortness of breath to being out of shape from pregnancy, but remember thinking, "I am not leaving my seat because I truly don't think I can climb those stairs again."
Throughout Serena's match, I could barely sip my Honey Deuce (the signature cocktail of the U.S. Open and worth the $22) nor did I have much of an appetite. Being at a bucket list event, I pushed through my discomfort to try not to ruin anyone's time while jokingly expressing my concern that it could be something serious. My feelings didn't make sense even to me, and I just tried to take some deep breaths to calm my body so I could make it home after watching Serena ultimately lose an exciting, tough match.
On the train back to Midtown, I was so nauseous that I laid my head in my husband's lap — he wondered if a couple of drinks could have affected me so much seeing as I barely ate, while I was thinking that my chest discomfort, shortness of breath, and nausea was the result of a possible case of COVID. After a long walk back, my nausea intensified as I got to the hotel room, and I ran to the bathroom and vomited, only solidifying my thoughts that I had caught a bug.
'Please Call 911'
Fast forward to the morning, I felt like a new person and Facetimed with my three boys, who I knew were in good hands with my parents who flew in from Virginia to give us a short break. We stopped for a New York bagel on the way to day two of tennis, and I didn't think much of it at the time, but had no appetite and barely had a bite.
After walking around the tennis complex and picking up a few souvenirs, the prior day's feelings were coming back along with fatigue, heartburn, and shortness of breath to the point where I had to take a seat on the ground and have a cold drink. It was hot out, so maybe I was just dehydrated and hungry?
As we sat courtside at an intense five-set match, in between the 5th ranked players coaches speaking Russian and Spanish and a random couple who happened to also be from Atlantic Beach, I whispered in my husband's ear "I'm not okay," just so he could be ready to catch me if I passed out. I thought maybe I should check my blood pressure, as I was still on medication from severe preeclampsia that I had for all three pregnancies, but this time it had not subsided within a few weeks postpartum as it had for my previous two. I didn't come to New York to go home early though, so I continued to push through so we could watch a few more matches until about six o'clock when I decided the fatigue and discomfort were too much, and I needed to lay down and get some rest.
Back at the hotel, I did my bedtime routine and climbed into bed, but the minute my head hit the pillow, the pain intensified, and I immediately grabbed my chest. I was desperately trying to get to sleep, but could not get comfortable and looked at my husband to tell him something was wrong, as this was more than anxiety or a virus. I asked him to call the front desk to see if they had a hotel doctor, and when they didn't, I told him to please call 911. My husband will tell you today he expressed hesitation because he thought I was overreacting a bit. I mean, we were in the heart of NYC, and I was asking to call 911, I get it. The EMTs arrived, and after a quick EKG in my bed, told me due to the chest pain they wanted to take me to the emergency room just to be sure and loaded me on the stretcher and wheeled me through the narrow hotel halls and down the elevator.
The EMT told my husband, "You're not in Florida anymore," as my ambulance had been blocking traffic outside, so "go ahead and flip them the bird if anyone yells or honks."  It was the first time I'd laughed all day.  After a bumpy ride to NYU Langone with my husband in the ambulance with me, I got dropped off to a scene straight out of one of the medical shows, but fairly quickly got an ER bed.
I had to do the usual rate your pain on a numeric scale, get my blood drawn and vitals checked, and did an X-ray and MRI — I was surprised that my blood pressure was much better than expected considering the circumstances. I'm still thinking, I can't believe I came to the ER for anxiety or a virus.
'You Are Having a Heart Attack'
My memories of the next moments are so vivid, as I remember "Dr. McDreamy Cardiologist" asking me how I was feeling and replying with those words, "You are presenting like you are having a heart attack." My mouth dropped, and I basically blacked out after that, as my body went into shock and denial. The next thing I remember they were putting a biPAP machine hooked to a ventilator over my face to help me breathe as fluid had backed up into my lungs from the flow of blood through my heart being so slow. This was causing me to be extremely short of breath, and this type of ventilator is a non-invasive way to allow my heart to not have to work as hard to push blood through my lungs, but it was also torture as I begged my husband to help get me out of there.
I was moved to the CCU floor around 3 a.m. for round-the-clock monitoring, and luckily, they made an exception to allow my husband to stay overnight since they are strict on visitors and do not allow overnight stays in the unit. I remember my vitals being abnormal where my blood pressure was low and my pulse was high, and the machines were constantly going off, but there didn't seem to be a lot of urgency as they prepped me and took me to the Cardiac Cath Lab for a catheterization of my heart around noon. I was extremely nervous, as you are put into a twilight state rather than general anesthesia, and they run the catheter with a camera through a vessel in your wrist up to your heart. Before I went into the lab, they said this was to just to get a clear diagnosis of what was going on, but they believed that I would be out within 30 minutes, and they expected to be able to treat me with a medication regimen. After nearly two hours had gone by, my husband knew it must be more serious than expected, and the doctor came to him with the news that I had a SCAD heart attack (spontaneous coronary artery dissection) where there was a tear in the inner wall of my left main artery causing a 90% blockage. I was having a widowmaker heart attack. I am still in disbelief when I say that.
Because of the seriousness of the location of the blockage, a stent was put in. The left main artery supplies blood to the left side of the heart muscle. The tear in the artery caused blood to pool in the area between the layers in my left main coronary artery, creating a hematoma that had grown to a 90% blockage which caused the heart attack. I was still in shock, so I did not realize at the time how serious my situation was until one of the night doctors explained to me that my ejection fraction (a measure of your heart function via echocardiogram) was 20% and had only increased to 25% after the stent. She told me because of this low heart function and my heart damage that I would have to wear a defibrillator life vest because I was at risk of sudden cardiac arrest. I quickly googled what this device was to get a visual and to my disbelief, I realized I would literally have to walk around with paddles on my chest to shock my heart if it were to stop. I had to wear this 24/7 and could only take it off to shower. My response was, "Wait, will I be able to play tennis?" to which I was told that I would never be able to play again and that I had damaged 50% of my heart muscle, leaving me devastated, to say the least.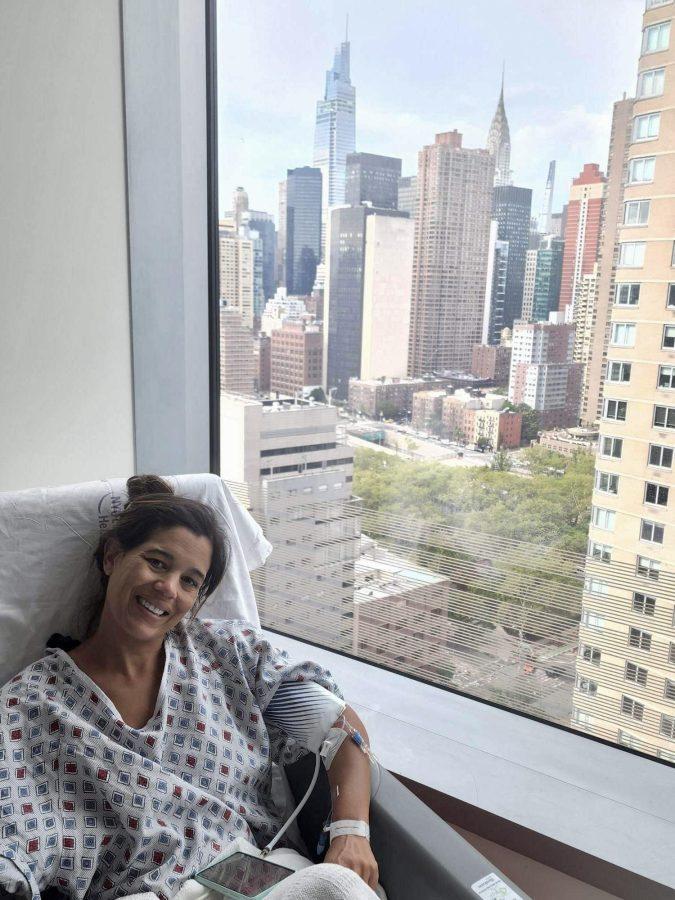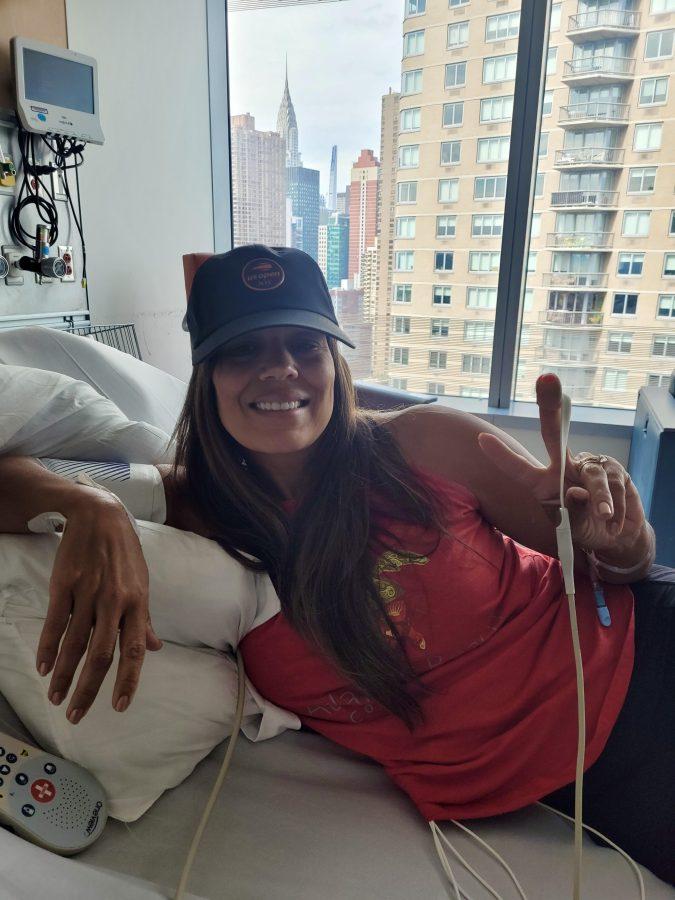 Finally Heading Home
After spending five days in the hospital, much longer than initially expected, I was considered stable enough to go home, but not to fly. My husband and I booked an Amtrak ticket for a long 21-hour trip from Penn Station to Jacksonville for my first train ride, as a drive home didn't sound like fun after everything we had been through.
After getting home and squeezing my little ones, the shock started to wear off and reality set in. The first cardiologist I saw told me with the 90% blockage in the left main artery, that I would have died in my sleep if I had not gone to the ER that night, and that was tough to hear. Because I had done such extensive damage to my heart, my care was transferred to Mayo Clinic's Heart Transplant and Advanced Heart Failure clinic where I was diagnosed with Stage C (Stage 3) Heart Failure which is a progressive condition where only the symptoms can be treated with medication. After seeing the cardiologist there, she made sure I understood what happened and what she thought contributed to the event, however, the specific cause of SCAD is still unknown. My heart attack killed a large portion of the top left part of the heart muscle from lack of blood flow leading to a scar that weakens the heart, causing heart failure. The heart does not have the ability to regenerate new cells to repair the damage that has occurred.
The last six months have been a lot to process. SCAD is commonly seen in young, healthy, and fit women (generally in their early 40s) without any risk factors for heart disease. While SCAD heart attacks can occur in men and women of any age, approximately one-third of all cases occur postpartum or during pregnancy. In my case, my cardiologist contributed my heart attack to the hormones from pregnancy, my preeclampsia, and the emotional distress I carried from my son's critical NICU stay.
As a SCAD survivor, I take 10 daily heart medications, some that I will take for the rest of my life. I am on daily sodium and fluid restrictions (up from 50 oz. to only 80 oz. of fluid including ice and even the juice from fruit eaten!). I am closely monitored at a cardiac rehab three days a week and am by far the youngest one there. I definitely get some looks from the older generation that I am exercising with until I let them know I've had a heart attack just like them. I am also trying to manage my stress better, which isn't easy with three boys ages 4 and under!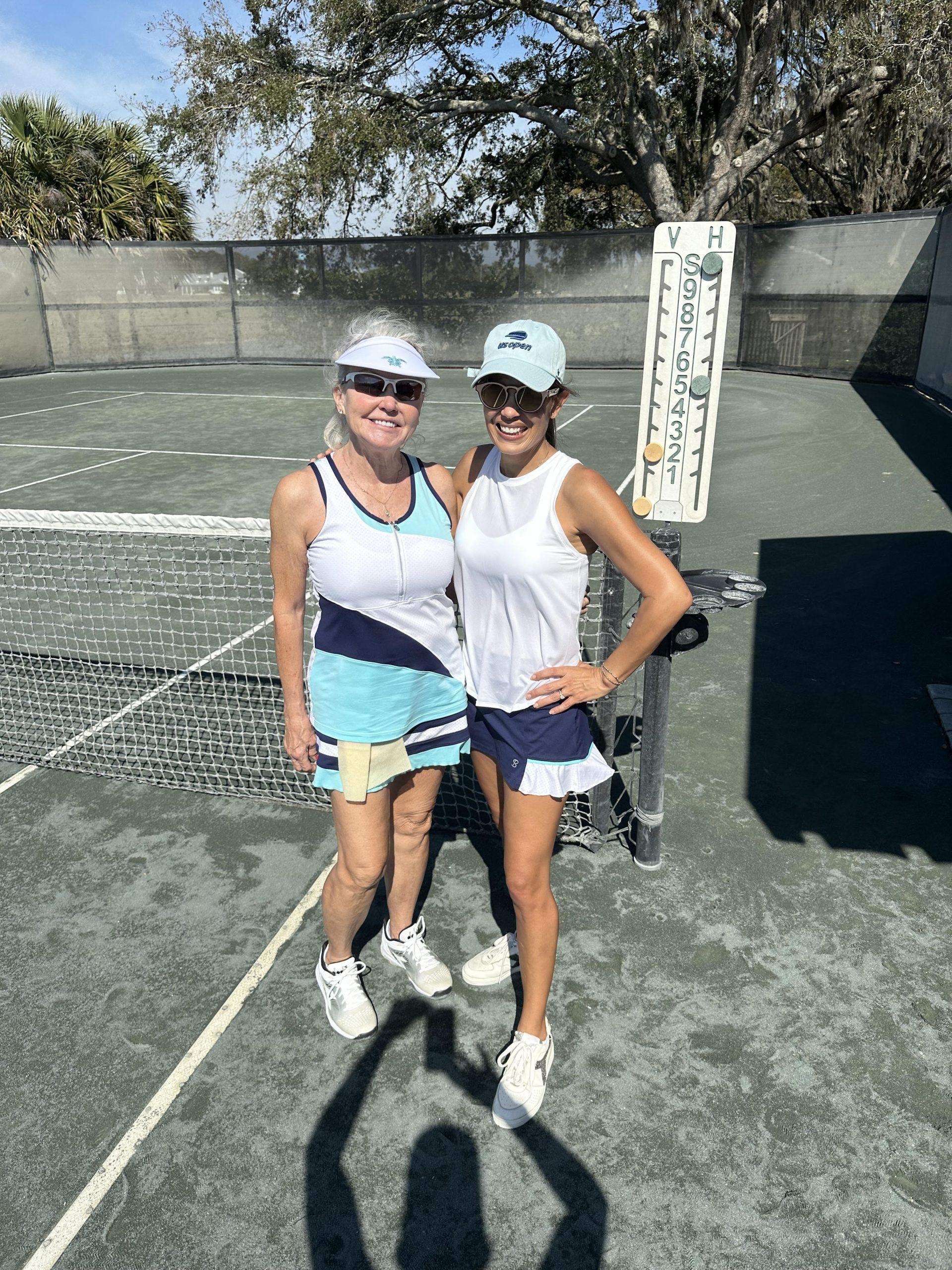 I feel that I escaped death by surviving a widowmaker heart attack. You can be the epitome of health and have great cholesterol and still have a heart attack. If I can do anything, I hope you remember my story and take your symptoms seriously. Advocate for yourself.  Through my research with other SCAD survivors, I have learned that young women with heart attack symptoms are likely sent home from the ER and told it is just an anxiety attack. A near-death experience changes you. I try to live my life to the fullest even more than I did before. You can now find me back on the tennis court as of February — can you believe it? of course, with my doctor's clearance — and soaking up all the little moments with my sweet boys Cash (4), Crew (2), and Cai (8 months).
Statistics to remember as a woman:
1 in 4 women will die of heart disease compared to 1 in 30 of breast cancer.
Women die of heart attacks more than men, even though men have more heart attacks than women.
Women under the age of 50 are twice as likely to die of their heart attack than men of the same age.
Only 30% of women will present with chest pain as their symptom.
About the Author
Crystal Zalupski is a Florida transplant but originally from a small town outside of Richmond, VA, and has called Atlantic Beach home for the last seven years. She and her husband, Chris, are both Virginia Tech alums and ironically did not meet in college but met shortly after Crystal moved to Florida in 2013. She is a busy stay-at-home mom to three boys, Cash (4), Crew (2), and Cai (8 months). When she isn't being a mom, you can find her on the tennis and pickleball courts and the occasional golf course. She loves traveling to new destinations to explore and experience new adventures with her family, and, of course, loves a good kid-free trip. Follow her on Instagram @crystalzalupski for real-life mom content of her surviving and sometimes thriving with three boys 4 and under!