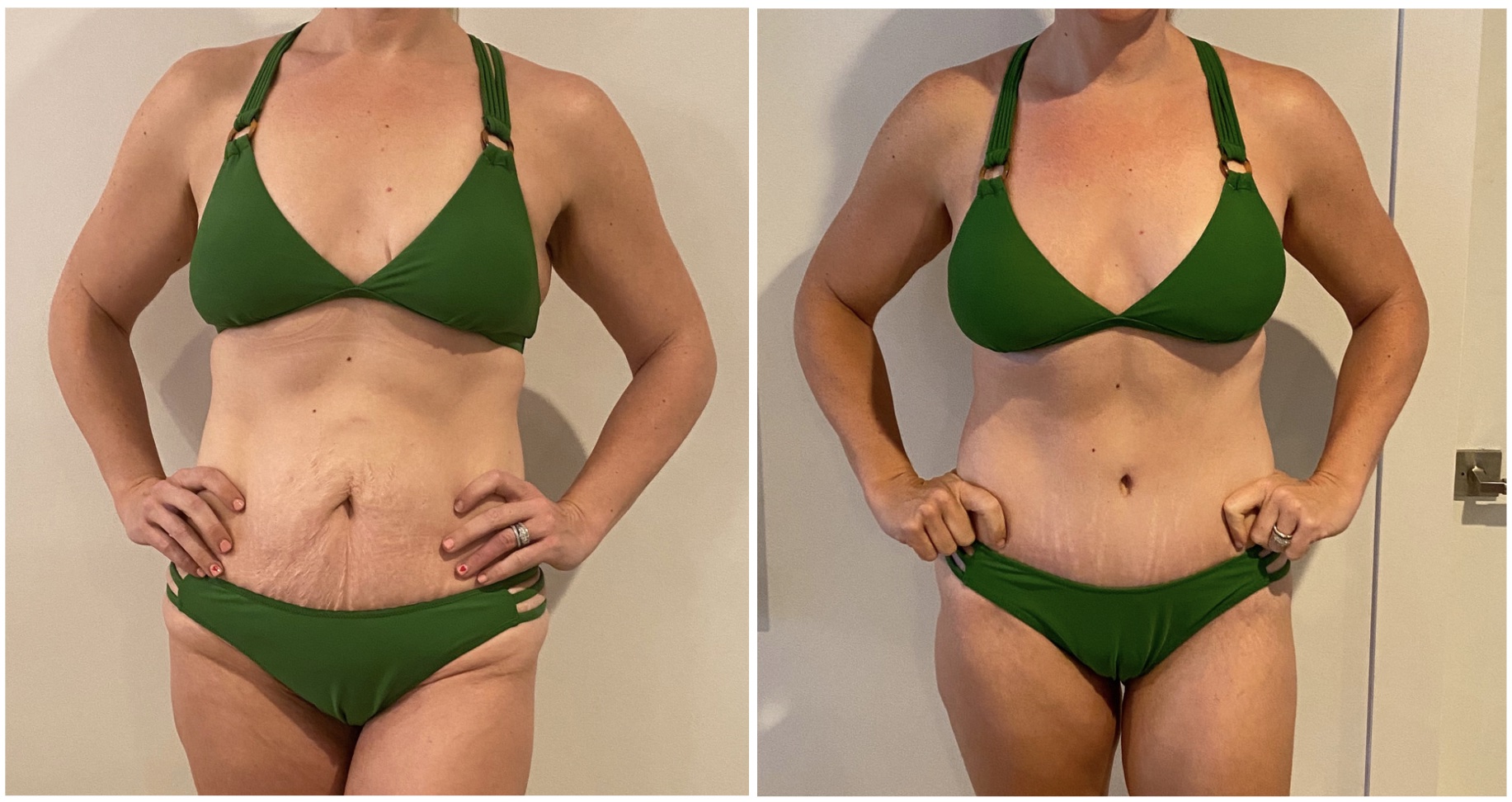 It's been almost four months since I went under the knife for my mommy makeover with Dr. Cayce Rumsey at Ponte Vedra Plastic Surgery. I am finally feeling like myself again and am back to doing all the things I was doing pre-mommy makeover.
As I mentioned in my last blog, recovery from my particular surgery (tummy tuck, lipo to the flanks,  breast lift, and augmentation) can take up to a year to see final results, so I'm still being patient with myself and working through a long recovery. But I do want to share my results up until now and talk about my reflections on the whole process.
My Results (So Far)
I really hate calling them "results" because it's still a work in progress, but I am so happy with the progress so far! Before I had the surgery, I was most excited about the tummy tuck and kind of indifferent about the boobs. But now, my boobs are my absolute favorite thing I did. The fact that I can get away with not wearing a bra is life-changing, and I can wear so many cute things I couldn't before! They finally feel totally natural, and I'm very happy with the size, though if I had to do it over again, I might have gone a tad bit bigger. They were by far the easiest recovery, even with the lift. The pain was very, very minimal. The weirdest part about the augmentation was the tightness and pulling feeling from the incision, but both were pretty much gone by three months post-op. Bottom line: If you are on the fence about a lift or implants, DO IT! You will not regret it.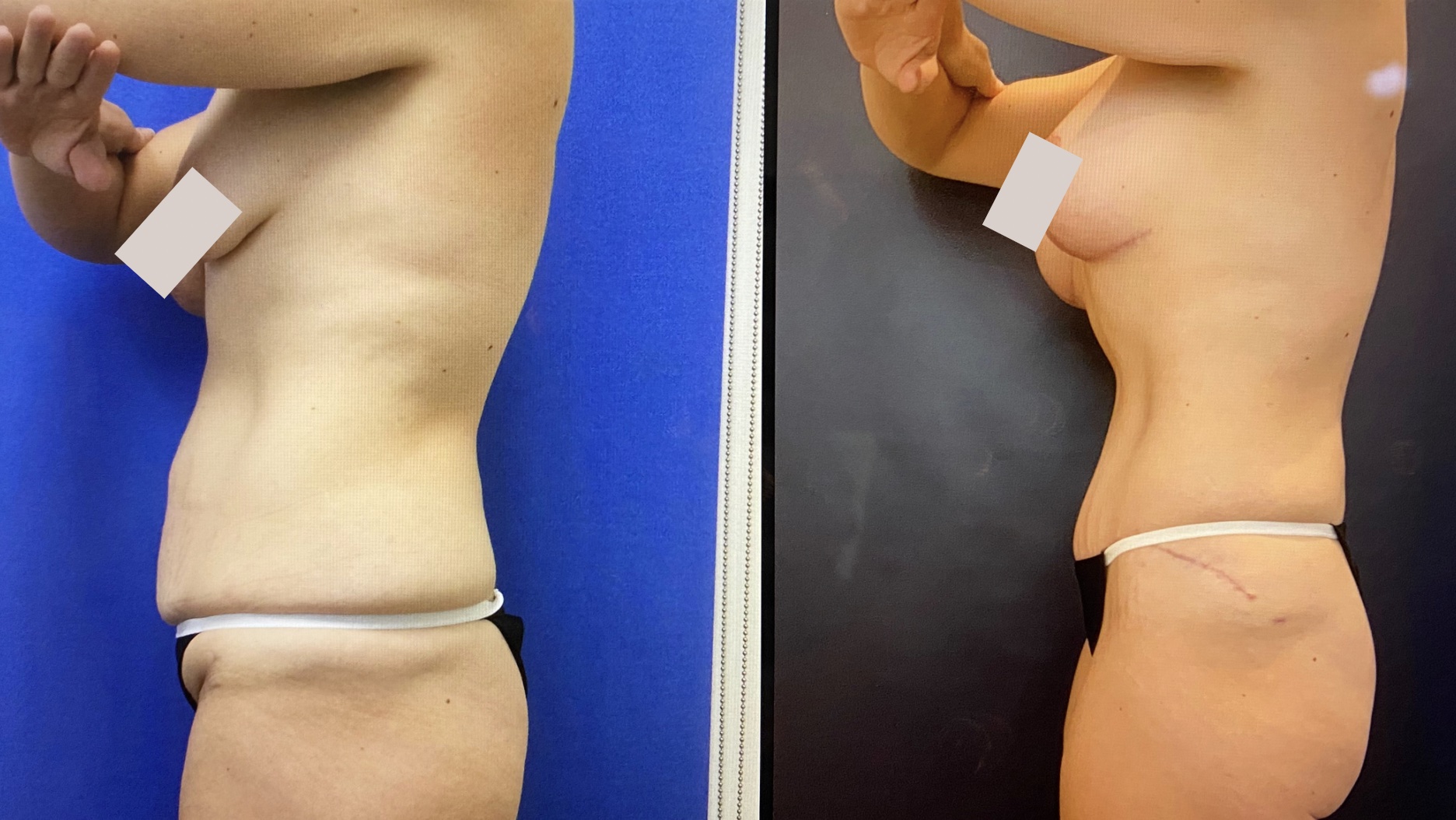 The tummy tuck recovery was definitely the most difficult of all of my procedures. I kept wanting to compare it to a c-section, but it was really quite different. I've been telling people it's far worse than a c-section for the first 3-5 days, and then it's much easier. The pain from the muscle repair is the worst, but I felt it improved a ton over about 2-3 weeks. I do think going into surgery with a strong core really helped me recover faster. But damn, I might have seen Jesus the first time I sneezed after my surgery. Four months post-op, and I'm still dealing with swelling above my incision. I'm told this is the very last place the swelling goes down after a tummy tuck, but I can tell you that even though I know it's normal, it's really, really annoying! I want my flat stomach, but I still have a little bulge that bothers me. But when I look at my before and after pics, I'm reminded of how much better my stomach looks now. Sure, I still have stretch marks and might be swollen, but I'm confident enough to wear a bikini, and that's saying something. This is literally the first time in my life I have ever worn a bikini!
At my four-month post-op appointment, Dr. Rumsey and I discussed things that were still bothering me and how we might address them down the road. Revisions are very common when it comes to mommy makeovers. While he thinks I will see improvement with the swelling over my incision in the next few months, there still might be a need for a touch of lipo to my abdomen. Also, slight revisions to smooth out my hips will be needed, and he wants to do a slight revision to one of my breasts to make them more symmetrical. I have booked another follow-up with him in September where we will see how things are progressing and make the final call on what to do then. The great news is that these revisions are easy peasy! They will be outpatient procedures and the downtime will be two weeks compared to the 6-8 of the initial surgery.
Reflections on My New Mom Bod
I am so happy with my decision to have a mommy makeover. For a girl who has never worn a bikini in her life, I am enjoying rocking all the bikinis this summer and can't stop buying low-plunging dresses that I can wear without a bra. I just love having some of things I was self-conscious about be gone! No more sad, saggy boobs and poochy, saggy tummy. It is definitely a confidence booster, and I feel awesome. Are there things that still bother me? Absolutely! But I know I am a work in progress. This whole process has really reminded me to be nicer to myself. Our inner voices are so mean! The things you say to yourself, would you ever say those to someone else? No! We are our own worst critics. So this is my PSA for all you mamas. Give yourself a high-five for how far you've come. You are GORGEOUS. Do we all have things we don't like about our appearance and are self-conscious about? Hell yes. But don't let that define you. If you choose to get a mommy makeover, you won't be disappointed. I would do it again in a heartbeat! But do it for yourself, and know that it doesn't fix the self-talk part of your brain that can be a mean, brutal b*tch. I still have to have conversations with myself to chill the eff out, enjoy how far I've come, and remind myself to be nice to me!
Are you considering a mommy makeover? Tell us in the comments!