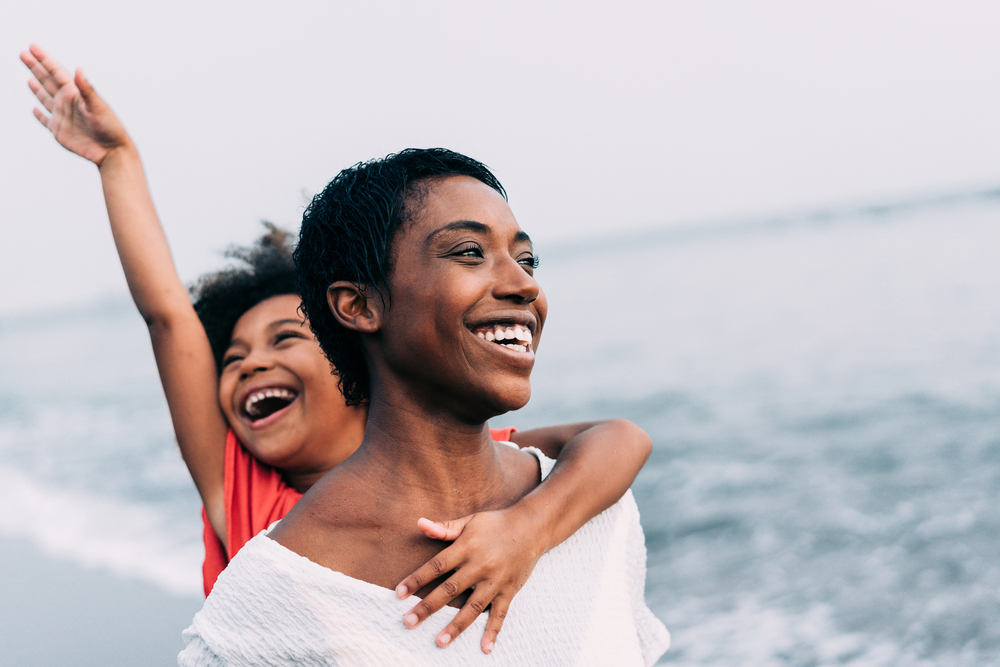 After giving birth to my first son 15 years ago, I wouldn't have ever thought in a million years that I would be diagnosed with cancer.
During my pregnancy around month four, while having an ultrasound, I found out I was having a boy! The excitement turned into hesitation when the ultrasound tech continued to roll the probe around my belly. She was looking as if she saw something else — which she did, and that something else was a fibroid tumor. After another ultrasound confirmed what it was, they simply told me not to worry. Being reassured by my mom and aunts because they, too, had fibroid tumors, I didn't worry.
I gave birth to a healthy baby boy in January. From then on, my doctor monitored the fibroid tumor and attempted to treat it with birth control. At one of my follow-up appointments, scans showed that the fibroid was growing. Five months after giving birth, I underwent surgery to remove it. Coming out of surgery still groggy, I was told I had peritoneal mesothelioma, and that I had 18 months to live. What?! So many thoughts were running through my mind, and I was in a state of shock.
When you're a parent diagnosed with cancer, it feels as if your life flashes before your eyes. Thoughts rolling through your mind like: What did I do wrong? How will my kids take the news? What am I going to do?
Over the past 15 years, I have gained a lot of perspective from my experience as a parent battling cancer. Here are three things that you should know as a parent with cancer:
Give yourself grace. This is vital because as parents, and moms in general, we can be so hard on ourselves. But this is the time to give yourself grace. Don't fall into the trap of feeling as if you're a bad parent. Remember that you're doing your best, and that's all that matters. No, you may not be able to clean like you used to or be at every game, but you're still present.
Accept help. At the beginning, I was one of those who would say, "No, I'm good," when someone volunteered to help me. I learned quickly that I need their help and to place my pride to the side. So the next time someone asks if you need anything, or if you need help with something, say yes!
Keep communication open with your children. As a mom of four, I get it. We want to shield our kids from things we think may make them sad. But it's important not to keep them from knowing what's going on. You would be surprised how much kids know and how compassionate they are. When you're speaking with them, remember to talk in plain language and be open and honest.
Having cancer is a battle within itself, and I know that as a mom, it can be even harder. Just a note of encouragement: Remember to do what you can do, and don't be hard on yourself. Most of all, love your children, no matter how big or small they are.
About the Author
Tamron Little, MA, was diagnosed with peritoneal mesothelioma at the age of 21. As a cancer survivor and writer for The Mesothelioma Center at asbestos.com, the nation's most trusted mesothelioma resource, she shares her journey with others to inspire hope.  When Tamron was pregnant with Caleb, her first child, doctors noticed a growth in her abdomen during a routine ultrasound. It wasn't long before a mesothelioma diagnosis was confirmed in 2007. Mesothelioma is a rare cancer caused by exposure to asbestos.
More than a decade later, Little is the proud mother of four children, is also an ordained minister, and is enjoying her family's move to Florida. She is grateful for the support of her family, especially her husband Samuel. Her doctor calls her a "walking miracle." Because of her experiences as a mesothelioma survivor, she has firsthand knowledge to share with those facing this devastating disease. It's one of the reasons she became an asbestos.com contributing writer in 2018. She also hopes to inspire others with her positive outlook on life.