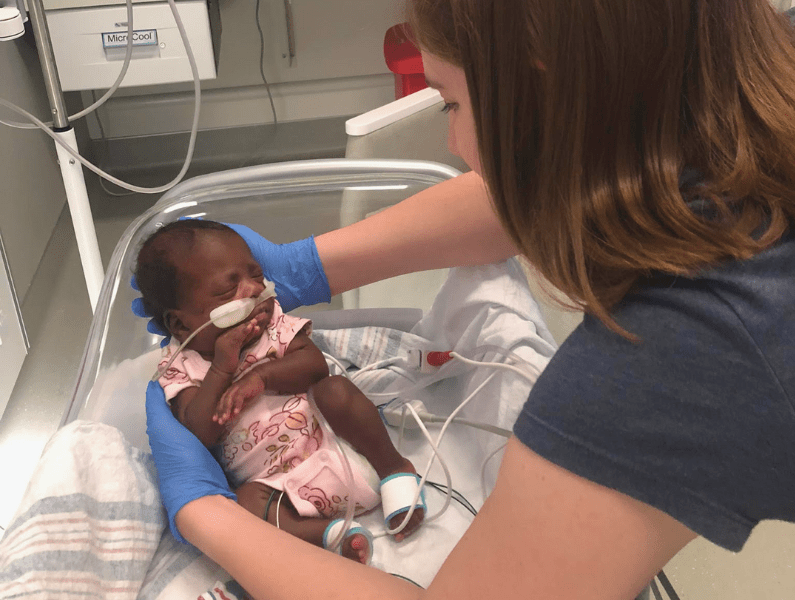 Hospital procedures and overnight stays can be an overwhelming and frightening experience for kids because they may not comprehend what is happening and why it is happening — the noisy machines, the pokey needles, and all the strangers coming in and out of the room. This is why it's all the more important to help children at a young age learn in a manner they can truly understand.
Reducing anxiety through play
The Child Life program at Wolfson Children's Hospital offers crucial support for children that can significantly lessen the stress and anxiety that are frequently associated with a medical environment. One of 12 Child Life specialists, Kara Williams uses play, education, and support to help children of all ages feel comforted and work through those anxious, fearful feelings that can arise from being in the hospital.
"We work to normalize the environment for patients and families making it as comfortable as possible for them during their stay," she explains. "We also provide medical procedure preparation and support using developmentally appropriate language, as well as emotional and coping support. Our Child Life services include different types of play such as medical play, arts therapy, and other therapeutic interventions. This helps kids become more comfortable in the hospital setting to assist in alleviating stress and anxiety and create a positive healthcare experience."
The Child Life specialist might come equipped with several fun items to perk up their little patient, depending on the age and development of the child, of course. Infants might get rattles, soothers, or crib mobiles, while toddlers and preschoolers could receive Play-Doh®, building blocks, coloring pages, or puzzles. School-age kids may be given DIY art kits, LEGO® sets, BARBIE® dolls, or Hot Wheels® cars.
Support for the family
The Child Life program also provides emotional support for worried caregivers who want to be a calming presence for their child alongside the therapists and professionals. According to Williams, validation is a key component.
"Being in the hospital can be scary, especially for a child, and validating them allows them to feel seen and heard," Williams says. "I would also recommend using honest, concrete language. Being honest shows that no one is hiding anything from them and ultimately allows them to be in a trusting environment where they are able to cope more effectively. If appropriate, talk to them about what is making them scared and provide that open space for them to share what they're feeling."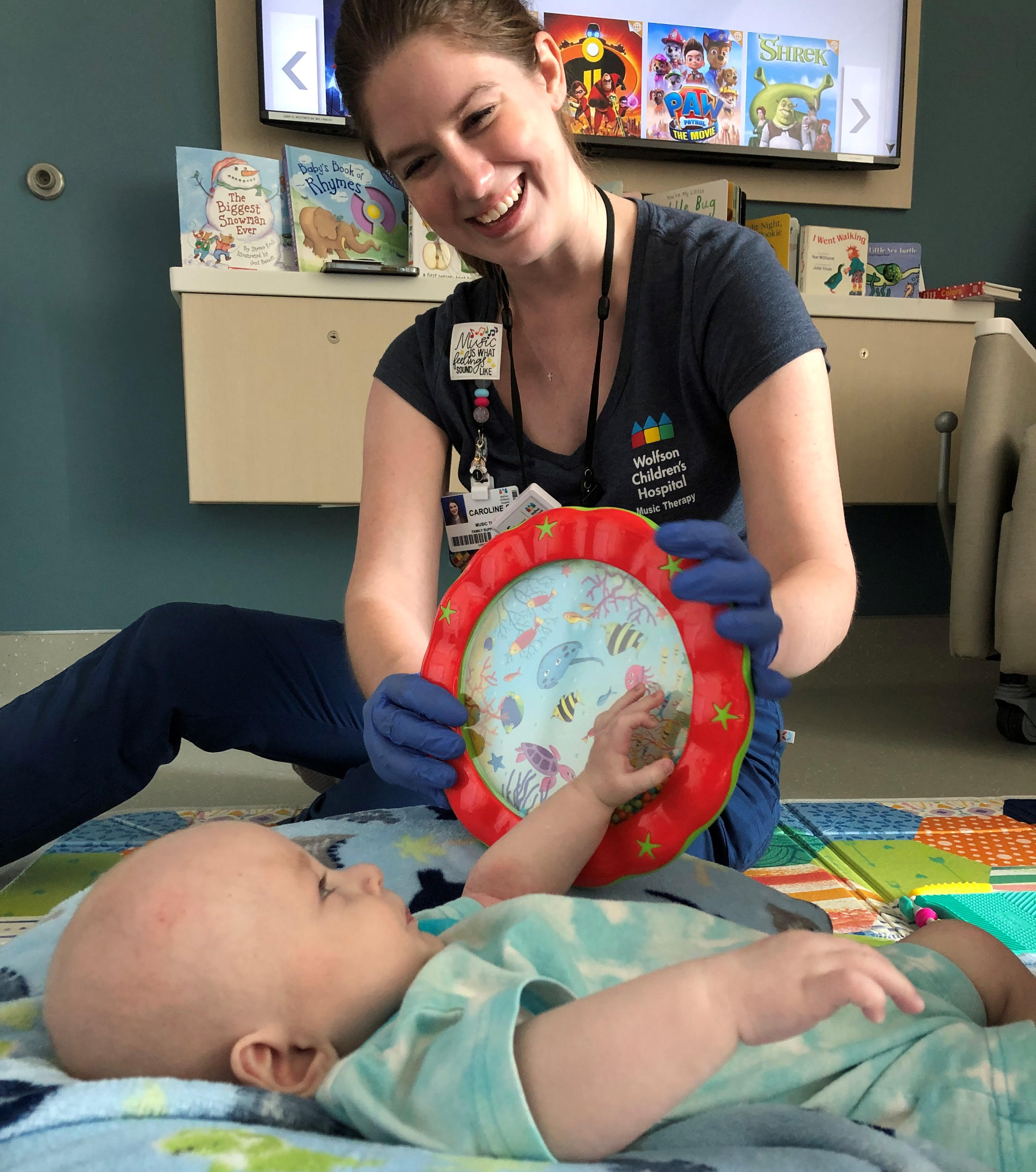 Music therapy for infants and children
No child is too young — or too small! — to benefit from therapy through music and play. Caroline Cox, one of three music therapists at Wolfson Children's, works in the Neonatal Intensive Care Unit (NICU), helping to calm some of the hospital's littlest patients.
"When they're that little, I start with lullaby songs so they start learning very early on that sound is positive because, in the NICU, they can be exposed to so many 'negative' sounds. These can include monitor sounds, alarms and even loud talking, which can be overstimulating for our tiny babies," Cox says. "Especially because if they were in the womb, they would be hearing Mom's voice and other positive sounds, so it's important to continue to get that language exposure early on, even as they're still growing."
Music therapists use an array of therapeutic tools and methods to boost relaxation, increase motivation, lessen anxiety, or assist with managing pain in children.
"Across the board, we know that kids love music therapy because it's such a non-threatening medium," Cox shares. "What's really cool about it is as opposed to typical therapy or working with a nurse or a doctor is that we're able to come in with instruments that are super fun and motivating for kids. For my babies that are older, I'll bring in baby shakers, rain sticks or ocean drums. They get very excited because they're colorful and make fun noises, and we can use that to engage them in those goals."
Bringing calm and comfort
Child Life Specialist Christine Foy works with patients before surgery, helping to ensure they feel comfortable and safe prior to any procedure.
"You get to know your patients and their cues," Foy says. "Every patient is different. What might comfort one child might not work for another. A patient might curl into a ball while I'm explaining a procedure and that's a sign that I need to back off and not talk about it anymore."
No matter what, the Child Life team can approach their leader, Susan Kinnebrew, for guidance at any time. As the director of Family Support Services and a certified Child Life specialist herself, Kinnebrew meets with the team regularly to give support where needed.
"We check in with her to talk about a difficult case or to make sure we're all practicing self-care techniques," Foy says.
From major surgeries to MRI procedures, Child Life specialists are on hand to help patients and their families through a potentially frightening time.
Says Foy, "I'm here to make their stay go as smoothly as possible."
How you can help the Child Life team
Child Life specialists rely on donations to make sure that they have all they need for their patients, from gift cards to sensory toys to supplies for celebrating special occasions. Give year-round at christmasjuly.com or shop Wolfson Children Hospital's Amazon registry for the most needed toys, and they'll ship directly to Child Life.