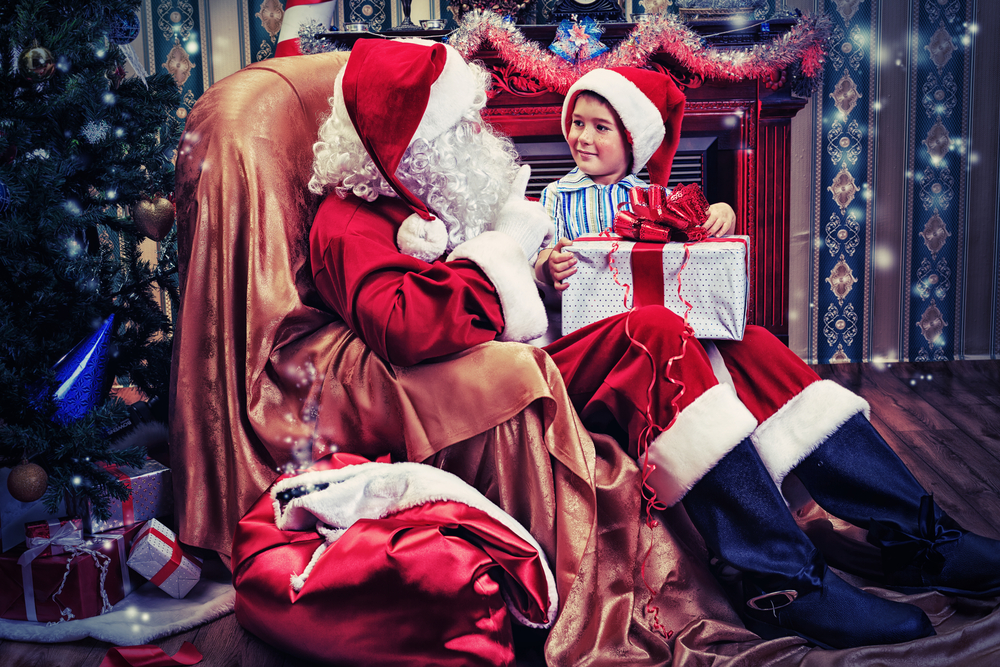 As I watched my 2.5-year-old lay on the cold, trampled floor of the mall, swarmed by other holiday merrymakers, teetering inch-by-inch toward the entrance to a Santa experience the local news had described as nothing short of magical, I had created a pretty extensive list of feedback I'd offer to the producers of this alleged Santa fantasy. I'd followed the rules and purchased timed entry tickets to Santaland, a holiday experience like none other, days in advance. We'd pumped the boys up — we get to ride a train! — and promised the meeting would be followed by Mexican food overlooking the mall's ice-skating rink. The boys happily donned matching Christmas outfits — smocked long-sleeve shirts with Santa on them paired with red-and-white-checked pants. They looked like little dolls.
When we arrived and took our place in line, we saw a large posterboard declaring "one hour wait from this point." We were nowhere close to that point upon entry. As I scanned the crowd, the looks on the parents' faces said it all. Bewilderment mixed with pure hatred for the ticket sellers. Why even offer timed entry? If you're going to do it this way, why not offer refreshments or some type of "enhanced experience" along the way? Instead, we shuffled slowly through the long line, packed like sardines, nary a mask in sight. COVID crossed my mind, but after about 30 minutes in line, Patrick (our youngest and most daring) managed to cut his lip on the stanchion while I was looking at Teddy (our oldest) who was walking on all fours on the ground. There is very little a mask could do to help at this point, aside from hiding my clearly distressed face.
Somewhere in the 35 years since I waited in line to ask Santa for my heart's desires, things got crazy. You used to just go to the mall to Christmas shop, wearing whatever — I believe I wore a Garfield sweatshirt to see Santa pic one year — and there would be a small kiosk set up somewhere in the less heavily trafficked section of the mall that might look like a house. In even simpler days, there was just a big red velveteen chair that Santa would sit on. There would be an elf handing out candy canes and taking pictures with a Polaroid camera. The elf WAS the photographer. There were no exhaustive conversations. This was not a life-changing moment, but rather, a happy childhood rite of passage that usually ended up taking 30 minutes max, and if you were very lucky, some type of take-home swag — a coloring book usually. And you know what? It was great and absolutely no less magical than the faux excursion to the North Pole we took the boys on last weekend. I might argue in some ways it was much better. If you don't see Santa's sleigh, reindeer stable, and charming cottage bedecked in cuckoo clocks and other old-world charms, you have to imagine them. You get to create the North Pole in your mind's eye, and I guarantee you, it's more spectacular than anything at the mall.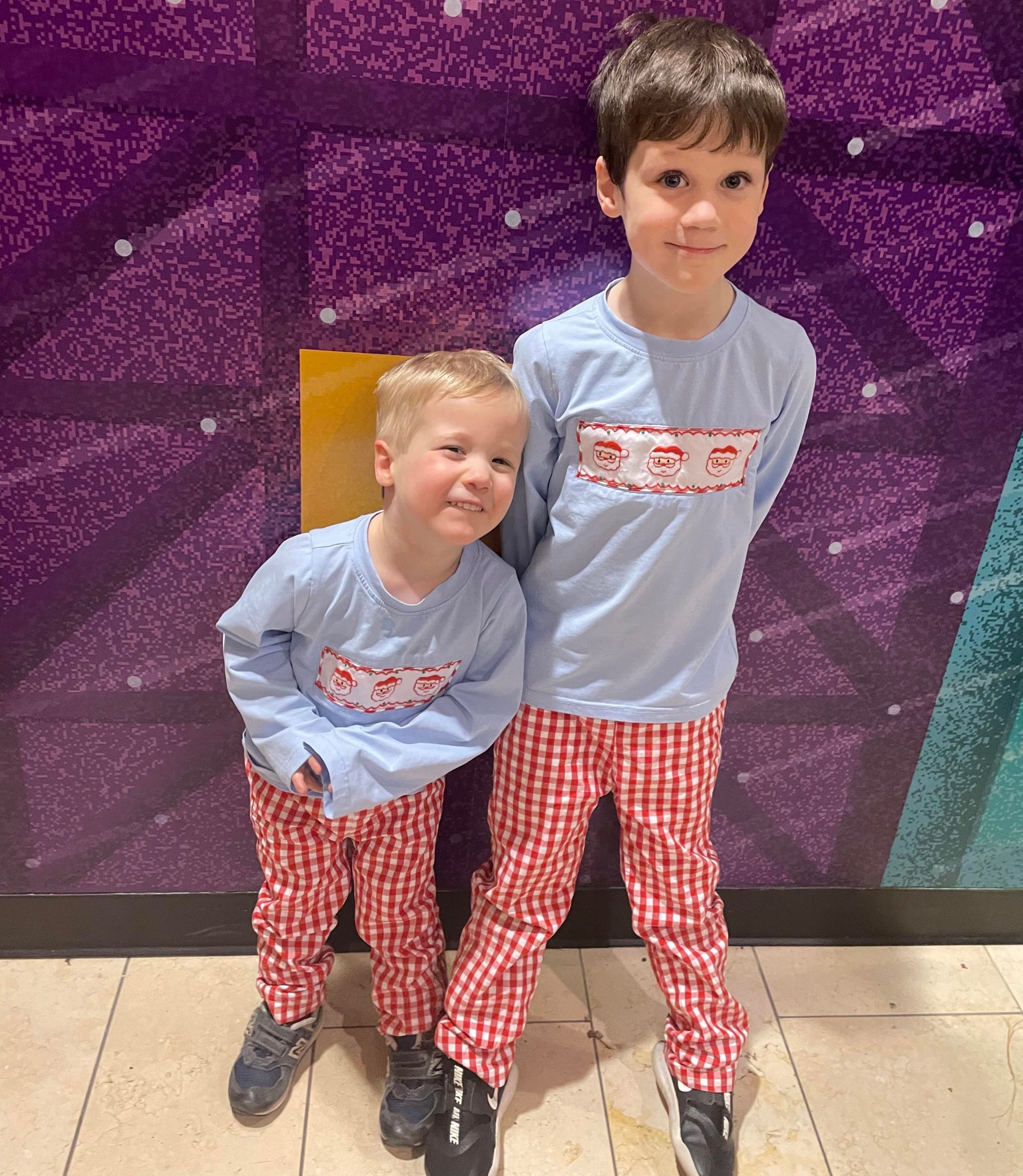 I don't know when exactly I got old enough to say things to my children that started off with, "You know, when I was your age…" It must have happened somewhere around the same time they started playing Billy Idol in the grocery store, and there's no going back. Memories of childhood are officially of the past, and the current childhood experience, while emotionally similar, is tangibly different in most ways. I don't think I'm becoming a curmudgeon, but I wish things were simpler. That's the crux of magic… simplicity. Too many steps, appointments, decorations, etc. is complicated, not magical. The other day, we were driving to school and Teddy said, "Mama, I like those droopy trees," pointing at a weeping willow. As it happens, they're also my favorite, and when I asked him why he liked them so much he said, "Because it looks like where fairies live." My heart swelled. Magic.
We buy extra carrots for Santa's reindeer that we set out with cookies on Christmas Eve — magic. The boys insist on wearing matching Christmas PJs beginning in November and extending through April — magic. Teddy insists on helping me create the centerpiece for our Christmas table, carefully arranging trees and deer and glittered ornaments just so, ensuring each table guest has a nice view of what we've arranged — magic. Patrick, who is by all accounts a late talker, bellowed out clear as a bell, "Ho ho ho! Merry Christmas!!!" when asked what Santa says — magic. The other night, while snuggling on the sofa with both my boys, Teddy stated out of the blue, "You know, Mama, the best part of Christmas is Jesus was born." Magic. It's that simple.
Part of our timed entry to the Santaland excursion included two prints of our visit with the big man. I have to say, his little cottage was pretty neat — not worth 1.5 hours in line, but pretty neat. Because we'd registered in advance, Santa was told each boy's name before we walked in and their eyes darted wildly between Santa and my husband and me when he chortled, "Hello, Teddy and Patrick!" They sat next to him on an old wooden bench in their matching outfits and told him exactly what they wanted for Christmas: A bell and Star Wars LEGOs (two sets, please) for Teddy and a bear and cookies for Patrick. The professional photographer snap, snap, snapped away, pursuing the perfect shot. We picked the two best ones: Santa's eyes are closed in both.  Maybe not magic, but most assuredly perfection.
About the Author
Claire Collins is, in no particular order, a wife, mom, writer, daughter, friend, gardener, collector of export porcelain, avid Diet Coke drinker, and daily consumer of all things Tex-Mex. She spent her early 20s in New York City as an editorial assistant at a fashion magazine and then made her way back to Texas (home), where she tried her hand at public affairs and public relations. For the past decade, she has worked in non-profit fundraising, securing over $15 million to support impactful organizations such as Dallas Area Habitat for Humanity, Genesis Women's Shelter, KIPP Schools, and for the past five years, at Dallas Children's Advocacy Center. Claire really likes raising money to help her community become a better place for everyone. In the spare time she has, she enjoys silently watching TV with her loving husband Jordan as they reflect on the beautiful insanity of their lives as parents to Teddy (5) and Patrick (2.5), as well as their fur children, Scout, Mallory and Eleanor.