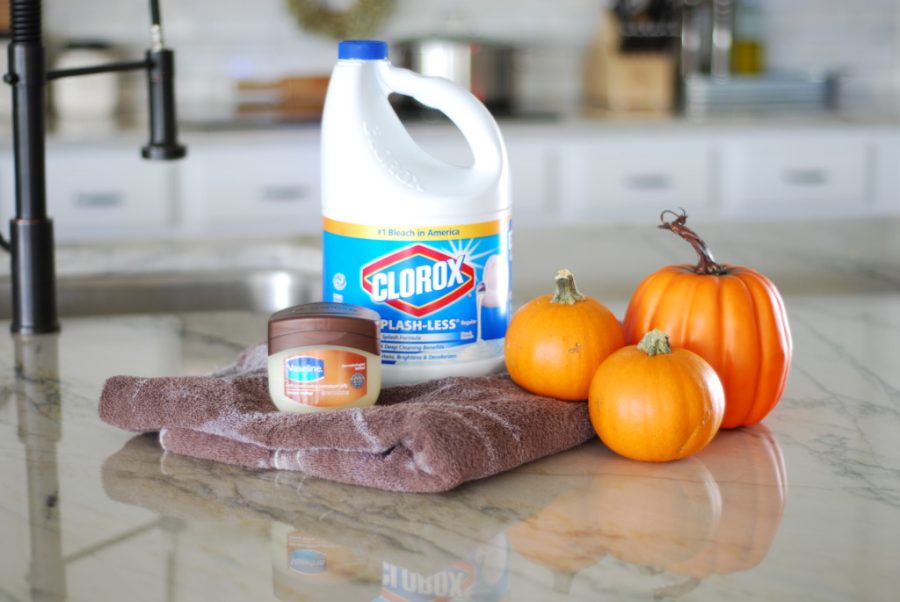 It's officially fall, and that means — despite the warmer temps here in Florida — we've started to don our scarves and boots for a fam-jam trip to the pumpkin patch! We've likely spent hours chasing kids hopped up on apple cider and choosing the perfect pumpkin, only later to have our arms covered in pumpkin goo because the little ones lost interest, leaving us to scrape out the seeds and pulp ourselves. We've worked miracles with templates and carving tools to make sure our princess/superhero/kitty cat/race car pumpkin is the best on the block. Yet after all of that, every year we're left sobbing into a bowl of candy corn when our pumpkin masterpiece starts to rot on the porch two days later.
This year, I said NO MORE, and you can, too, with this trick to keep your prize pumpkin looking like a treat for weeks to come!
What You Need
Large bucket (big enough to fit your pumpkin and three gallons of water)
3 tablespoons of bleach
3 gallons of water
Scrub brush
Old towel
Paper towels or a latex glove
Vaseline
Wine (optional, but encouraged)
What To Do
Step 1: Carve your pumpkin, making sure all pulp and seeds are removed.
Step 2: Mix 3 gallons of water and 3 tablespoons of bleach.
Step 3: Submerge the pumpkin (including the top and stem) for two minutes.
Step 4: Use a scrub brush to scrub the entire pumpkin inside and out, top and stem included.
Step 5: Remove the pumpkin and place on the towel with the top off, let dry completely.
Step 6: When the pumpkin is completely dry, use a paper towel, or just your hand in a latex glove, to apply a thin coat of Vaseline to the entire pumpkin, inside and out. Be sure to coat all of the nooks and crannies of the carved areas.
The bleach cleans off the yuckiness from the pumpkin patch that starts the rot in the first place, and the Vaseline creates a protective barrier that will prolong the life of your pumpkin and make it shiny, too!
To make your pumpkin last even longer, you can spray it inside and out every few days with the water/bleach solution and recoat with Vaseline. This method also works to preserve un-carved, decorative pumpkins that you might use inside.
Finally, place that gorgeous gourd on the porch, bask in your pumpkin prowess, and enjoy a fun-sized treat…  the dried pumpkin goo on your arms says you've earned it!