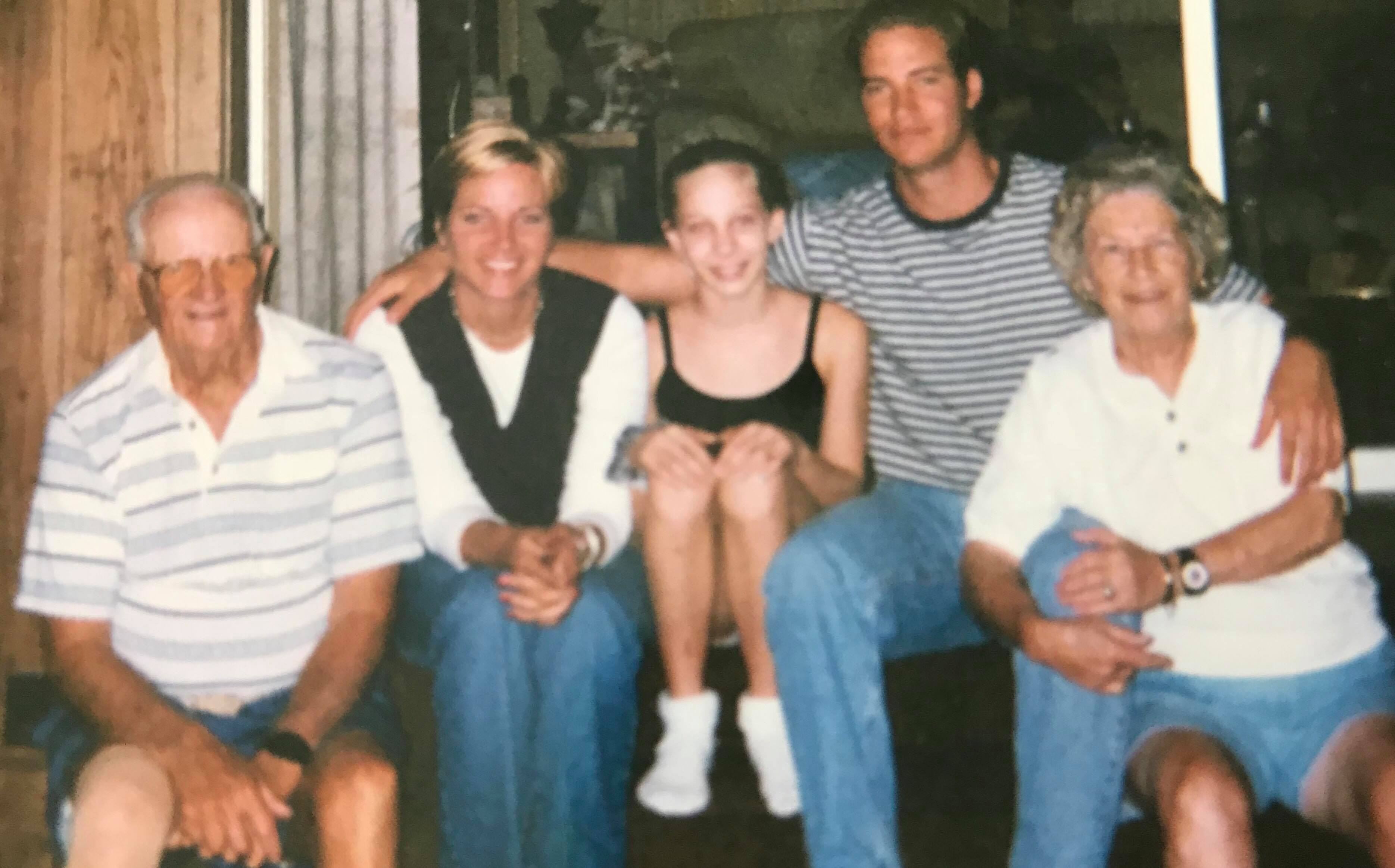 This week would have marked my Pop Pop's 102nd birthday. I'm thinking of him today, as I do so often. Many of my nightly dreams take me back to my Nana and Pop Pop's house in Tampa, where I spent countless days as a child.
I distinctly remember his underground worm farm, and after an electrical charge into the ground, I would run around and grab all the worms and put them in a bucket for him to fish with later. He's also the reason I am such an avid Tampa Bay Buccaneers fan and try to make it to at least one game a year to carry on that family tradition. My Nana loved to crochet and made all her grandkids handmade Christmas stockings that still hang from our mantle every December. She used to make sure any time we came over that the candy dish would be full of orange slices — my favorite.
My mom and dad's parents were always there for my brother and me. My other Grandpa bought me my first used car and took me to tennis lessons (including a stop for ice cream on the way home). He and my Grammy lived less than half a mile away throughout part of my childhood. We could walk or ride our bikes there and enjoy our favorite snack she would make us — peanut butter toast. She loves to sit and "visit," and I would help her with her crossword puzzle — something I still love to do today. Sadly, none of my grandparents are alive today, but they were a huge part of my upbringing.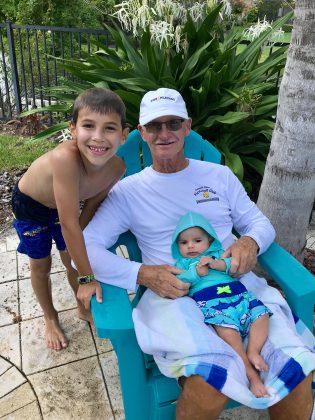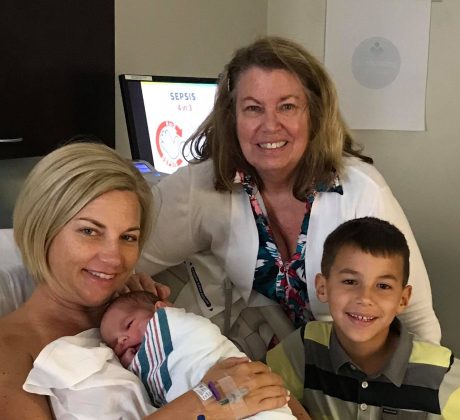 Fast forward to 2018, and now my parents fill the big shoes left behind by their parents. We are so fortunate to live down the road from my mom (known as Gaga to my kids). She just lost her husband in April (three weeks before my second son was born) who, before he got sick, used to light up when my son would walk in the room. He had four kids and six grandkids of his own — and you could tell he really loved to be around youngins'. They watched my son for the first two years of his life while my husband and I worked, and when we would drop him off in the morning, my stepdad would have an Oreo cookie waiting for breakfast… which drove me crazy, but now I laugh knowing it was their little thing, and my son really looked forward to his cookie with his Papa every morning.
Since he passed away, I know my mom finds comfort in my two boys. Rarely do we go more than two days without seeing her. She helps get my older son from school, takes him to karate, and brings him home. She has sleepovers at her house just for the two of them, and she tells him a bedtime story about her childhood growing up in Ohio. She shares her love for animals and chocolate milkshakes with him. And most recently, she has been my rock after the birth of my second son, just four months ago. Next month, she'll take my 7-year-old to his first Florida Gators football game. I simply couldn't do life without her. I realize how lucky we are every day to have her so close and so involved in our lives.
My dad (or Papa to my kids) lives half the year in Florida and the other half in Colorado. When he's here, he helps get my son to and from school, takes him fishing, watches him for hours on the soccer field, and shares his love for sports and marine life. He introduced my oldest to skiing when he was barely old enough to hit the bunny slopes. In December, we are going with him to Costa Rica to explore the same jungles and shorelines he did as a kid as an Army brat. Unfortunately, we don't get to see my husband's parents as much as we'd like to given the distance between us, but when we do, it's always full of love and laughter.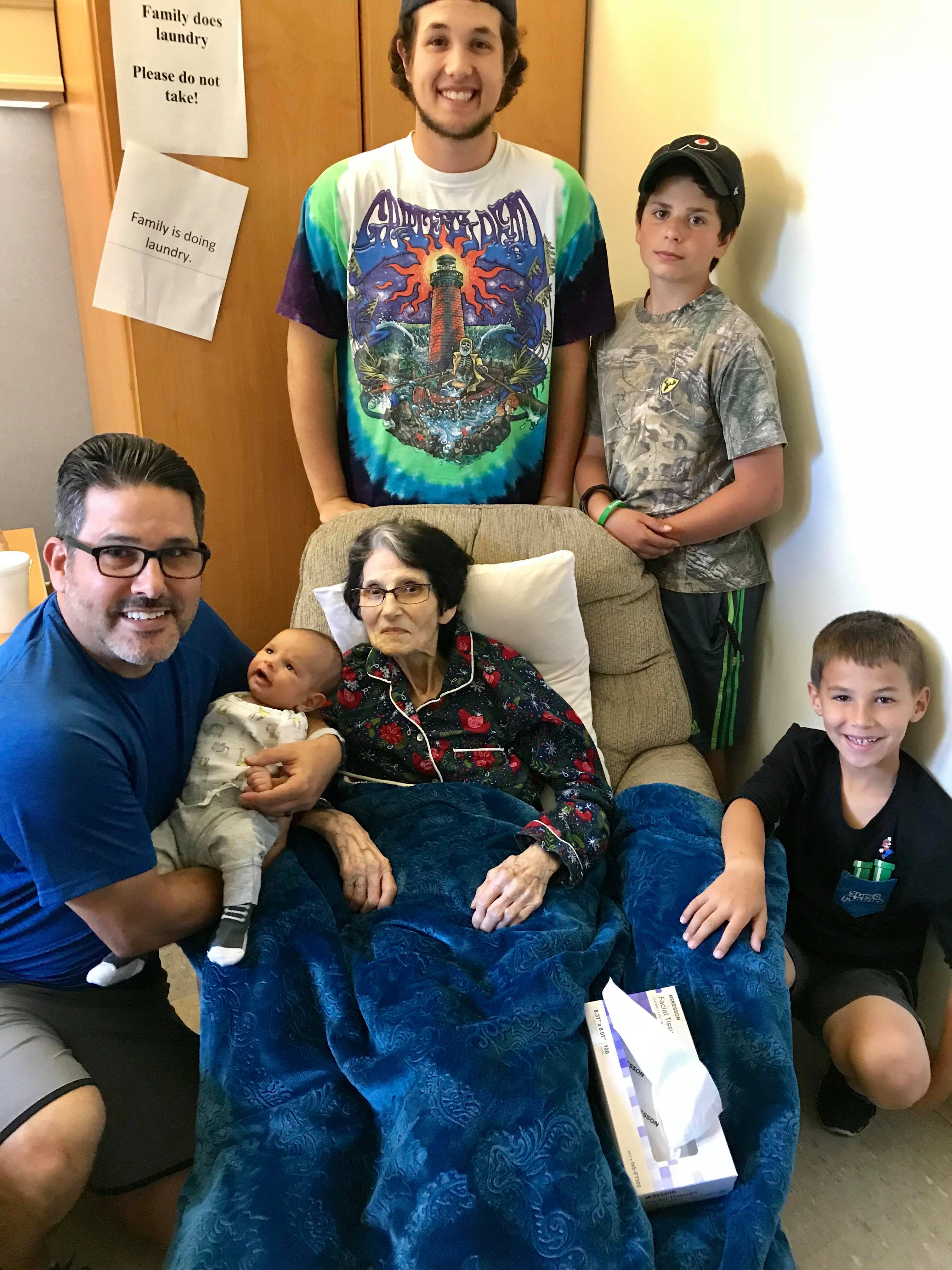 His grandmother (my kids' great grandmother) just passed away a few months ago at the age of 91. She got to meet her newest great grandson at just nine weeks old, and it brought tears to everyone's eyes knowing it wouldn't be long until she would leave us. The photo I took of her with all of her grandsons one last time is now hanging on our living room wall and reminds us every day just how thankful we are to have had her as long as we did.
I hope one day when my boys are older, I will have the chance myself to fill very big shoes and make my own memories with their children. Until then, this is my thank you to my parents, my boys' grandparents and every Grandma, Gramps, Mimi, Gigi, Gaga, G-ma, Pop Pop, Nana, (insert your own) out there.
We may not say it enough, but life is so much better with you in it and our kids will forever remember you.