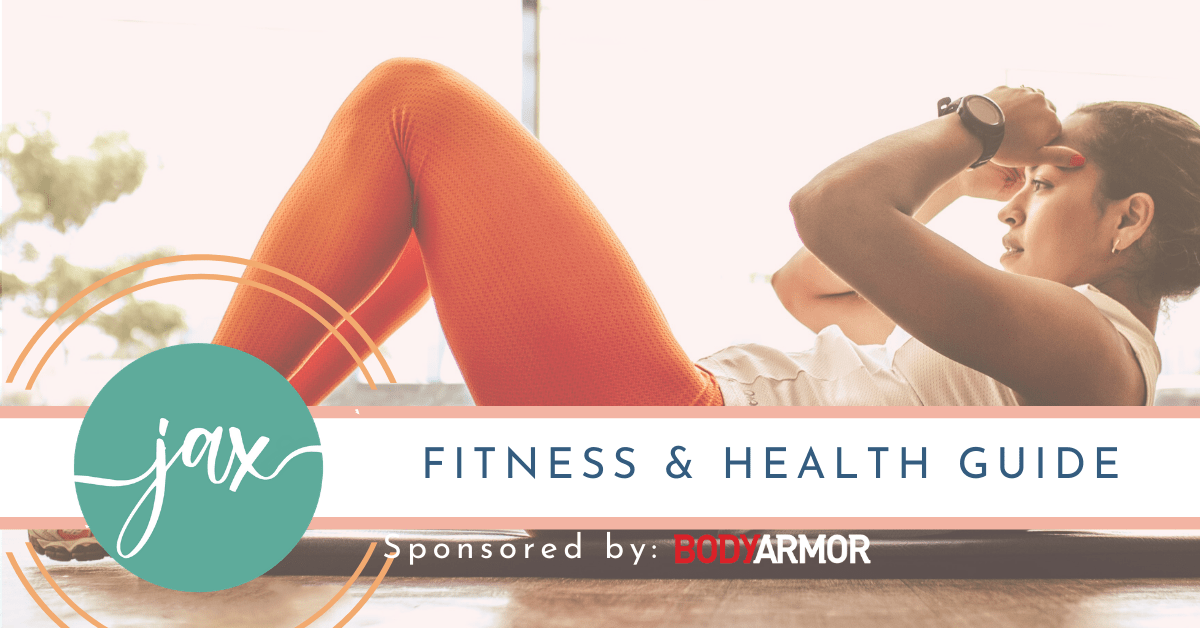 This guide has been updated to include opportunities to enroll in virtual classes and programs while we are in quarantine.

Being active and staying healthy can be a challenge for busy families. We have put together the best spots for fitness and wellness in Jacksonville to encourage and educate families that when it comes to staying on the right track for health and nutrition in real-life scenarios and taking care of ourselves as a whole, it can be easy! Whether you are looking for personal training, group and specialty classes, gyms with in-house childcare, fitness classes where you can bring your baby, an outdoor activity the whole family can enjoy – or guidance for health and nutrition, there's something for everyone!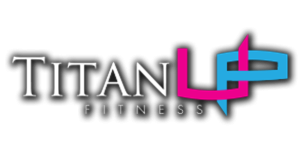 VIRTUAL CLASSES| $99 a month for unlimited virtual classes on Zoom and daily at-home routines.

TitanUp Fitness now has four locations across Jacksonville: Ponte Vedra, Jax Beach, Gate Parkway, Ortega/Orange Park. We are the #1 Fitness Studio in the 904, offering REAL RESULTS through private group training classes and a full nutrition course.

TitanUp Fitness is an award-winning 13-Week Program® of workouts and nutrition. We want to help you create a sustainable lifestyle that motivates and educates you on the journey to your fitness dreams and GOALS. Come join one of cross-training fitness classes focused on strength and conditioning for women. Personal training sessions are available also.
"I have finally found my fit fam in TitanUp! I was ready to fully commit myself to my health and fitness, but I was sick of inconsistent routines and not seeing results. I feel stronger than I ever have and I love the encouragement I constantly get from the trainers and the people I work out with. It's the positive environment I was searching for and so happy to have found my place!"  — Megan K.

VIRTUAL CLASSES | New Virtual Services and On-Demand Classes & Workouts The First Coast YMCA knows that this is an uncertain time for everyone, and we appreciate you hanging in there with us. While we practice social distancing, we are providing new, complimentary virtual exercise offerings. Workouts normally taught live in our branches are customized and made available to you as online videos.

Facebook Live Events If you miss some of your First Coast YMCA instructors' familiar faces, visit our Facebook page for live events from our instructors going through some of your workout favorites. We'll periodically be broadcasting at-home classes when we can.

The First Coast YMCA has always been a place where families can play and be active together, and that's more important than ever. We provide resources for busy moms and dads to help make the healthy choice the easy choice. From stretching and strength training to indoor cycling and yoga, you'll find a class that's fun, supportive and keeps you moving. While you're working out, we'll put more play in your child's day at KidZone. They can engage in arts enrichment projects, educational activities, and kids' fitness, all while creating lasting memories with new friends! We also provide educational classes to promote healthier decisions and offer a variety of programs that nurture the mind, body, and spirit for the whole family.
"We love being members of the First Coast YMCA! There are tons of awesome classes to take that are fun AND good exercise, plus branches all over the city so there's always a convenient spot to work out. We also love being able to do things like play tennis with our friends, and the Kidzone staff provides great child care that's included with our membership. It doesn't get any better than that!"  — Cassy C.

VIRTUAL CLASSES | A Pilates Studio has been working hard for YOU and is offering virtual mat, reformer, and chair classes - all $15, through ZOOM, and Open to EVERYONE! You can find the schedule and sign up here!

A Pilates Studio's highly trained team is here to get to know you and help you reach your goals, regardless of your fitness level or experience. Offering personalized training in private sessions as well as small group sessions where you'll receive individual attention and learn literally hundreds of different exercises and variations. A Pilates Studio is here to answer your questions, guide you through a great workout and challenge and support you along the way. You'll find our sessions to be fresh, unique and challenging. At A Pilates Studio, you'll cultivate a more fit body, decreased stress and improved posture and well-being. They offer a whole lot more than Pilates! See Classes page for a description of TRX, Ballet Bodies and more!

JM Reader Offer: First class free or 4 classes for $99. New members only. One time use.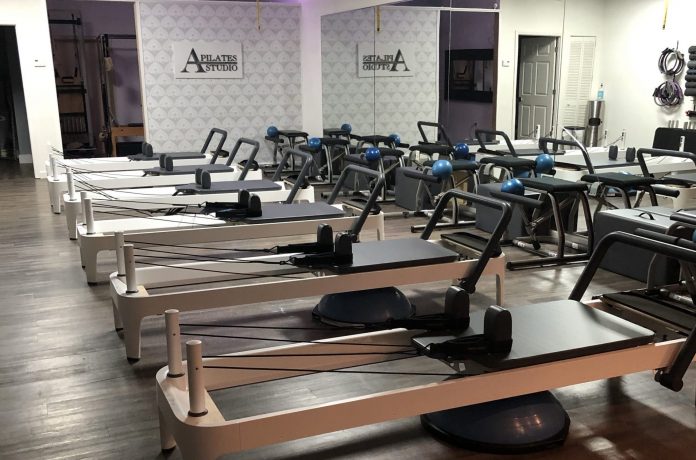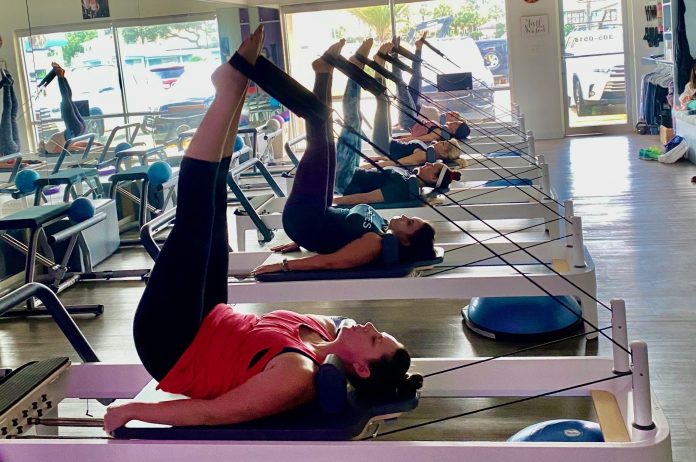 "I started taking Pilates from Amber in October 2009, within two months my body had transformed. My muscles were leaner and my abs defined. No other workout has given me that kind of results, past or present. Amber makes working out fun, no class is ever the same! Her studio gives off an upbeat vibe that is always happy. Her music and laughing make it a great place to go!"  — Christina B.

VIRTUAL CLASSES | MBody Yoga invites you to practice where you are and to continue your practice together with them by joining FREE virtual classes, including Yoga for Youngsters! Sign up for a class on the MindBody website or app as you normally would. All of the virtual classes are listed under the Neptune Beach schedule. You can also follow on their Youtube channel where you'll find recorded classes.

Founded in 2005, MBody Yoga is Florida's first Baptiste Power Yoga Affiliate Studio. We teach a sweaty, liberating yoga practice with an emphasis on breath connected to movement. With two locations—one in the Southside area of Jacksonville; the other in nearby Neptune Beach, MBody offers the practice of yoga to anyone looking for a challenge. Whether you are brand new to yoga or a seasoned practitioner, you will find a home for your mat here. In addition to providing classes seven days a week, we offer many innovative and pioneering workshops, events and teacher training programs year-round. Whatever it is you seek to gain from yoga, you will find it at MBody.

JM Exclusive Reader Offer: $30 for the kids 5 class pass & Intro package of $20 for 20 days.
"In the spring of 2017, my wife gave me a early birthday gift. A Groupon for 30 days of yoga at MBody. I've practice yoga off and on for over the past several years. From bikram, to various community centers. I've never committed or felt the need to take my practice seriously until I came to MBody. The teachers and classes are awesome! When ownership changed with Leah Green taking over, the environment, people became closer. There's more community outreach and activities, and more challenging moves/poses in class.

One particular thing that solidified my belief in the practice of yoga was the healing of my chronic back pain. Each morning I would wake up and could barely get out of bed. It would literally take me over an hour to get normal movement to my body due to the pain. When Leah returned from a yoga retreat, she had the class do a new move to help with our back and lower body. And within a few days of continually doing this move, my back pain has stopped!!! I mean no pain whatsoever. No drugs, no over the counter medication or doctors visit eliminated my back pain. But my yoga practice did.

MBody Yoga is my "Little Slice of Heaven" when I'm feeling stressed from day to day life. I can always roll out my mat and let it all go with some good power yoga."  — G. Newbill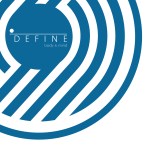 VIRTUAL CLASSES | Define is now offering LIVE classes from instructors all over the world! It is completely free for members, or $50 per week, or $12 for a drop in. If you have a class pack it uses one credit as opposed to two. New clients can create an account on Mindbody, sign up for each class you would like to take and you will be emailed a link to class 30 minutes prior to the class beginning! Please email [email protected] for any questions or concerns. View classes here!

Join the Body and Mind Revolution and become your Absolute Best! Our methods include Rev (our take on rhythm-based cycling), body (barre), bounce (trampoline), and mind (hammock restorative class). For more in-depth descriptions of our classes please visit http://jacksonville.definebody.com. 

Ask our front desk about more New Client specials we have going on, and you'll be well on your way to defining your absolute best fitness journey in our beautiful, modern studio! Located at 1854 3rd Street South, Jacksonville Beach, (904) 853-6324.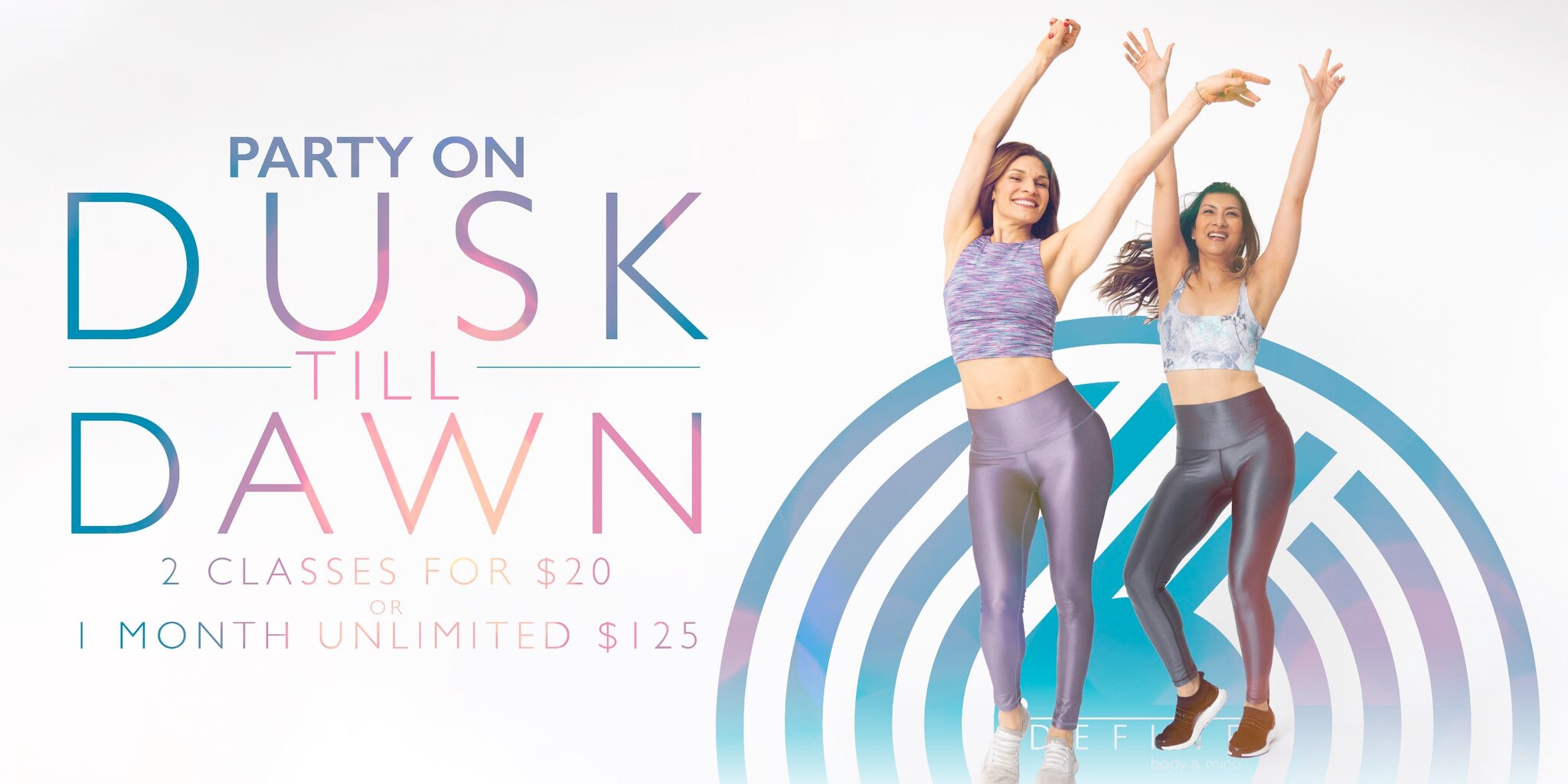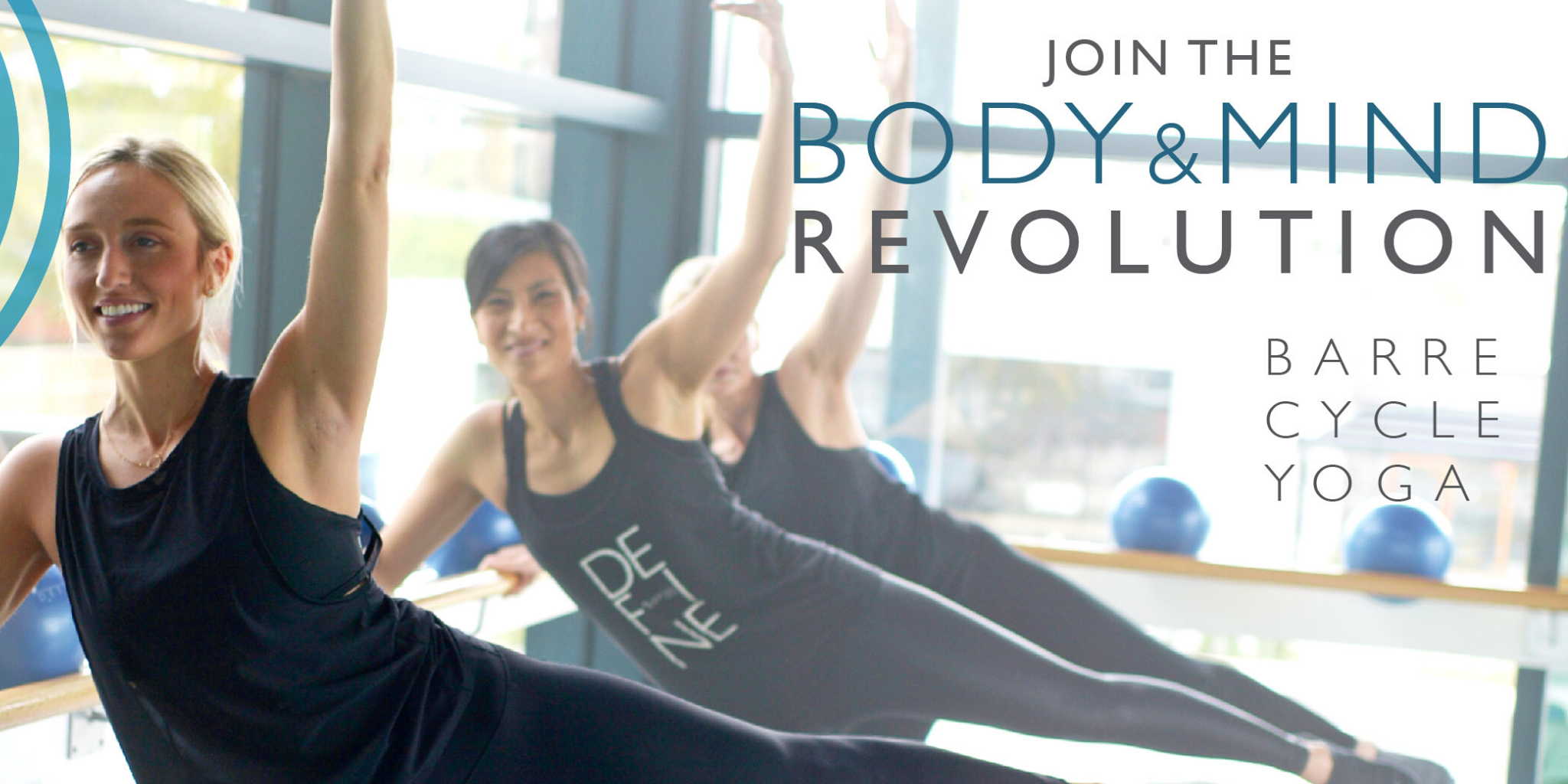 "I've been coming to DEFINE consistently for only 8 weeks and my body has changed big time! The instructors and staff are really great about remembering each person's name. The classes are super fun, but they push you! I highly recommend DEFINE if you need a powerful and effective, but quick workout."  — Jen V.

VIRTUAL CLASSES | Hot Spot Power Yoga has gone completely virtual with LIVE classes every day from their home to yours!!. ROLL OUT YOUR MAT, get connected, get sweaty and get moving! Below are a few how-to steps to get started. Use any current membership, 30-day intro package, or class pass to sign up. If you are a new client we invite you to take advantage of our 30 Days for $30 Intro. Otherwise, try us out with a $10 Drop-In. Visit any of our virtual class schedules, download Zoom, our virtual classroom software, use the link sent to you 10 or 5 minutes prior to class to go to class! Upon registration, you will receive a confirmation email (make sure your text & email communication preferences are turned ON. Check your junk/spam box if you do not receive a confirmation email). If you have any questions or need help with set please email: [email protected]

Hot Spot Power Yoga has built a loving community with an emphasis on growth and leadership. The space is about discovering true strength, on the inside and out. The teachers and staff have a love for the practice and it's gone viral in our community. Loving the practice is the key to discovering true power. Resisting it merely adds a tighter grip to limiting ways. It's also healthy! So you'll notice vibrant, unbound, happy people at Hot Spot Power Yoga and, well, you'll want to join them. The studios offer Baptiste Power Yoga Classes, Restore & Renew Classes and Yoga + HIIT (YOD) Classes. Any and all of these classes will leave you in YOUR greatness!

JM Reader Offer: New Student Intro: 30 days for $30 at all three locations!
San Marco - 904-551-5029 / 1533 San Marco Blvd. Jacksonville FL 32207
Harbour Village - 904-551-7454 13475 Atlantic Blvd. #34 Jacksonville Fl 32224
Baymeadows - 904-348-0081 10920 Baymeadows Road #6 Jacksonville FL 32256
"Every time I enter this studio, I am greeted by a community that loves and supports me. From the owners to every teacher I've had, the love and gratitude are palpable, even in the participants! Then there are the RESULTS! I NEVER regret a session at Hot Spot! Whether my goal is a challenge or relaxation, they have a class for it and I always leave so refreshed and energized! I also love the side effects: keeps me toned and helps with my neck pain! Thanks, Hot Spot Power Yoga!"  — Leah C.
Degree Wellness is all about self-care... we are dedicated to improving your physical and mental health. We have 9 state-of-the-art services that help to increase energy, boost metabolism, reduce pain and inflammation, speed workout recovery, improve skin, slow the aging process, and reduce stress. We are the only facility in the country to make all 9 of these services available to you.

Today our services include: • 3 Types of Cryotherapy (whole body, localized and facials) • Infrared Saunas • 2 types of Red Light Therapy (PBM) (both whole body and facial) • Dry Float Therapy • Compression Therapy • Halotherapy

Working together, they help increase the overall performance of your body and mind. We are always researching and learning about new technologies and services that fit into our self-care and wellness model. We have a common goal amongst all of us- to ensure that you leave feeling better than when you came in EVERY time you visit. We have a friendly and knowledgeable team that will guide you to improved wellness. For us, Degree Wellness is a lifestyle that we believe improves the lives of our customers. We are the opposite of a doctor's office but are not a spa... we are welcoming, social, fun, and efficient.

Adding Us Into Your Self-Care routine will: 1. Increase your energy levels 2. Relieve inflammation and pain 3. Increase your metabolism /burn calories 4. Improve your skin 5. Enhance your immune system 6. Improve your sleep 7. Reduce stress & relax you 8. Help you detox Which one do you need the most?

JM Reader Offer: 20% Off Any Single Service. Use Code: JMB20
"I love Degree Wellness! From the moment you step in you feel relaxed in a spa-like environment. The services are top-notch and there are so many choices - how can you pick a favorite? From the Whole Body Cryotherapy (get rejuvenated in only 3 minutes!) to the Infrared Sauna (bff sweat seshes are a fun way to catch up!) and much more. A tired mama needs this in their life. A busy dad, or an active athlete too. There are so many ways to enjoy Degree and the packages are great! Plus, it's quick, many times I make a same-day appointment and you are in and out - perfect for the busy mom on the go!"  — Lindy M.
Mandala Family Wellness, a family-focused health, and wellness practice, offers a team of professionals dedicated to maximizing developmental abilities of children and their parents with services and programs at-home, in one of our 3 clinics (Palm Valley, Ponte Vedra Beach, Southpoint), in the community and in partnered schools providing support services and consultation. As a proud partner of the new Palm Valley Child Development Center, our interdisciplinary team coordinates teachers, physicians, and other community members to best meet the needs of each child and their family in small, intimate sessions that are unique and boutique by design. Using the wholistic approach of body, mind, and soul, we use a combination of innovative wellness and evidence-based practices to achieve optimal health and wellbeing. Mandala's goal is all-encompassing, meaningful, and purposeful as it gives a child and their parents a well-rounded and developmentally appropriate environment to grow, learn and thrive.
"The therapists, doctors, and staff who work at mandala are always so friendly and willing to help in any situation. We are so lucky to have them available."  — Nora A.
Dietitians of Palm Valley   
VIRTUAL CONSULTATIONS NOW OFFERED | Dietitians of Palm Valley is a nutrition private practice (team of registered dietitians) located in Ponte Vedra Beach, FL. Although they are dietitians, they are definitely human too…and far from 'perfect eaters'! Here is a note from Sammy Previte, Registered Dietitian & Co-Owner of Dietitians of Palm Valley: "I have gone through stages in my life where I felt like food controlled me. I had tried every diet and NOTHING worked. I thought I was "being good" Monday through Friday by eating less and working out more. I would give myself a "get out of jail free" card on the weekends by indulging in foods I would restrict during the week. I would cut out specific food groups (cough cough…carbs) thinking that if I just ate less of something then the scale would go down and all my problems would go away…until Monday came again. It was not until I started looking at food as a fuel source and learning how to nourish my body that I was able to feel comfortable in my own skin, improve digestion, and live a happier life. I gave up dieting forever (ironic that I am a DIETitian) and I encourage all of my clients to do the same. Click here to read more about my 7-year journey to food freedom."

If you are sick of the diet roller coaster and want to achieve food freedom we have some resources for you!

Click here for a 100% FREE one-hour training to learn how to ditch dieting and achieve food freedom!
Click here to schedule your Initial Nutrition Consultation. Make sure to enter "ditchdietsforever" at checkout for an exclusive discount!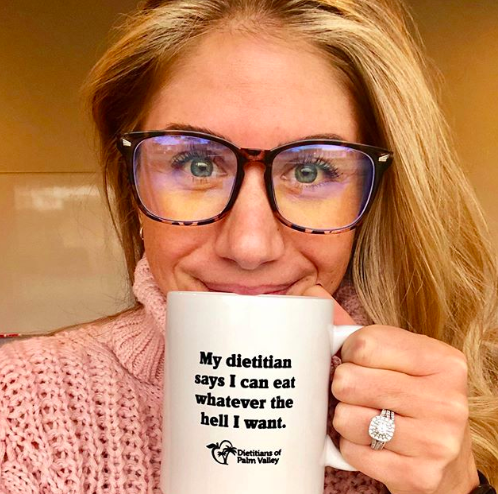 "Sammy rocks! She is so knowledgeable and motivates exactly as I need it. She's not pushy, but has a standard and expectation that pushes me to achieve my goals. I've lost 15 pounds since October based on her meal plans, teaching me how to shop for better food choices, and even incorporating how to have a cocktail that won't derail my goals! More importantly, Sammy is personable, warm and fun— and I feel safe being in a vulnerable position of wanting to lose weight, tone up, and be a healthier me!! Would highly recommend going to her for help!"  — Jennifer E.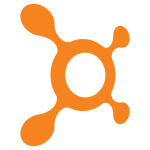 VIRTUAL CLASSES | Orangetheory.com is now offering FREE online at-home workouts every day. Stay connected, stay healthy and stay strong!

Orangetheory Fitness is a one-of-a-kind, group personal training workout broken into intervals of cardiovascular and strength training. Backed by the science of excess post-exercise oxygen consumption (EPOC), Orangetheory Fitness' heart-rate-monitored training is designed to keep heart rates in a target zone that stimulates metabolism and increases energy. Led by skilled instructors, participants use a variety of equipment including treadmills, rowing machines, TRX Suspension Training, and free weights, burning an average of 900 calories per class. The result is the Orange  – more energy, visible toning and extra calorie burn for up to 36 hours post-workout.

Orangetheory Fitness locations: 

Mandarin (904) 886-3377
Facebook | @otfmandarin

Hodges Point (904) 238-5272
Facebook| @otfjaxhodges

Fleming Island (904) 406-7343
Facebook| @otfflemingisland

North St. Johns (904) 671-7071
Facebook| @otfnstjohns

Southside (904) 559-1200
Facebook| @otfjaxsouthside

Nocatee (904) 900-7644
Facebook| @otf_nocatee

The Beaches (904) 930-4009
Facebook| @otfjaxbeach

St. Augustine (904) 647-8088
Facebook| @orangetheoryfitnessstaug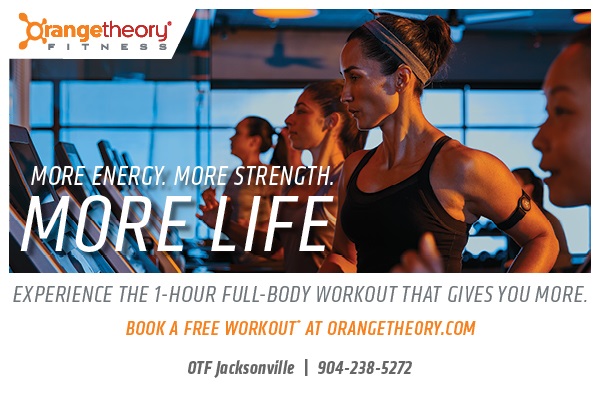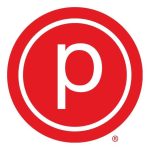 VIRTUAL CLASSES | Pure Barre has gone virtual! Enjoy 1 week of unlimited live streaming from your local studio in the comfort of your own home! New clients only. One Purchase per Client. Non-transferable. Contact your local studio for more details.

At Pure Barre, women and men share a sense of community that inspires and empowers each others' fitness and lifestyle goals. Taught by our highly-trained teachers, Pure Barre features four group class formats that deliver an effective total body workout focused on low-impact, high-intensity movements that lift and tone muscles and improve strength, agility, and flexibility for every body. If you're new to Pure Barre, or even barre, our FREE Foundations classes are the place to start! You'll be introduced to the basic movements of Pure Barre in a small group setting and be able to build confidence as you discover how our technique works and all the benefits it has to offer.

Pure Barre Locations:

Fleming Island (904) 579-3273
Facebook | @purebarreflemingisland

Jacksonville Beach (904) 504-1150
Facebook | @purebarrejaxbeach

Ponte Vedra (904) 239-7712
Facebook | @purebarrepontevedra

Riverside (904) 778-5922
Facebook | @purebarreriverside

San Marco (904) 778-5642
Facebook | @purebarresanmarco

Tapestry Park (904) 564-1600
Facebook | @purebarretapestrypark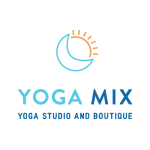 VIRTUAL CLASSES | Yoga Mix now offers virtual studio options including live-streaming classes, an online class library, and audio class library! Practice with your favorite Yoga Mix teachers from your home, enjoy Pre-Recorded Classes and Livestream recordings from LIVE Yoga Mix classes or pop in some earbuds and choose from a library of audio classes! Try a virtual membership $79 for access to a growing online library of classes, unlimited live stream classes, No Long-Term Commitment — Cancel w/ 14-Day Notice. Or try class pack options 5 Virtual class passes $60 or Drop-In Virtual Class for $15.

At Yoga Mix, this is where change begins. We know that you want to be balanced, strong, and connected. In order to do that you need to move your body, clear your mind, and breathe with intention.

With over 50 classes a week and a highly trained and compassionate team of teachers and staff, we help our community day in and day out find balance, build true strength, and live a connected, intentional life.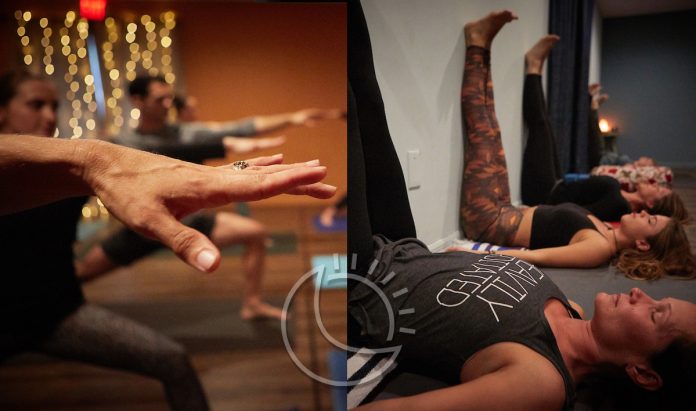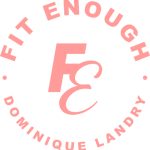 VIRTUAL COACHING | Online fitness coaching is ideal for individuals who desire to exercise more and be healthy, but lifestyle demands and time restraints prevent them from being able to do so in a traditional manner.

Dominique Landry is a wife, mother, motivator, and NASM certified personal trainer and group fitness instructor. She created Fit Enough to change the current narrative of fitness to be more inclusive of all body types, fitness levels, and lifestyles. Fit Enough is on a mission to merge self-acceptance, physical wellness, and fitness in a way that shifts the idea of what "being fit" means. Our model allows for an increased level of flexibility, enabling you to focus on your health on your own schedule. .

Corporate Wellness Programs and Experiences: Fit Enough creates customized experiences for businesses that emphasize wellness as part of their corporate culture.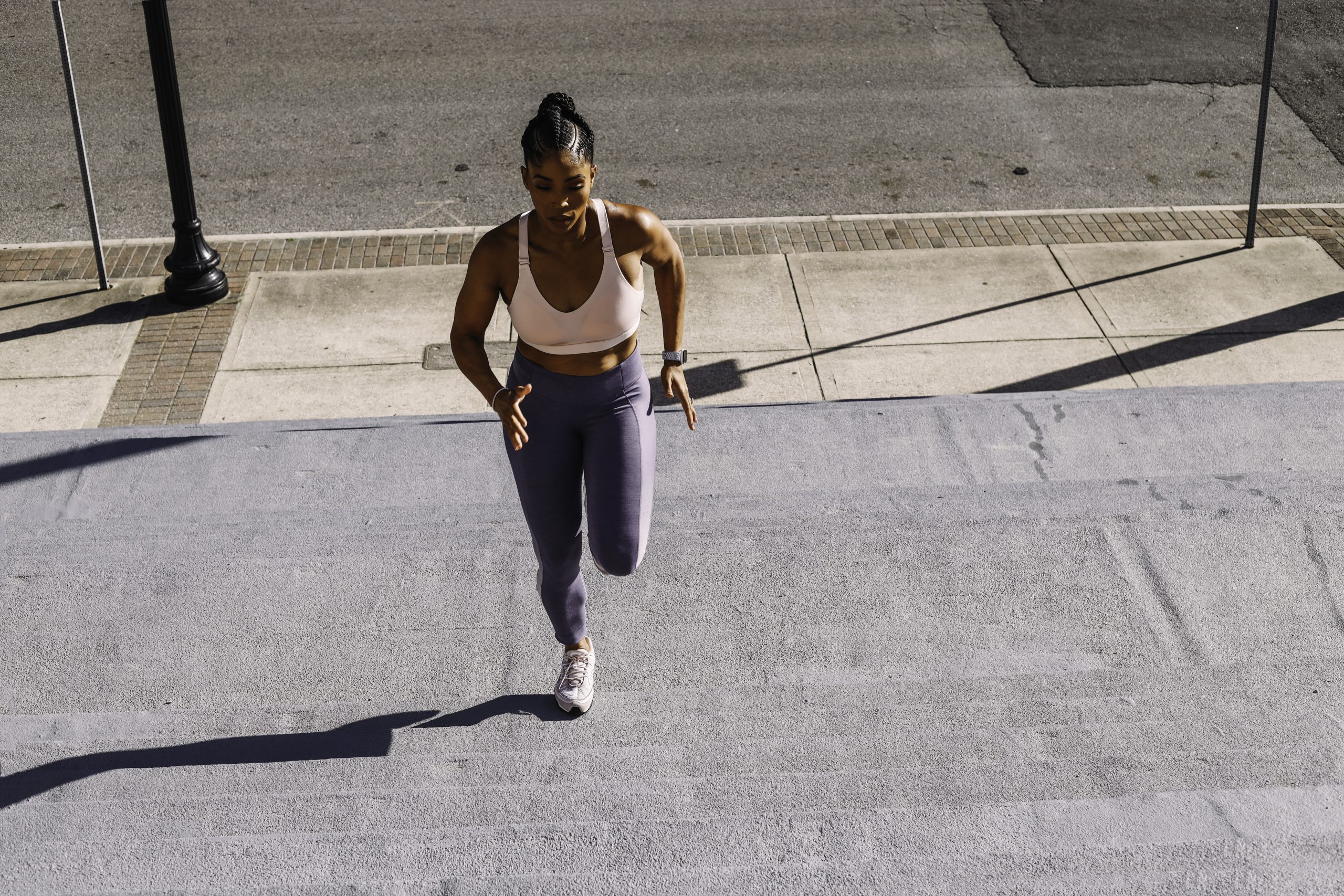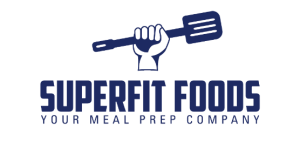 Superfit Foods is a fully customizable, healthy, meal prep company! We are a Jacksonville based company that delivers meals two times a week to upwards of 25 pickup locations around Northeast Florida. We also ship meals to clients near and far via our nationwide shipping model! All of our meals come pre-portioned and cooked, so all you have to do is reheat them and eat them!

JM Reader Offer: Use code JAXMOM for 20% off your first week of meals!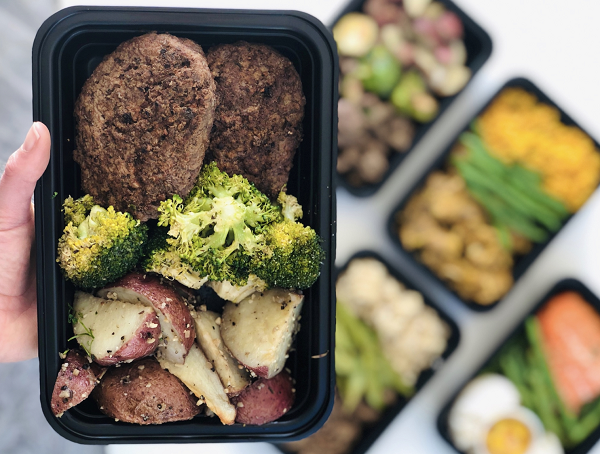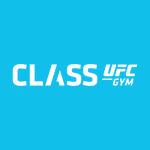 VIRTUAL CLASSES | CLASS UFC will keep you moving forward one day at a time! Stress can negatively impact motivation. Don't lose sight of your fitness goals. Click here for free home workouts.

CLASS is a modern twist on traditional boxing and high-intensity interval training classes. Led by top instructors, you'll be pushed through 50 challenging minutes leaving you sweaty, tired, but satisfied. Our two distinct yet complimentary classes, BOX and HIIT, offer something for everyone and keep your workouts fresh. By incorporating multiple different pieces of exercise equipment, workouts are constantly changing and evolving so you will never be bored. Burn up to 700* calories, build lean muscle, and watch yourself transform into your strongest, most confident self.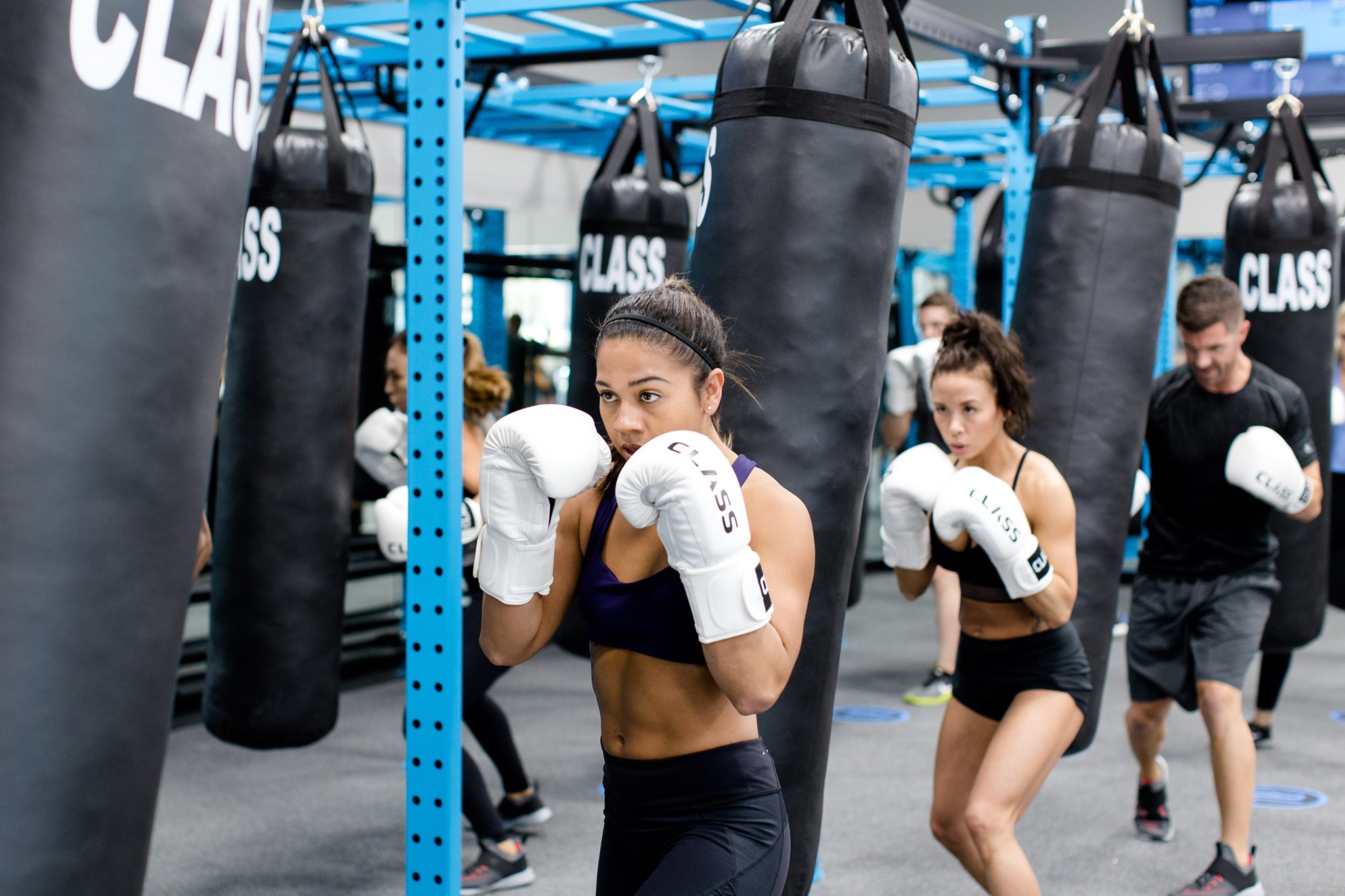 STRIDE Indoor Running Studio
STRIDE Jacksonville Beach is offering all new members the opportunity to join their studio for just $1! This locks in the 40% OFF Founder's Rate for life, and you only pay for your membership when their studio opens in summer. Join now, pay later! Once you're a member, you unlock several perks immediately: (1) Access to their national 30-day campaign with daily workouts from STRIDE coaches, wellness tips, giveaways, and MORE. (2) Receive 60 days FREE of STRIDE GO, their online on-demand platform of full-body workouts. (3) Receive the option to access a 60-day on-demand trial from any of their sister brands: AKT, Club Pilates, Cyclebar, Pure Barre, Row House, StretchLab, or YogaSix. And (4) You get to join their private studio-member Facebook group with all their fellow members and Jacksonville Beach team!

JM Reader Offer: 40% Off Your Lifetime Unlimited Run Membership. Available for a limited time.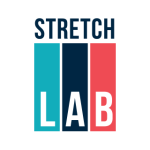 VIRTUAL SESSIONS | StretchLab is now offering new 1-on-1 Virtual Sessions & Virtual Value Packs designed to help you kickstart your stretching routine to get you moving and feeling better, all from the comfort of your home! Let our Flexologists guide you through a customized stretch routine in a 1-on-1 virtual setting that allows for open just like in the studio, to ensure maximum effectiveness of your workout.

StretchLab is a boutique fitness that offers one-on-one assisted stretching services in a fun, energetic, communal environment. It is designed to increase mobility and flexibility, helping to reduce pain, decrease muscle aches, improve posture, reduce recovery time and enhance quality of life. Stretching is for all types and ages. Located in Atlantic Beach and Mandarin..
.
Mandarin (904) 637-4885
Facebook | @Stretchlabmandarin
Website
.
Atlantic Beach (904) 440-0334.
Facebook | @StretchLabAtlanticBeach
Website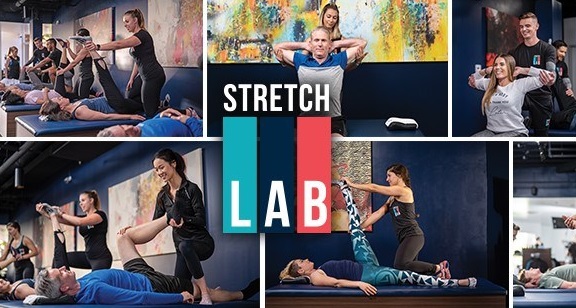 2020 is on! Keep yourself and your family hydrated on the go with BODYARMOR - a premium, sports drink that provides superior hydration. It is packed with electrolytes, coconut water, and vitamins and is low in sodium and high in potassium. BODYARMOR contains natural flavors and sweeteners and no colors from artificial sources. Available in BODYARMOR and new BODYARMOR LYTE, and BODYARMOR Water, Team Packs (8, 12 oz. bottles) available at Publix and Winn-Dixie. Learn more at www.drinkbodyarmor.com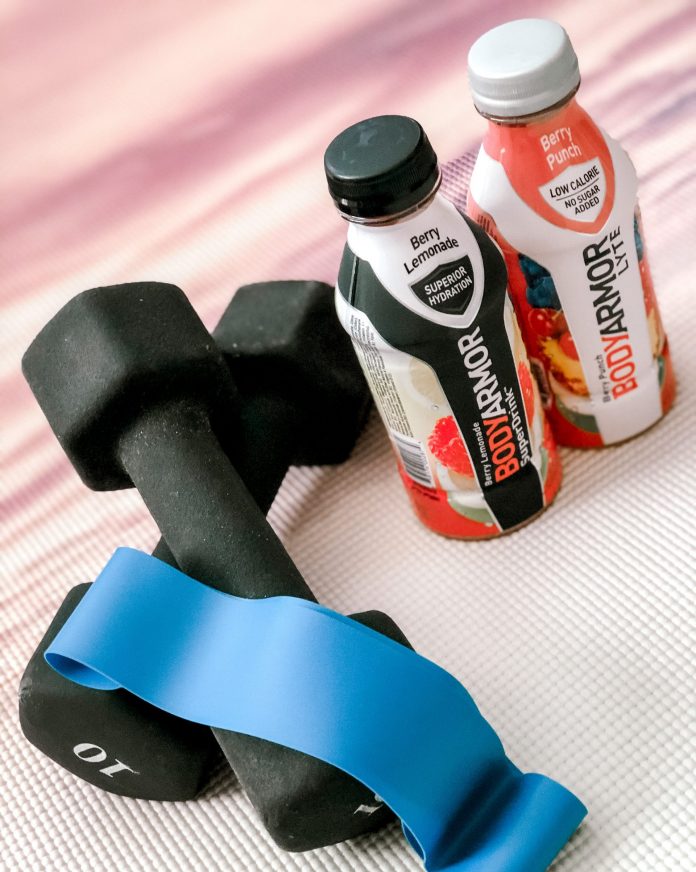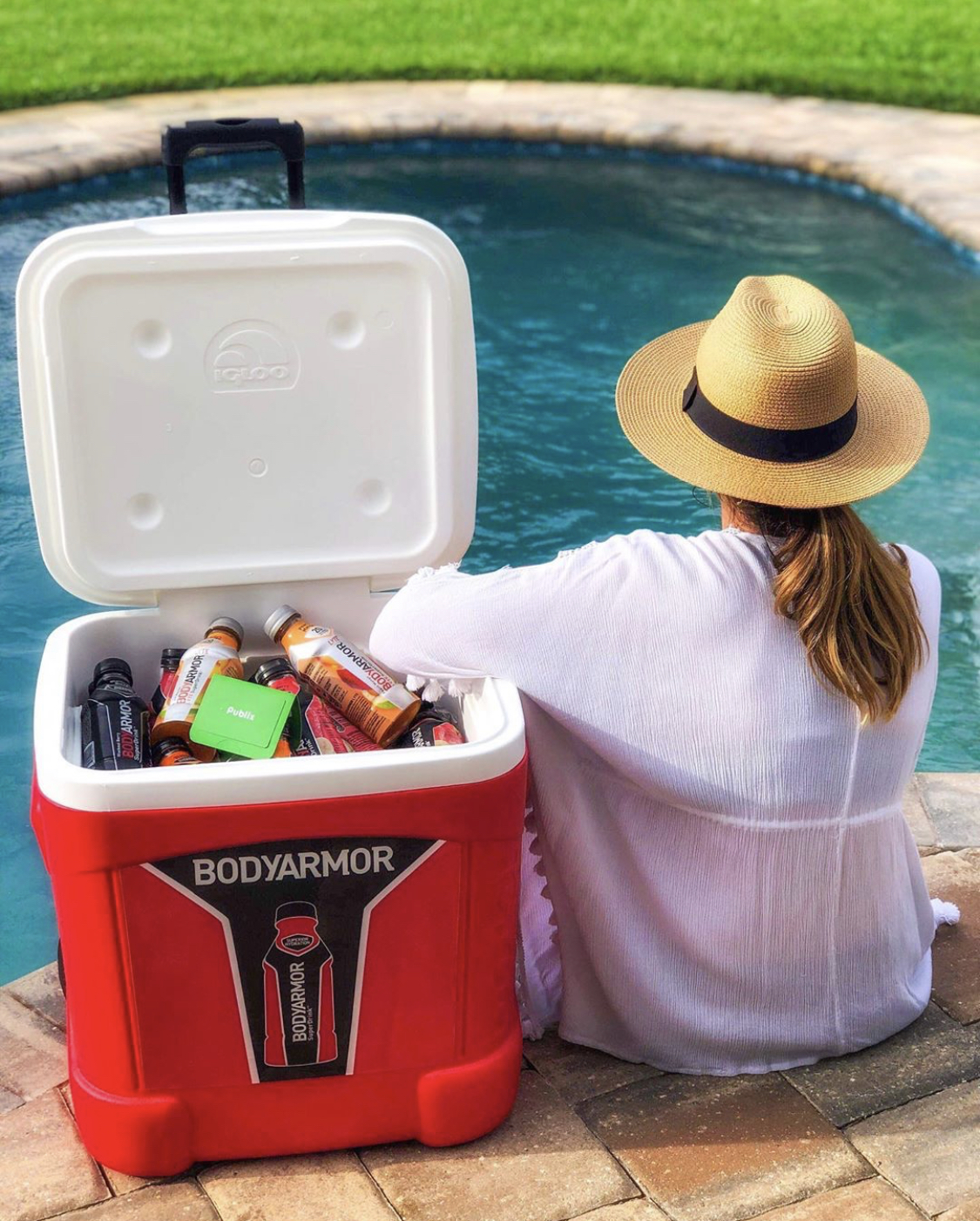 Why Jacksonville Moms Love BODYARMOR!
LYTE - Mom's Fave! Low Calorie, No Sugar Added, No Artificial Sweeteners, Flavors, or Dyes, Vitamins, Antioxidants. Coconut Water

Perfect for Kids on the Go and their teammates! No Artificial Sweeteners, Flavors, or Dyes. Potassium-Packed Electrolytes, Vitamins, Coconut Water

SportWater - Superior Hydration! lkaline. pH 9+, Electrolytes
Want to be a part of our 2020 Guide to Fitness & Health Care in Jacksonville?
We want to show our readers all the great fitness opportunities available right here in the Jacksonville area. Partnering with us allows your business greater visibility with a large targeted market of local families. Join us and help enrich the lives of Jacksonville Moms!