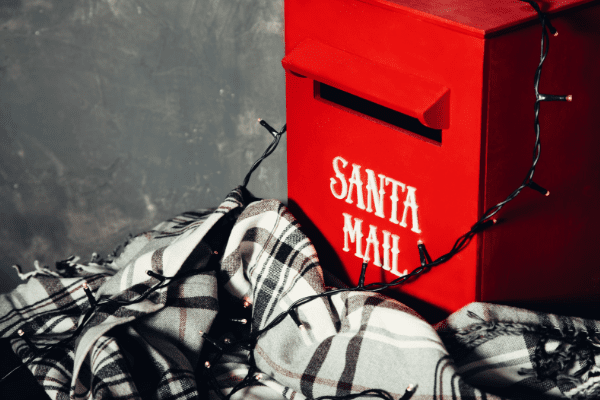 If modern communication is teaching us anything, it is that we have a need for speed. We text to make plans, private message when we need to talk, tweet to share, Snapchat to giggle, Instagram to keep up, and the list goes on and on, complete with adorable emojis. Don't get me wrong; this mama loves tech! But there is a magic and personality to old-school letter writing that modern technology misses with its instant gratification. There is a certain magic to waiting. Christmas is the best season to participate in activities that celebrate the joy of anticipation.
In honor of Letter-Writing Day on December 7th, I'd like to encourage you to bestow this magic onto your kids by taking the time to write a letter to Santa! If you get your letter to the post office by December 15th, you can expect a reply from the North Pole prior to December 25th. That is pretty magical. Here are a few tips to make the most of letter-writing to the big bearded guy:


This a great excuse to crank up the Christmas tunes and indulge in some delicious holiday treats. There is nothing better than setting the mood with festive letter-writing nosh. Hot cocoa is always a good bet, or you can try a couple of my favorite holiday beverages:
Crock-Pot Apple Cider
2 quarts of apple cider
1 sliced orange
2 cinnamon sticks
½ cup of brown sugar
Place all ingredients in Crock-Pot and simmer on low for two to three hours. It tastes delicious and smells divine!
Frozen Hot Chocolate Milkshake
2 cups of vanilla ice cream
1 tsp peppermint extract
1 cup almond milk or any milk that you prefer
2 tbsp of your favorite hot chocolate mix
Add all ingredients into blender and blend until smooth. Top with whipped cream and a candy cane for a festive finish.


By now, like it or not, I imagine the refreshments and tunes have begun to awaken your inner elf. Writer's block is a real thing, and the Grinch's best buddy. Don't let you or your little ones get sidetracked by a big, blank page. See below for two templates you can use; one with prompts and one without. The kind of letter your child will write that jolly old elf is going to vary from child to child, so make sure you have options that will help every child at your table enjoy the process. Prompts can be helpful to help direct children through the process if they get stuck. You could also have some photo albums on hand to help direct their thinking. Be sure to sing along with those holiday tunes to help keep the silliness and conversation going!


One of the most important parts of writing letters to Santa is making sure that it is easy and fun for everyone. Having a variety of supplies on the table to dive into is helpful. I recommend colored pencils, crayons, stamps, and stickers to truly let your children's creativity shine. While the decorative stuff is fun, make sure you have several options for writing your letters. Crayons and markers are terrific options for pre-writers who may choose to draw a picture that you can scribe. Including letter stamps and letter stickers is wonderful for children who like to add flare to their correspondence or who might be struggling with handwriting. You can also include festive stickers, glitter, and markers. Have your child address completed letters to Santa Claus, North Pole.
They don't call it snail mail for nothing; so be sure to get those letters postmarked before December 15th! Check out all the details on how to get your return mail here on the official USPS website. Happy Letter-Writing Day!