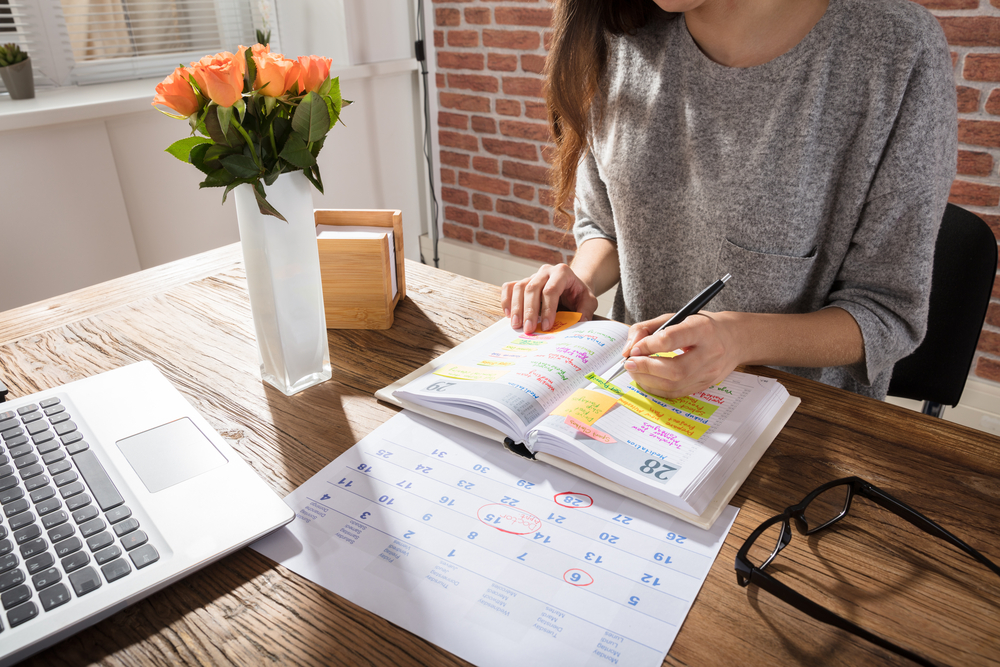 In my planner I have a sticker on the box for the date of August 1. It says "JUST BEGIN…." I put it there to remind me to take a deep breath, because hold on, August is here, and we are well on our way to the new school year. Now that I have a rising fourth grader, I feel a little more prepared to handle the start of school than I have in the past — but August inevitably brings a sense of panic as I mentally flip through the eight million things that need to happen to send four kids off to elementary school and preschool. And I have new kindergartner this year! My checklist for August I hope will get me set for the fall — and ensure a smooth transition for my kids' back to school.
School Supplies
I know, obvious, but don't wait until the last minute or the weekend before school starts! Not only will shopping early save you money, you will have ample time to visit a few stores or websites. My kids' teachers were very specific with their lists of what we were supposed to buy, which is fine, because YES, SUPPORT YOUR TEACHERS!, but it took longer than I realized to find the brands they wanted in the quantities needed for two kids for two different classrooms. In addition, some schools will have signups where you can help buy supplies, shoes or a backpack for students at your school who may need assistance. This is an amazing thing to do for a child and for your school's teachers, but again, it takes some planning.
Clothes and Shoes
I think my kids grew six inches between all four of them over the summer. So new shoes are a definite must — and with four kids, I don't have time to be tracking down the one-pair-in-your- size-with-the-pink-stripe-not-the-white-stripe-that-you-absolutely-have-to-have for the first day of fourth grade, thank you very much. I actually started looking for shoes and clothing sales at the end of July (it seems like back to school starts July 5, immediately after we've burned through all our Fourth of July sparklers and fireworks) so I was able to get some good deals and check some of my kids' needs off my list in early August.

Sign Up for Florida Prepaid
I'm checking off worrying about affording college for FOUR kids by looking into the Florida Prepaid Back-to-School Campaign that runs August 1 through September 2. While we as parents and my kids' great teachers are getting my children ready academically for college one day, Florida Prepaid can help our family prepare financially. Right now, families who enroll in a prepaid plan between July 16 and September 2 will have a completely waived application fee! Just use the code: BTSBLOG18. The benefit of signing up now is that families don't have to worry about the $50 application charge that comes with Open Enrollment. Enrolling in a prepaid plan during this time means submitting an application that will be processed during the next Open Enrollment season. If you sign up before Open Enrollment and you are not satisfied with your plan price when Open Enrollment begins, Florida Prepaid will help you select another plan or payment option to meet your goals and your budget.
A Florida Prepaid College Plan allows families to lock in tomorrow's college tuition prices today, paying lump-sum or setting up a monthly payment schedule. Prepaid Plans are guaranteed by the state of Florida, and the value of a plan can be applied to qualifying institutions nationwide, both public and private. With a Prepaid Plan, you don't have to worry about how much Florida public college and university costs go up in the future — or the ups and downs of the stock market. Florida Prepaid Plans are a promise that your child's college tuition will be ready when the time comes. Learn more about making a Florida Prepaid College Plan part of your back-to-school checklist here.
Organization for Lunch Boxes and Clothes
This year, my two big kids are packing their own lunches. By the end of last year, half of what I was sending to school was coming right back home. I get it, you're tired of crackers and cheese — just as tired as I am of packing them — but please eat something! So this year, I have organized my pantry and my fridge so there is a drawer and box of kid-friendly/parent-approved easy-to-pack lunch items that my kids can (hopefully) assemble into a relatively healthy lunch. I'm even going to let them pack five lunches for the week on Sunday night in individual gallon ziplock bags and store them in the fridge to make their lives easier (aren't I a nice mom?). They can always add a sandwich the night before. And hey, how hard is it to pick out five outfits on Sunday afternoon and lay them out in your room? Not hard. This saves time during the week, especially in the beginning of the year, when we always, always seem to be running late as we learn our new routine.
School Involvement
We've not gone through kindergarten at my kids' current school, because we moved across town between my daughter's second and third grade years. So while I am familiar with the school, I am not as familiar with the kindergarten teachers and special events. I'm planning on joining the PTA again this year, hopefully serving on a committee, and trying to get involved in my son's classroom where I can so that I can the learn kindergarten ropes along with him — because I have two more coming up right behind him!
I'm hoping that being organized, helping my kids to help themselves, and really being present at their school will make the transition to fourth grade and kindergarten a little easier on all of us. And all the while, I won't be worrying about sending them to college!