For several summers, we have been season-pass holders at Adventure Landing's Shipwreck Island Waterpark. It is definitely one of our favorite places to cool off when the heat and humidity (and boredom) strike, and my children have always loved spending several days over the summer at this great little spot!
Top Five Reasons to Own a Shipwreck Island Waterpark Season Pass
Value: If you plan on visiting at least four times during the season, you will save money purchasing a pass ($99.99 value). Our family usually purchases the passes on Black Friday, saving us even more money!
Early Seating: One of my favorite "perks" of being a pass holder is the ability to enter the park a few minutes early to get prime seating with a little shade. With four children, including a toddler, we like to sit close to the Shipwreck Island Pirate Play Village.
More Discounts: In addition to the value of the pass, we get 10% off select food items all year round. We also receive great daily discounts such as 30 arcade tokens for $5 on Wednesdays, and $2 Hot Dog Thursdays. Our favorite is Bring-A-Friend Mondays for just $14.99. There's nothing better than picking a Monday each summer to bring our out-of-town cousins to enjoy our waterpark!
Bypass the Line: When we are ready to hit the waterpark, there's no need to stop and buy a ticket. We can just scoot through the turnstiles and head right on over to our favorite rides!
Flexibility: Because the park is a short ride from almost anywhere in Jacksonville, you don't have to "make a day" of it. I love that we don't feel stressed about having to do everything or stay a long time each time we go. Usually, we end up staying at least half the day, but some days it's nice to hop over to the waterpark for a quick hour to ride a couple slides or just laze in the lazy river!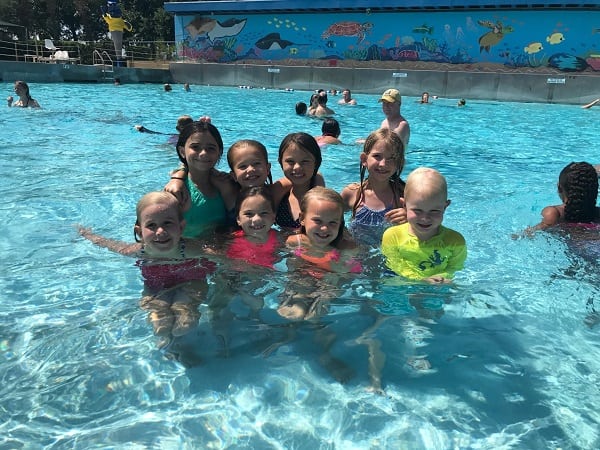 Of course there are other great things about being pass holders, such as the awesome attractions. My kids' favorites are The Rage and The Undertow waterslides, and we love floating around the Little St. Johns River together. Some days I'll pull my chair up to the water's edge and watch the kids play together in the Wave Pool or in the new Pirate Play Village. We also rarely ever go without bumping into friends because so many of our friends are also season-pass holders. Most days we plan on meeting at least one family so the kids can buddy up while waiting in line for slides. It's also a great place to celebrate birthdays as they also offer waterpark parties! Honestly, I cannot imagine summer without our weekly trips to Adventure Landing's Shipwreck Island Waterpark.
Special Offer – Get it Now!
If you don't think you'll visit enough to get the full value of a season pass, consider the new Buy One, Get One Half Off offer. For a limited time, you can go one day and visit another day within five days at half the price. We may consider using this option when my family comes to visit this summer because one day at Shipwreck Island is never enough!
Adventure Landing Shipwreck Island Waterpark is located at 1944 Beach Blvd. Jacksonville Beach, FL.