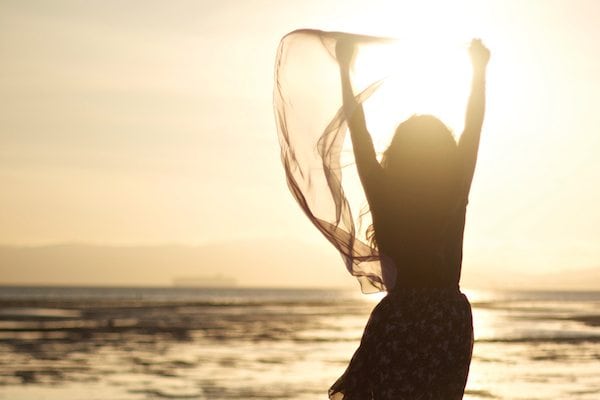 Psst… hey, Mama… yeah, you with the tired eyes and the coffee stain on your shirt. See, I'm a single mom — still proudly sporting a toddler on my hip and bed head at school drop off — and I know something you don't.
Fact number one that you need to know is this: You are a sexy mama.
No, for real.
When I was married, I most definitely did not feel sexy. With the exception of shorter hair, I looked exactly the way I do now. But instead of feeling like the hot mama I identify as today, I felt like a frumpy mom and worn-out wife.
From Frumpy to Free
Part of the problem was my spouse at the time. I remember being well below my ideal body weight while working full time and busting my butt in a yoga teacher training program, and my husband had the audacity to tell me I had a muffin top. Body image is something I've always struggled with. As a teenager, I was borderline anorexic. But despite being open about my past, I could not get my spouse to understand how severely his jabs hit me.
The bedroom was no help either. Our sex life had become routine and monotonous, and no matter how hard I tried, I couldn't figure out how to please him. Somehow we've been conditioned to just accept that sex turns into a mundane, infrequent experience in a long-term relationship. So I accepted the norm, and I lost interest. Throw in two kids and a few more years of marriage, and well… you get the picture.
Turning It On
What I didn't realize until after my divorce is that healthy sexuality and positive body image are inside jobs. When my marriage fell apart I thought I'd be alone for a very long time. I mean, what man in his right mind would want to date a woman in her mid-30s with a 1- and 3-year-old, or even a 3- and 6-year-old?
It turns out that plenty of men are interested. It turns out that I am a sexy mama. How did I not see it before? And how did my husband not see it? It's a theme I see over and over again among my single mom friends. As they rediscover their bodies and their confidence, their way of moving through the world transforms. It's not a Cosmo magazine or a Men's Health article that wakes them up. It's their own inner beauty, newly free to shine.
So what I want to tell you today is this: Don't ever forget how sexy you are. I see you on the playground, and I can tell you don't remember how achingly beautiful you are. It's not about the specifics of weight, clothes, or hairstyle. It's about your attitude and refusal to settle for mediocrity. Do the things that make you feel most like yourself — get that pedicure, go dancing, demand a date night. If your spouse isn't making you feel sexy and desirable, show him how.
The Importance of Spousal Support
A couple of months ago, my now ex-husband showed up late to pick up the boys for his weekend. Since he was running late, I had no choice but to proceed with getting ready for a Friday night dinner with the man I've been dating for about six months now. I knew I looked good. Let's just say my dress wasn't exactly mom material. For the first time in years, since before I had kids, my ex walked in the door and said: "Wow, you look nice."
That night my boyfriend's jaw hit the floor and he asked, "Were you wearing that when your ex picked up the kids?"
"Yep," I said.
He laughed and gave me a victory high five. Most of divorce and single motherhood comes with a fat helping of defeat, but that night I felt like I won.
Even though feeling sexy is an inside job, there's no denying the therapeutic power of an engaged and supportive spouse. If he can't see it when you turn it on, book that couples therapy session. Because here's the other thing: You don't have to become a single mom to embrace your mojo. It's already there for the taking. Go get it, Mama!
About the Author
Melissa Gopp is a single mom who works from home as a blogger and freelance writer. She earned her bachelor's degree in nutrition from the University of North Florida, which she uses to help keep herself and her boys happy and healthy. In addition to working as a writer and editor for a DC-based maternal health nonprofit, Melissa has written for Yoga Journal, The Writer, and Community Health Forum magazine. She is a beach bum at heart and passionate about using her writing to help women navigate trauma, transition, and transformation. She blogs at WomanSpeak.org.