If there is ever a "battle" between moms, it's the age-old debate on bottle feeding versus breastfeeding. I'm not sure why this continues to be a "thing" for moms, but it is. After the recent story about a mom getting denied permission to breastfeed on a Delta flight without a coverup, we are reminded that breastfeeding still has a negative stigma in this country. The bottom line is every mom wants the best for their baby, and no one else besides mom knows why they choose the way they feed their babies, and whatever way you choose is the right way.
I Did Not Breastfeed My Son
Shame on me, right? Well, if someone was judging me when I was bottle feeding my son I would have told them this: My son did not come into this world as planned. His exit began at 34 weeks. And for 72 hours –yes 72 HOURS people – I was in latent labor. Brendan was born weighing 4 pounds and was sent to the NICU immediately. My first attempt at breastfeeding Brendan was unsuccessful, as wells as my second, third and fourth attempt. After many more attempts, I had to choose, feeding tube or bottle. Well, duh.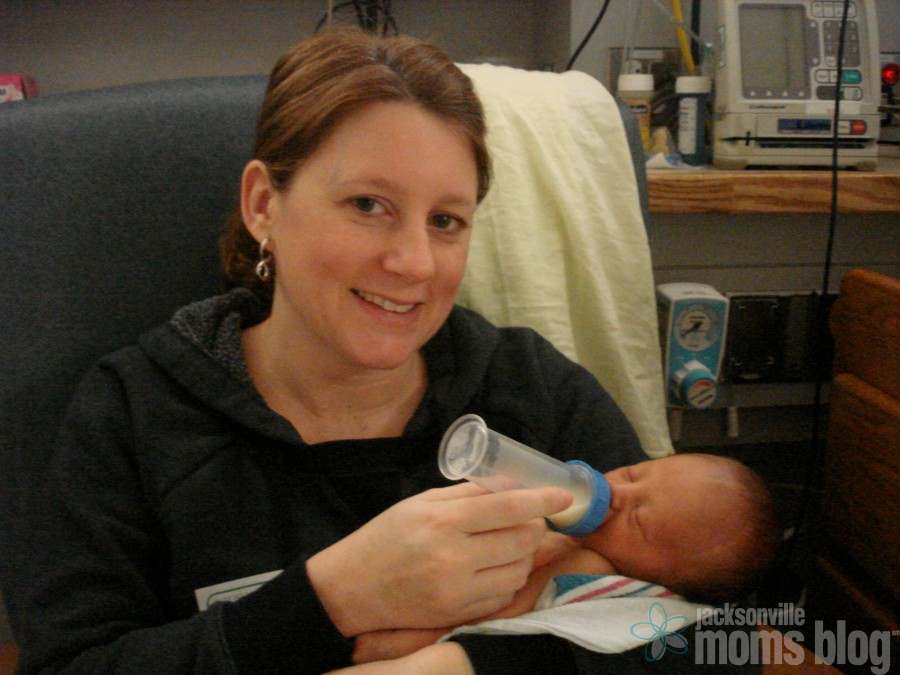 So Brendan had my breast milk from a bottle for about eight weeks. Then, I started him on formula. It was a very tough decision, but the right one for me. Maybe it was my very first feeling of MOM GUILT. Why? Because it wasn't part of my plan? Because I would be less of a mom if I didn't give him breast milk? I don't know. We hear things, we read things, we feel pressured. Maybe breastfeeding was part of your original plan, but as moms, we always need to expect the unexpected. You are no less of a mom because you chose formula. It took me awhile to accept this fact, and when I finally did, I handed DAD the bottle and said, "Your turn."
So I was a bottle feeding mom. And I was fine with that–for a short while until I finally started making more mom friends. I seemed to be surrounded by breastfeeding moms. Oh the guilt, the shame I felt. Maybe it was because I actually saw other moms whipping out boobs to feed their baby–so free and easy. Or maybe it was because other moms would tell me, oh yeah, we had issues at first but I just kept trying, and it finally worked. I see, I didn't try hard enough. Well thanks, now I feel like an even bigger failure. Perhaps it was when other moms would say you just can't bond with your baby like you do when breastfeeding. Sadness….. You wanna know something funny? Turns out Brendan was "tongue tied." And the first thing the ENT asked me when we went in for a consult when he was 18 months old was "Did you have trouble breastfeeding?" The whole situation sort of made me resent breastfeeding moms, maybe it was jealousy, but I never saw it as this amazing thing. In fact, I started to feel like breastfeeding moms who kept breastfeeding after 12 months were weird. I thought, maybe still think, that breastfeeding toddlers is more for the mom than the child… Let the Mommy Wars begin, yes??? But wait…..
I Did Breastfeed My Daughter
Just because of my bad luck with Brendan I wasn't going to give up the chance to experience breastfeeding with my daughter. I will say though that because of my experience, I kept telling myself I'd only do it for six months.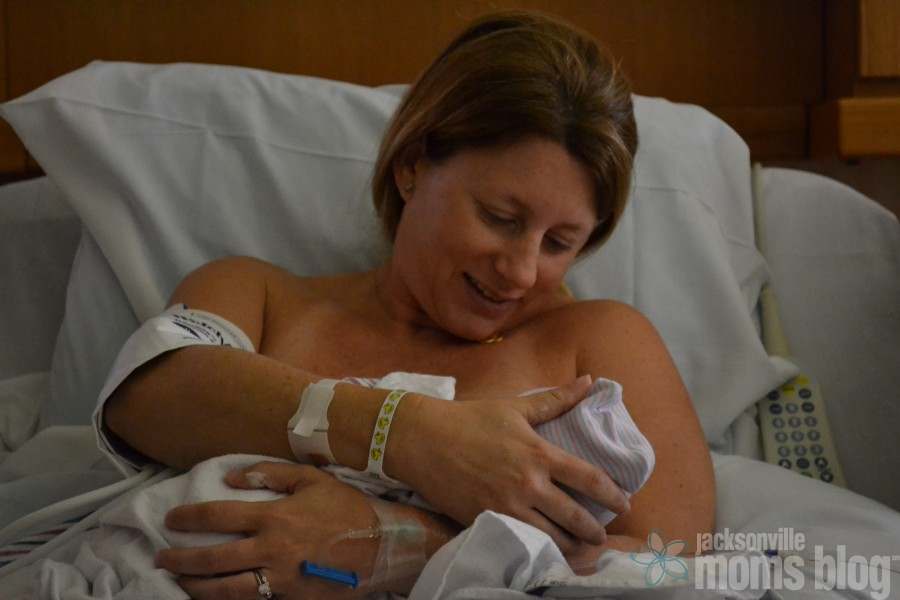 Sweet Audrey was born at 39 weeks, perfectly healthy and a pro at latching on. She was a breastfeeding mom's dream! Six months came and went, and we were still happily breastfeeding. I'll be honest, I felt kinda cool, like a member of an exclusive club. I could whip that boob out whenever and wherever. How awesome. Then I started getting the weird stares from strangers, men and women, even other moms.
Why does breastfeeding make so many people uncomfortable? Why are there so many stories and pictures that stir up so much negativity? And why is it that a large part of the debate comes from other Moms? We need to support each other's choices rather than bash them. See Kacey's post about needing thicker skin!
Ironically, when I would see a mom shaking up a bottle of formula I would think (NOT SAY) to myself – she should just breastfeed, it's easy. HA. Face palm. CHECK YOURSELF MOM, THAT MOM WAS YOU! That mom has a story of why she chose to bottle feed. Maybe she thinks it's icky, fine. Maybe she cried herself to sleep because she tried and tried and tried and baby wouldn't latch. Maybe her milk never came in. Maybe she was just a new mom and didn't have enough support, so she made a choice that only mom can make about feeding her new baby.
So here I am, with two completely different stories–both sides of the coin. I felt the inadequacy of not being able to breastfeed, AND the stigma that so many breastfeeding moms experience, and both usually caused by other moms! Do I feel a stronger bond with my daughter? No. Is one less intelligent or less healthy than the other? No. I fed my babies. Period.
Were you ever criticized for the way you were feeding your baby?