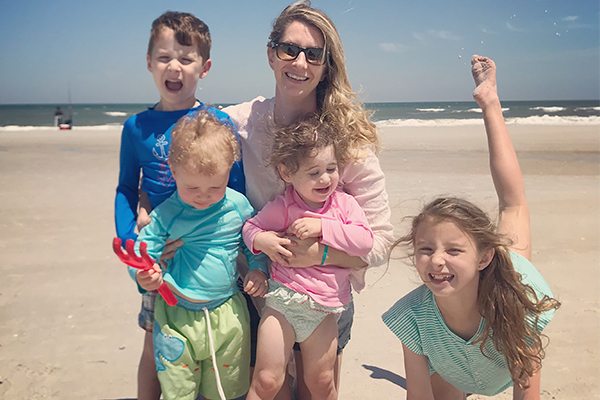 Aren't we all always busy? It doesn't matter if it's Christmas or fall and the start of the school year, or the end of the school year and all the crazy of "May-vember." It doesn't matter if it is the end of the quarter or the start of the new fiscal year. There's no break in the working world, summer or no, and there's never an end to childcare needs, getting the littles fed or having errands to run. And when you're required by your employer to be working eight hours a day, that makes it even harder sometimes to get everything checked off your list! Sure Amazon Prime, Shipt, and curbside pickup at Target help tremendously — but there's still, always, BUSY. Busy has become normal. Busy has become a competition. Busy is a mental state and also a physically intertwined, intricately planned chain of events that means if the dry cleaning is not picked up this Tuesday, there will be no dinner on the table next Thursday. (Sorry, honey.)
But here's what I've learned. We can't escape busy. Busy is just life, it's being a parent, it's having a job, it's being a spouse. So now, instead of trying to escape busy, I've decided to try to always make my busy beneficial — to make it full. We all know there are things that can't be avoided. Daycare immunization forms. Scheduling babysitters. Tracking down 86 documents for kindergarten enrollment. Sending thank-you notes and making dentist appointments. Work meetings, networking lunches, and conference calls (anyone else waited at the pediatrician's office with a sick kid while on a conference call?). But what about the other things? The invitations, the sports teams, the birthday parties, the moms' night out? I've learned to pick and choose the things that make me feel as if I've been fed my favorite meal when I attend them — verses walking away afterward and feeling more tired and less energized than I was when I got there.
I used to coordinate a group for my church, and attendance was often sparse despite overwhelming feedback that mothers really wanted the group. It was a lot of the same reasons I'd get emailed every Tuesday — husband out of town, can't find a sitter, sorry I just can't. And I get that. I really do. When I left my four kids after working all day to get to our monthly meeting, three of them were usually screaming. And then I realized, leading the group means you have to show up. So I finished my third year as coordinator and decided not lead it anymore. Now I go when I can, and instead of it becoming a list of tasks, instead of making me frantic with the busy of planning it and scheduling speakers and picking up snacks, the group is a source of joy. I go, and I am fed. I spend time with women I care about, and I leave each time feeling better than when I got there.
One thing I've learned after many-a-hard lesson is that not everyone is my kids' mom. Just me. I am the only one in the whole wide world who can do that job. They have loving teachers, babysitters, and caretakers, but I am the only one who can be their MOM. This has been a slow, dawning realization that's hit me as I've wrestled with taking on more busy, accepting more invitations, or being carefully selective about saying yes to only what fills me up. And I choose to try to let mindless, unrewarding busy go where I can. This is often a challenge for me because there is already SO LITTLE I do for myself. And these tiny creatures that overrun my life don't know (or care) about how overextended I am.
But by choosing to make my busy full, I am determined I will not lose the last slip of myself to my kids, or my husband, or my 9-to-5. I will not vanish in a pile of soggy puffs and macaroni-and-cheese stuck to the side of a highchair. I will do my best to pick the meaningful and doable and leave the crazy on the curb when possible. Where I can, I will only choose things that make me and my family feel loved — and fed.