Part One: Getting Pregnant
When given my history, finding a good man and becoming a mother was really a 20 year ordeal, but I'll just start where my life truly began.
I was 43 and married to Jeff for exactly a year. We were starting the Donor Egg IVF Split Cycle. We chose a donor who was 27 years old, had similar features to mine, had healthy family medical history, and had donated for successful pregnancies before. The most exciting feature of our donor was that fact that she had been a dancer. I just love to tell people now that my daughter got a 'double dose of dancing genes', even though, technically, she has none of my genes. The jury might still be out on that subject, however, due to new studies about Epigenetics.
On the day of our one year anniversary, I started the hormone shots in my belly. Of course, that day wouldn't have been my first choice, but this is quite a scientific and time sensitive process. I almost didn't think I could do it. Purposely putting a needle in your own body? After several attempts, coaxing myself with "1,2,3…", I did it. Piece of cake! Luckily, my belly fat eased the pain. I did that once a day for thirty days. What a breeze. Thanks to Dr. Michael Freeman and the wonderful staff at Florida Institute for Reproductive Medicine, I was ready for this journey.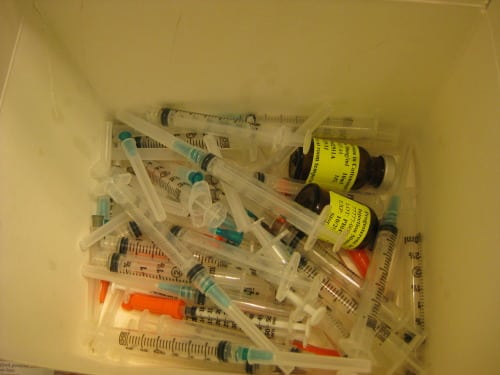 Then came the really hard part. Ouch! Shots in both my hips. Double ouch! This was my husband's job. Even though I tried to do it once or twice myself, the pain and the spewing blood convinced me otherwise. It wasn't all that bad in the beginning. We were instructed to alternate hips, make sure to get deep into the muscle, and to massage the hip after the shot. Not really a problem until my hips started turning all sorts of colors…blue, purple, green, yellow, brown, black. "Ouch!" was no longer sufficient. Stronger, four letter words came into play.
Now, one detail that may have made my situation a bit more unusual was that I had no choice but to come off of my anti-depressant medication for these treatments. I have been medicated for clinical depression since 2001. It has NEVER been wise for me to go off my medication. In this case, I had no choice.
Again, it wasn't a problem at first, but as time went on, the pain got worse, and my hormones were not my own, my state of mind went swiftly down hill. I cried a lot. It was tough. Although both Dr. Freeman and my primary care doctor agreed to put me back on a low dose of my medication a bit sooner than they would have liked, it was still much too long for my mental and physical state.
I think my tears and begging got to them. Of course, I look back on this now and understand that it was all completely worth it. Although I thought I might just quit after each one of those shots, I must have been stronger than I knew. It was simply what I had to do. By the way, my husband gave me one shot, once a day, for 53 days!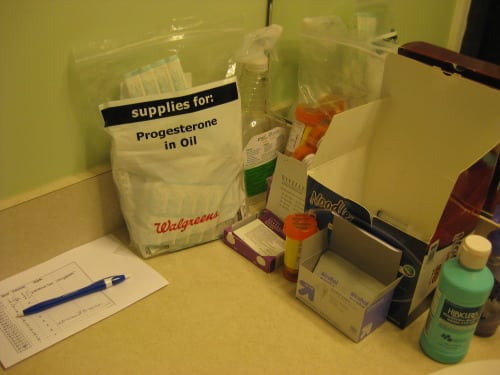 After many clinic visits for my husband, the donor, and me, the day of implantation was here. I have never been so spiritually prepared in my life. I had all of the love, light, and hope I could ask for. Everyone I knew was with me in spirit and praying for a wonderful outcome. I will never forget what Dr. Freeman said as I watched the implantation of two clean, healthy, viable embryos on the ultrasound screen. "Eight ball…corner pocket."
When I left that office, I knew. I had always known. I was determined. I was positive. I imagined no other outcome. I was going to be pregnant and I was going to be a mother. And it was going to be amazing.
I don't think many people know about the process of infertility, the reality of all the needles and drugs. Do you have a story to share? Please comment below and stay tuned for Part 2!
About the Author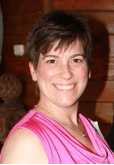 Libby Blumberg
I am a SAHM and have one daughter, Emma, with my husband, Jeff. We live in the Town of Nocatee.
I own a small business, Oh BaBee! Originals. I design, create, and sell baby shower/nursery decor, frames, wreaths, and greeting cards on Etsy.
I am a member of The Real Housemoms of Nocatee. I host events, offer giveaways, and welcome new members. I am also Vice President for Helping Hands of Nocatee, which serves the needy in St. Johns County.
I am looking forward to using my talents to network and thrive as a writer and creator. Find me here! www.mamagonewild.wordpress.com, www.ohbabee.wordpress.com.