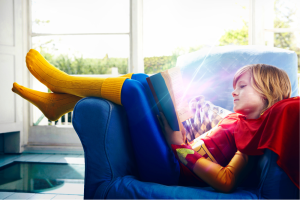 Comic books may not be at the top of your summer reading list, but maybe they should be. As parents, we know that the Summer Slide is a sneaky nemesis to all the gains made during the school year. If you are new to the term "summer slide," trust that it is not as fun as it sounds. The summer slide is the loss of academic skills that occurs over the summer attributed largely to the lack of reading.
Summer Reading flies in like a caped crusader to save the day and has been shown to help narrow the gap that often occurs over the summer months. If Summer Slide is the nemesis, and Summer Reading the hero, Comic Books can make a worthy sidekick. A good chunk of the summer's new releases both in theaters and on streaming platforms are based on comic books. The interest in these characters and their origins can be a powerful motivator for even the most reluctant reader. From the Adventures of Ms. Marvel to Spider-Man: No Way Home, you can find comic book influences all around you this summer. But do comic books have educational or literary value?
They capture focus and imagination.
Not-too-long-ago literacy experts looked past these books as a valuable resource for literacy. But in recent years, much of the academic world has shifted its understanding. Comic books are remarkable at capturing young readers' focus and imagination, and graphic novels are so much more than visual art short stories. These stories include multi-book series that span generations and galaxies. Those series have a tendency of jumping right off the page and into theatres and toy shelves near you. They are also a dynamic tool to engage a variety of readers of all ages and abilities, with their unique ability to hold the reader's attention through both text and illustrations.
They promote phonemic awareness and increase vocabulary.
Comic books are a great tool for phonemic awareness. KAPOW! Blam! WHAM! Whomp! ZAP! BANG! Zoom! These classic, dynamic sound effects offer fun ways to practice those letter sounds. But they are just the beginning. They also offer vocabulary expansion through character dialogue. It's not just thought bubbles anymore. Comic books incorporate engaging and relevant dialogue on every colorful page. Readers focus on the dialogue, its meaning, and its relationship to the story. In recent years, comic books have been incorporated into learning strategies in classrooms and have been shown to potentially increase reading comprehension for some students. Dog Man is an example of a comic book style that has been adapted to a chapter book platform. It engages lower elementary school students in a dynamic way.
Comic book stores have mass appeal.
Comic book storytelling is often of mythological proportions. I'm looking at you Loki, Scarlett Witch, and Dr. Strange. And with that epic scale, it must be said that every graphic novel is not meant for kids of every age. Your local comic book store can help you determine which comic books and series fit your family best. Most comic book stores use a system to section off content based on age appropriateness. During Free Comic Book Day (the first Saturday of May), stores use a color-coded system: Green is for all ages, blue is similar to PG-13, and red is adult. Some use this year-round on their shelves, but it's always best to ask your comic bookstore staff.
Comic book stores are a fun stop to make with your kids. They reinforce the idea that reading is also imaginative play. The stores are designed to inspire your fandom. In addition to comic books, you will find toys, LEGOs, puzzles, and sometimes costumes from your favorite characters and series. You can also discover new characters and stories that might just turn into next summer's blockbuster.
Local Comic Book Stores in Jax
Here are a few local comic bookstores in our area. You will find passionate comic book vendors and knowledgeable enthusiasts at each of them!
Cosmic Comics: Here you will find a large collection of vintage and modern comic books along with fun classic collectibles. They also have a comic book swap and trade community. 11018 Old St Augustine Rd #128, Jacksonville, FL 32257, (904) 631-9755
Coliseum of Comics Arlington: The Coliseum is known for hosting events like Pokémon Arena gatherings. They also have a large toy collection that includes Funko Pops, LEGOs, and action figures, in addition to comic books, graphic novels, and independent works collections. 9344 Atlantic Blvd, Jacksonville, FL 32225, (904) 720-0774 
Mythical Mountain: At Mythic Mountain, you will discover one of Jacksonville's largest toy and comic shops. They have a wide variety of comics, action figures, and collectibles, with over 6,000 square feet of products and displays. The comics available include Golden Age and Modern books. And they are known well for a fairly impressive wall of Funko Pops! 11111 San Jose Blvd Ste 37, Jacksonville, FL 32223, (904) 680-1308
Gotham City Limit: This comic book store offers a large collection of comic books. They also trade paperbacks, graphic novels, and independent works. Along with their book collections, they have a unique selection of collectibles. 4195 Southside Blvd #104, Jacksonville, FL 32216, (904) 641-3335