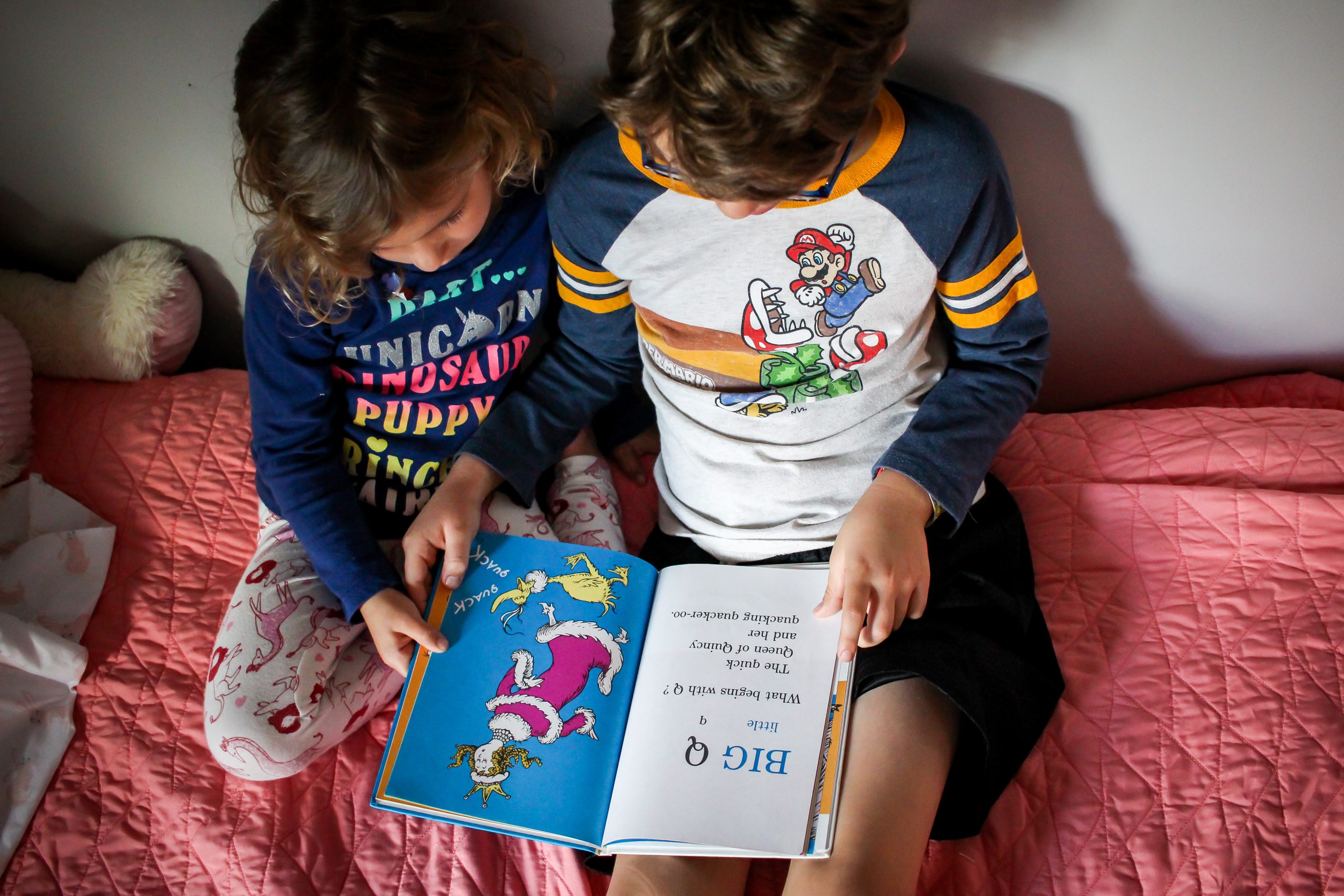 Read Across America Day is celebrated on March 2 every year. Why March 2? It's the birthday of beloved children's author Theodor Suess Geisel, aka Dr. Suess. National Read Across America Day was founded in 1998 by the National Education Association to encourage children to read more books and help them get excited about reading.
Did you know that reading to your child daily for 20 minutes means they will have been exposed to almost 2 MILLION words in a single year?! We may not think our wiggly babies and toddlers are listening to us as we passionately read books like Brown Bear, Brown Bear, What Do You See?  and The Cat in the Hat, but they are! They hear the rhythms and rhymes of the words, the inflection of your voice, and their brains add more words to their repertoire as you fight to keep them from eating said book while you read — who knew cardboard could be so yummy?
So, how can we get kids excited about reading? Here are some things that have worked for my family — let me know in the comments below what other ideas you have!
Take your children to the Jacksonville Public Library and let them choose the books! We are lucky to have an extensive library system in Jacksonville.  Do you know that you can return any Jacksonville Library book to any of the 21 branches in Duval County?
Set up a cozy nook in their bedroom or playroom just for reading. Having a special place where they can relax and read makes it special. We have a swing in our playroom that is not for crazy swinging — it's for reading and relaxing.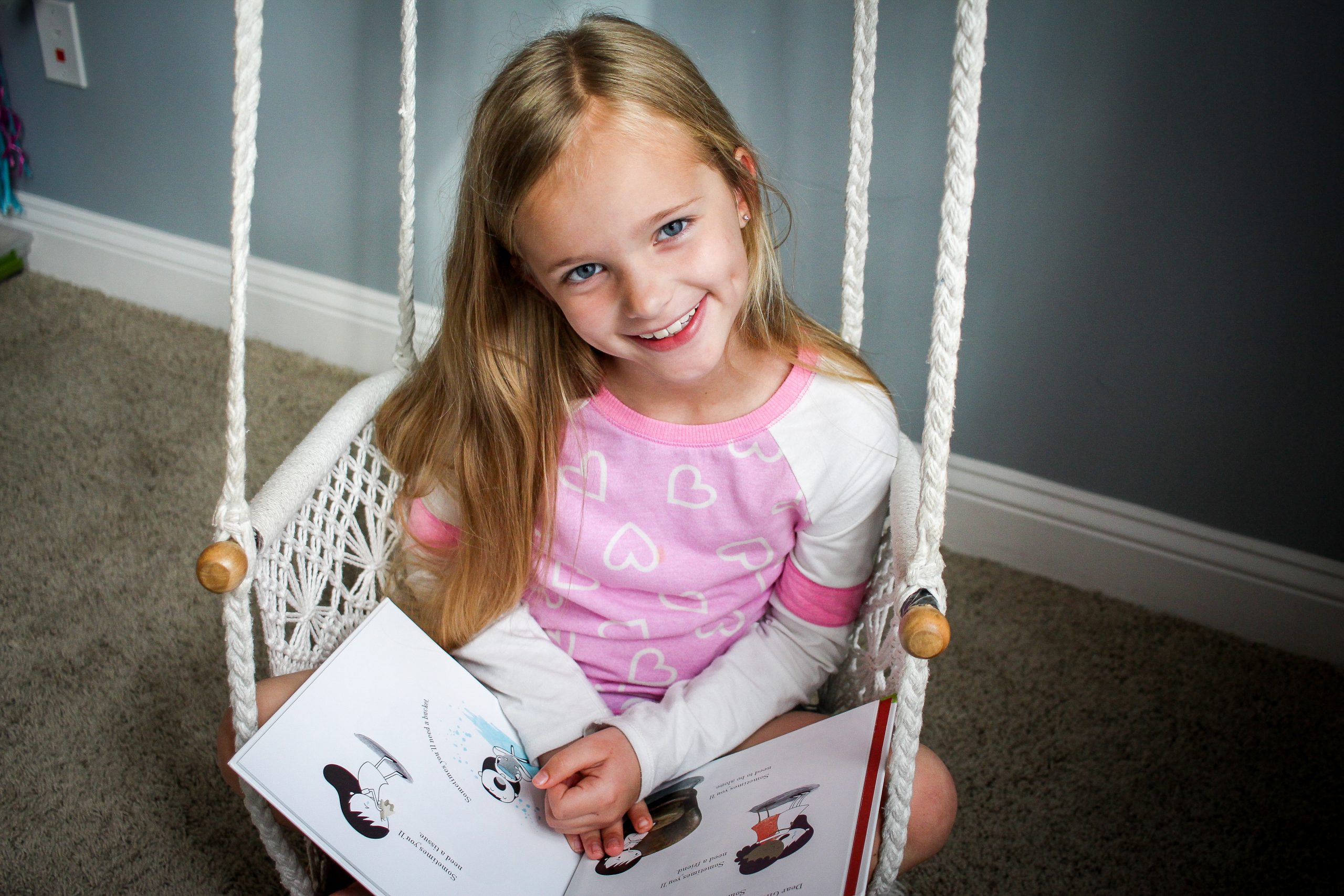 Have older siblings read to your younger children. This gives them time to bond together, instills a sense of responsibility in the older child, and makes the younger child feel special. My 4-year-old often gets upset because she doesn't know how to read yet, but she just beams when her older brother and sister offer to read to her.
Model reading. Imagine my surprise when I sat down on the couch a few weekends ago with a book, and my kids looked at me like I had three heads! "Mommy, you read, too?!" I was embarrassed to think my kids had never seen me reading an adult book before! So, pick up a book of your own while they are reading and just sit next to them. Apparently, it happens less than we think!
Keep reading aloud to them even after they can read themselves. My 8.5-year-old son and husband are reading one chapter each night of Harry Potter right now, and my son loves it so much he even talks about it during the day and says he can't wait until bedtime.
Chat and sing with your kids in the car or at the dinner table. In this day and age, we are always flitting about from activity to activity without much of a break between school and bedtime. I have recently started challenging myself to not just default to turning on the TV in the car or at dinnertime (even though sometimes I just need a moment of quiet). I have been pleasantly surprised with how willing my kids are to tell me about their day. We often make it to the end of the meal without asking to turn on the TV. (For the record, mamas of toddlers and babies, do what you need to do to survive — I think my kids learned most of their letters from Sesame Street and how to be kind from Bubble Guppies. No judgment here.)
Build in an incentive. Some kids don't love reading — it's just not their thing, at the moment. Usually, it gets better, but perhaps an incentive would help! Make a reading chart, and once your child completes the chart, they could watch a corresponding movie for the book they are reading.
Or maybe you want to "go big" and try out something like a theme park to get them excited about reading! Universal Studios just so happens to have two lands that are related to books. The first is Suess Landing at Islands of Adventure, and the second is The Wizarding World of Harry Potter Diagon Alley (Universal Studios) and The Wizarding World of Harry Potter Hogsmeade (Islands of Adventure).
However we are able to motivate our kids to read is an awesome achievement. If our kids are successful readers, we know life will go a lot more smoothly for them.  After all, "The more that you read, the more things you will know. The more that you learn, the more places you'll go." –Dr. Suess