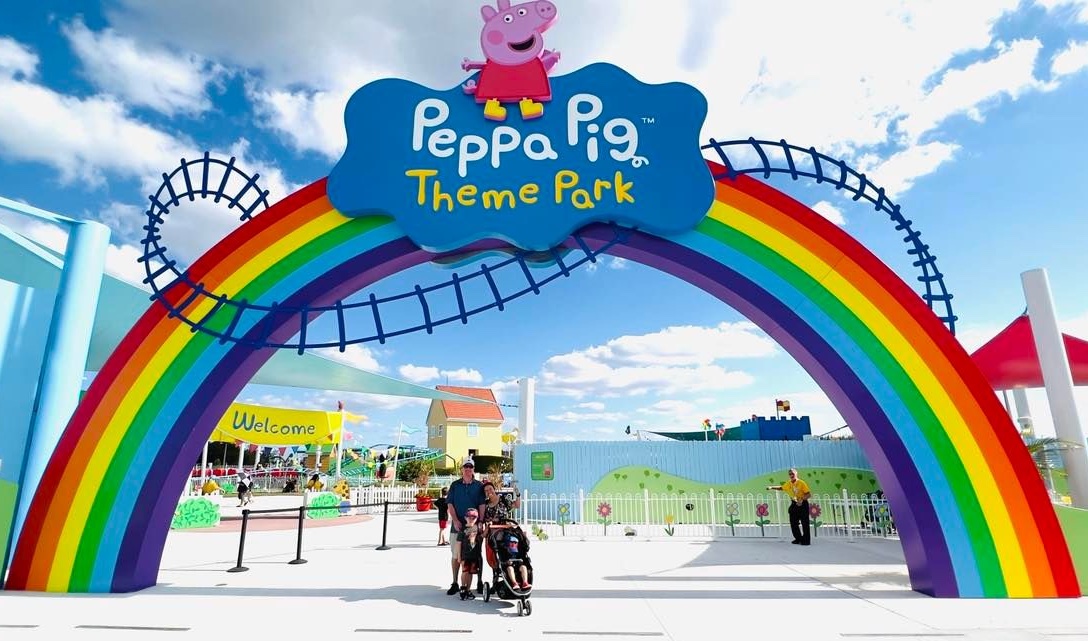 Looking for a place this summer that will keep your little ones entertained? Where your 2-year-old can finally ride a roller coaster? The Peppa Pig Theme Park in Orlando is the newest destination for families with young children and is a great alternative to paying big bucks at the Disney parks, Universal Orlando, Busch Gardens, and other theme parks where your little one isn't yet big enough to enjoy the rides. Here are my top things to know before you make the trek to Peppa Pig:
Plan ahead for your visit. The park is best for preschoolers and toddlers. My sons are 6 and 2, and they both love it. Your 8-year-old might be underwhelmed with the rides there. It's a good thing that LEGOLAND is literally right next door, so you have a backup place to go to if your older kids get bored.
Note that Peppa Pig is not actually connected to LEGOLAND, even though they both share the same parking lot. There is a separate entrance and security check for entering Peppa Pig Theme Park. You'll have to exit the theme park, walk over to the LEGOLAND entrance, and go through another security check at the gate all over again if you want to enter. Tip: Cut through the bushes and grass for a shortcut in between the park entrances — your stroller can handle it.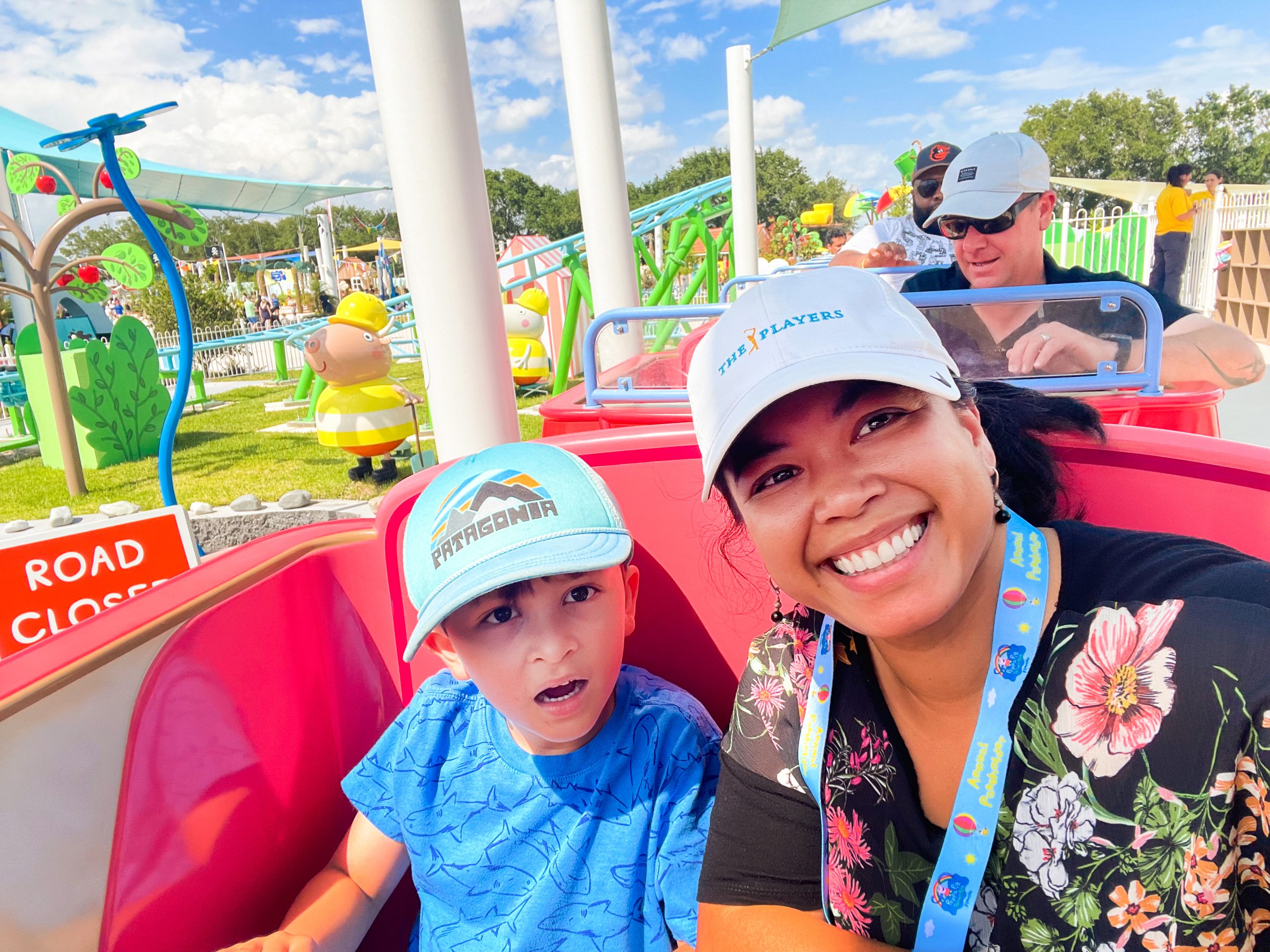 Keep an eye out for discounts. Verify ahead of time if your LEGOLAND annual passes include admission to Peppa Pig. If so, just line up and go right in. If not, stop by the Guest Services next to the gate at Peppa Pig Theme Park and buy your discounted tickets (about $15 off!) using your LEGOLAND annual pass. You cannot buy the Peppa Pig tickets ahead of time if you want to use your LEGOLAND annual pass discount — you must go to Guest Services. If you don't have an annual pass, you can save 10% by purchasing your ticket online in advance. There may also be military discounts available!
Be sure to check online before you go because it might be a busy week (like Spring Break), and they may require online reservations first! I don't know how it works with the discounted tickets using your LEGOLAND annual pass, but don't wait and reserve online because the theme park is small, and the tickets can sell out first thing in the morning.
Go there first thing in the morning, if possible. They open at 9 a.m., and there is a little line already by 8:45 a.m. This is a great way to beat the crowd and the Florida heat! It tends to rain in the afternoon also, so you'll get to miss that.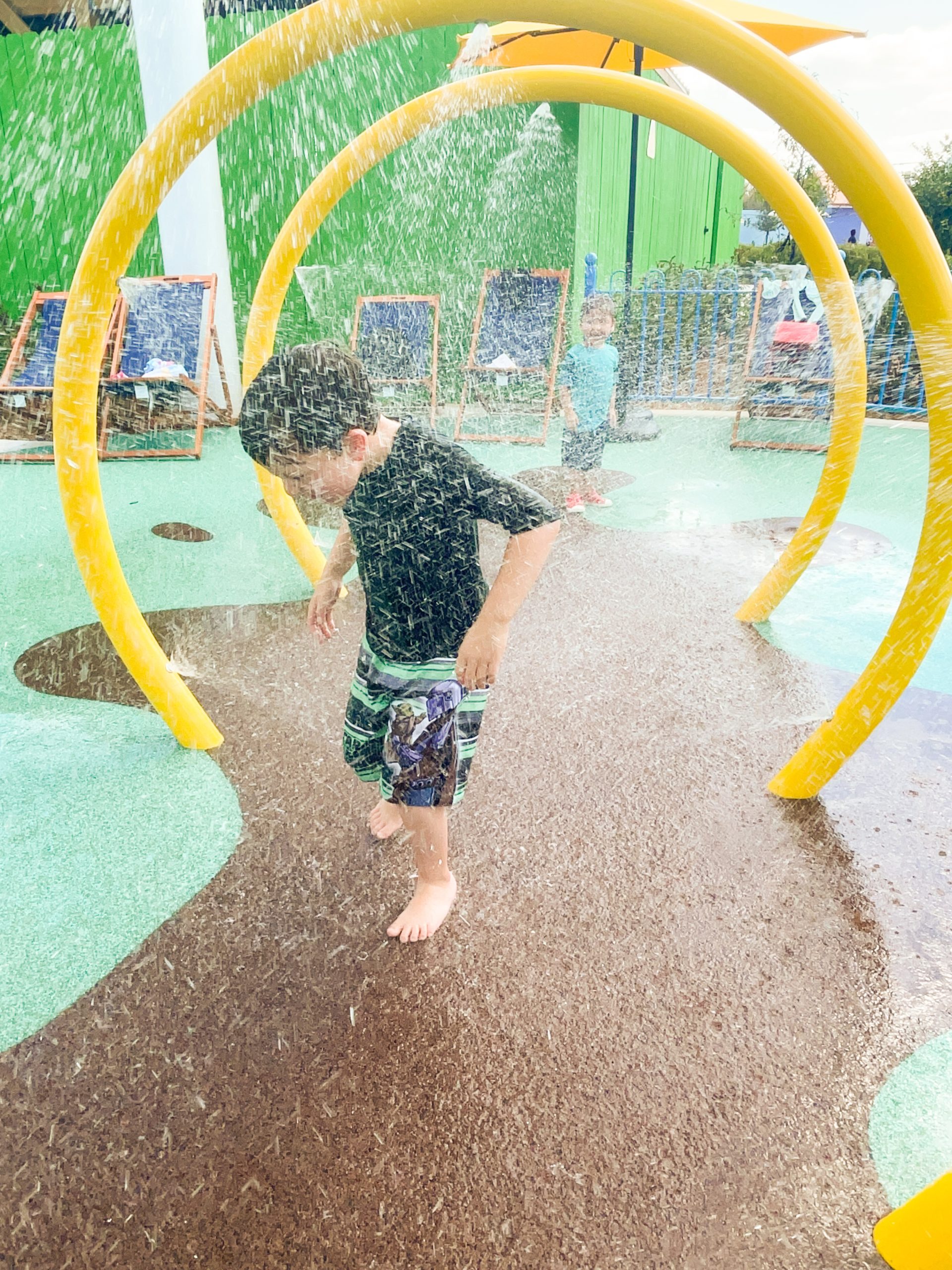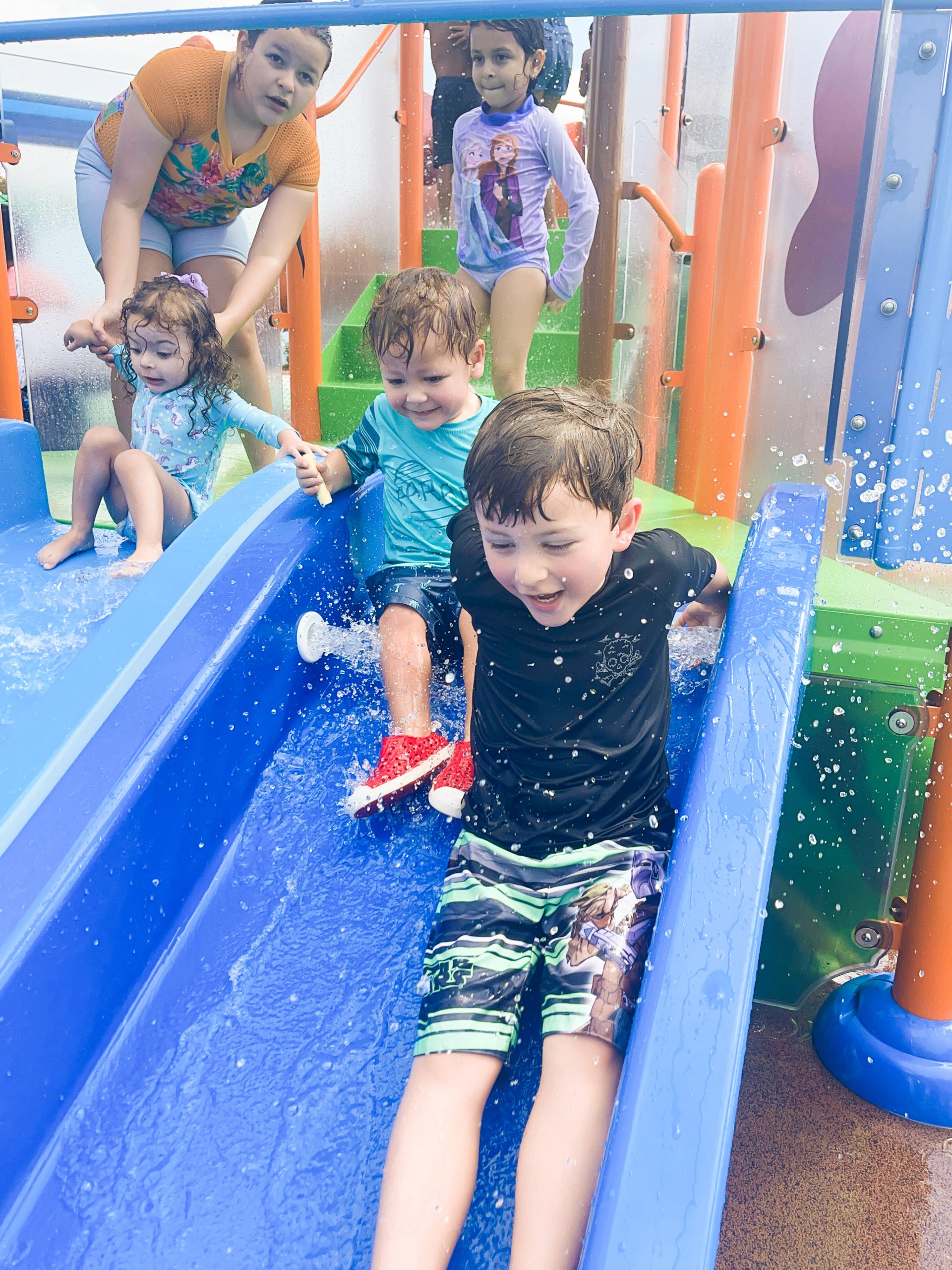 Bring a bathing suit, towels, and a change of clothes for the Muddy Puddles Splash Pad. There are a few stalls where you can change clothes. There is also a big designated changing area for families with several changing tables, so you don't have to wait for your turn when changing diapers. I have not seen a private nursing area for moms, though, nor lockers to put away your stuff while at the splash pad.
Bring lots of snacks and food. There is only one restaurant in the whole park, so expect a very long line around lunchtime. You can buy snacks in the gift shop, but they can be expensive.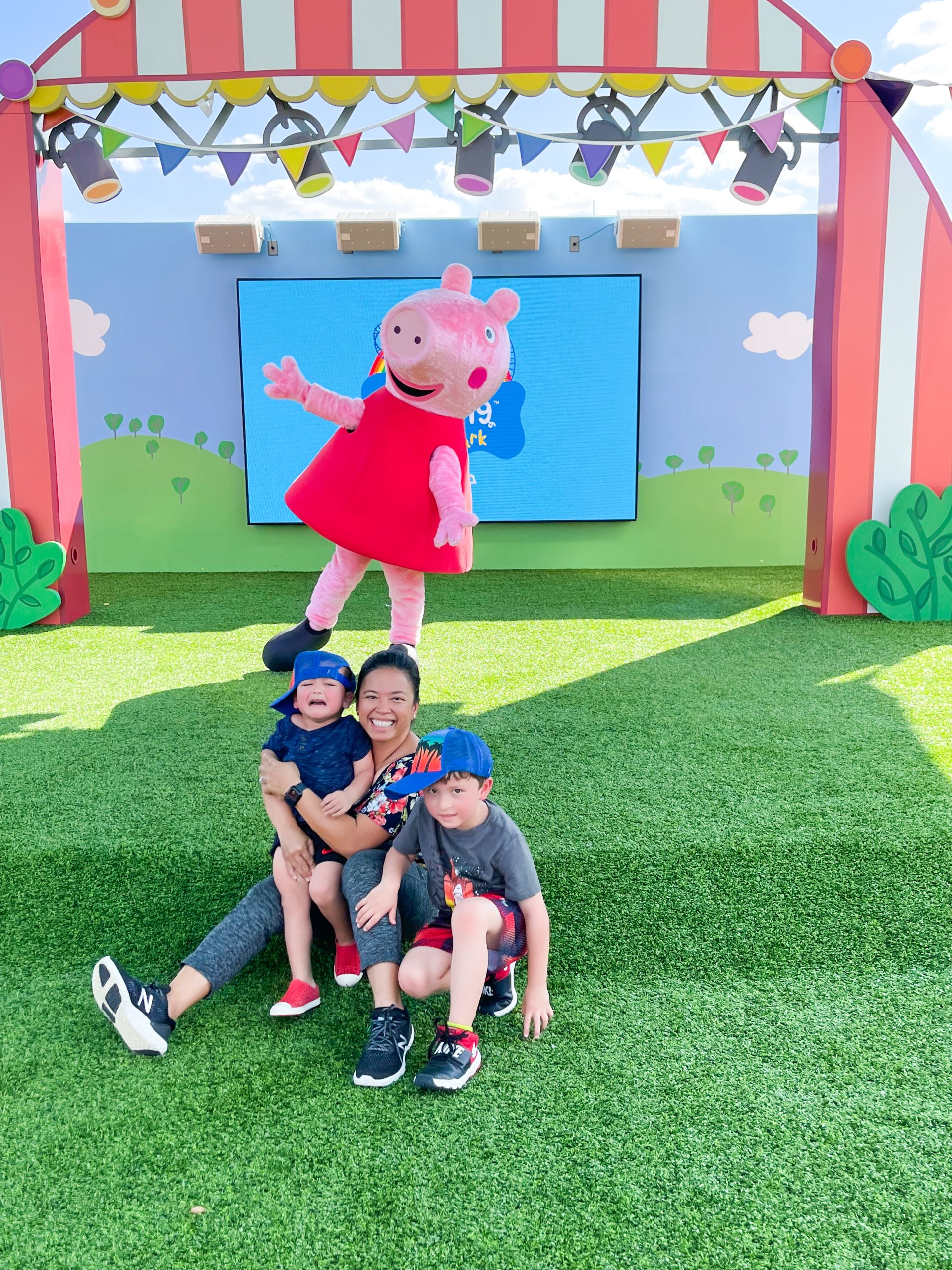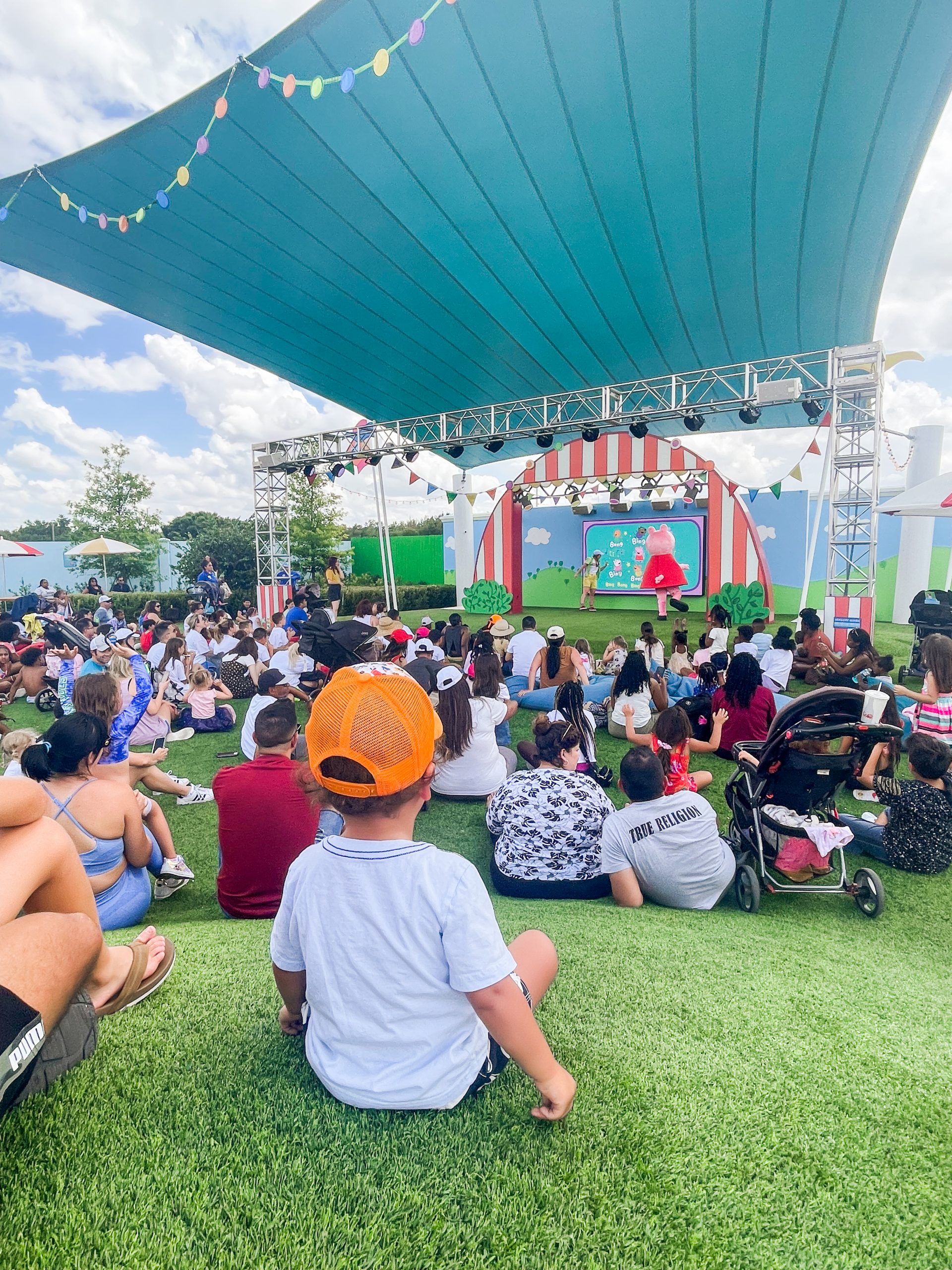 If you have passes for both Peppa Pig Theme Park and LEGOLAND, I highly suggest heading over to LEGOLAND and eating over there. You'll have more food options and fewer people in line! There is also Mr. Potato's Snack Cart near where the Peppa Pig live show takes place. The line can be long, as well, so just be prepared. Get your food and have a little picnic with your family on the benches, or head over to the arena area and enjoy the big comfy bean bags under the shade.
If you can, go there on a weekday to avoid the crowd and have a better chance of meeting the characters. The kids are out of school for the summer break, so it may be busier on the weekdays but surely not as crowded as on the weekends. We went there on a Thursday, and the place was empty, besides a few school field trips going on. There was barely any line for the rides, and one time the employee at Daddy Pig's Roller Coaster asked us if we wanted to ride it again before getting off the roller coaster since there wasn't a line. Of course, we said YES! Going on a weekday is also probably best if your kids have their hearts set on meeting Peppa and interacting with her and Brother George or with Daddy Pig. The line for the meet-and-greet at Mr. Potato's Showtime Arena after the live show can be very long, and there is a limited shade. You better get in line fast because they do cut off the line eventually.
Be sure to get the Peppa Pig Theme Park app before you head out to the park and see the height requirement for your child to ride by him/herself. If they are too short, then an adult is required to ride with the child. My 6-year-old can ride all the rides by himself, whereas my 2-year-old still needs me to ride with him.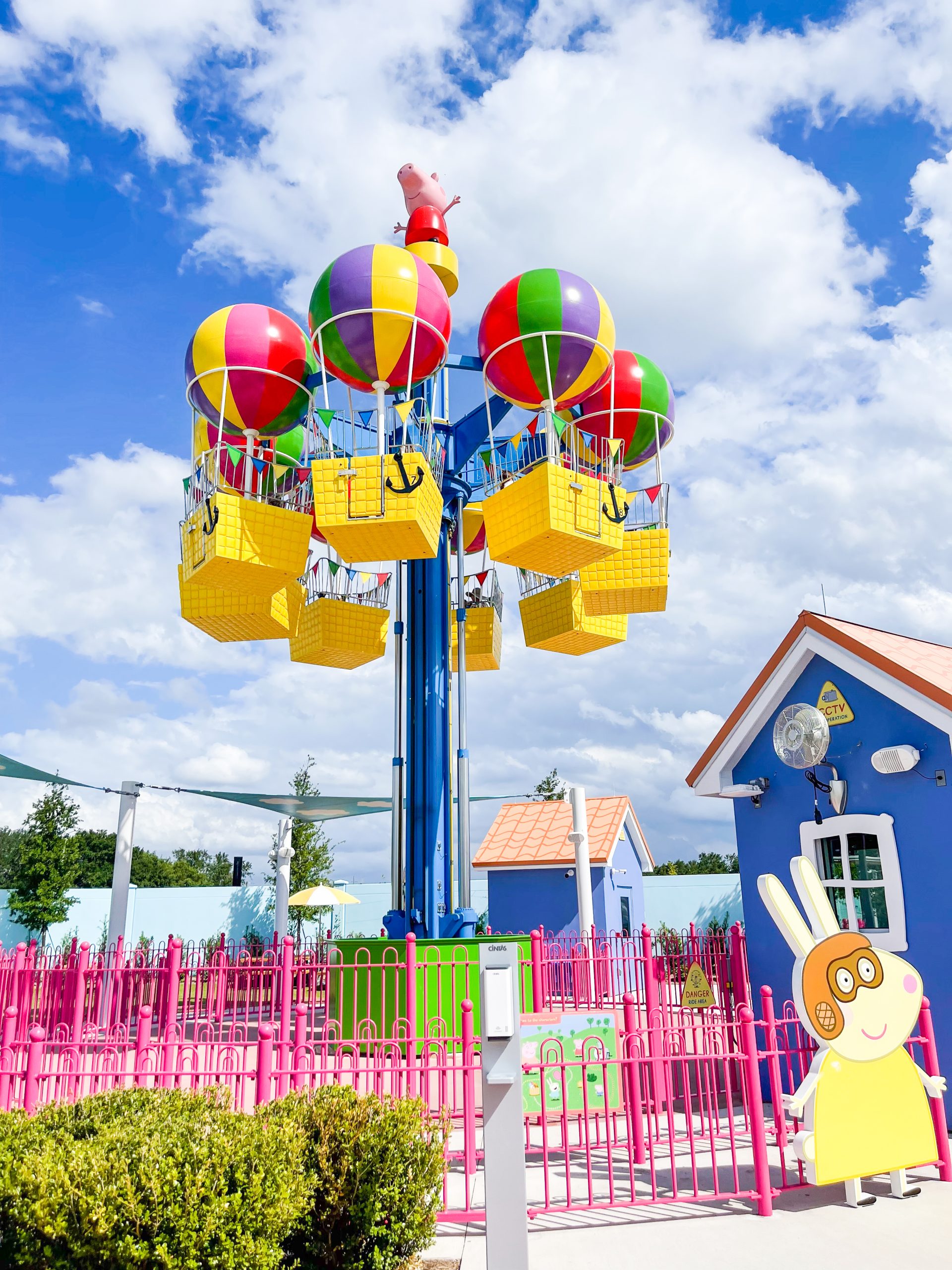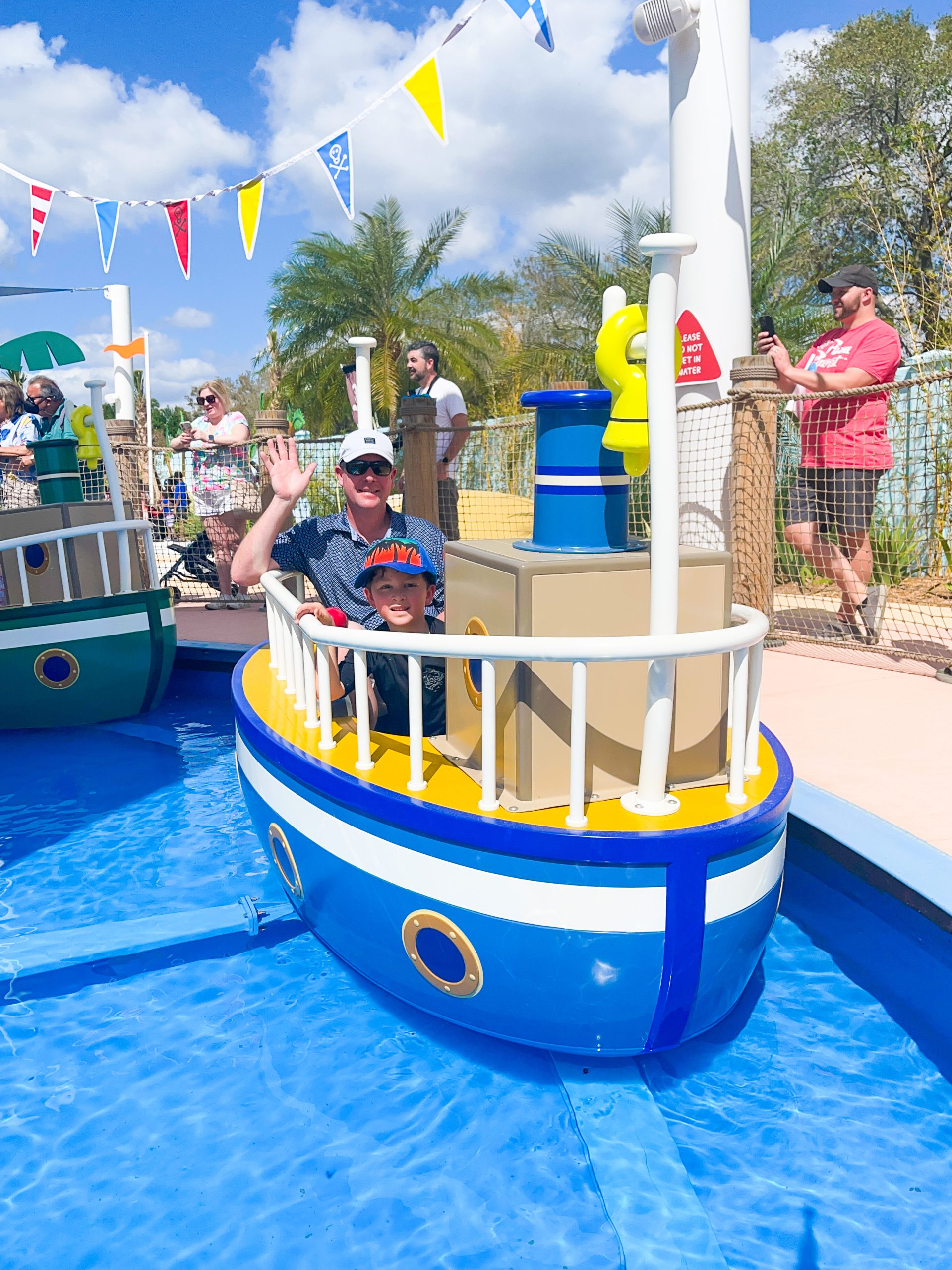 There are five rides total at Peppa Pig Theme Park, and six rides if you include Peppa's Pedal Bike Tour and George's Tricycle Trail. This is where your kids find their own little bikes and ride around in laps. There's a trail for the big kids and another area that's gated and more secure for little toddlers just starting to explore. Parents' supervision is still required!
If anyone in your group has sensory issues, there is a sign with the IBCCES Sensory Impact Ratings posted outside before you line up for the ride. You can view these details on the app also before your trip and determine whether it is appropriate for your child. My kids enjoyed all of the rides, but their favorite one was the Daddy's Pig Roller Coaster. My 2-year-old rode it with no issues. Be sure to smile during the ride and purchase the ride photo before leaving the park. The whole place is picturesque, and you can have a great bird's eye view when riding Peppa Pig's Balloon Ride.
A fast pass would be great during the weekends, so you and your family are not waiting too long in line. I did notice the roller coaster broke down several times every time we visited, so that might be our luck. There is a sandy area that's fun for the kids as an alternate at Pirate Island Sand Play. It has limited shade, but parents can relax there while the kids make sandcastles. Or hang out at the little carnival area near Mr. Bull's High Striker ride. Take a break from the sun by watching some of your favorite Peppa Pig episodes on the big screen at the indoor cinema, which is by the restaurant. The playground area right by the entrance is a nice choice for your little ones to run around also. The slides do get very hot from the sun, so check it first before your toddler slides down.
Be sure to bring sunscreen and sunglasses! The glare from the ground around Peppa Pig Theme Park can be so bright that it is hard to see, especially during midday when the sun is out. The whole park is doable in a few hours, so I highly recommend visiting LEGOLAND also or staying the night at the LEGOLAND Pirate Hotel so you can walk over to your room, have a quick nap, and go back to the Peppa Pig Theme Park when it's not so hot anymore.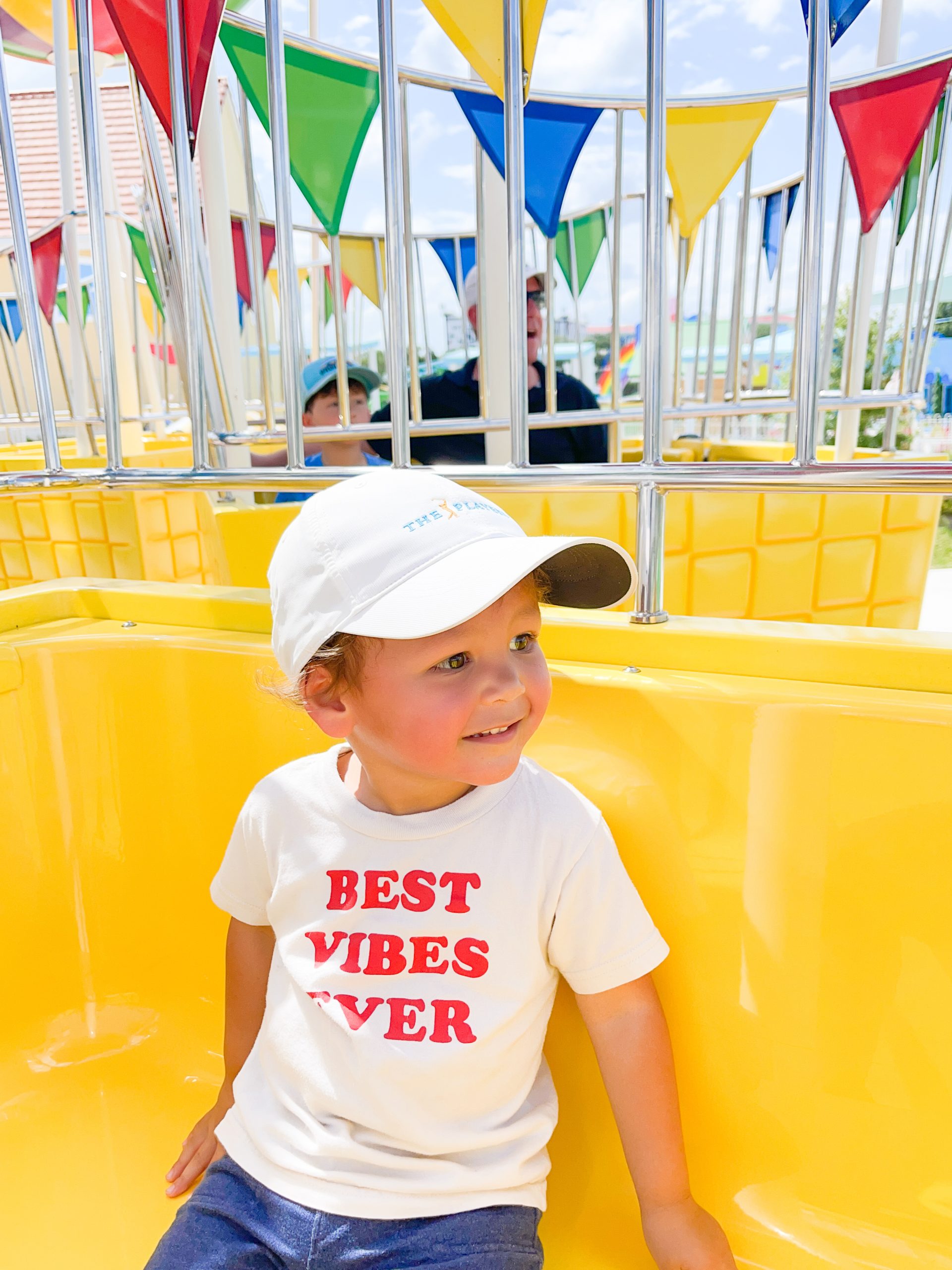 Always check the site or app for hours, but the park is generally open from 9 a.m. to 5 p.m. The annual passes just for the Peppa Pig Theme Park are sold out for the summer, but keep checking the site for updates.
Have a blast, and let me know how your trip goes. Feel free to add anything else in the comment section below!