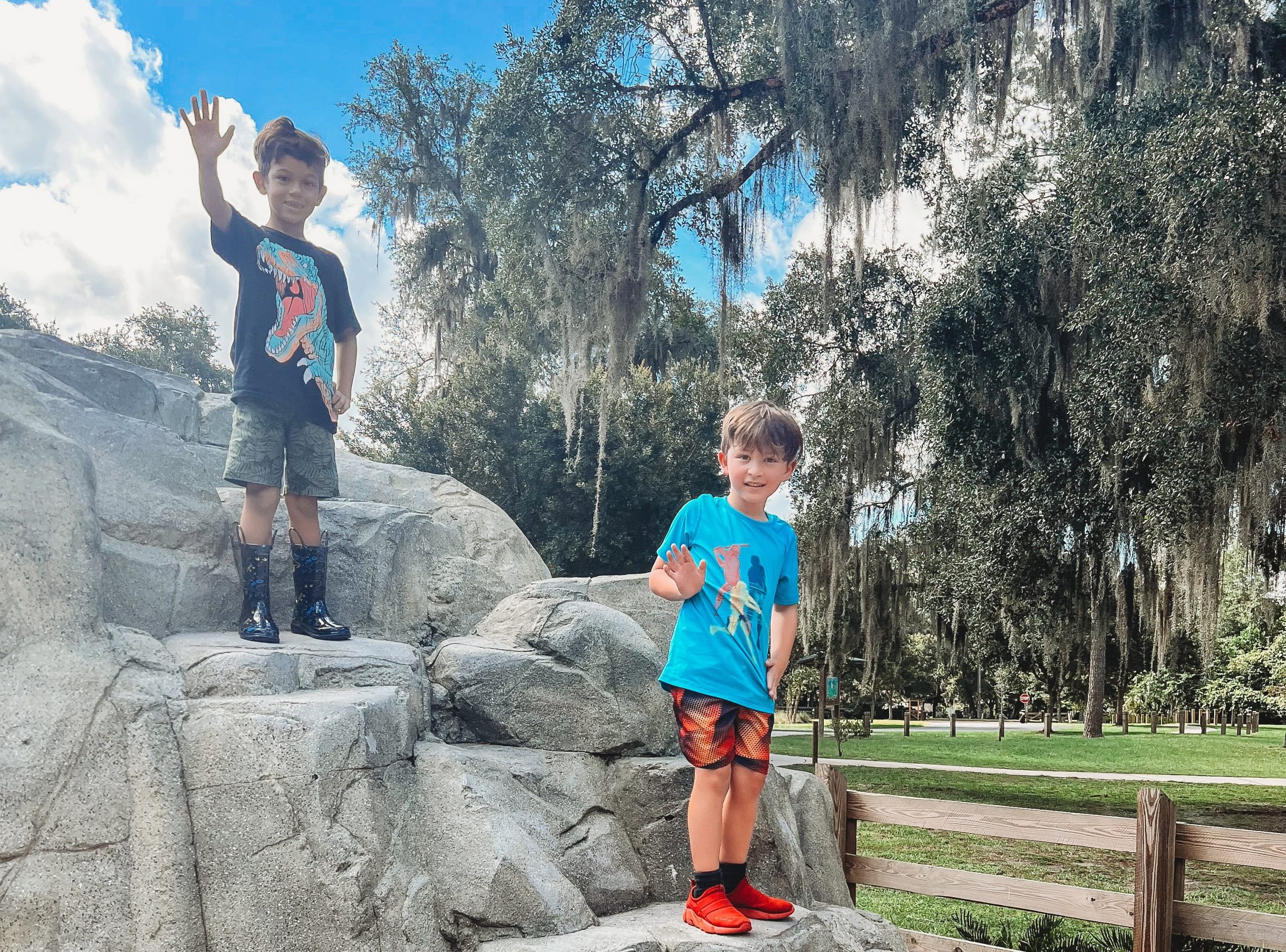 Now that college football is over for the season, what else is there to do in Gainesville without the Gators football games, you may ask. Plenty! Below are some suggestions from our recent day trip to Gainesville (about 90 minutes away!) that don't involve the "Swamp."
Full disclosure: Our most recent trip started out as an adventure to hunt for shark teeth at a local creek gone awry, but we still ended up with a fun-filled day!
Side note: Your first thought might be, "Shark teeth in Gainesville?! Where's the beach?" Well, here's a little Science 101 for you… Florida used to be completely submerged underwater. Over time, these layers of limestone and phosphate began to build up, and viola, hello land of Florida! These layers of phosphate contain fossils from many ocean animals, and creek water slowly eroded the harder sedimentary layers to expose shark teeth fossils. But due to bacteria level and possible health risks, don't go shark teeth hunting in just any public creeks. We weren't permitted to do so at Hogtown Creek Headwaters Nature Park. Better to stick with a knowledgeable group tour that is permitted to hunt for fossils and shark teeth in the area, if you're set on doing this. Look up Mudslinger Tour on Facebook.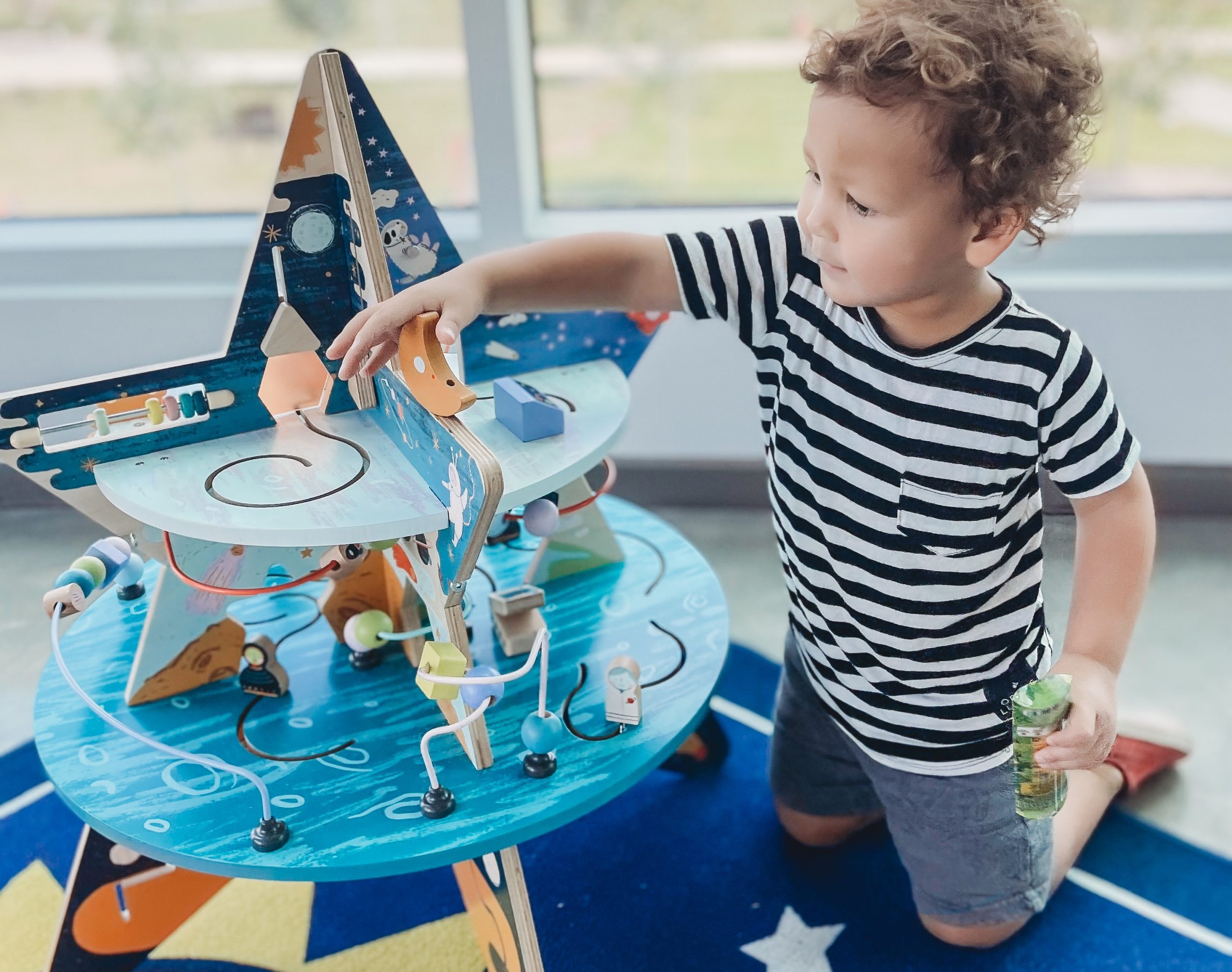 Our Day Trip to Gainesville
So rather than comb the creeks for shark teeth, we trekked to CADE Museum, and boy, that place did not disappoint! It has everything for all ages. Both my 3-year-old and 6-year-old loved all of the interactive activities and getting stamps on their museum passports, complete with prizes at the end. If you have a little inventor, engineer, or scientist, this is the place for them where they can create and let their imagination run wild. My son was intrigued by the 3D printers in the Fab Lab (1st floor). Be sure to head over there first if you want to 3D print something (for a small fee) because it could take up to 45 minutes or more, so it'll be printing while you're touring the rest of the museum. We also enjoyed the Animationland Exhibit (2nd floor). The boys got to make their short stop-motion movie. I think the parents enjoyed it more than they did. My toddler had a great time at the Petty Family Gallery (also 2nd floor), which has a space theme.
After spending a couple of hours at CADE Museum, everyone got hungry so we headed outside and walked towards The Depot Station and ate yummy burgers at Goldie's Burgers — they were so good! You'll find a general store and a beer and wine garden there, also.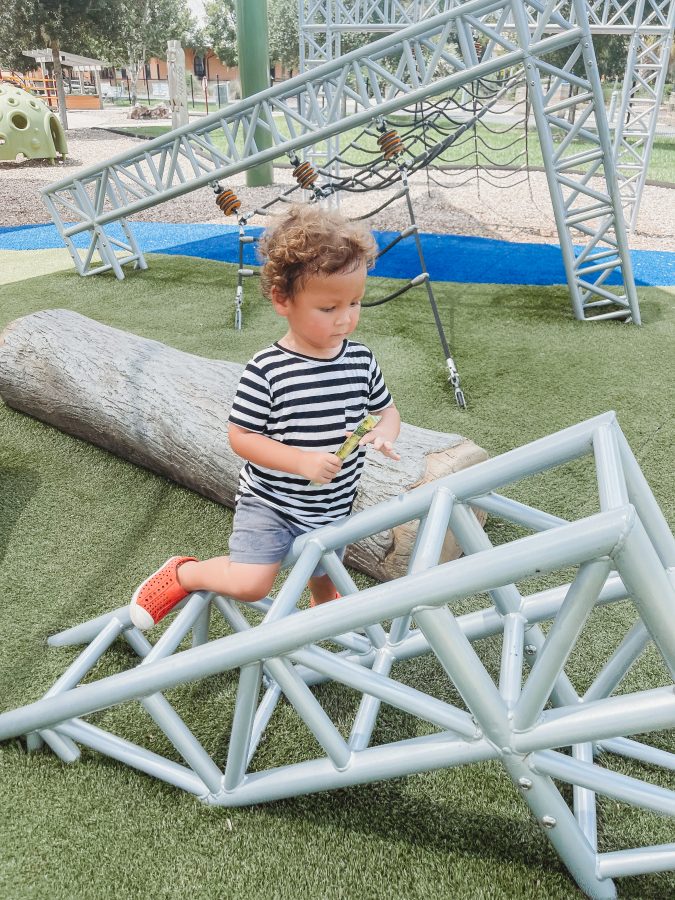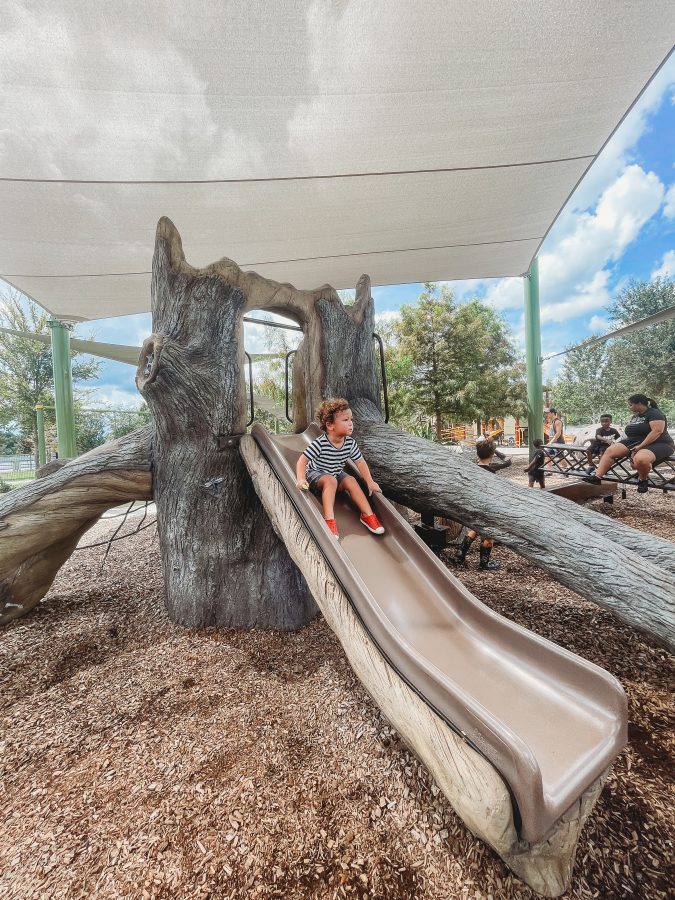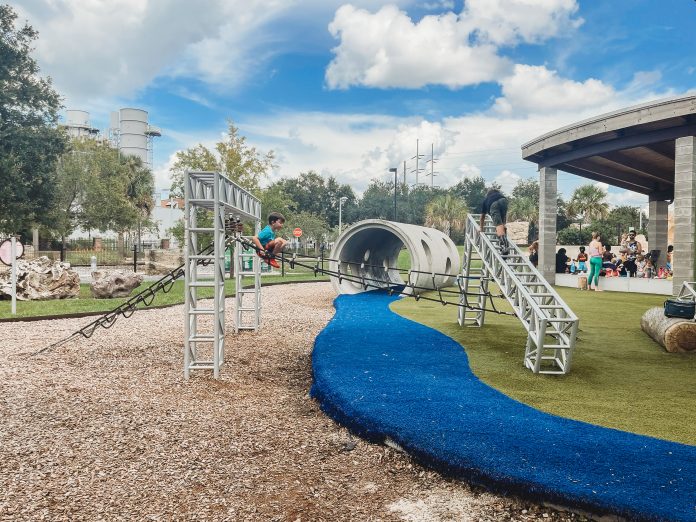 Then have the kids cool off at the splash pad in The Depot Park, which is right next to The Depot Station. We didn't bring their swimming suits, so they just played in the big playground which is fenced-in. Plenty of space and things for them to play with, and there's a nice shaded area by the sand pit where parents can just sit and take a break for a moment. Can't wait to go back there and maybe catch an outdoor event or music festival at the big lawn area. There was just a huge New Year's Eve party with a fireworks display at an early time for the little ones to watch and enjoy.
Overall what turned out to be a bust for our shark-teeth fossil hunting became a fun-filled day full of exploring and creating!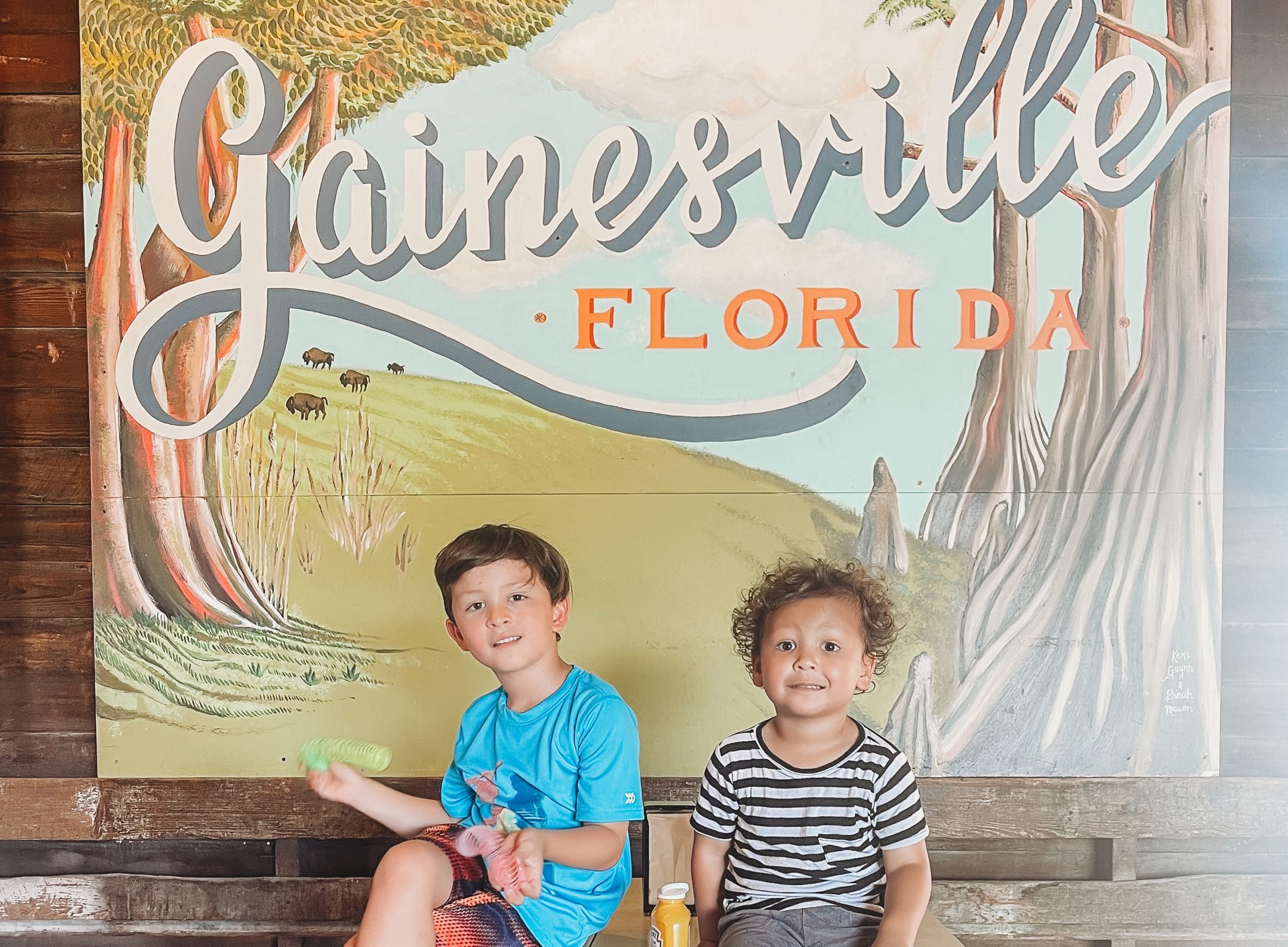 More Gainesville Day Trip Ideas
If you're planning a trip to Gainesville, these are the places we've visited in the past that could be fun for a day-trip adventure, also:
Carson Springs Wildlife Conservation Foundation: it's not like the zoo. I feel like you get more of a personal experience here when viewing the exotic animals who have been rescued. We got to feed and pet the world's oldest Indian rhinoceros named Henry!
Tip: They are not always open to the public so be sure to check online and pre-book a tour to visit before heading that way.
Paynes Prairie Preserve State Park: Just few miles outside Gainesville is this unique Florda State Park where you can get lucky and see wild-roaming bison and horses. We love camping and hiking here, and sadly, we didn't see any bison. One thing you'll find for sure is several alligators basking in the sun!
Tip: If you go in the summer, especially in June, you might just catch the American Lotus a.k.a. "yellow flower" blooming across the prairie.
The Bat Houses at the University of Florida campus: There is no charge to visit the bat houses, but I've been told to get there early since the place gets crowded.
Tip: The best time to watch the bats is right at dusk (15- to 20-minute period after sunset) and when the temperature outside is above 65 degrees F). So an overnight stay in Gainesville might just be fun to have, also!
Florida Museum of Natural History: Open year-round except on holidays and general admission is free. There is a cover charge for special exhibits (they currently have the Spider Alive! which is perfect for kids to check out different spiders from all over the world and see tarantulas and black widows up close) and the Butterfly Rainforest ($14 adult, $7 child). My boys enjoyed pointing out different butterflies and exotic birds as we were walking around inside the lush tropical garden! Be sure not to touch them, and don't miss the koi pond!
Tip: The butterflies are more active during warmer weather. No refunds for inclement weather, but they do have a live web cam for you to check before purchasing admission tickets. There is also $4 parking Monday through Friday, but free on weekends. 
Kanapaha Botanical Gardens: Four words: giant water lily pads! Google it, and you'll want to visit this place also. The best time to see this beauty is when it's blazing hot outside like in July.
Swallowtail Farm: A community-supported farm with fun events such as farm-to-table dining that is open to the public. This totally gives me the Congaree & Penn vibe but in Gainesville.
Devil's Millhopper Geological State Park: Walk down the long staircase to view this 500-foot-wide, 120-foot-deep sinkhole. No swimming is allowed. Just enjoy the hiking trail and mini waterfall as the temperature drops near the sinkhole.
Town of Williston: This is just about 30 minutes southwest of Gainesville. The famous sinkhole where you can scuba dive/snorkel, Devil's Den, is located there. If you're a certified scuba diver, head out to the family-friendly Blue Grotto Dive Resort. They have cabins, cottages, tent camping, and RV camping available.
Cedar Lakes Woods and Gardens: Head this way in Williston if you would like to find more waterfalls (even though it's man-made) and a beautiful botanical garden. Be sure to check out their website for scheduled events, and you might just catch an outdoor concert one afternoon.
Kirby Family Farm: Also located in Williston. Besides the petting zoo area, they offer themed-train rides around Halloween, Christmas, and Easter!
Poe Springs Park: About 30 minutes northwest of Gainesville. It's the largest spring in Alachua County and is open year-round. The shallow water makes it kid-friendly. Great place for snorkeling, canoeing, kayaking, and tubing. The park has great hiking trails, also!
Let us know of any other cool spots to check out in Gainesville!