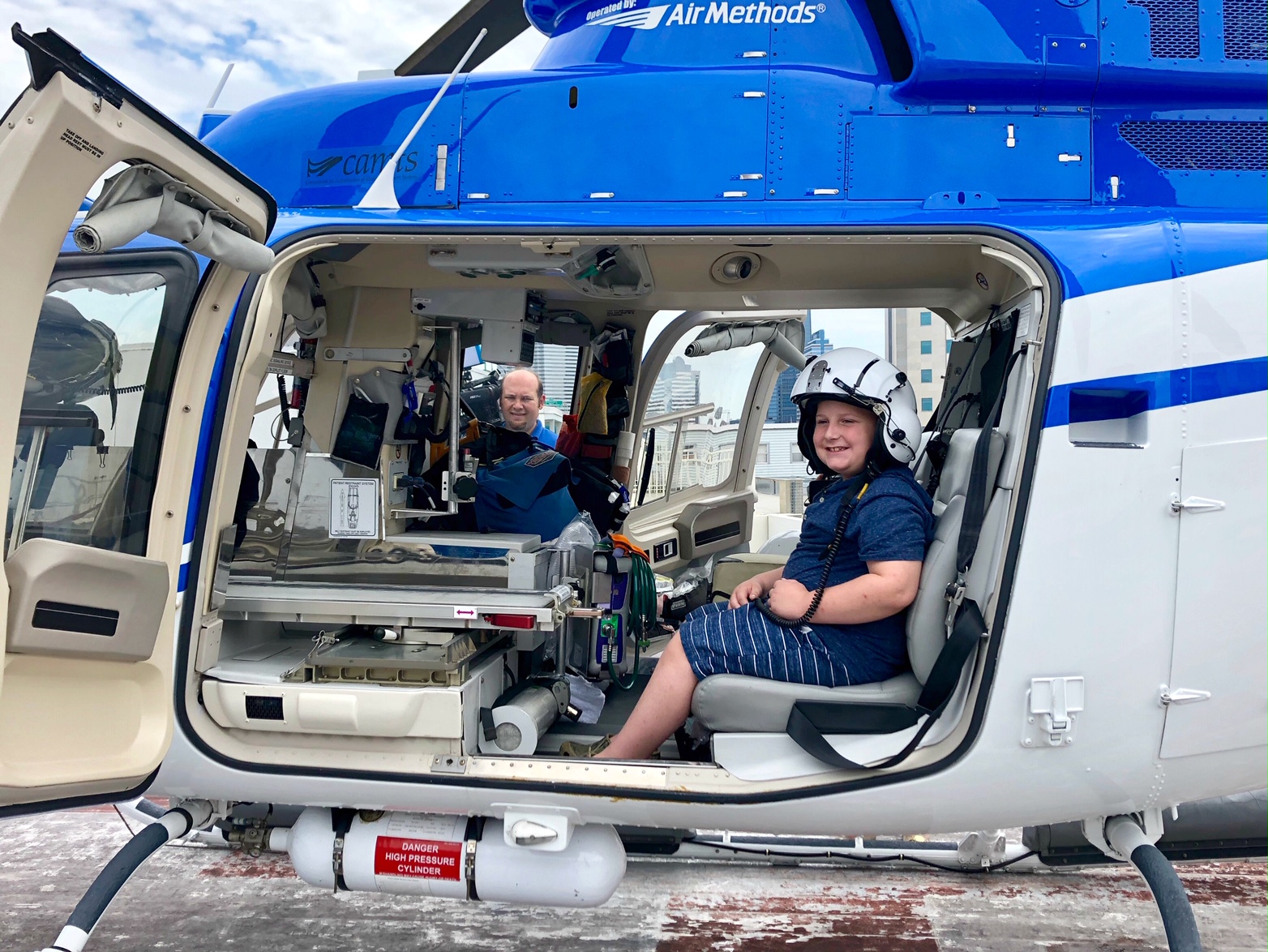 When 7-year-old Cole woke up with a croup-like cough, his mom Donna Johnson wasn't all that worried. After all, her son had experienced croup — an upper airway infection that is often accompanied by a barking cough like Cole had — in the past and cold air had alleviated his symptoms then.
She gave her son some cough medicine and took him outside to get some fresh air to see if that would help, but it didn't. His cough persisted, and when blood appeared at the edges of his mouth she called 911. The ambulance arrived, and paramedics gave him an oxygen treatment.
Cole was transported to South Georgia Medical Center in Valdosta, who intubated him in order to allow him to breathe, and was then transferred to the Pediatric ICU at Wolfson Children's Hospital. The Kids Kare Mobile ICU transport team with Wolfson Children's Hospital was dispatched, flying in on a LifeFlight air ambulance. Cole's parents watched the helicopter until it was out of sight, then drove to Jacksonville.
The physicians at Wolfson Children's found that Cole's tonsils were so swollen that the only thing keeping the boy's trachea open was being intubated. His tonsils were removed and Cole remained intubated and sedated for 24 hours after surgery to be monitored.
Soon, Cole required only nasal oxygen and then was breathing on his own. He was discharged from Wolfson Children's on a Saturday and was back to school that following Thursday. There is no clear-cut reason why Cole's tonsils were so swollen, but his mom knows one thing for sure: "It wasn't his time to go."

The Wolfson Children's Challenge
On Saturday, January 26, 2019, runners from all over Northeast Florida and even from other states will come together to raise money at the Wolfson Children's Challenge. A major fundraiser for Wolfson Children's Hospital, the Challenge is held at The Baseball Grounds of Jacksonville and includes race options for every level of runner. Run the 55K Ultra Marathon alone or with a relay team. There is a 30K Individual Run, and a 1-mile Fun Run, ideal for kids and families.
Even if you're not a runner, you can still be part of the event by becoming a sponsor, making a donation, creating a virtual relay team to help the cause without running, or just attending the event in support.
All proceeds will benefit the Technology Support Endowment at Wolfson Children's. To date, the event has raised nearly $3 million used to purchase life-saving technology for children, such as a 3 Tesla MRI.
Wolfson Children's serves more than 157,000 patients annually. The hospital treats children of all ages from our region, around the U.S. and even from other countries who travel for award-winning care — Wolfson Children's is recognized as a Top Children's Hospital by The Leapfrog Group, and U.S. News & World Report ranks Wolfson Children's among the top 50 hospitals in pediatric neurology and neurosurgery and pediatric cancer.
To register for a run, donate or learn more, visit wolfsonchildrenschallenge.com.