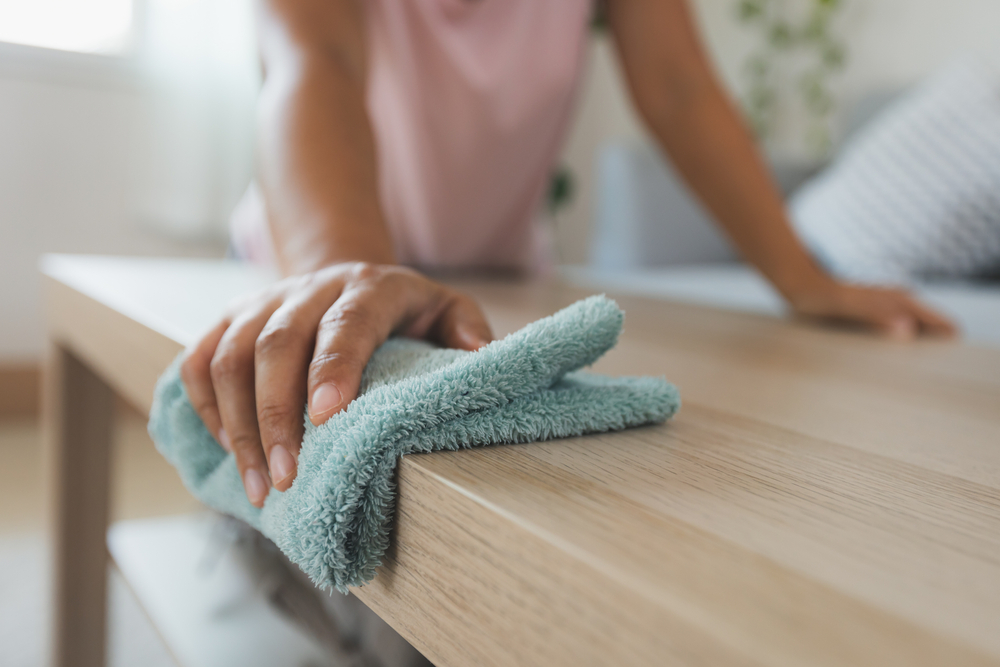 Being a working mom is hard. Trying to balance motherhood, housework, a career, and family bonding time doesn't come easy. There's always something, or someone, that needs your attention. I've been working remotely for nearly two years thanks to the pandemic, and I just knew that being home daily would help me stay on top of the chores. I mean, it would be so easy to wipe down the counters in between Zoom meetings or get loads of laundry done while working on projects. Or so I thought. Add in juggling an infant's needs simultaneously, and housework oftentimes gets placed on the backburner, which causes an unnecessary added layer of stress. 
I remember the moment when I told my husband that we needed to hire a cleaning service. Having an infant at home definitely helps you notice all the extra dust piling up under the sofa or the crumbs collecting on the countertops. The 15–20 minute-a-day cleaning schedule I tried to implement after becoming a mom of two wasn't quite getting the job done. The more I did, the more needed to be done, and I couldn't seem to keep up. 
There's only so much time in a day, and I can't do it all. My dear husband was a big help, but it came to the point where we often had to choose between cleaning the house and actively spending time together as a family. It wasn't fair to the kids, or myself, so we knew that something had to give. Below are five reasons why we decided it was time to share the load.
To Reclaim My Time
Time is so precious and is one thing we'll never get back. When I'm not working, handling mom duties, or traveling back and forth to extracurricular activities, I would spend the majority of my time cleaning. I rarely had free time. I'm more than a mom and a housekeeper though. I have valuable passions and interests that were being ignored. It got to the point where I had to choose between having a clean home or devoting that time to a hobby. Now instead of spending the nights and weekends cleaning, I can read a new book, binge watch a Netflix series, or enjoy a family day out or in without thinking about a toilet that needs to be scrubbed. 
So I Can Enjoy a Clean Home
Nothing feels better than having a clean home. It's even better to enjoy clean spaces when you didn't have to spend hours doing so. I can take a shower without thinking about cleaning the grout. We can spend hours on the floor without worrying about the baby spotting something and instantly putting it in his mouth. I can even open the blinds to let in natural light without my finger leaving dust prints. Having a clean home is a happy home.
Professionals Do a Better Job
No matter how well I clean my house, I'm not a professional. Professionals tend to have loads of experience, and they know how to effectively and efficiently clean spaces the best. They also know the best products to use for deep cleaning and are knowledgeable on the precautions of using a variety of cleaning equipment. Delegating cleaning to a professional gives me peace of mind that no surface will be missed.
To Help Us Save Money
I know you're probably thinking, "How does spending money help you save money?" Properly cleaning and taking care of large appliances and furniture helps increase their lifespan. If they are neglected and/or not cleaned properly, it may result in spending extra money on having those items repaired or replaced sooner than it would have if I had simply taken care of them. 
To Remain Stress-Free
I don't know about you, but mess stresses me out. I can't think clearly nor can I focus on anything when everything is in a disarray. Outsourcing cleaning gave me the opportunity to be happier, think clearer, and breathe easier. I no longer get frustrated at the mess and take it out on my spouse or kids. I also find myself saying "No" to the kids less often. Being in a better mental state allows for more freedom for the entire family. 
If you've been thinking about hiring a cleaning service, it's worth it. Call around to get a free estimate. You set the frequency of the clean, and you will determine how often or how little you need them to come in. Take a look at your budget and see if it'll work financially for your family. You may realize that you'd be interested in giving up something to have the peace of walking into a spotless home. That feeling is indeed priceless.