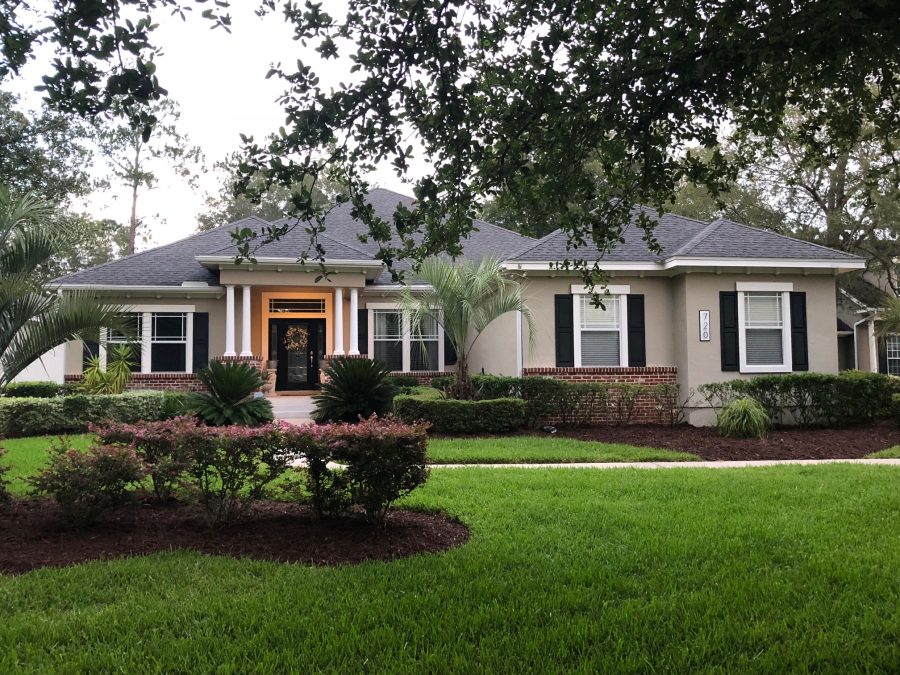 As an interior designer — and person of questionable sanity — who has moved seven times over the last eight years, I thought I knew all there was to know about how to choose a home and floor plan that would best fit our family. I'm a professional, right? This is what I do, right? When I got pregnant with our second daughter, my mother was living with us, and despite having only been in our home for eight months, it was time for more space. So house hunting we went.
We loved our neighborhood, so our search area was small. We were cruising around one day and saw a sign for a house that had been on the market for quite a while. I'd looked at the pictures online, decided I didn't like it, and didn't think about it again. That is, until we drove by and saw the open house sign. "What the hell," we thought.
I hate to be dramatic (not really), but the second we opened the front door I had a pretty good idea this was our next house. Soaring ceilings, beautiful natural light, and a view out onto the biggest backyard in the neighborhood all spoke to my design-loving heart. It even had a bonus room. Wow. By the time we toured the kitchen and the majority of the house, I was pretty much sold. And then it happened. We went into the back bedrooms, and lo' and behold there was a Jack and Jill bathroom, which to me equated to the epitome of a "family friendly" home. SOLD.
Cut to a year and a half later.
High ceilings? Love them. Bonus room? Perfection. Huge yard? Incredible. Jack and Jill bath? The bane of my existence.
You see, as it turns out, when you have children who are 1 and 3 years old, the very last thing that you want is for their rooms to be connected. The 1-year-old goes to sleep before the 3-year-old, but guess what? Once the 1-year-old is asleep, having a bathroom attached to her room where the 3-year-old needs to brush her teeth isn't ideal. Surprisingly, wrestling a toddler to wash her hands, put on her PJs, and brush the tangled, sticky mess that is her hair is not the quietest of processes.
For this reason, the 3-year-old must get ready for bed in our bathroom. Which means cotton-candy flavored toothpaste all over my counter and soap crayon drawings all over my bathtub.
In addition to the complete uselessness of the Jack and Jill bathroom that I just HAD to have, this layout also means that their rooms are obviously insanely close. As it turns out, children at this age do not quietly slumber all night, every night. I know. Shocking, isn't it? As if having to get up 40,000 times a night to pick up a paci, change a diaper, make a potty trip, or fight a monster isn't exhausting enough, because their rooms are separated by essentially nothing, when one wakes up and cries, the other does, too. This means that you have to work miracles to get two babies back to sleep instead of just one.
This also means that "cry it out" is a thing that only works in books and the land of Ferber, because if you don't want double the trouble, the instant that one of them cries, your butt better be sprinting to the other side of the house to quiet them down before the other one is up in your grill talking about needing a snack at 3 a.m.
We don't plan on moving again anytime soon, so the options are to either continue on as we have been, or for me to move out. Just kidding! The alternative option is to move the baby's room to the guest room, though we probably won't do that since I'm holding out hope that this layout will make sense the way that it did in my head when they get a little bit older.
Until then, you can find me staring at two baby monitors, waiting for a peep, and sprinting across the house to keep it to one kid awake and not two. Or maybe you can find me in that bonus room that I love so much… monitors off, sleeping like a baby and dreaming of the day when the Jack and Jill bath is less about a disrupted sleep schedule and a tub full of rubber duckies, and more about preteen princesses fighting amongst themselves over counter space and who gets to shower first.
*climbing stairs* Sweet dreams, my friends.