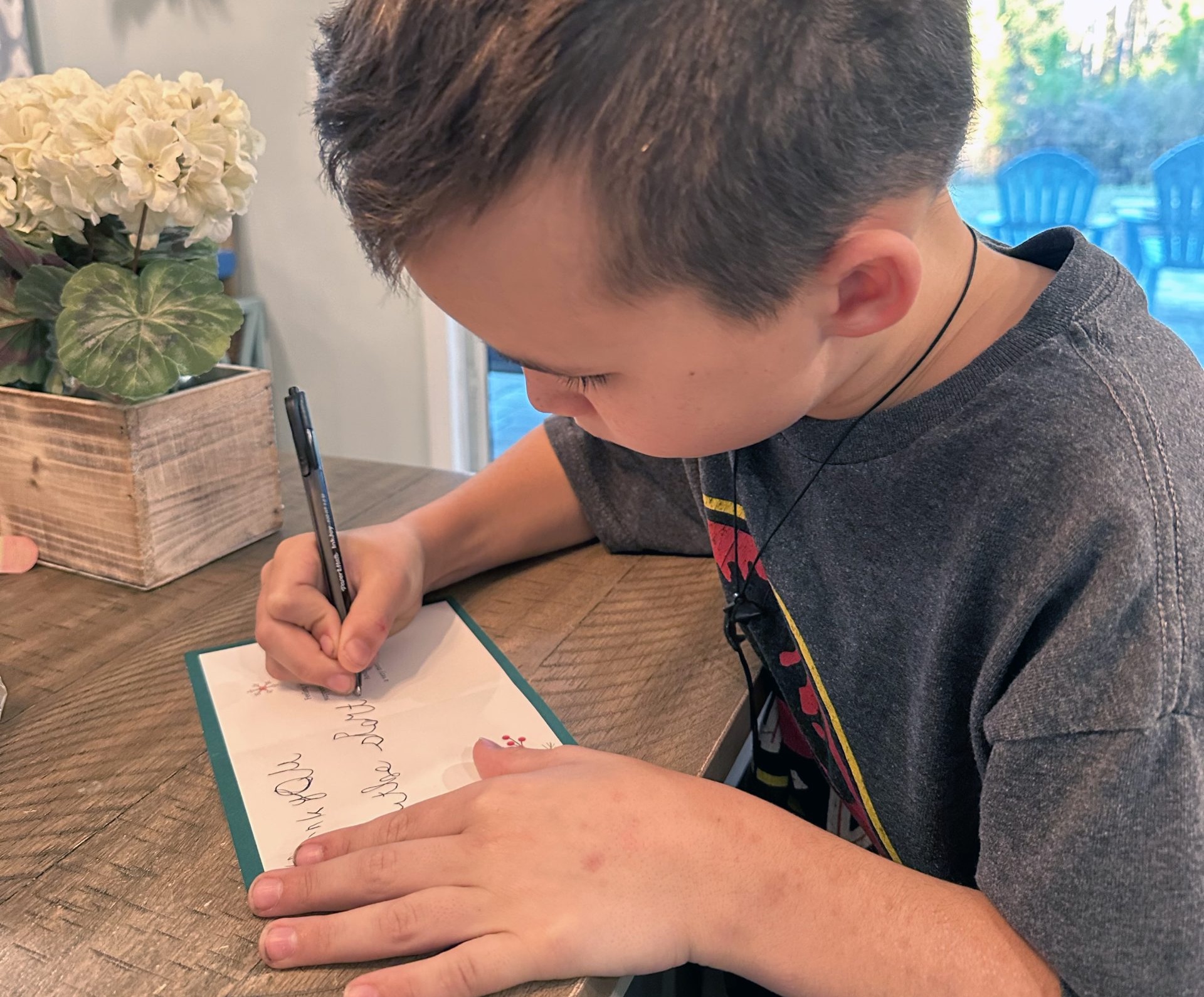 In the age of digital, the art of a handwritten thank you note has completely been lost on some. Personally, I refuse to let it die. I was raised by parents who felt manners were of the utmost importance, including sending a quick note of thanks for a gift or other important occasions. I still remember handwriting thank you notes for my high school graduation, bridal shower, wedding, and baby shower. It's a small gesture that can go a long way to make the gift giver feel appreciated. If you're like me and want to keep this tradition alive, I'm going to walk you through some key life moments when you'll want to make sure to send a thank you note, the etiquette surrounding it, and also how to get the kids involved.
Life Events and Holidays
If you're fortunate enough to have friends and family who support you and shower you with gifts during big life events, then you are fortunate enough to write them and say thanks! I'm talking weddings, bridal and baby showers, graduations, and birthday parties. Once my boys were old enough to write, I had them write thank you notes to all their birthday party attendees. I would make it fun and let them pick out the cards, which may match the party theme or may not (my OCD had to let it go sometimes). But getting them involved was key.
It's not as commonly practiced, but I also have them write thank you notes to the family for Christmas gifts, especially for those who are long-distance. It's also a great excuse to send notes or drawings to them anyway. My parents are so great about sending cards to their grandkids for each holiday with $1 for each kid. Growing up, it was something my Grandma, who lived about six hours from us, always did with us when we were kids, and it's so special to me that they carry this on. I truly think snail mail is so fun to receive, and my kids agree!
Job Interview
I graduated from college in 2008. I was fortunate enough to have a dad that worked in sales and was great at connecting with people and maintaining those relationships. He taught me something invaluable at a very young age. He connected me with a friend of his who was also in sales, life insurance sales to be exact. Before you roll your eyes, keep in mind he wasn't recruiting me! But instead, he was teaching me some of the tactics he used to grow his client base, and I in turn used it to network and begin searching for full-time employment. I reached out to several peers and fellow college graduates, my friends' parents, neighbors, church friends — you name it — and simply let them know I had just graduated and what sort of position I was searching for and to please keep me in my mind. Several of them sent me to HR people within a company they used to work for or had a friend work at, that may be a good fit. After every phone call, and I do mean EVERY, I sent a handwritten thank you note, thanking them for taking the time to think about how they might be able to help me and for keeping me in mind in the future. It was such a simple gesture, but in the end, it landed me my first position in marketing. The connection was a neighbor's friend who worked there. I, of course, still had to be qualified, interview, and earn a position there, but the networking paid off. Connections are key, but the catalyst, I believe, was the handwritten thank you.
Importance and Timing
How soon is too soon to send a thank you card? The sooner the better. A quick search would say a few weeks and up to a month following your shower or wedding is socially acceptable. But believe it or not, I have attended both types of events for others, gifted them, and have not received a thank you note. Perhaps I am old school, but it's hard not to be offended. Gratitude unspoken (or unwritten) is ingratitude. Sure a quick text, email, verbal thank you in person, or even a phone call to Grandma is fine, but how many texts and emails do you have to sift through? A handwritten thank you note goes above and beyond and is a personal touch that shows you took time out of your day to write and send them. Just like they took the time to pick out a gift and perhaps even fly across the country to attend your nuptials.
In the same way, after a job interview, your thank you email or LinkedIn message could easily be missed in a sea of other e-messages. But how much could a handwritten letter help you stand out from a crowd of applicants? You'll never know until you try. Another trick I once heard is to pre-write the interview thank you note and get it in the mail before or right after leaving the interview. This may not be for everyone because you may want to add in some things that came up in the actual interview, but if you could keep it generic it could work, too. It gets across the point of how important a quick post-interview follow-up could be for your candidacy.
Get the Kids Involved!
Imagine for a minute that you are 9 years old, and it's Christmas morning. That joy and elation you feel when you first see the presents under the tree and tear open your first gift. If it's exactly what you asked for and what you always wanted, even better. As parents, we can capitalize on that feeling and write holiday thank notes with our kiddos. We can remind them how important and loved they felt when they opened that gift from Grandma and Grandpa, whether they were there in the room at the time or mailed the gift from afar. It's the same feeling the recipient of the thank you note will get when they receive it from you. For they put thought, time, effort, and finances into choosing the perfect gift for you. The time it takes to write, address, stamp, and mail a note is far less, and it's just a small gesture that shows you appreciate their gift and took the time to make sure they knew you did. And if that fails, you can always threaten to take away said gifts or use positive reinforcement like allowance, depending on your parenting style. By truly showing our kiddos through example and not just talk (writing our own thank you notes, too), we hope and pray it will instill in them some of the values we teach them and that they will continue them on later in life. After all, that's the ultimate goal, right?
As I get older, I understand and am grateful for many of the things my parents taught me that stuck. And I hope to pass along some of the same traditions, like thank you notes, and that these traditions transcend the test of time and technology.