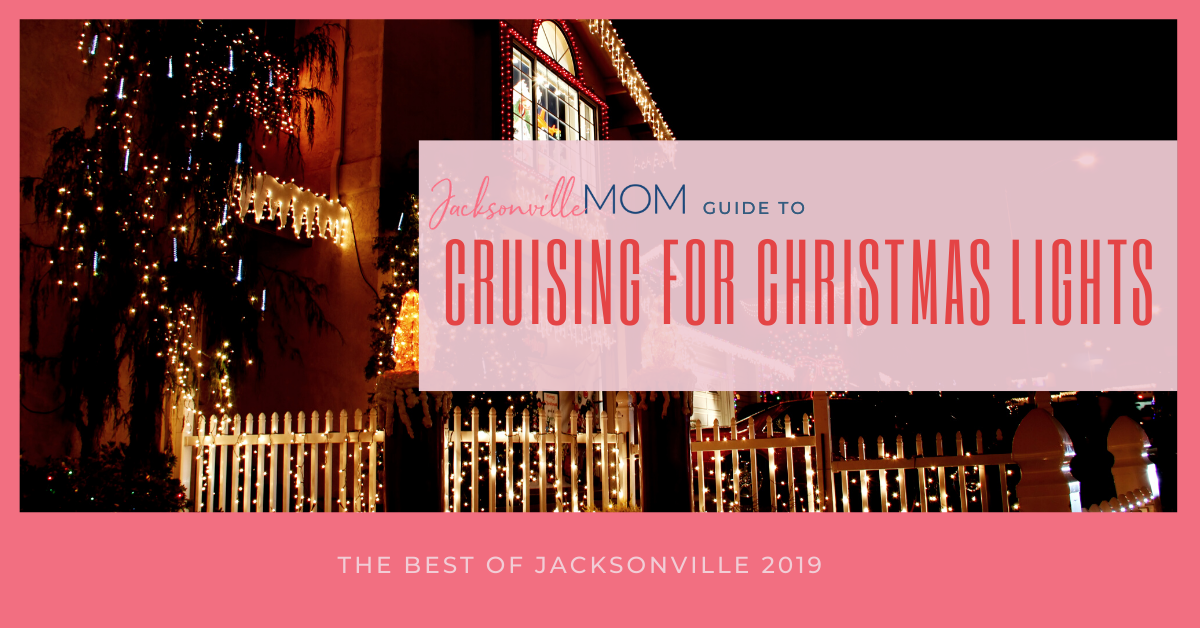 One of our favorite holiday traditions is cruising around checking out the Christmas lights. We go with our good friends, wear our fun glasses that make the lights look like snowmen, Santa, and snowflakes, and rock out to a mix of our favorite Christmas songs. It is quite an event that kids always look forward to!
Christmas Lights Around Jacksonville
If you know of additional light displays, please share the address and a description in the comment section.


Deck the Chairs
Deck the Chairs takes place in Jacksonville Beach and features lifeguard chairs decorated with various themes. This is a FREE event.
Jax Illuminations
Jax Illuminations, located at the Morocco Shrine Center, sends you driving through almost a mile of 500,000 lights twinkling to holiday music you tune into on your radio. See website for ticket prices.
Jacksonville ZOOLights
Join Jacksonville Zoo & Gardens for their Annual ZOOLights and watch as thousands of LED lights transform the zoo into a luminous winter wonderland filled with moving sculptures, forests of lighted trees and animal silhouettes. See website for pricing.
Stephen Foster Folk Culture Center State Park
Stephen Foster Folk Culture Center State Park hosts their annual Festival of Lights, a holiday celebration features more than five million lights. Named a Top 20 Event in the Southeastern United States, visitors can enjoy award-winning holiday sights and sounds throughout the park. See website for pricing.
Downtown Dazzle Synchronized Light Display
Downtown Dazzle Synchronized Light Display showcases the downtown offices of the Jax Children's Chorus that will be illuminated with a holiday light display synchronized to recorded songs of the season. This is a FREE event.
Blackhawk Bluff Subdivision
Located at Girvin Road off of Atlantic Blvd, the Blackhawk Bluff subdivision has become famous for some of the best lights in Jacksonville. Ride through the streets and enjoy the beautiful lights and displays throughout the neighborhood. This is a FREE neighborhood drive-thru.
Christmas on Crystal Springs
Christmas on Crystal Springs is a one-house show with several hundred thousand choreographed lights set to music. This is a FREE viewing.
Atlantic Beach Christmas
Atlantic Beach Christmas is located in the Ocean Walk neighborhood. Amazing show of two houses on a cul-de-sac. Over, 40,000 lights set to holiday music. Park at the top of the cul-de-sac and walk down. This is a FREE neighborhood drive-thru.
Arbor Glade Subdivision
Arbor Glade Subdivision off of Old St. Augustine Road between 95 and 295 is another great neighborhood you can drive through and see lots of houses with lights and decorations. This is a FREE neighborhood drive-thru.
WizLights in Orange Park
Check out WizLights! 1252 Tumbleweed Dr., [South] Orange Park, in the Tanglewood subdivision, off Blanding. Over 20,000 LEDs, Lasers, Disco Balls, and lots of other special effects all set to music. 6-10 PM Thanksgiving through New Years'.
Reader Submitted:
Loretto Rd between Old St Augustine and San Jose Blvd.
4568 Royal Port Drive. Lights on 6:00pm -9:30pm Sunday through Thursday, 6:00pm – 10:00pm Friday and Saturday. Over 16,000 lights set to music!A 30-minute show featuring 11 songs!
Ocean Pond Ct (behind Baptist Beaches Hospital) Jax Beach.
3 Bonita Drive Ponte Vedra in Dolphin Cove. Every night from 6pm-1030ish pm. Bring your Santa letters to put in our North Pole mailbox. My husband and I spend hours to make this magical.
---