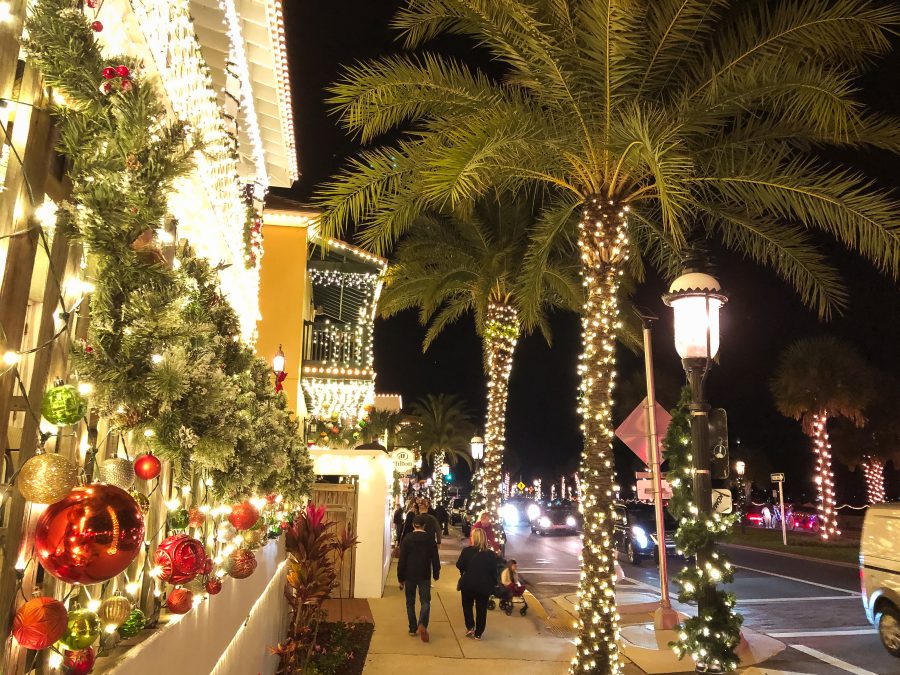 We all know date night is very important to keep the magic in a relationship going. It gives you a chance to laugh together, eat food without being interrupted 800 times ("Mommy, come wipe me!") and discuss anything more pertinent, like Christmas budgets or schedules. However, my husband and I decided to forgo the usual dinner and a movie to shake things up. We ventured to St. Augustine to dine at a unique restaurant and to stroll the cobblestone streets adorned with twinkling white lights for the Nights of Lights holiday event.
Dinner at Ice Plant
Ice Plant was originally built in 1927 and is an 18-table warehouse-style bar and restaurant focused on creating locally made and designed drinks and farm-to-table healthy bites. It has a '20s style theme that includes waiters wearing suspenders who serve specially shaped ice (six different types that are carved daily from 300-pound blocks of slow frozen filtered water) that perfectly complement the type of drink you order.

Here's what you need to know about Ice Plant:
They do not take reservations or call ahead.
They cannot seat parties larger than 6 per table.
The Ice Plant shares its home with the St. Augustine Distillery, located in the same building.
There are two bars, and you can order the full menu at the bar (this may be a good option if you arrive and there is a wait).
Dinner is served daily 5 p.m.–10 p.m.; lunch is served Monday–Friday 11:30 a.m.–2:30 p.m; Saturday and Sunday brunch is served 10 a.m.–2 p.m.; happy-hour cocktails are served 2:30 p.m.–5 p.m. Monday–Friday and 10 p.m.–close Monday through Thursday.
Small bites are also served between mealtimes.
Take note — there is ample parking at Ice Plant.
Dinner time! There is a big emphasis on local, healthy, farm-to-table food at Ice Plant. We kicked off our meal with the local shrimp and okra beignets, which were delish and included a couple of fun dipping sauces. For my entrée, I ordered the half-pound Ice Plant burger made from Florida, grass-fed beef. (I added avocado to it for $3, which I'd highly recommend.) The French fries were also excellent — crispy on the outside, soft on the inside, and seasoned to perfection. My husband enjoyed his skillet fried chicken and hoecakes immensely! The chicken was tender, and he loved the apricot butter that went along with it.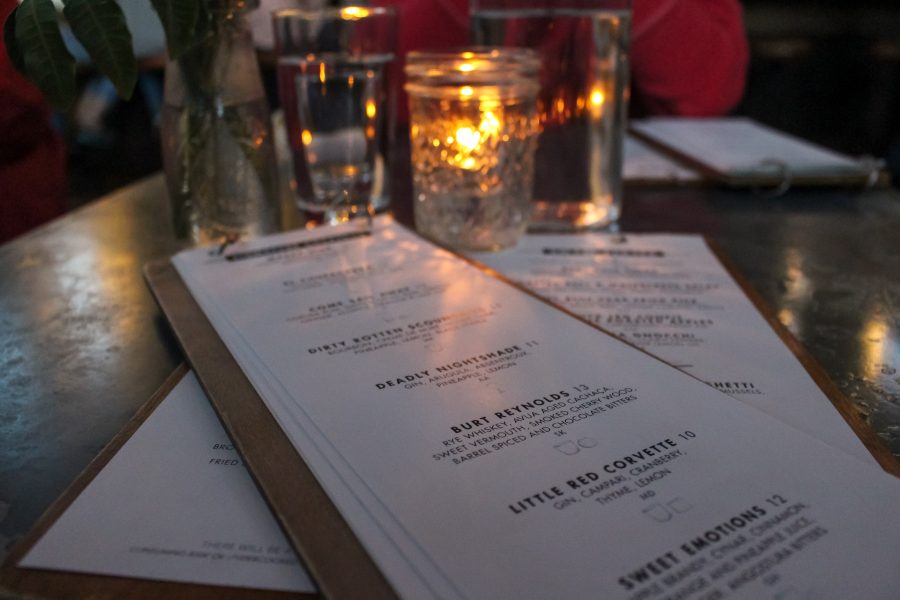 On to our drinks. I first need to issue a small warning if you aren't used to imbibing alcohol on a regular basis (ahem, like me): the drinks seemed strong! However, I didn't let that stop me from trying a couple of them — you know, for research purposes. My favorite cocktail was Come Sail Away, as I am a rum gal. However, unlike a lot of rum drinks, it wasn't super sweet — my guess is because of the ginger in it. My husband had the Dirty Rotten Scoundrels, which, like the name, is a fun bourbon drink.
You pay your bill at the table using a portable card swiper. One other thing to note: the lighting is very dim after the sun goes down, so as weird as it sounds, if you have trouble with vision, you may need to keep your phone light handy. Overall, Ice Plant was a unique dining experience that we'd do again for a special occasion.

Exploring Nights of Lights
Before we get started with all the details you need to know, let's begin with a history lesson on how Nights of Lights, currently in its 26th year, began. It was founded to honor the Spanish tradition of lighting a single white candle and placing it in the window of your home. This was to symbolize that Mary and Joseph had no place to stay in Bethlehem and that the Spanish citizens were opening their hearts and homes to Jesus.
As of November 23rd, the Historic District of St. Augustine is lit with millions of twinkling lights nightly, and beautiful doesn't even begin to describe it. The lights, which run through February 2, 2020, are so breathtaking they have won several awards. The businesses and restaurants of the Historic District also stay open later due to the higher number of patrons.
Parking: There are many parking options available right in the heart of the action, in case you just want to see the lights or eat somewhere else.  You can:
Drive around downtown and find a small, independently run lot. We saw one for $15 during our walk.
Use the City of St. Augustine's free park-and-ride shuttle every Saturday in December from 8 a.m. to 11 p.m., as well as December 26th, 27th and 29 5 p.m. to 11 p.m. There are two pickup locations, and both will drop you off at the Visitor Information Center. Full details on pick up locations can be found here.
There is also a small meter lot in front of the Castillo de San Marco for $2.50 an hour.
Park in the Historic Downtown Parking Facility (aka parking garage) for $15 for the whole day. This is a busy but good option that's in the heart of the city.
Parking on the streets after 5 p.m. is free every day, and all day on Sundays and federal holidays. This does not include the parking lot near Castillo de San Marcos. Parking can seem intimidating, but with some patience, you can most likely find a good spot!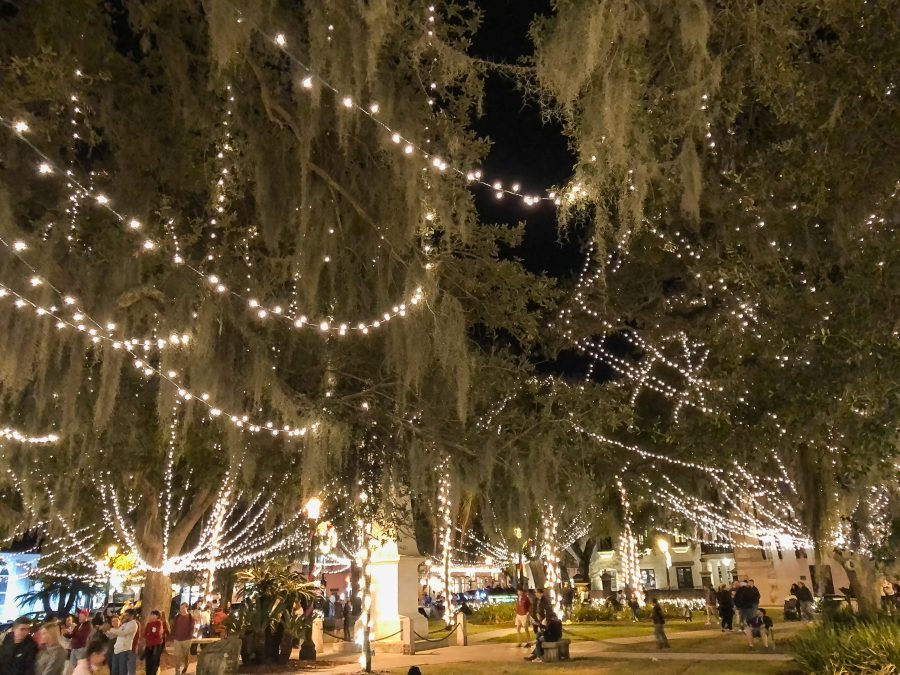 Walking: If you are doing a walking tour from Ice Plant like we did, you start by walking on Riberia St. until you get to King Street. Take a right on King St., and the first gorgeous displays you come to are Flagler College and  Lightner Museum,  which are across the street from one another. These buildings glow spectacularly!
From there, we did a bit of shopping on King St. until we got to the giant Christmas tree in Plaza de La Constitucion, which contains the only colored lights in the entire Nights of Lights display. The Plaza is the biggest park in downtown St. Augustine, and white lights are draped all over the trees — it's simply breathtaking! We took some pictures there (everyone was in a festive mood and happy to take pictures for each other), and then continued our self-guided tour by going north on A1A along the river. There are MANY lights to see along this stretch of road — it's a must-do! From hotels to restaurants to bars, lights abound, there are even giant ornaments along the way. The Tini Martini Bar was a particular standout, as both of its two stories were decked out with holiday cheer (this establishment has outdoor seating and looks like a great place to enjoy cooler temperatures). While you walk, you'll hear Christmas music and the relaxing click-clack of horses pulling carriages, and one was even captained by Santa Claus! We strolled along A1A until Castillo de San Marcos (the fort), and then wandered back through the middle of the city, making sure to see Orange St. and St. George Street, which is the main pedestrian thoroughfare in downtown St. Augustine.
If you don't feel like walking or can't walk as much as I have mentioned, there are other ways to see the lights. We saw an abundance of trolley tours passing by. Some were fun and rowdy, while others were tame. You can even see the lights from the water, which sounds very special! Tours range in price from $6.99 for kids to $15.99 for adults on the trolley (there are two main trolley companies) to $35 and up per person for viewing from the water. You can find more detailed information on the specific companies that offer these services here.
There are many coffee shops, sweets shops, restaurants, and bars to find entertainment along the way while viewing the holiday lights.  I encourage you to enjoy your significant other and just have fun people watching, eating, and making holiday merriment. It was so fun to take a break from all the holiday craziness to simply enjoy each other for a few hours!
What would be your dream date night in Jacksonville or St. Augustine? Comment with your thoughts!