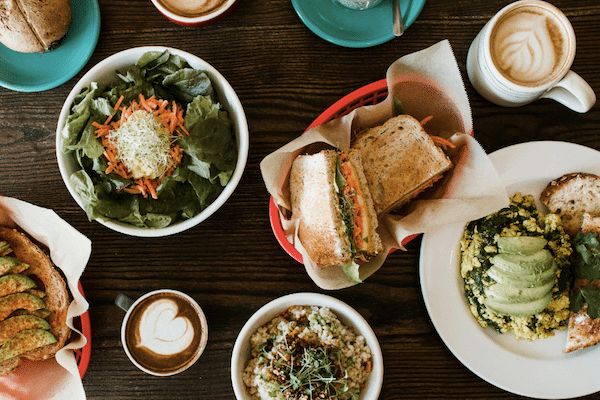 My kids are vegans. Yup, I said it. My kids do not eat any type of animal products. Have they always been this way? Heck no! This lifestyle has only been ours since May 2017. You see, my son is severely allergic to multiple foods, which we learned the hard way when he was the tender age of just 6 months. From his first allergic reaction to the spring of 2017, we plucked every last bit of allergens from his diet, but there was still one missing puzzle piece to solving his digestive issues. Until one day, I had an epiphany. If when I nursed him, I was not allowed to eat the foods he was allergic to, then why would it be okay for him to consume animals who had done the same? 
Months into this major lifestyle change, we noticed a significant boost to our son's quality of life. While most of our meals are safely cooked in the comforts of our own kitchen, this mama does need a break sometimes! Enter our guide to eating vegan in Jacksonville. (And remember, you don't have to be vegan to enjoy a good vegan meal.)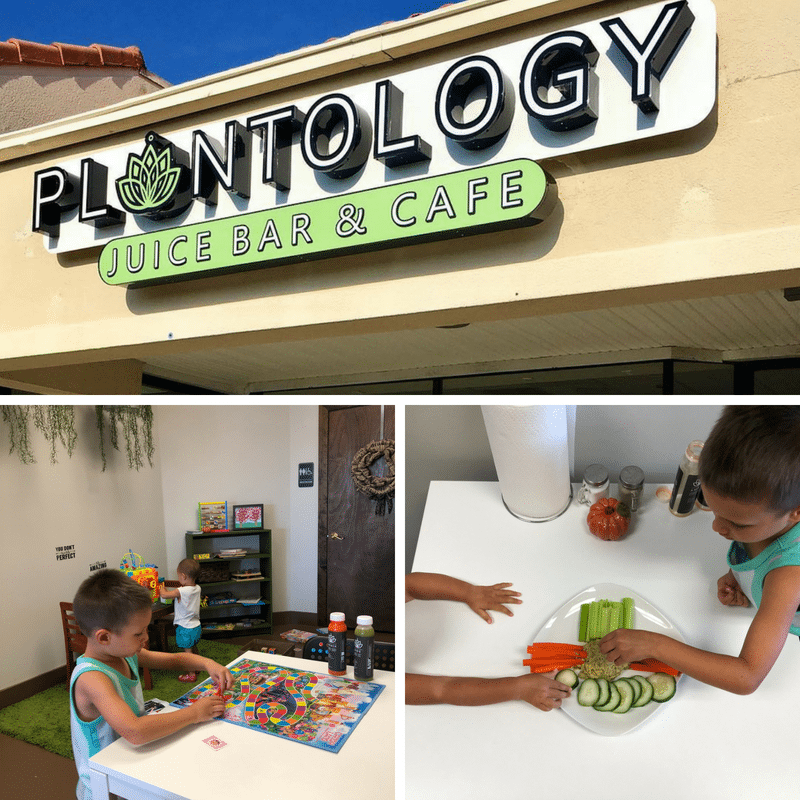 Plantology Cafe
Where: Atlantic Beach | Drive-Thru: No | Highchairs: No | Changing Table: No | My Order: Amber Juice, Jade Juice, ELT Sandwich, Housemade Cilantro Hummus Platter with Veggie Stick Medley
Call me crazy, but I love eating out and feeling like the space is loved — loved by the owners, loved by its patrons. This little stop in Atlantic Beach is no exception. Upon walking into Plantology Cafe I can't help but feel the zen they put out into the universe. Crisp, fresh decor and light colors give way for the diner to focus on the colorful food on the plate. You really can't go wrong with any of their fresh, cold-pressed juices or unique offerings for breakfast or an easy grab-n-go lunch! I love that I can give my kiddos any of their juices without worrying about added sugars. That's good news for their health and good news for my sanity!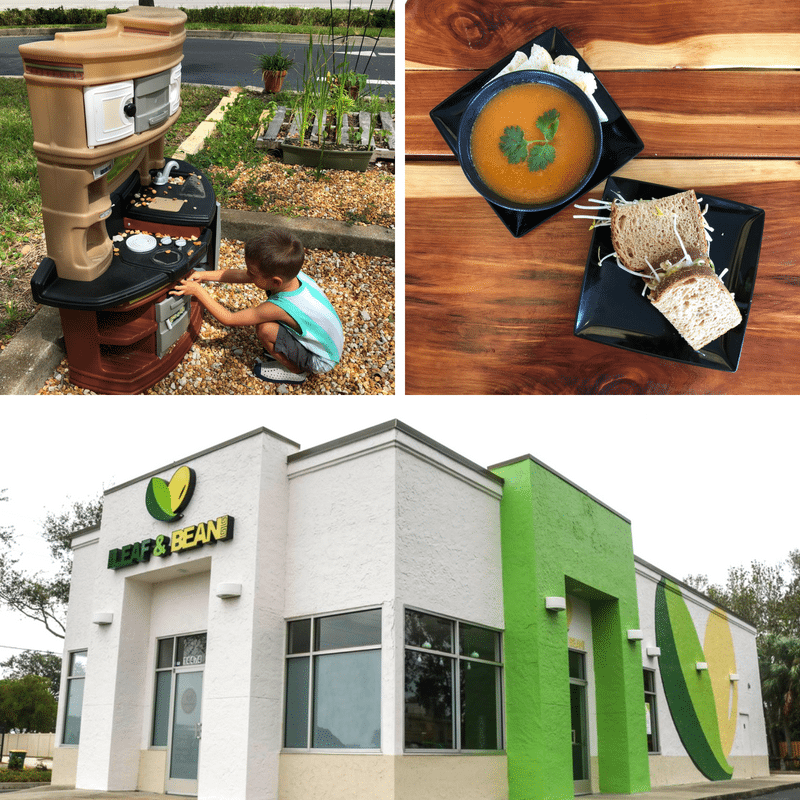 House of Leaf and Bean
Where: on Beach Blvd. near the IntraCoastal | Drive-Thru: Yes | Highchairs: Yes | Changing Table: No | My Order: Vegan Sandwich, Soup of the Day (Butternut Squash Carrot), Pineapple Kombucha
Growing up Chinese helped me forge a lifelong love for anything soybean-related. At House of Leaf and Bean, they've got you covered from soy milk to tofu, which are both made fresh on the regular. If you're looking for an all-around holistic wellness experience, this charming eatery is just the place! With offerings in small-bite portions for sharing or larger sizes if you're feeling stingy, you can be sure to satisfy your lunch or dinner cravings here. They also offer a tea ceremony every Sunday afternoon to get your mind set for the week to come!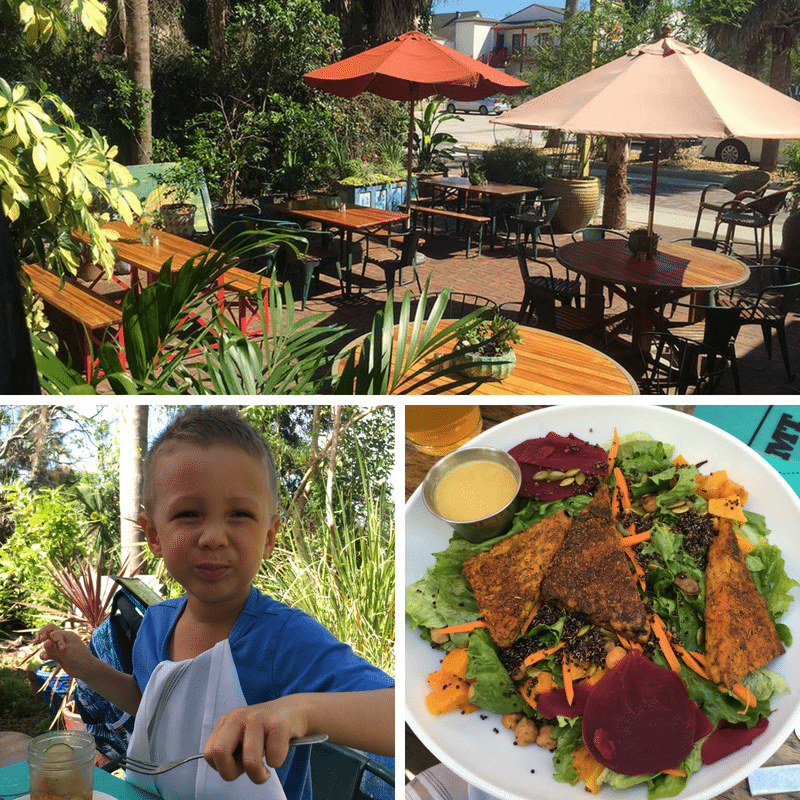 The Floridian
Where: St. Augustine | Drive-Thru: No | Highchairs: Yes | Changing Table: Yes | My Order: Spring Salad with Tempeh, House Pickled Veggies, 3 Daughters Beach Blonde Ale
My little family loves taking mini day trips to St. Augustine because it means playing at the playground, having popsicles at Hyppo, and then enjoying lunch outside at The Floridian. This quaint spot has become so much of a favorite for us that it's the only place we have lunch at whenever we meander around in the sweet, slow pace of old town St. Augustine. We are a pickle-loving tribe, so it has been our most-loved indulgence to have a jar of house-made pickled veggies EACH every time we're there! Be sure to check out their freshly baked goods selection after your meal. They are just too divine to pass up!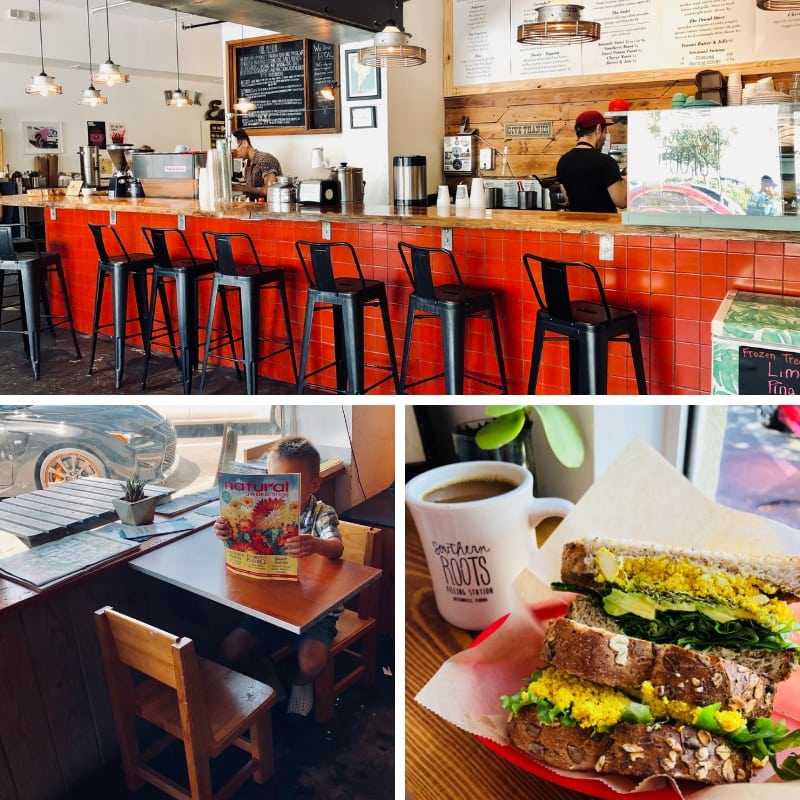 Southern Roots Filling Station
Where: Riverside | Drive-Thru: No | Highchairs: Yes | Changing Table: Yes | My Order: Roots Biscuit Sandwich, The Garf Sandwich, Tofu Egg Salad Sandwich, Coconut Chia Pudding
This lifestyle change has been no easy feat for our family, so I have major respect for any business who can accommodate not only our vegan lifestyle, but ALSO my son's allergies. Enter Southern Roots Filling Station. Not enough can be said for the scrumpdiddlyumptious meal that was placed before us. We enjoyed a small feast at the large picture window while watching the cars pass by and soaking in that sweet vitamin D. What's even better than savoring every last crumb in house? Why, shopping their fresh-made dips and cheezy biscuits to save them for seconds later, of course! Bottom line is they hit the nail on the head in every way, and we're already planning our next trip back.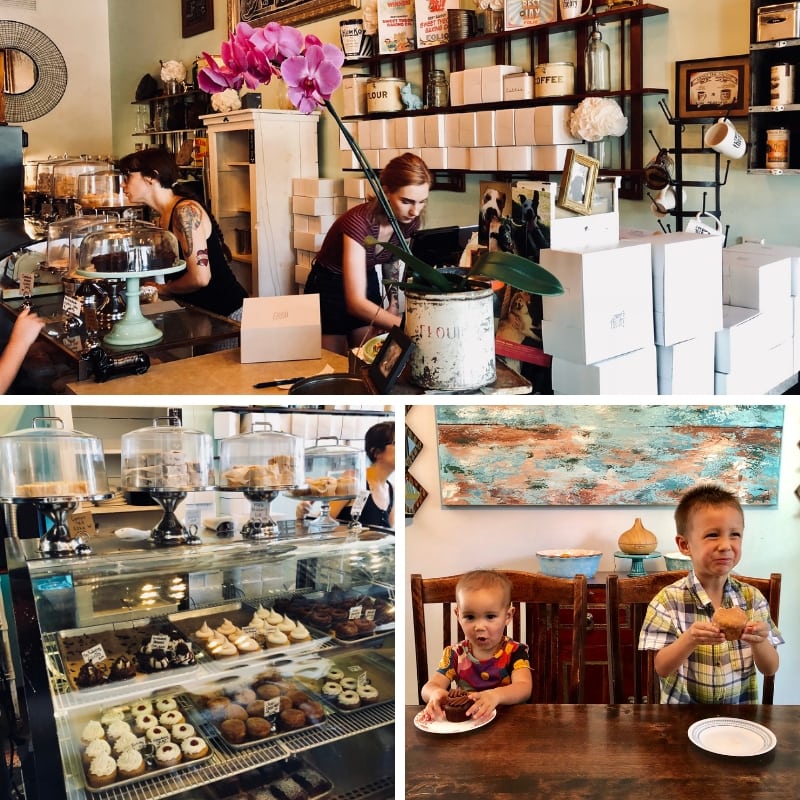 Sweet Theory Baking Co.
Where: Riverside | Drive-Thru: No | Highchairs: Yes | Changing Table: Yes | My Order: All Gluten Free — Chocolate Lavender Cake, Birthday Sprinkle Cupcake, Dough Muff, Cinnamon Streusel Cake
Sweet Theory Baking Co. is just the most darling little patisserie of my dreams. Everything from the free sweet smells to the line out the door, it just screams sweet perfection. We have denied our son fresh pastries for as long as I can remember (thank you, food allergies), so when we came across the mission of this sweet spot, we knew we had to give it a try. As it turns out, we couldn't control ourselves and bought nearly one of everything! Spoiler alert: They were ALL to die for! From donuts to muffins to loaf cakes, you really can't go wrong. But make sure to get there early, as the line will quickly wrap around the building, and you really don't want to miss out on that sugary pocket of deliciousness you've been wanting to try.
Ready for more vegan exploration?  
As much as I would love to eat myself into a vegan stupor, truth is, this mama's gotta pace herself! Good news is, I did some hunting and have found a bevy of local eats that could satisfy any of your vegan cravings. Remember, you don't have to be vegan to enjoy vegan food!
Blaze Pizza: Enjoy pizza without the guilt by building your own gluten-free, vegan cheeze pie.
Buddha Thai Bistro: Experience traditional Thai fare with the substitution of tofu.
Chamblin's Uptown: Deli-style offerings, just vegan-ized!
Chipotle Mexican Grill: Build your own burrito or burrito bowl sans meat.
Community Loaves: Fresh sourdough and bagels made daily… do you really need anything else?
Crave: Meatless wraps and colorful smoothies make for a light and refreshing meal.
Delicomb: Vegan menu items and homemade kimchee — could it get any better?
European Street Cafe: Dairy lover? Get the Cashew Cheeze appetizer, followed by an item off the Veggie Lovers menu. (You can thank me later.)
Foo Dog Curry Traders: So many curries, so little time! Luckily for us, all entree items can be made vegan.
German Schnitzel House: All the traditional schnitzels with a  vegan twist.
Green Erth Bistro: Persian-inspired choices like vegan chili and a completely satisfying tempeh wrap.
High Tide Burrito: Saltwater Hippie Burrito. Boom. End of story.
Ibex Ethiopian Kitchen: Experience the traditional Dinech with Carrot Wot and then wash it down with fresh mango juice!
Lechonera El Coqui: For the love of Puerto Rican food, just revamped into vegan options.
Mellow Mushroom: Love pizza, but not the dairy? Do yourself a solid and grab a pie smothered in vegan cheese accompanied by what else, but an assortment of mushrooms?
The Murray Hillbilly: Vegan. Southern. Comfort. Food. Excuse me while I wipe the drool off of my chin.
Nacho Taco: Vegan tacos? Be right back!
Native Sun: Not even sure how they do it, but a Tofu Reuben or Teriyaki Tempeh sandwich makes me want to swing by to "grocery shop" every day of the week!
Noura Cafe: Traditional Middle Eastern fare with all the flavor minus all the meat.
Present Moment Cafe: Fresh vegan food made with love and gratitude.
Simply Tasty Thai: Love the exotic flavors of Thailand, but willing to try it vegan style? Just ask for your menu item with a tofu substitution!
The Whole Foods Market: Grab-and-go meals at their finest! Help yourself to the gourmet, prepared-fresh-daily foods department on your way into the office, then try to fight off your coworkers.
The Zen Butcher Company: Check out this genius vegan meat and cheeses company every Saturday at the Riverside Arts Market.
What vegan spots around town do you love most?