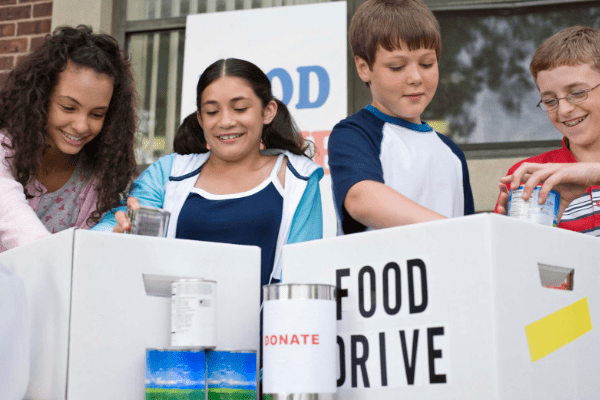 It is easy for children to focus on the RECEIVING this time of year, sitting on Santa's lap and telling him what they want, browsing catalogs and making endless lists of gifts they would like, getting completely spoiled by grandparents. It is also just as easy to find ways to allow them to experience the joy of GIVING! There are definitely many ways to volunteer and give back to our community throughout the year, but especially during the holidays.
Every year, one of our friends hosts a neighborhood food drive with her kids. The kids ride their bikes around the neighborhood tying an empty Publix bag and a note on all the doors. The kids get so excited as they ride back around collecting the filled Publix bags. What a great way to get kids involved, working together to collect food for local food banks!
I have friends who ring the Salvation Army bell with their families every year to kick off the holiday season, and many who select Angels from the Salvation Army Angel Tree to make Christmas a little brighter for families that otherwise would not have gifts under their trees. Other families drop toys in the Toys For Tots bins located at local businesses all over Jacksonville or host simple clothing drives.
Every year our family chooses tags from an angel tree. Our neighborhood elementary school hosts a toy drive each year, and my children seem to enjoy choosing someone in their same grade. They take their time picking out toys for their angels. For many years we've also participated in a "Caroling for Cans" food drive through Girl Scouts. We leave flyers for our neighbors saying what night we will be out caroling and collecting cans for our local food bank. My Brownie is practicing her favorite carols as I write this!
My twins and I are excited to join Operation Gratitude for Assembly Day in Jacksonville on December 8 where 1,000 volunteers will assemble 10,000 care packages for deployed troops. It's so great to come together with CSX to strengthen the Jacksonville community and bridge the civilian-service divide. This is a great opportunity for older kids to give back!
Another favorite during the holidays is the Children's Christmas Party of Jacksonville, also happening on December 8. I have fond memories of volunteering along side teens from our community that related so well to the children attending. I admire these youth and the impact they have not only on the children they are serving but also the impact they have on those volunteering around them.
Through school, church, or other civic groups maybe it has been easy to find ways to involve your children — or maybe you have no clue where to start. Take a look at our list to find a place to GIVE near you:
---
Food Pantries
---
Toy Drives
The Salvation Army's Angel Tree
Daniel's Kids Holiday Toy Drive
---
Other Ways to Give Back
Dreams Come True: Deliver good and gifts to dream families
Soles 4 Souls: Host a shoe drive at your holiday party
Sulzbacher Center: Host a sock drive or baby wipes drive
City Rescue Mission: Create a Shoebox of Love
How are you teaching your children the joy of giving this holiday season? What's your favorite local charity?