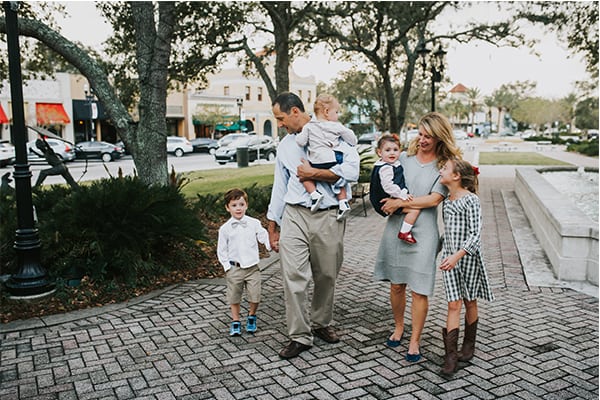 Located on the south side of the St. Johns River across from downtown, San Marco is an older, well-established neighborhood in Jacksonville. Great food, shopping, and kid-friendly events and things to do make this an amazing place to visit and to live. A tight-knit community that centers around Balis Park and San Marco Square, the areas radiating out from the square have some of the best eating, shopping and activities available in Jacksonville. This walkable neighborhood is welcoming and busy — great for a weekday or a Saturday outing with the kids, date night or mom's day/night out.
Fun Things to Do
Perfect for a fun moms' night out, birthday party or mother-daughter date, the Creative Grain studio on Hendricks Avenue lets you create your own wooden signs of inspiration and welcome. Check the calendar and sign up online — and feel free to bring your own snacks and beverage. Dance Trance is another fun option for a mom's night out, as well as Painting With A Twist. Reddi Arts has a great selection of art supplies (perfect for birthday presents!) as well as art classes. Pure Barre also has a studio in San Marco.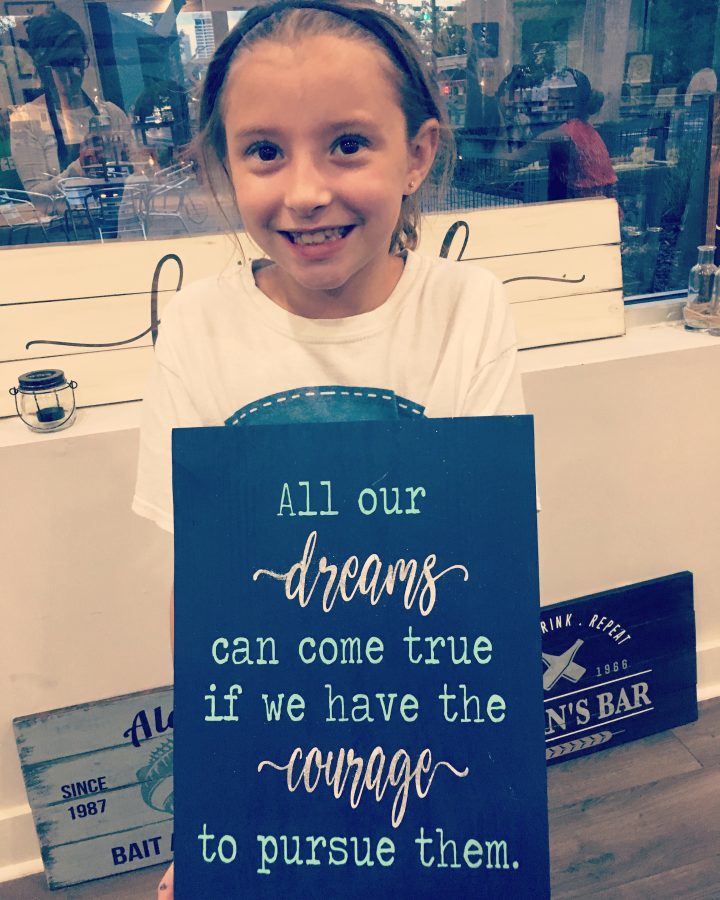 A welcoming space with a great children's room, programs for young children during the week, and the Southside Park across the parking lot, the San Marco Library is great for a morning or afternoon outing with the family. Eat at the park, play for a bit, then head into the library to check out a book or video.
San Marco Parks
There are multiple city parks in the San Marco area, most with great playgrounds.  Located behind the San Marco Library, Southside Park is adjacent to the train tracks that run through San Marco, so be sure to bring your little train lover to play. Alexandria Oaks Park (FEC Park) has a bike loop and two giant, wide open fields for running, frisbee and ball sports. The Landon playground is less than a block walk to a great view of the river, and Granada Park is quiet and tucked back in the neighborhood, with a great play space for older and younger children. The Southside Tennis Complex is next door to the library if you're looking for a hit fix and offers adult and kid leagues. Brown L. Whatley Park is nice for a picnic (no playground equipment here).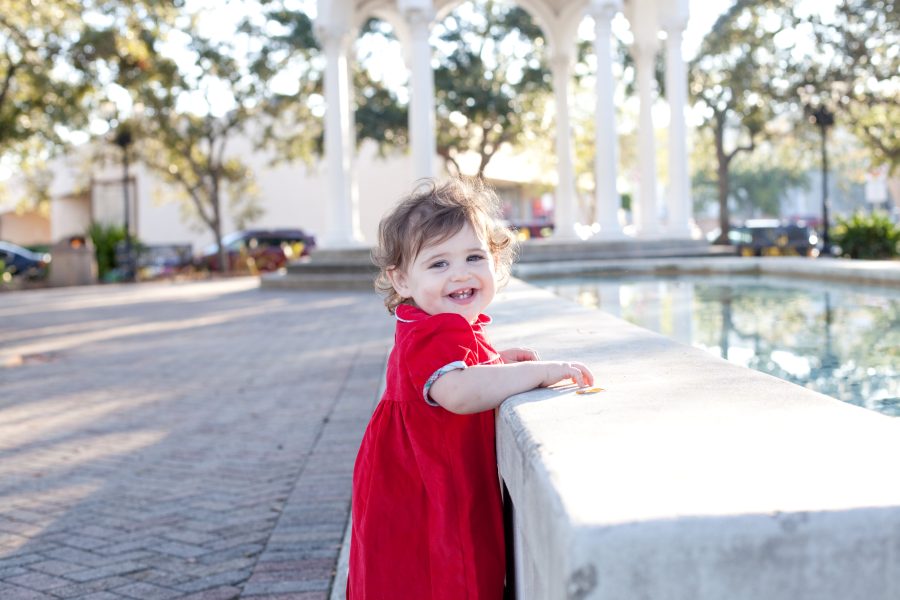 Balis Park is the heart of San Marco square, always great for photos and special events, like the Christmas tree lighting. A gazebo, benches and green space make for a sweet spot to sit. Bring pennies for the littles to throw in the famous lion fountain!
The San Marco Theatre is great for a date night to catch that new movie you are dying to see (they serve wine and beer, nachos and pizza) but is also great for kids' movies — in fact, this is the only theatre my children will go to. There are less previews, it's a smaller, kid-friendlier space, and it's less noisy. A perfect place for kids' birthday parties as well, they are welcoming and friendly. Make sure to check the schedule — with the historic building and unique space, they only show two movies at a time. Just down the block, Theatre Jacksonville produces several shows and well-known musicals a year, as well as offers theatre classes and camps for kids.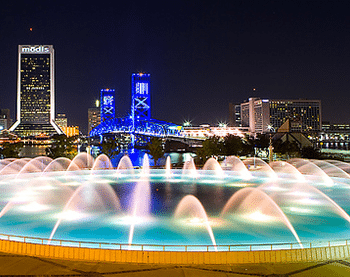 Pack a picnic and bring the kids to the Friendship Fountain (a great place for a photo opp with the St. Johns River and Jacksonville skyline!) and Treaty Oak Park (Jessie Ball duPont Park). Spend the afternoon or morning at MOSH, Jacksonville's science and history museum. Make sure to check their website for the visiting exhibit! Kids will love the Currents of Time permanent exhibit on the third floor, which explains Jacksonville's history in life-sized displays. See how Florida's first Native Americans lived, experience Jacksonville from the Timucuas to the 1960s, and discover how modern-day events have shaped the community in this immersive exhibit. MOSH, the Friendship Fountain and Treaty Oak are within a few walkable blocks of each other.
First Place Sports Running sponsors numerous running events across the city. The store in San Marco hosts several which start in San Marco, including the Wine and Chocolate Run, Candy Cane 5K and Family Day (to benefit nearby Ronald McDonald House) and the Festival of Lights 5K holiday run, a night run through the neighborhood with luminaria lighting the way, and kid-friendly fun like bounce houses, hot chocolate, Santa, and fake snow.
San Marco Shopping
Grandparents,  BFF, Mom or sister in town? San Marco is a great place for a quiet lunch on the Square with boutiques and gift stores abounding. Stop into one of the best children's stores in Jacksonville, Heyday!, for clothes from Tea, trains, LEGOS, and games, baby gifts and birthday presents galore. The variety and selection is a step above in terms of uniqueness. Best of all, the store opens at 9:30 a.m. on Saturdays, just in time for those ten o'clock birthday parties! Impressions is perfect for special invitations and baby announcements, and San Marco Books & More, Dancing Elephant, The Write Touch, the Wardroom, Beau Outfitters, Krista Eberle, Reve, Rosie True and Leila's all are great for gifts, clothes or for indulging yourself. Rusted: A Vintage Market and The Antique Fox offer more eclectic fare. Looking for something really special? Underwood's Jewelers and Miriam's Jewelry will help you find the right sparkle. You won't leave San Marco empty-handed, that's for sure!
Date Night Ideas
San Marco offers many delicious options for a date night. Start out the evening at Grape & Grain Exchange, Sidecar, or Aardwolf before dinner. Beer 30 (and Grape & Grain) offer selections you can purchase to consume at home as well. Sidecar hosts trivia and makes a fantastic cocktail and is in the same building as V Pizza if you don't feel like looking for a new parking spot.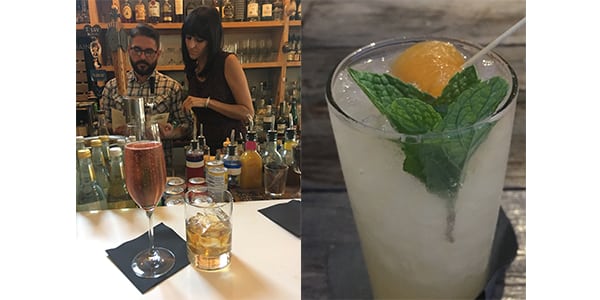 When you get hungry, head to the Square for dinner with options available in different price ranges. For an anniversary or birthday, consider the following: There is nothing you won't like on the menu at Taverna and the Wendy's Mint Chip Ice Cream sandwiches are to die for.  Rue Saint Marc locally sources from area food partners. In addition to dinner, lunch, brunch and happy hour are all offered. The eggplant beignets, Rue cheeseburger and expansive drink menu are all fantastic. Bistro Aix (located a few blocks from the Square) was the first restaurant I ever went to when I moved to Jacksonville back in 2003, and it's just as good now as it was then for a power lunch or a special evening out. B.b.s is our go-to favorite for salads, polenta sticks, and fancy cake (Oreo Pie? Yes, please.)

Town Hall's menu is deliciously different, and the appetizers, especially the Grilled Cheese Sandwich and kale salad, are amazing. The couches in the front window are a perfect place to curl up with a glass of something or an after-dinner coffee and people watch. Matthew's is our special favorite for an anniversary dinner, with impeccable service and a Chef's Adventure Tasting Menu so exceptional you'll dream about it. The Matthew's happy hour is a hidden gem (4:30 to 6:30) with $5 bar bites and $4-$6 drinks that are as fantastic as the main menu but served in the more relaxed lounge.
Sweet Treats
San Marco has several delicious choices for a treat. Amaretti for French pastries, desserts, and coffees — and it's connected to the San Marco Theatre, so you can stop in on your way to a show. Also on the Square,  Peterbrooke is great for gelato or foil chocolate from the grab bin for kids. Teacher gifts and adult birthday presents, hostess gifts and "Welcome to Jacksonville" goodies are a must from Peterbrooke. Mayday Icecream — get the Sundae treatment and you won't be sorry. The all-glass store is adjacent to the train tracks so ice cream and a train rolling by can make for a great afternoon. Sprinkles are on the house! Marble Slab is located right off the Square. Make sure to choose your favorite mix-in! We like to get a cone or cup and walk a block to see the fire truck at Fire Station 13 and the fountain in Balis Park.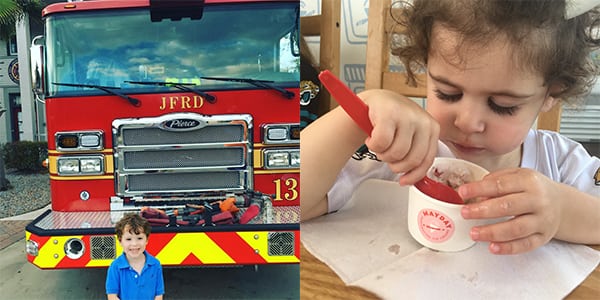 Kid-Friendly Eats Adults Will Love
Often voted best burgers in Jacksonville, The Loop is located on San Marco Square and its milkshakes and kid-friendly eats are always a hit. (Yes, they have adult beverages, and the blue cheese chips and salads, tomato bisque and wraps will satisfy any grown-up palate).
Hightide Burrito Co. is a relaxed restaurant on Hendricks Avenue, across the street from the San Marco Library and the San Marco Tennis Center. It serves up fresh Beach Mex — authentic Mexican recipes combined with the vibe and flavors of Florida to create an original menu that offers delicious food. Check out Taco Tuesday for a great deal!
The best pizza in town at V Pizza offers plenty of space for families to order and sit while the giant pizza ovens make their magic across the room. The chicken wing pizza, Pizza Alla Di Pollo, is my favorite. Also great for a date night if you're hanging at Sidecar for cocktails and get hungry. The two are in the same building, and you can bring the food next door while you polish off your drink.
With a great outdoor space perfect for kids who can't sit at a table any longer, Bearded Pig BBQ is perfect to watch your favorite team play, enjoy a local beer from a large offering of area brews, and soak in some sauce. The sides are as fantastic as the BBQ.
Ajeen and Juice offer smoothies and coffee on the Square with Mediterranean food options and outdoor seating. Tidbits is a San Marco standby, great for lunch with a salad bar and the best potato salad in town.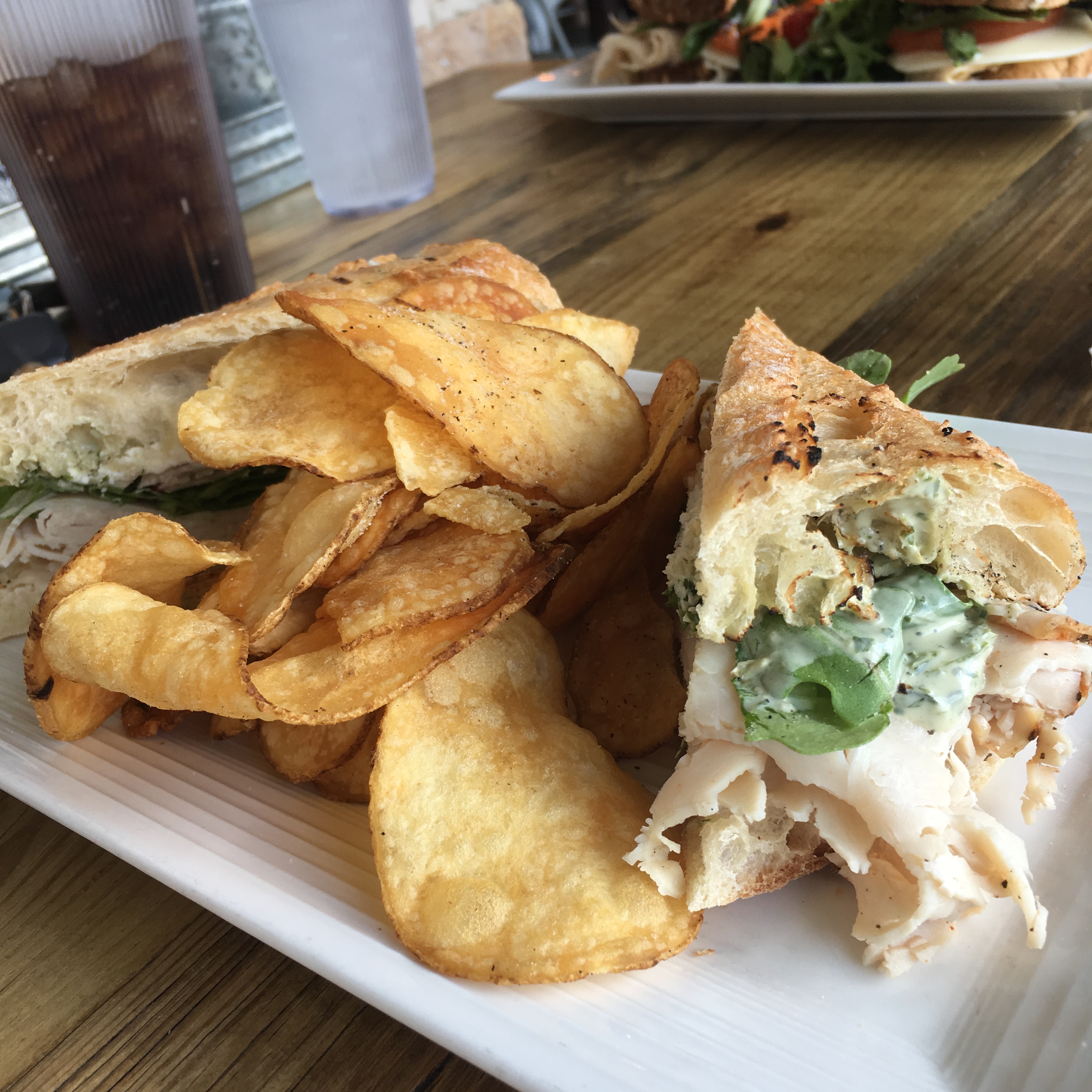 Relatively new to San Marco and in the Miramar area of the neighborhood as opposed to the Square, The Local is a great place for breakfast with the kids. Both casual and trendy, The Local is as good for a business lunch as it is for a night out. Coffee from Bold Bean, area beers and a large wine menu along with fantastic appetizers and main meals will have you coming back like a local.
Metro Diner, on Hendricks Avenue just outside the Square, was featured on Diners, Drive-Ins and Dives, and for good reason. Best chicken and waffles. Perfect for lunch and a big breakfast!
Known for its beer selection, European Street is also kid-friendly — kids eat free on Mondays with purchase of an adult meal.
Coffee, Breakfast, and Brunch
Good Dough is a busy favorite on Saturday mornings, known especially for their Molly Ringwald red-iced donut. Brown Butter is my favorite. Additional options like avocado toast and coffee are also available. Located on Hendricks Ave., Bold Bean is every adult's favorite for a cup of coffee and quiet time with a book or laptop. Southern Grounds has just opened in San Marco, with a nice outdoor space great for train viewing. Baked goods, breakfast plates, sandwiches, wraps, and a kids' menu are all available. Beer, wine and coffee offerings mean you'll have everything you need.
As for spots on the Square, Maple Street has the best biscuits in Jax. The Five is my favorite menu item. Great for an early breakfast with your early risers, or brunch after Saturday morning soccer practice! Beach Diner is yummy for breakfast or lunch, with table service and outdoor sidewalk seating in cooler weather. At the San Marco Starbucks, you'll see the same local crowd every morning, along with student study groups and moms and strollers. The line can get long at this popular location, so mobile order here is usually a time saver. The good news: It opens at 5 a.m., so if your kids are awake, head on over before grabbing breakfast at any of the above locations.
What hidden gems have you found in San Marco?