When vacation calls where do you go? This is what my husband and I were trying to figure out the moment school ended in May. With a 5 and 2-year-old we had two criteria:
It had to be fun for everybody
It had to be relatively close
Enter Jekyll Island. As we researched the island we learned it was home to such family-friendly fun as a water park, mini golf, biking trails, ice cream, nature, beaches, a historic district, playgrounds and the list goes on. Plus, it's a mere 1.5 hours from the beaches area. That's close. Like put-on-a-movie-in-the-backseat-and-it-ends-right-when-you-get-on-the-island close! Enough said. We packed our bags and were there in no time.
After paying the $6 parking fee (regular vehicles are $6) to get onto the island we began our adventure. Here are the top 5 things we did while in Jekyll!
Driftwood Beach
Because we have access to beaches year round we didn't focus too much on Jekyll Island's many beaches, however, there was one we had to check out – Driftwood Beach. This beach was our very first stop after checking into our hotel. We had heard that if you liked Boneyard Beach on Little Talbot Island, you'd love Jekyll's Driftwood Beach. Sure enough, we did! The moment we stepped onto the beach we came face-to-face with a giant piece of driftwood. We immediately went to climbing and snapping family selfies. The beach was also home to some sea life we don't always get to see in Jacksonville. Crabs and sand dollars burrowed in the sand while bigger crabs could be spotted swimming in the water near the driftwood. Jekyll has five beaches total including Glory Beach, Great Dunes Beach, South Dunes Beach, St. Andrews Beach and of course Driftwood Beach.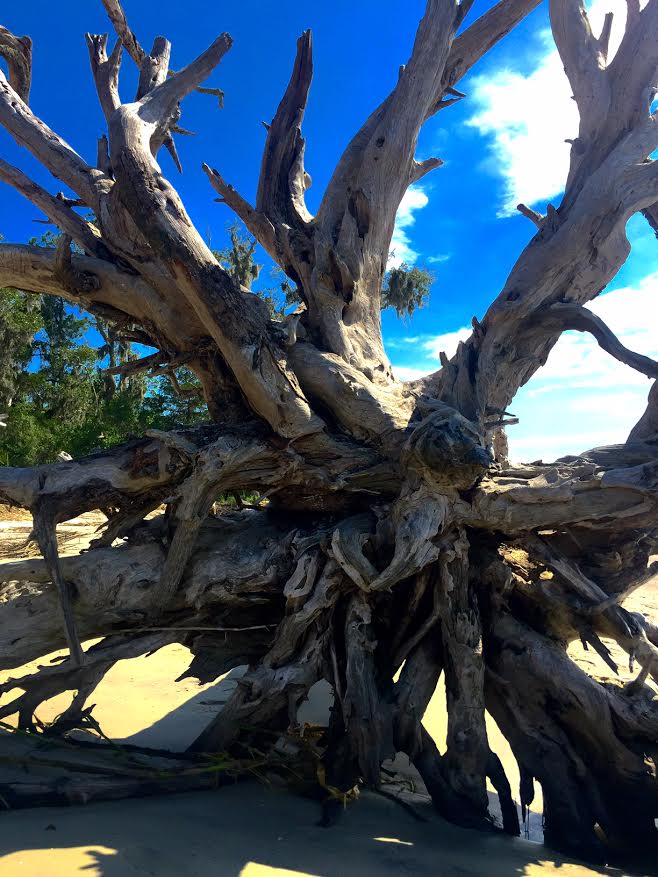 Miniature Golf
Driving to our hotel we spotted the Jekyll Island mini golf and knew we had to take the girls. If you've ever played mini golf with a 2 and 5-year-old you know just how "fun" it can be. Our youngest found no shame in whacking the ball and then immediately picking it up where it landed and dropping it in the hole. Our oldest took to dragging her club and ball along until she made a "hole-in-one." Regardless of whether the girls figured out the game or not, they had a blast, so much so we went back a second night. Jekyll Island Miniature Golf offers two different courses, both with 18 holes. On your way in and out of the area are two playgrounds –one for toddlers and one for bigger kids. There was also a pizza joint nestled next to the bigger kid playground.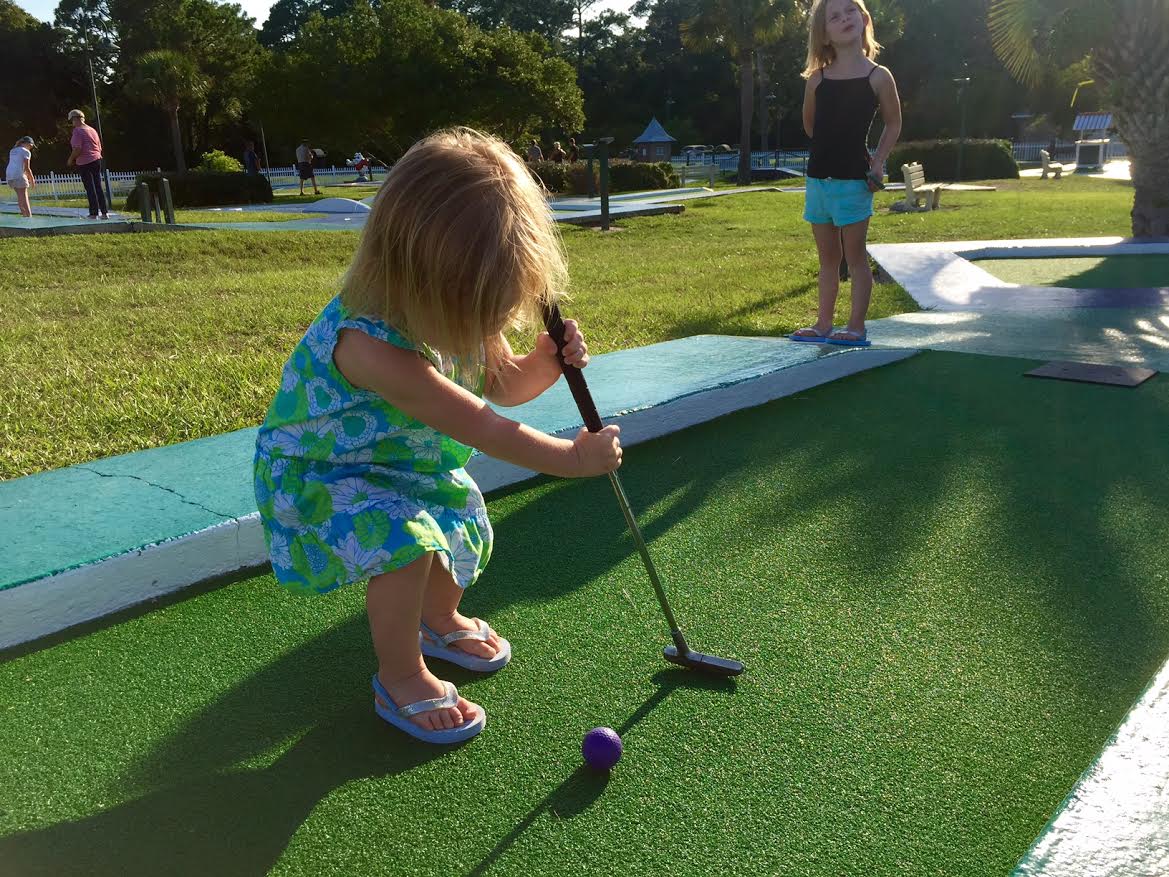 Bike Riding
This was my favorite part of our trip. The bike rental shop, located right next to the mini golf, offered a slew of different bikes for families and individuals. Since neither of my girls can ride a bike without training wheels, we opted for a surrey bike. If you've never heard of a surrey, it is one of those bikes, and I use the term "bike" loosely as it looks more like a vehicle than a bike, which sits four – 2 who pedal and steer and two who sit in front of the drivers in a basket-like seat. The girls loved this vantage point. We were told the historic district was the best place to bike, so we heeded the advice and followed a canopy covered road into the area. Besides the burn of our quads, it was a peaceful ride that included scenic sites of some of the island's historic houses. We also made stops for ice cream and lollipops at an adorable candy shop. The Historic Landmark District is just one of many places we could have explored via bikes. Jekyll is home to over 25 miles of paved trails. We spotted numerous ones on our way into the island.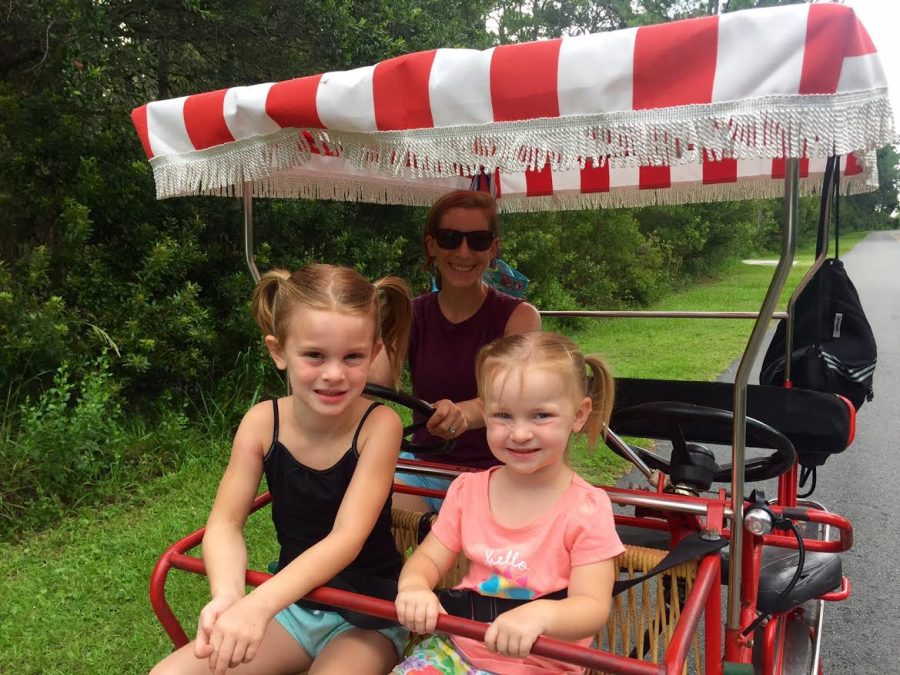 Summer Waves Water Park
It doesn't get any better than a water park in summer. Luckily, Jekyll Island offers Summer Waves, an 11-acre park full of slides, a wave pool, lazy river kiddie splash areas and more. Their newest attraction, Shark Tooth Cove, has expanded the park to cover 8,800 square feet. It includes 10 slides of varying heights and lengths and water features designed to entertain kids of all age, plus an all new 360-degree pool deck with a large zero-entry edge. Since our youngest wasn't quite big enough for the slides my husband and I decided to split up for a few hours. He took our oldest on the thrill rides while Hannah and I hung out in the park's kiddie area, which offered its own kid-size slides and other splashy fun. The park has a gift shop on-site and serves Larry's Giant Subs as well as several other treats.
Georgia Sea Turtle Center
The Georgia Sea Turtle Center is one of the most popular attractions on the island. Georgia's fist sea turtle rehabilitation, research and education facility, the Sea Turtle Center provides emergency care to sick and injured sea turtles. A small facility, the center is packed with information about sea turtles including their typically short life spans, ocean pollutants that interfere with their life span and how people can help protect them. Upon entrance, we were given a turtle journey stamp card. The stamp card allowed us to experience the life of a sea turtle. We were encouraged to visit the different stations throughout the center which revealed our turtle's sex, what challenges they faced and how long they are going to live. My oldest daughter's lived to be 100 while my husband's lived to be just 1. While we took the sea turtle journey, we were also able to get a behind-the-scenes look at the hospital that works on the sea turtles. Outside of the center is the Rehabilitation Pavilion with many turtle patients also on view for visitors.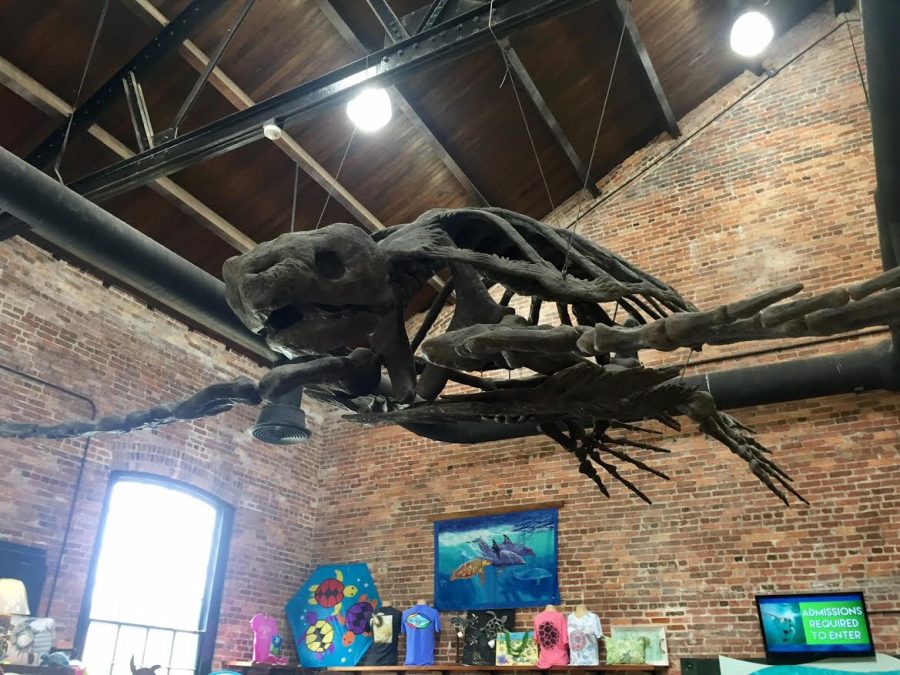 We had an amazing family mini-getaway in Jekyll Island! Check out this website if you are interested in making the short trip up the coast!