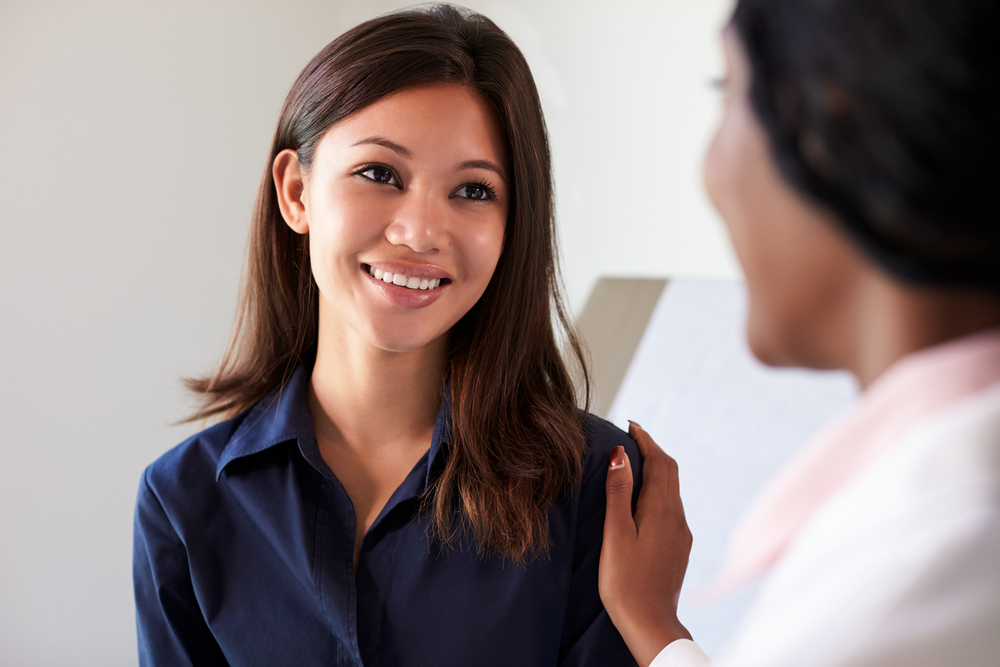 I am (mostly) on time with every one of my kids doctor's appointments, their vaccinations schedules (relax, this isn't one of those posts), and anything in between. Managing to make sure they are as healthy as possible and well taken care of is all a part of the "job" of motherhood. So why is it when it comes to myself, all of that can get put on the back burner? Getting exercise, eating everything in moderation and even making sure I sneak in the "self care" are all pretty consistently done. Usually, I manage to get the lady parts all taken care of, and I show up for my own flu shot. But all of the "other stuff" seems to get put off, repeatedly. Until recently, I hadn't had a physical with a primary care physician since prior to getting pregnant with my first child. I know I am not alone in that. Of course I need a PCP, a physical and someone to help a mama out when she needs it!  A great primary care physician will make sure you are at your best, both physically and mentally. And as someone who struggles with a couple of medical needs, it is important to take the time to find a doctor I can go to and whom I trust. A doctor who "gets it" — the stuff we don't as mothers always talk about or admit to feeling. Needing someone who is in our same stage of life, and who will make you feel less judged and more comfortable. That's where Dr. Cara Prier came in for me.
Dr. Prier is a true Florida girl — received her undergrad at the University of Florida, attended medical school at Florida State University, and went on to be selected as Chief Resident (a.k.a. big deal) at the Mayo Clinic in Jacksonville. She's a wife and mother of two (a girl aged 3 and boy now 11 months) and has medicine in her genes, as her mother is a pediatrician. (I'm all about that strong role model!) She is now living and working in St. Johns at St. Vincent's Healthcare Ascension. What that means is, when you're in Publix picking out your apples, you may turn and see her. Go ahead and say, "Hi," but don't judge her by the messy mom bun that she, too, may be rocking.
Meet Dr. Prier, Someone Like You
I got to meet with Dr. Prier in her office, and as someone who has a slight "white coat" anxiety thing going on, I wasn't sure what to expect. You know how sometimes you get to a doctor's appointment and the front staff act as if you interrupted them? You don't get that at Dr. Prier's office. First, sigh of relief. I was greeted warmly, like I had been in there regularly. Dr. Prier's smile when she walked in to say "hello" next was just as pleasant as I had hoped, as well. Dr. Prier is the type of woman you instantly want to be friends with and oddly trust real quick. Her office staff agree with this as well — you can feel the respect in the office that everyone has towards everyone. My white-coat anxiety was lowered immediately.
Finding someone to speak with about the lack of sleep, the exhaustion, the anxiety, and yeah, maybe the soreness in my back or allergies — that's a hard find. I personally have tried some doctors since moving back to the area, and let's just say things didn't go well. I left the appointments feeling judged and that I didn't get the help I needed. Feeling more like I was just someone whom helped pay their salary and not like a person who needed and deserved personal care. Truth be told, I think I started out telling Dr. Prier that as well — I came in strong with a slight defense up. But she quickly took that wall down, by sharing her own personal struggles with motherhood and relationships, talking about work-life balance, and even sharing tales of babies with colic who made us insane. With all of those things going on, it is even more important we find a doctor for ourselves. When you are in the thick of motherhood, it is so easy to think what we have going on isn't as important as everyone else's needs. What is it about being a woman that we all hit that point of trying to be everything to everyone? Self admittedly, I put myself in last place, a lot.
Life happens fast, and within that, anything can happen at any time. Knowing that you can call a doctor who knows you and what your history is, as well as your present circumstances, can make a BIG difference. Especially if something serious were to happen to you. I don't want to be rushed out of an office, I don't need the factory feeling. Needing more of a friend who happens to be a doctor and REALLY good at her job is what I have been seeking. Being a woman can come along with some odd physical changes no one talks about, but you want to know about it. Talk to me about that weird thing that I felt in my lady parts or the panic attack that made me feel like I was dying. I like to get down to what's up with my symptoms, and Dr. Prier didn't seemed phased — and that's the kind of person I need in life. All the honest talk and NO JUDGEMENT? Yes, please.

It's Your Turn, Put Yourself First
Okay, ladies. I did it. I put myself FIRST for a moment, and found myself a doctor who's going to make sure I am in the best place to keep doing this thing we call life. Now it's your turn. Find a doctor you can go talk to about mental stressors, because maybe it won't just pass. Get into talk about the allergies that are dragging you down, get your heartbeat checked while you're there, and make sure you are able to be honest about it all. Find yourself a Dr. Cara Prier. (Or you can borrow my Dr. Prier!) We are just as important as anyone else in our families, if not more. I personally feel better since even just having a conversation with Dr. Prier, someone I can trust to be there and put my care first.
Learn more about Dr. Cara Prier, MD located at 2851 County Road 210 West, Suite 122, Jacksonville, FL 32259, and schedule your appointment online or call (904) 450-6290.