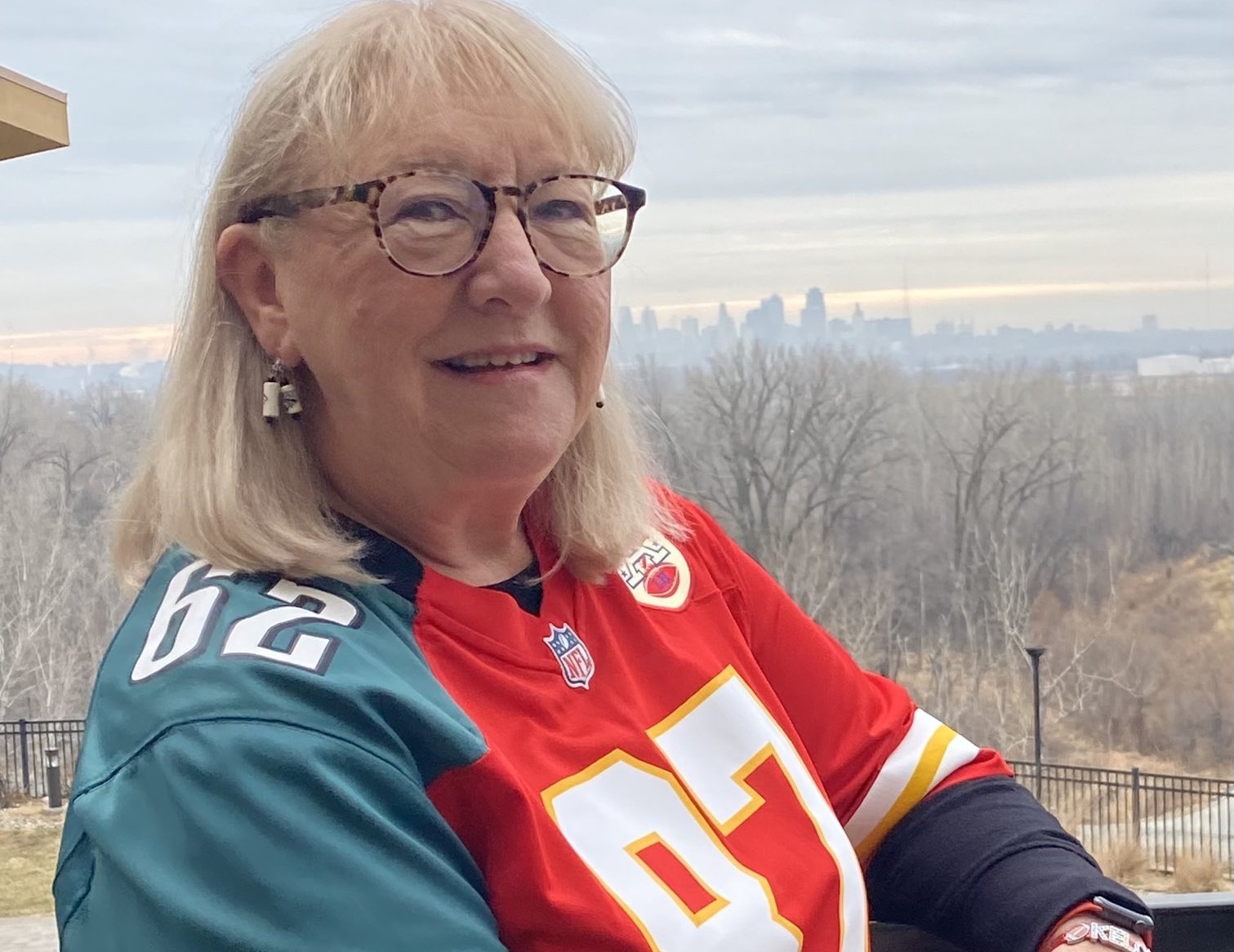 No one is more interested in this year's Super Bowl than Donna Kelce, the first mom in history to have two sons playing against one another in a Super Bowl game. So, who will she root for on Feb. 12?
That's the million-dollar question for Donna, mom to Kansas City Chiefs tight end Travis Kelce and Philadelphia Eagles center Jason Kelce. Yes, there have been sibling matchups during regular season games (Peyton and Eli Manning, for example), but never during the granddaddy game of them all.
Donna already had to make some tough decisions during the playoffs. Both her sons were playing in different cities on the same day, and she could only be at one of them. She chose to watch Jason in person and watch Travis on TV later that day. Does that mean she's playing favorites?
During a recent interview on the TODAY Show, Donna answered the question by saying she'll root for each offense on the field because as offensive players, Jason and Travis won't ever be on the field at the same time. Safe answer, Donna.
She has been very active on social media since the Super Bowl LLVI teams were announced and has been seen wearing a custom jersey made up of both Chiefs and Eagles colors, appearing not to be favoring one over the other. But during her interview, she said, "Jason would say I'm going to root for the baby of the family, which is Travis. And I keep telling him, 'No, you've given me grandchildren.' So, we'll leave it at that," Donna said. "It's always about the grands."
The chances of making it to the NFL are very slim. Not only did she produce one star athlete — his baby brother followed in his footsteps. What a proud mama she must be! She reflected on what it's like to see her sons achieve such great success.
"You see them as kids and you wonder how they're going to relate to other children and you don't really know," she said. "They're the best in their city, the best maybe in their state, and you don't know how that's going to relate to the rest of the country, you just have no idea. I know that they're very talented and very athletic. It was just a joy to go to all the games — lacrosse, baseball, hockey — they played almost every single sport you can think of. So, it's just been a pure joy to watch them compete and be allowed to do it for this many years. It's just amazing."
As the mom of two boys, one who plays competitive soccer at the age of 11, I know how it feels to want only the best for him. It's all soccer all the time in our family. Thankfully, our other son is only 5 and not really into sports yet. I can't imagine being in Donna's shoes — but how cool it must be!
Regardless of which team wins the game, Donna is the true MVP.