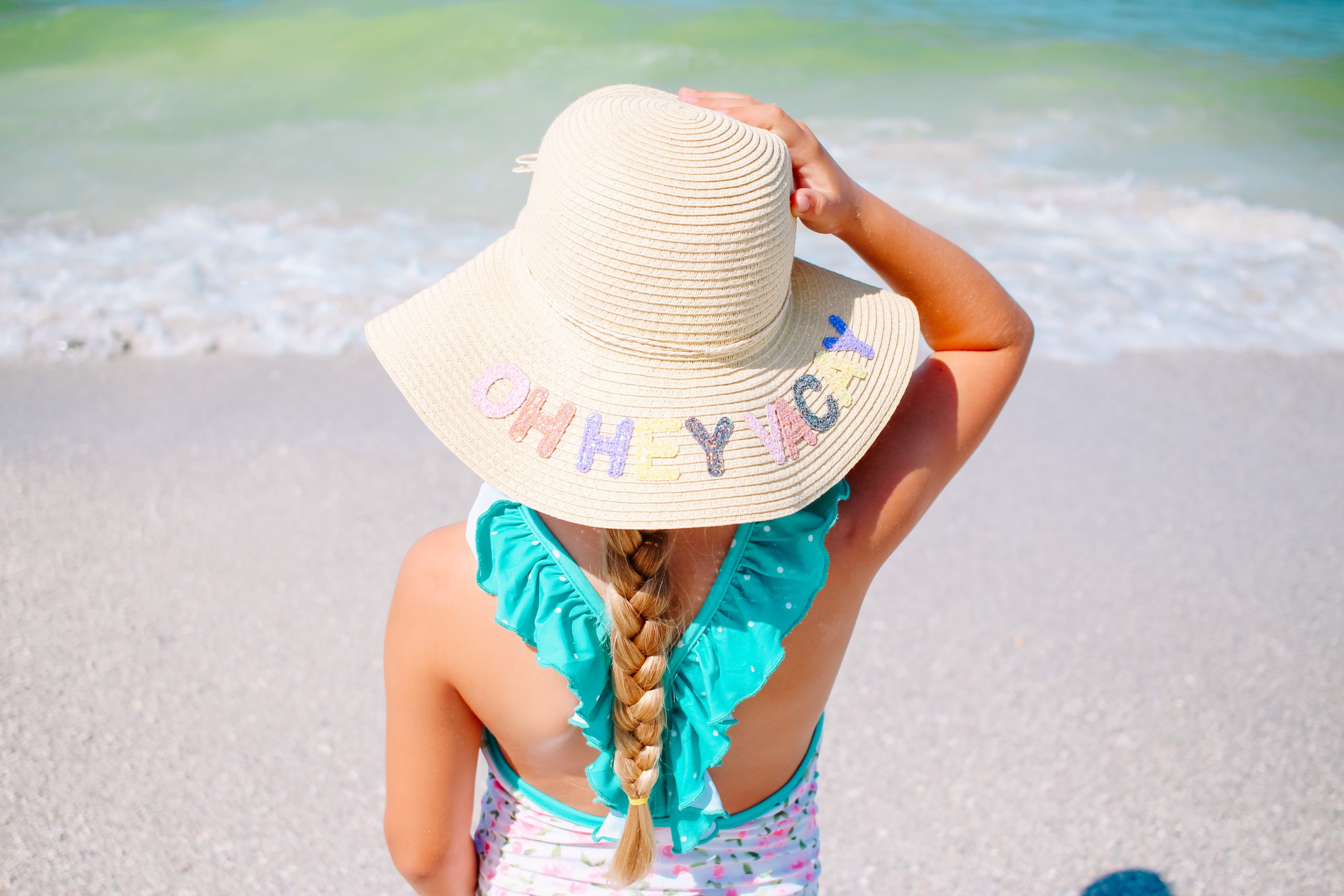 It's summertime! No more setting the alarm, packing lunches, or getting everyone out the door on time. So, now what?!
I say let's go to the beach! At the beach, kids can run free and just be in the moment. It's a zen place that can bring calm to your evening or serve as a great start to your day. Check out my favorite beach tips to help you have a successful trip to the waves every time
Basic Beach Tips
Start the night before. Set yourself up for success by doing a few minutes of prep work the night before. Freeze a few water bottles (they can serve as ice packs as well as drinks, but don't forget to dump a bit of water out before freezing), get the beach bag ready, load the stroller/wagon into your trunk, and set out snacks. Maybe even make a list of what to not forget in the morning (or am I the only one who does this?).
Sun protection is key. Even seasoned Floridians need sun protection in the form of sunscreen, a hat, and rash guards! Don't forget to put sunscreen on your lips, hair part, and the tips of your ears! Check out the EWG's guide to safe sunscreen, as well!
Tip: Use a makeup blender with a handle to apply sunscreen every two hours at the beach. It's less gritty than my hands usually are which means less complaining from the kids. It works especially great on their faces!
Umbrellas and/or beach tents are also sun protection — even if you don't spend a ton of time under the umbrella, it's great to have one for when you are eating to cool everyone down a bit!
Swim near a lifeguard stand. Safety first!
Check the tides for the day. If you can, hit the beach up when the tide is low. This gives you access to the tide pools which are perfect for littles!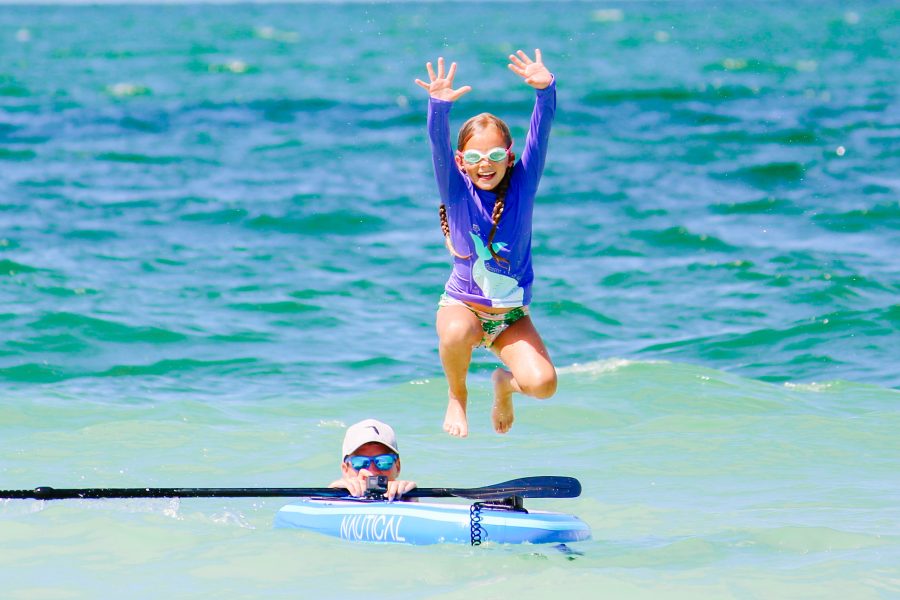 Key Items to Bring to the Beach
Aside from the usual beach suspects such as towels and beach toys, here are a few items we swear by!
Bring a stroller or wagon. Especially if you have younger kids — we always took the stroller so the littlest one didn't need to be carried. It was also then very easy to take a walk until they fell asleep when it was naptime. Likewise, when packing up, someone is usually close to a meltdown, so being able to toss him/her in the stroller or wagon is a blessing! Make sure you take a stroller with big wheels to the beach (like a jogging stroller).
Bring more food than you think you'll need. We like to stop at Chick-fil-A and grab breakfast. I bring sandwiches for lunch and also pack easy snacks like Goldfish, chips, fruit, and, of course, LOTS of water in your cooler (a backpack cooler can come in handy for getting to and from the beach easier). It's like going to a theme park — you really can't have too many snacks to help prevent meltdowns!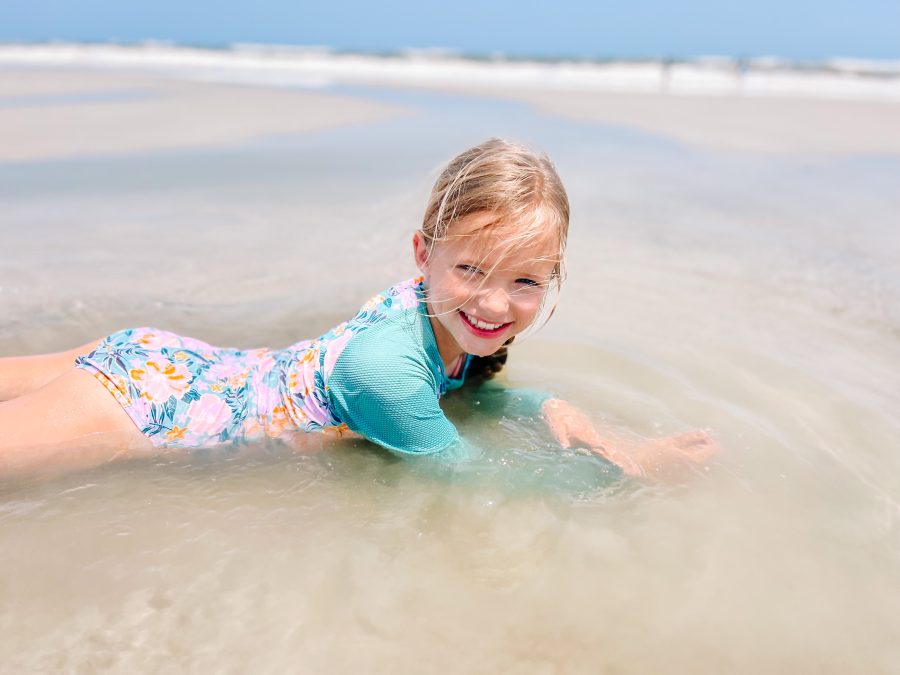 A spray bottle! This can be a great accessory to have for babies who aren't quite old enough to stay in the waves for a long period of time.
Anti-chafing glide stick. From time to time my girls get a rash where their suits rub their legs. An anti-chafing glide stick has helped prevent these rashes from happening, thus allowing them to play happily for long periods of time! It was needed more frequently when they were tiny and wearing swim diapers but occasionally still happens!
Travel potty. Have a toddler who is potty training? Bring that travel potty to the beach with you. There is no shame in the potty game, and not having to run back to the car to use it or having to deal with a stinky pull-up at the beach is priceless. Travel potties are small and can be a lifesaver if you are at the beach solo with all the kids (trust me, I've been there).
Fitted sheet. I was never motivated enough to try this one, but if you want a sand-free area for your beach day, try this hack! Put a bucket of water for feet washing next to it, so no sand makes its way onto the sheet!
Shower curtain or small baby pool. If you want to keep your toddler safe while not having to chase them down the beach every few seconds, a small blow-up pool could save the day. Or throw a shower curtain liner in the beach bag and try this method!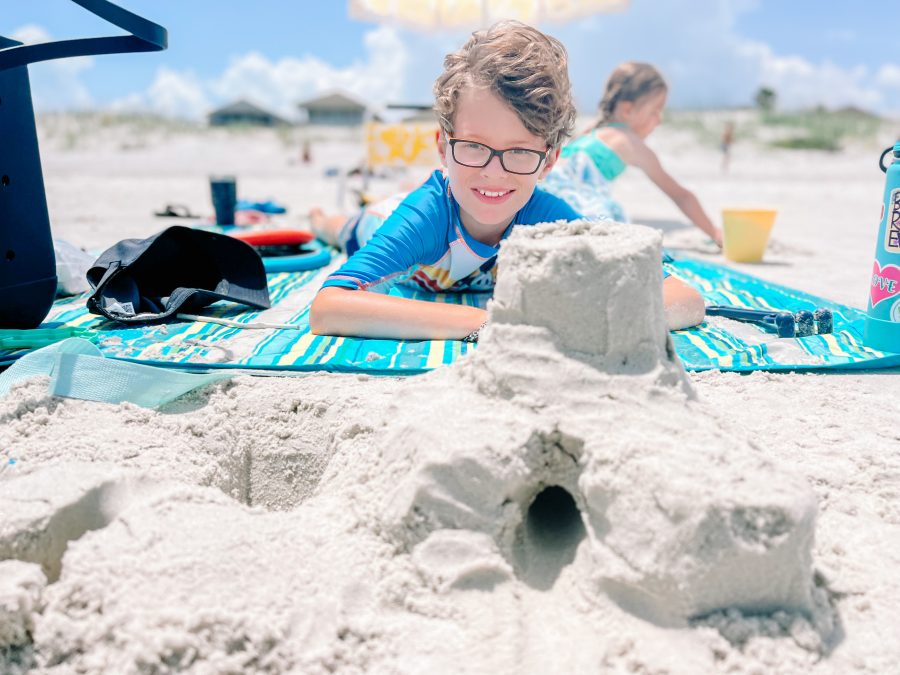 Leaving the Beach
After you've had your fill of sand and salt for the day, it's time to head out. How do you deal with all the sand in the suits, all over the toys, etc.? Read on for more beach tips.
Bring a bag with holes in it! A Bogg bag, a mesh bag, any kind of bag that you can load up, take down to the ocean, and give a quick dip before throwing it in the trunk is a win! Or just load up the toys in the bag, shake the sand out, and wash them off with the hose at home.
Use a sand brush or sand mitt. Alternatively, use baby powder to get the sand off. It really does work, but the trick is to use a generous amount. Really pour it on and the sand will slide right off!
Park at a beach access point with a shower. Or just keep a couple of gallon jugs of water in the car like our moms used to do.
Leave one towel in the car. This way you know you have a clean, sand-free towel to dry off with!
Bring a T-shirt and a clean pair of undies and/or diapers for the kids. I have my kids take off their suits and just wear undies and a T-shirt home to keep wet suits off the seats but not commit to a whole new pair of clothes getting sand on them!
Lay towels down on your car floor. Keep as much sand out of the car as possible! When you get home, just throw the towels in the washer.
And finally, if a whole day at the beach is overwhelming, just go catch a beautiful sunrise with that one child who woke up super early or go in the evening for a walk on the beach. The kids will still get in the water/sand, so it's a good idea to have them wear their suits anyway, but it's much less of a commitment and just as fun.
What are your favorite beach tips? Share in the comments below!