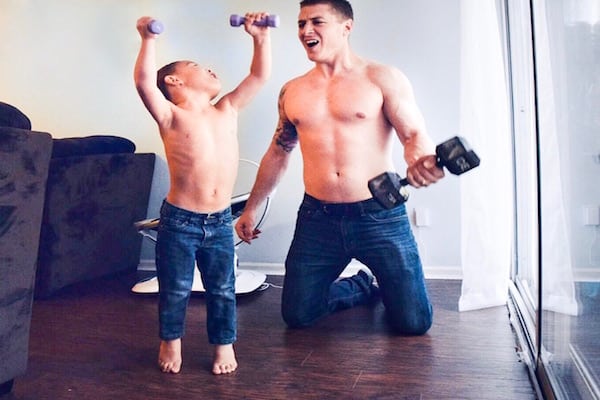 In honor of Men's Health Month, I decided to collaborate with my husband, Matt, to discuss some of his best health tips. Who better to talk to than a dad of three with zero health experience?
"Magazines like Men's Health set unrealistic beauty expectations for men. So what if the wife can no longer wash the laundry on my abs? She still thinks I'm hot, and I am happier and healthier than ever," my husband exclaimed.
I then asked if he could share some tips on how he maintains his "dad bod," to which he corrected me and stated his body was akin to Gronk's (he's delusional), however, he was able to rattle off some solid advice related to balancing exercise, caloric intake, and, of course, beer. Read on:
1. "Schedule gym time like you schedule baby feedings or diaper changes." 
My husband's idea of scheduling time for the gym is more along the lines of a last-minute text to me: "Hey, I'm hitting up the gym after work." Matt's job is very structured, and he often knows his workload in advance. When he anticipates a stressful work week, he "schedules" workouts at least three days after work before he comes home. He explained that "crushing iron"(his words, I can't make this stuff up) after work helps release endorphins, and he is able to leave all the stress from the day at the gym. Now if I could only get him to explain this to me in advance rather than via a same-day text at 4:45 p.m.
2. "Don't be scared to blast off some bicep curls with a baby carseat."
There will be times in the grocery store when I will look over and see my husband curling our 7-month-old's carseat. Matt claims that staying in "peak physical form" means taking every opportunity to "blast off a few sets." I have decrypted his weird and all-of-a-sudden douchey advice to mean that our lives are busy, and he may not always have the time to work out. So when there is chance to get some physical activity in, go ahead and curl the carseat or carry the kids up the stairs instead of taking the elevator, no matter how ridiculous you look.
3. "Eat just enough calories to keep up with your kids and keep your wife happy after you finally get the kids to bed."
My husband is constantly researching new diets (mostly from Joe Rogan's podcast) and then trying them. Whether it be a ketogenic or carnivore diet (yes, you read that correctly, an all-meat diet, yikes), he will research a diet plan and give it a shot. Matt explained, in his ridiculous "bro" terms, that a meal plan is structured, and that eating healthy gives him enough energy so that after a long day at work he can come home, play with the kids, and after they go to bed, he and I can go to "pound town." (Ummm, ew?) Overlooking his testosterone-driven answers, he makes an accurate point — eating healthy, whole foods fuels your body and prevents sluggishness at the end of day. Matt also suggested trying the fad diets to determine which one works best for you. As a nutrition professional, I have a very different approach that always includes a diet full of fruits, veggies, healthy fats, lean protein, and whole grains. Matt's reply to my nutritional advice? "Kels, let a man be a man!"
4. "Sometimes fatherhood makes you want to drink. Don't be ashamed to toss one back after the kids go to bed. It helps you unwind and take your mind of things."
Matt is not a big drinker, but I have seen him turn loose and shotgun some beers — responsibly, of course. Just like a mama has a tough day with the kiddos and a glass of wine seems necessary, he claims the occasional cold beer helps him relax after a rough day at work. "You can't go overboard or make it habitual. Balance and moderation are key."
5. "Map out happy hour at every local coffee shop. We may not be going through the restlessness of nursing a crying baby in the midst of the night, however, we are tired, too." 
I could win a medal in the Olympics if they introduced a drinking-coffee competition, but my husband makes me look like a minnow in a shark pond. Matt claims a coffee "routine" is necessary when he has had a rough night's sleep, and caffeine is great for his mental sharpness. He is notorious for starting the day with a quick run to Southern Grounds, polishing off the coffee pot at the office, and making an afternoon caffeine run to Dunkin. His final advice? Find all the coffee shops around you, and research their daily specials in order to create an efficient and affordable caffeine schedule.
Disclaimer: These tips were provided by my husband and are not backed by any scientific or medical research. Heck, I even questioned some of the stuff he was saying. However, he is a happy and caring father, so if any of his wisdom can help anyone, it is worth sharing. Don't be scared to ask your husband about his routine — just be prepared for them to turn into a total bro when they respond.
What is your husband's best advice on keeping the "dad bod" healthy?